Built to alleviate chronic neck pain for side sleepers, the SleepSmart Pillow employs adjustable technology to produce the perfect night's sleep.
The SleepSmart pillow was developed by Dr. Jae Son, a graduate of Harvard's Engineering Robotics PhD program. As a side sleeper, he experienced constant tension at his neck and shoulders, so decided to design a pillow that would offer him the support he needed.
But it wasn't enough for Son to just create a pillow with an ultra-comfortable cover or enhanced performance foam—he wanted to combine these high-quality materials with technology that would improve users' sleep health in real time.
"As an engineer and inventor, I see many products that could be improved. The pillow has been the same for so long, and I thought it was time we give it an upgrade," said Dr. Son told the Chicago Evening Post. "We've spent years evaluating various pillows as well as all of the health apps and trackers to understand what works and what doesn't to create a better sleep system."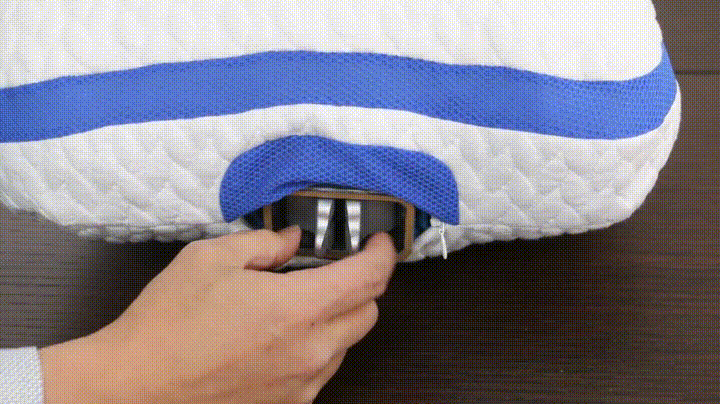 This sleep system includes many features, some of the most exciting of which are: a small valve that allows users to control the height and firmness of the pillow, a nearly silent built-in vibration alarm that gently wakes users up during the lightest phase of the sleep cycle and Sophie, a personal sleep coach.
"Intelligent Coach Sophie monitors and learns from your lifestyle and sleeping patterns to give you insight for better rest," reads a description on the company's IndieGoGo page. "During the day, use the SleepSmart app as a journal to keep track of your daily habits. Then at night, Sophie will automatically record your nightly sleep cycle including when you lift your head off of the pillow and any sounds you make."
Technological fabrications aside, the pillow is built with the brand's proprietary CloudComfort system, which is comprised of a hypoallergenic polyester cover, down alternative fill and a support layer of breathable foam.
Son and his business partner Brandon Larson finalized designs for the SleepSmart pillow in December 2017 and launched their IndieGoGo campaign this past February. The product is set to officially debut in May 2018, but customers are encouraged to back the project now to take advantage of some pretty killer perks and discounts. As of this writing, the pillow is currently retailing for $99.
Can't wait until May to get your hands on a new pillow? Check out our guide to some of the best pillows on the market.
Featured image courtesy of SleepSmart. 
Cody Gohl
Cody is a former staff editor at Sleepopolis. His work has appeared online for Esquire, Next, LOGO TV, Fandom, Citylife, The Manual, and more.