Good Life promises that once you buy their shredded memory foam pillow, you'll indeed be living the good life. They've advertised their product with this exact messaging: "You will say, 'I love my pillow…it's like sleeping on a cloud.'" They also claim their pillow never goes flat.
For those unfamiliar with shredded memory foam, here's why it is different than—and perhaps advantageous to—normal memory foam: 1) Having shredded vs. molded memory foam allows for more breathability and air flow in the pillow itself, keeping you cool at night and 2) You usually can add or remove the foam in order to adjust the pillow to your exact level of firmness.
The big caveat here, though, is that this pillow does not have a removable case! There is no zipper, meaning you can't actually adjust the fill of this pillow.
However, Good Life promises their specific memory foam will orthopedically promote proper neck and back alignment, which will lessen the chances of tossing and turning all night long. All good, right?
The downside to shredded memory foam is oftentimes people complain about it being lumpy, hard, and even flat.
I slept on the Good Life pillow for a handful of nights to see if I did indeed feel like I was sleeping on a lump-free, cooling, and contouring pillow. Continue reading for all the details, or scroll to the bottom for a quick summary.
Good Life Shredded Memory Foam Pillow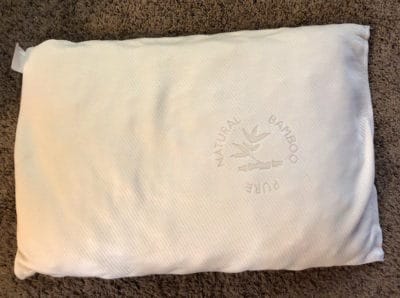 Shredded memory foam makes this pillow from Good Life a winner for side sleepers.
Sleepopolis Score
3.90 / 5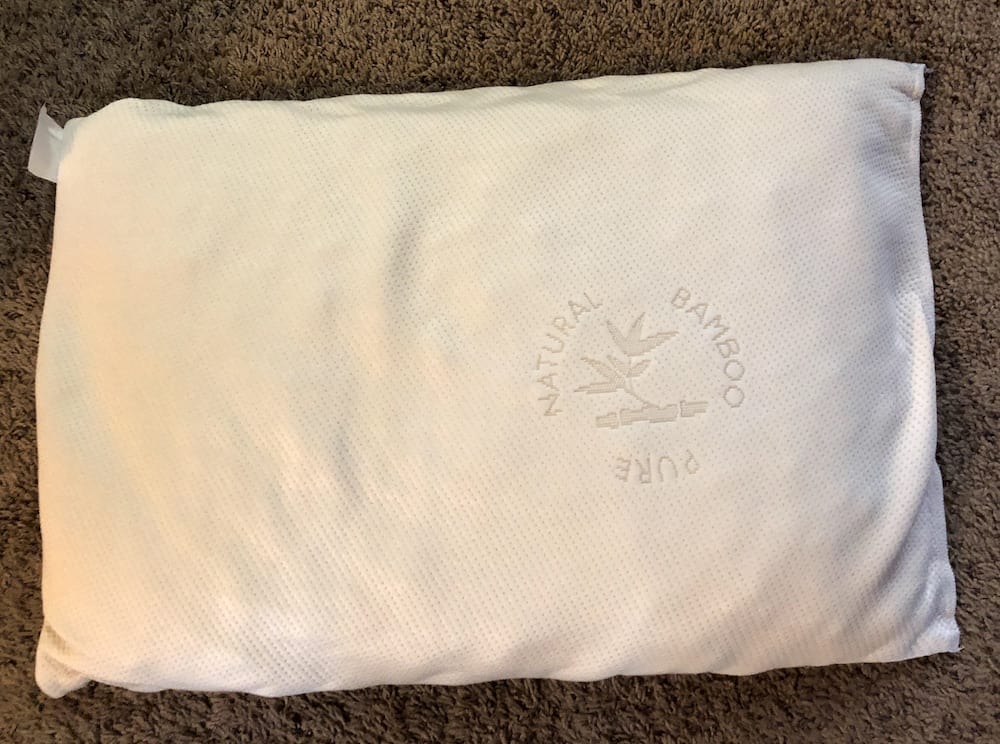 Construction & Feel
The Good Life shredded memory foam pillow is made with 100% CertiPUR-US Certified Foam. This means that the foam is:
Made without ozone depleters
Made without chemicals: PBDEs, TDCPP or TCEP ("Tris") flame retardants
Made without mercury, lead, and other heavy metals
Made without formaldehyde
Made without phthalates regulated by the Consumer Product Safety Commission
Low VOC (Volatile Organic Compound) emissions for indoor air quality (less than 0.5 parts per million)
There are a lot of fancy words in there, but all that basically means is you can feel good about the foam you sleep on, since there are no toxins or chemicals used in its production.
This foam is the star filling in the Good Life pillow, and is—surprise!—shredded. Like I mentioned above, shredded memory foam promotes more airflow in the pillow and, while you can't remove the filling in this pillow, you can still prod the foam around to help shape it in a way that molds to your body's alignment.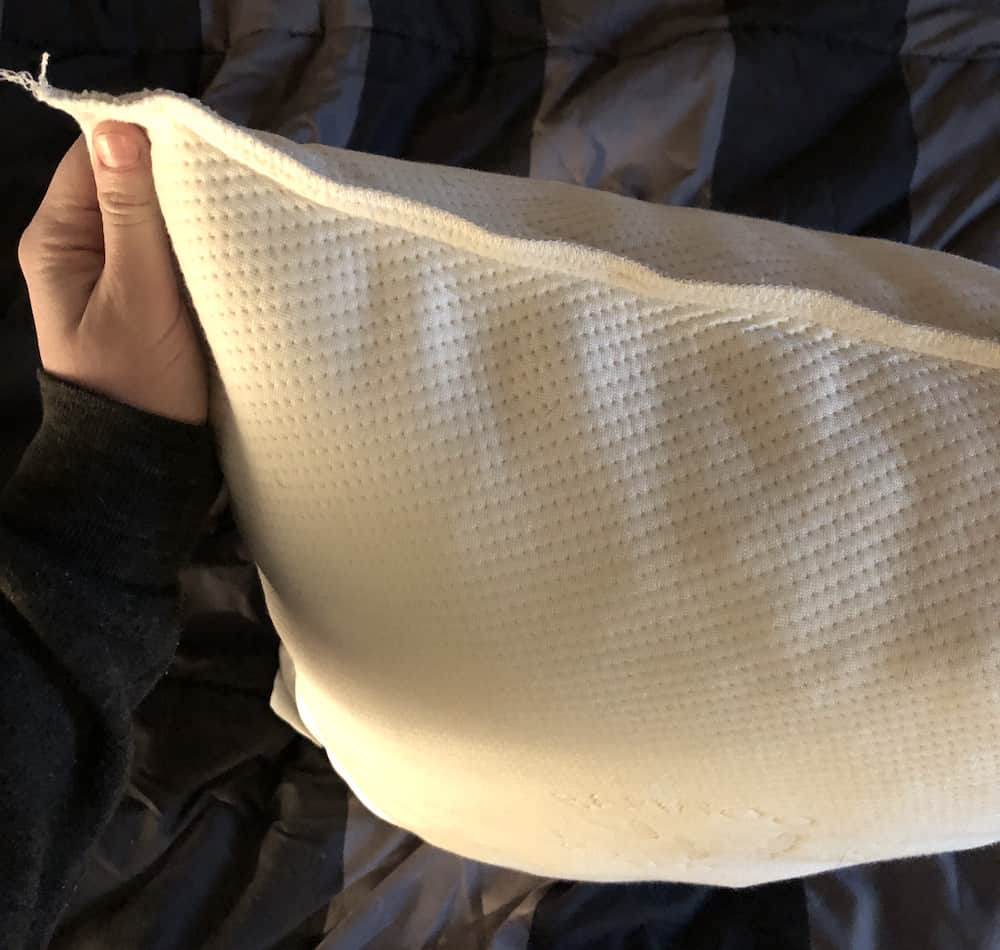 The outer cover of this pillow is super soft—one of the best features of this pillow. And that's because it's made with 50% bamboo (the other 50% is a polyester blend). At first you might think "huh?" when you hear your pillow case is made out of something we all picture as a woody plant found in the middle of a tropical forest.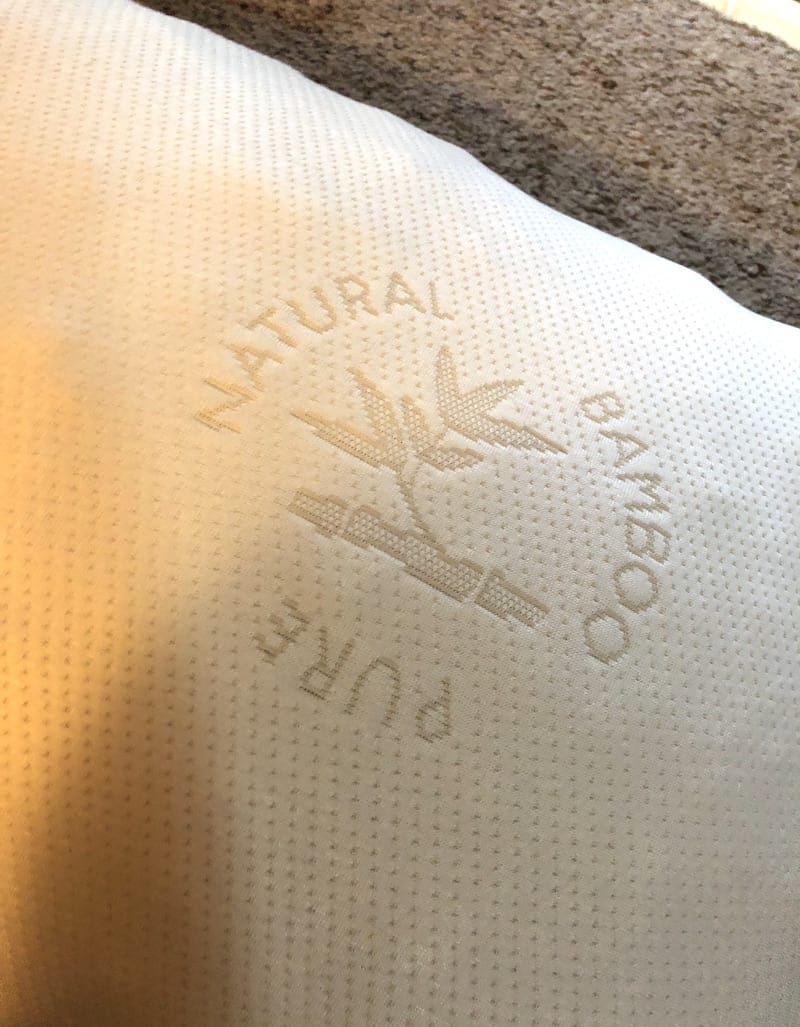 Yet, bamboo can be made into a fabric by crushing and breaking down its plant so the natural fibers can be spun into yarn. What's more, bamboo is a highly renewable plant, making this an eco-friendly option when it comes to pillow production. An additional sleep benefit is bamboo fiber naturally wicks away moisture and resists odor retention—all elements that make a great pillow cover.
Other details
Comes in three sizes: Standard, Queen, and King
Made in the USA
Comes with a 5-year warranty
Starts at $34.95 and goes up to $59.99
My experience
The Good Life Shredded Memory Foam pillow comes vacuum-sealed, which allows companies to ship their products with less packaging. However, this also means the pillow will come rolled up, and will take some time to shape up. Other memory foam pillows that I've received vacuum sealed have taken the full four hours to plump up, so I was pleasantly surprised when the Good Life pillow came to its full form in—I kid you not—five minutes! However, this pillow is tightly wrapped in plastic, so I had to finagle with it to actually get it freed.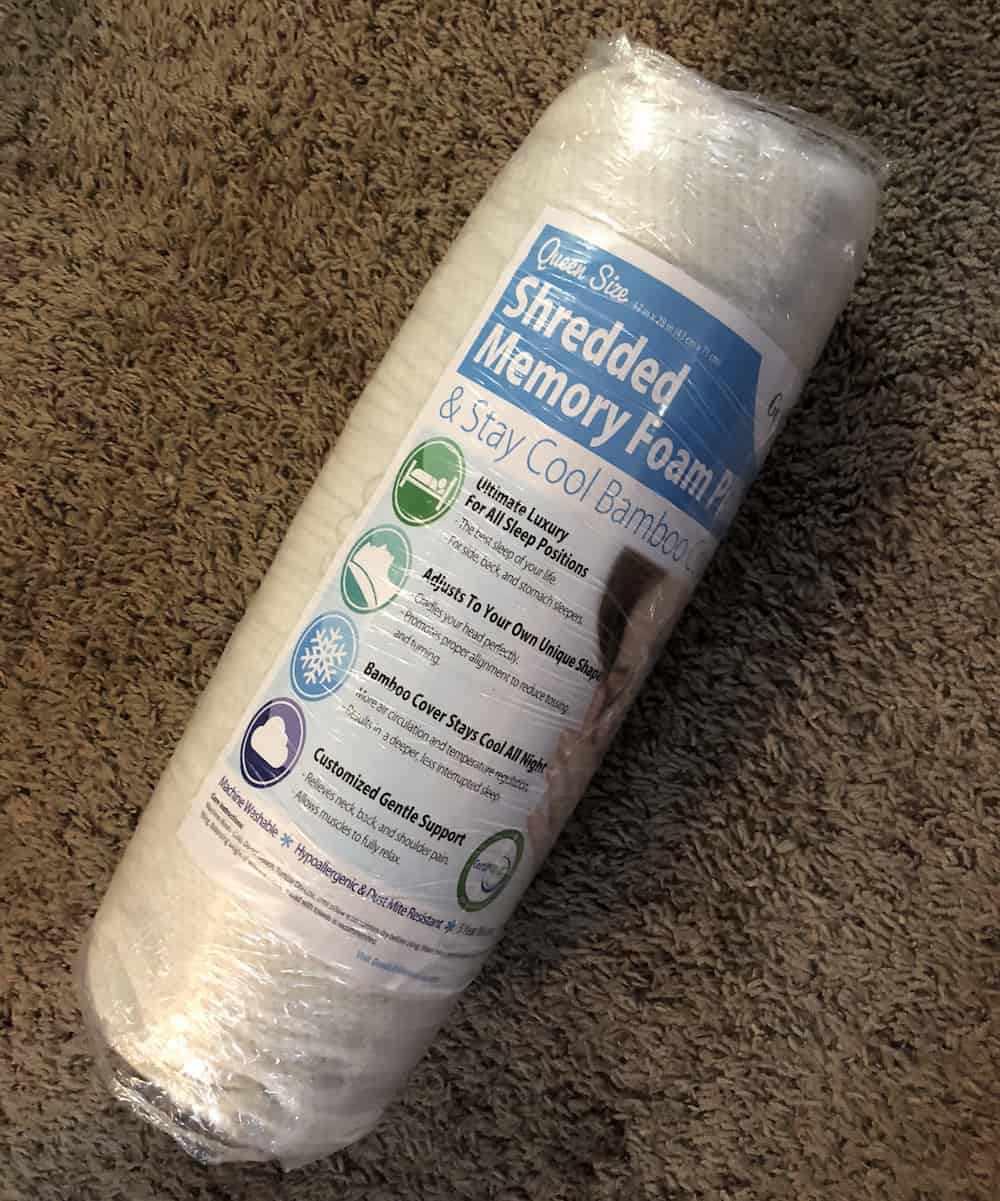 Once it was open and rose to its full shape, I noticed (and loved) the soft, bamboo cover, and saw how much body and lift it had. This pillow is definitely not flat, so I was curious to see if it would hold its shape in the night.
Moreover, memory foam is notorious for having a curious smell that won't go away until you toss the cover in the dryer. I was also pleasantly surprised when I opened it up and didn't detect any sort of scent. Another bonus point to Good Life! The one downside I noticed right away is the pillow is pretty heavy, making it a bit of a nuisance for storage or moving it around the bedroom.
When I slept on this pillow—I was testing out a Queen size—I found the height to be perfect for me. Sometimes memory foam pillows can flatten out, which is the worst-case scenario for a side sleeper like myself. On the flipside, pillows can also be too tall, forcing your neck to lie at a weird angle which can cause stiffness and pain. The best scenario is that sweet spot where the pillow's height lifts my neck just enough so it cradles the crook of my neck and helps the rest of my spine align comfortably. I'm no anatomy expert, but my body seemed to align really well to the shape and size of the pillow.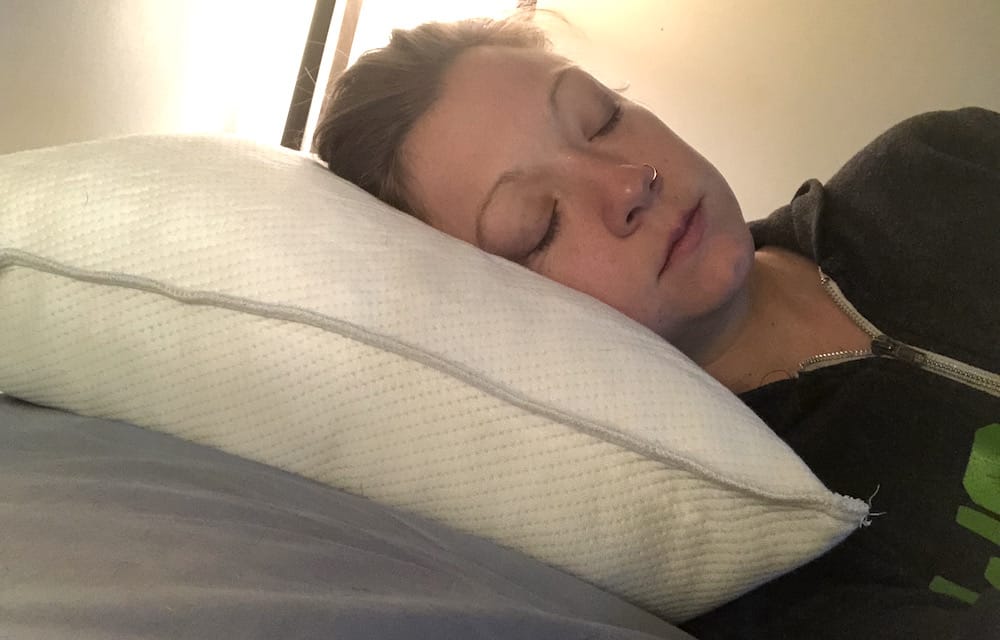 That said, I was able to tell that the foam was shredded due to it feeling a little lumpy. It took a few minutes of punching the foam around to smooth it out, but once I did, the lumpiness was gone. This pillow is also pretty firm—something I personally like—but not up to the point where it felt like I was sleeping on a rock.
If you're a stomach sleeper, this might not be the best option for you straight out of the package; it's just too high if you're sleeping on my stomach, making your head rest at a steep angle. And since you can't remove any of the shredded foam, the only way you could mitigate this by going down to the Standard size.
Overall, this pillow is soft but really sturdy, and has enough support to cradle my head and neck so I wake up without soreness or stiffness. I really enjoyed it! However: This pillow is a little lumpy, on the firm end of the spectrum, and doesn't allow you to add or remove the fill. So, definitely not like sleeping on a cloud—what Good Life has claimed.
Common Praises and Complaints
Similar to my experience, a lot of folks had good things to say about this pillow:
"I have been sleeping on this pillow for over a month and I still love it! I am so happy I got this pillow. I put it in the dryer for 15 minutes like the directions said to do when I first got it. It fluffed it up right away. This pillow had been comfortable every single night. It gives great support."
"I was skeptical upon receiving these pillows, but they are awesome! I posted on Facebook seeking pillow recommendations and so many people recommended shredded memory foam with bamboo covers, that I decided it was worth trying this type of pillow myself. Yes, they do smell a little funny directly out of the package. I washed and dried the pillows per the package instructions, put a 600 thread count cotton case on the pillow and went to sleep. This pillow was an immediate significant improvement over my old pillow. I have been sleeping on it now for two weeks and am impressed. I am tossing and turning less and sleeping through the night more. The pillow is extremely comfortable. I bought one for my husband too and he is equally satisfied."
Yet, that "sleeping on a cloud" promise from Good Life? One reviewer specifically had to debunk that claim:
"Sleeping on a cloud? That is what was promised, however for me the pillow is to heavy, too bulky, too firm. I had to wash it the odor was to strong, took over two hours to dry and then I had the pleasure to sleep on it, to wake up with a headache and pain in my shoulders."
"I spent a lot of time deciding which pillow to buy, and unfortunately i regret purchasing this one. I bought two, one for myself and one for my wife. Now my wife likes the pillow and finds it comfortable. She is a back sleeper. I on the other hand, am a side sleeper and can't stand the pillow. The shredded foam is lumpy and hard. I toss and turn all night with this pillow. I wish I had gone with a traditional memory foam pillow vs the shredded."
Who Should Buy It
As a side-sleeper who likes supportive pillows, this was great for me. Here are some other reasons you might want to give Good Life a try:
You need a firm pillow – So it might not be the equivalent to sleeping on a cloud, but that's not always a good thing. If you know you prefer pillows that provide more firm support (hello side sleepers!) this is a great option that won't run your bank account dry.
You want to be able to machine wash the whole thing – The entire pillow can be tossed in the washing machine. Machine wash with cold water and use a low tumble for the dryer. It's recommended you wash the pillow every six months.
You like to purchase eco-friendly products – Bamboo is a sustainable and eco-friendly option when it comes to pillow fabrics, the shredded foam is CertiPUR-US Certified, and there is less packaging used to ship the product. All good things if you're someone who is eco-conscious.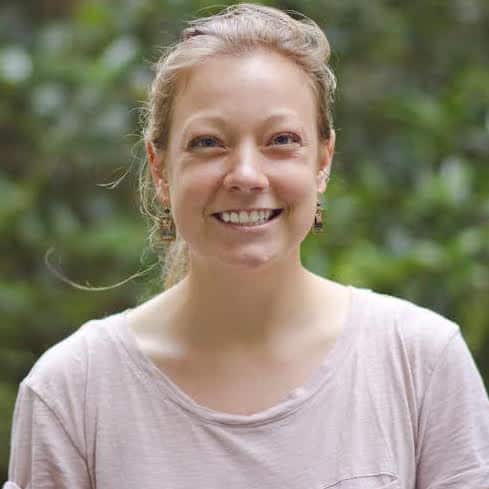 Laura Schwecherl
Laura is a journalist with nearly a decade of experience reporting and covering topics in the health, fitness, and wellness space. She is also a marketing consultant, where she works with impact-oriented startups to build marketing and editorial strategies. Outside of work, you can find her reading Murakami novels, writing amateur poetry, or trail running in her hometown, Boulder, Colorado.