Wouldn't be nice if a new pillow magically arrived at your doorstep every time your old pillow lost its luster? Well, that's pretty much what bedding brand One Fresh Pillow set out to do with its subscription service. But what does One Fresh Pillow's signature pillow feel like, and how does the brand's subscription work? You'll have to keep reading to find out!
Brand Snapshot
Founded in 2018, One Fresh Pillow established America's first pillow subscription service. Of course, sleepers do have the option to make a one-time pillow purchase, but if you opt for the subscription, you can rely upon a new (fresh) pillow to be delivered every 6, 9, or 12 months. And don't worry about your old pillow — every order comes with a prepaid shipping label so you can send it back to the company at no expense to you. Then, the folks at One Fresh Pillow send your old pillow to MARPAN Recycling where it's repurposed and made into floor mats and things like that.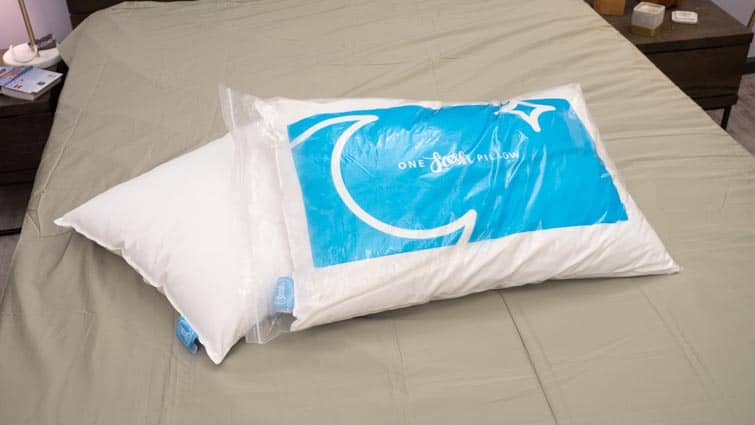 Though it's relatively new to the bedding game, One Fresh Pillow offers a variety of other accessories like travel pillows, sleep masks, and pillowcases. But in this review, we're taking a close examination of the brand's signature pillow, so without further ado, let's find out what it's made of.
What Is One Fresh Pillow Made Of?
The cover fabric of this pillow is made from 100% polyester, and feels very soft to the touch. Polyester is a naturally moisture-wicking material, so hot sleepers or those prone to night sweats might be particularly compatible with this pillow.
The internal fill features a dual construction wherein one side is filled with shredded memory foam, and the other side is filled with a fluffy down-alternative called polyfiber. Separating the two fills is a thin polyester membrane that keeps the materials from melding together.
Although the whole pillow is quite huggable and foldable, the feel and support depends upon which side you're sleeping on. The memory foam side offers a firmer feel and slower response to pressure, while the down-alternative side has a feathery feel with a soft level of firmness. Essentially, sleepers have the option to flip between two different feels and firmnesses according to what best meets their needs.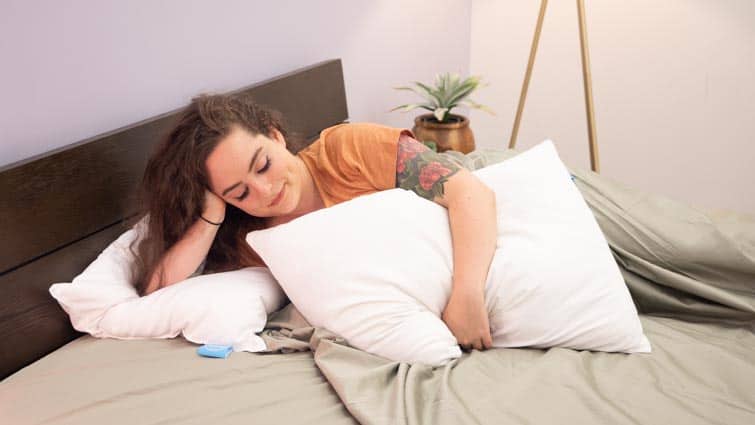 So, how does a subscription to One Fresh Pillow work? Basically, sleepers have to option to make a one-time purchase of the Signature Pillow, or pay a discounted price and get a subscription. If you buy a subscription, you choose to have a new pillow delivered every 6, 9, or 12 months. This means that if you fall in love with the pillow, you never have to shop for a new one because they'll keep coming until you cancel the service.
Of course, the only way for me to know which sleepers are most compatible with this pillow is to personally test it, so let's take a closer look!
What Does One Fresh Pillow Feel Like?
Before I get into which sleeping positions are most compatible with the Signature Pillow, I have to say I'm a fan of this subscription service. Whether you choose 6, 9 or 12 month increments, the subscription encourages sleepers to check up on their pillows at least once a year. Remember: pillows are not built to last a lifetime and, though much does depend on the brand and materials used, they should typically be replaced every 18-36 months.
That said, after thoroughly testing this pillow in all positions, I found it to be ideal for stomach sleepers. Frankly, I was a little surprised by that because on the brand's website, it says it was designed for back and side sleepers.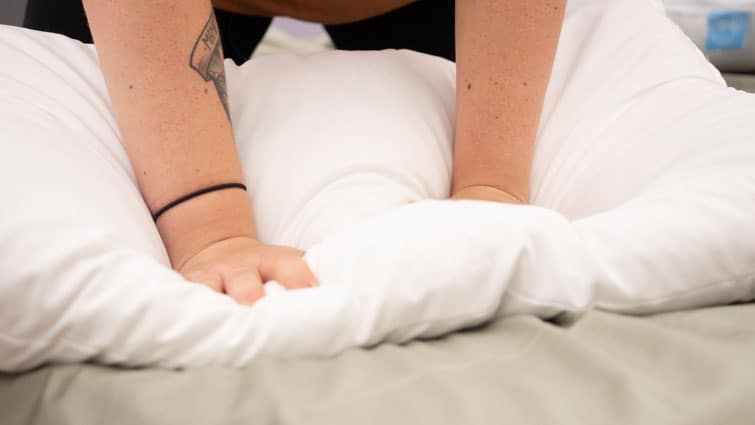 Don't get me wrong — using this pillow on my back was pretty cozy, particularly when sleeping on the foam side of the pillow. The memory foam does a nice job of conforming to my head and neck, keeping me comfortably cradled. The down-alternative side supported healthy back sleeping posture as well, but was more prone to flattening over time.
Speaking of which, I didn't find the pillow's two sides to feel that different from each other. As is often the case, the memory foam side offers a slightly slower response to pressure and feels less fluffy as compared to the down-alternative. But it's worth noting that there is not a dramatic difference between the feel of the two sides.
Now, when it comes to side sleeping, this pillow is not quite lofty enough. It's got a profile of about 2 inches, and compresses down to lower than that when you apply pressure. Your pillow's most important job is to support the natural C-curvature of your spine, and when a side sleeper uses a pillow that's not lofty enough, the spine falls out of neutral alignment.
Pro Tip: If you're a side sleeper, aim for pillows with a loft of 4 inches or taller, and a firmer level of support. Not sure where to shop? Check out my guide to the best pillows for side sleepers!
Meanwhile, this pillow is great for stomach sleeping because of its low loft. Its low profile ensures that my head and neck are not craned upwards at all, and my spine remains neutral. The down-alternative side, in particular, feels fluffable and soft. A soft level of firmness is better for stomach sleeping, as it allows your head to sink into the pillow as much as it needs to.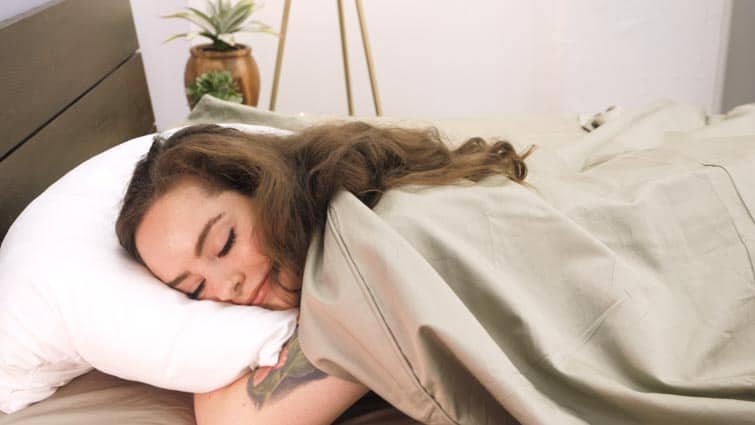 Ultimately, I think One Fresh Pillow is a very cool concept, and I had a great time testing the brand's Signature Pillow. I do think that it's foldable feel and low loft make it ideal for stomach sleeping, but back sleepers could benefit from it as well.
The Verdict: Stomach sleepers who need a foldable, low-profile pillow will be most compatible with One Fresh Pillow!
Should I Buy One Fresh Pillow?
Okay, sleepers, let's recap the highlights, shall we?
Dual Construction – Although the two sides don't feel too dissimilar, sleepers do have the option to choose between a softer, fluffier side, and a firmer foam side.
Stomach Sleepers – This pillow was pretty cozy in the back sleeping position, but it was great for stomach sleeping. Those who stick to the prone position and need a low loft to alleviate neck pain should definitely look into this pillow!
Subscription Service – The subscription service, in my opinion, makes shopping less of a hassle. And every time a new pillow shows up at your door, a prepaid shipping label comes with it. This way, you can return your old pillow free of charge, and it'll be recycled by the company.
Wide Range of Pricing – Depending on what you're looking for, price ranges from $64-$155. It all depends on the size you choose, whether you want a subscription or a one-time purchase, and if you want to buy a single pillow or a two-pack.
For example, if you opt for the subscription, a two-pack starts at about $114, and a single pillow starts at about $64. Conversely, the two-pack without the subscription starts at $135, and the single starts at $75. Price does vary depending on size, but if you go with the subscription, your chosen time increments do not affect price.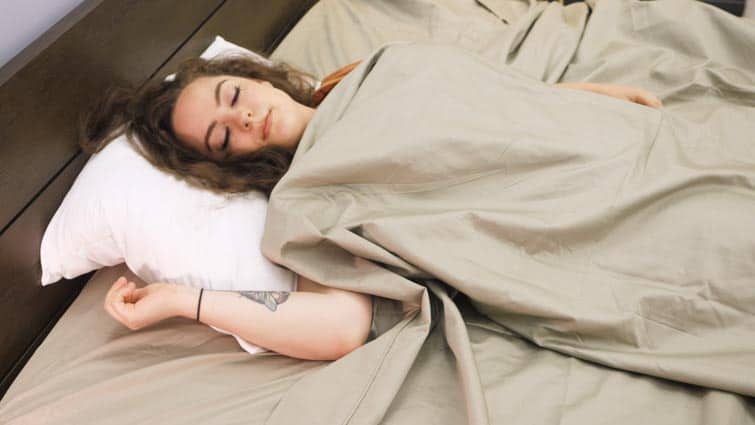 One Fresh Pillow Complaints
Of course, there are a few things that some sleepers might consider to be drawbacks.
Not for Side Sleepers – In my opinion, this pillow is just not lofty enough for side sleeping. Not only was it too low to keep my spine aligned, but it was too soft to relieve pressure in my shoulder as well.
Internal Fill – Sleepers looking for a very noticable difference between the pillow's two side may be disappointed. Like I said, the memory foam was only a bit firmer than the down-alternative, and offered a slightly slower response to pressure.
Not Washable – Unfortunately, this pillow is not machine washable. To clean it, use a damp cloth and mild detergent, and spot clean as needed. Then, allow it to air-dry completely before dressing it with a pillowcase.
Anything Else I Should Know?
Sizing – available in standard and king sizes
30 Day Return Policy– you've got 30 days to decide whether or not this pillow is the right fit. If not, send it back, you'll be fully refunded, and your pillow will be responsibly recycled!
Pricing – $64-$155, depending on size, subscription, and quantity
Wash Care – spot clean with mild detergent, air-dry
Well folks, that's all she wrote (and by she, I mean me). Hopefully, you've decided whether this pillow is sleep accessory you've been dreaming of, or if the search must continue. And if it's the latter, don't sweat it. Just follow us on Facebook, Twitter, and Instagram, and subscribe to our YouTube channel. This way, when your perfect pillow does come around, you'll be sure not to miss it.