If you want full freedom to adjust your pillows thickness to your liking, read on! The Xtreme Comforts Bamboo Shredded Memory Foam pillow allows you to add or remove filling so anyone—whether you sleep on your side, back, or stomach—can have a fully supportive night's rest.
After reading about this pillow, there are a few qualities of the Xtreme Comforts pillow that stand out to me. Firstly, it's a safe product; the pillow is regulated and made with no ozone depleters, flame retardants, lead, mercury, heavy metals, formaldehyde, and other toxins. Secondly, the bamboo cover is sustainably friendly and super breathable, giving you a cool and eco-conscious night's rest. Lastly, good quality memory foam does a great job at contouring to your body's alignment—so if this memory foam lives us the test, Xtreme Comforts should be a solid solution for anyone looking for a new pillow.
I tested the Xtreme Comforts Bamboo Shredded Memory Foam pillow out to see if it lived up to standard of being "The best bed pillow," as rated by an independent review company. Continue reading for the full scoop, or scroll to the bottom for the summary.
Xtreme Comforts Bamboo Shredded Memory Foam Pillow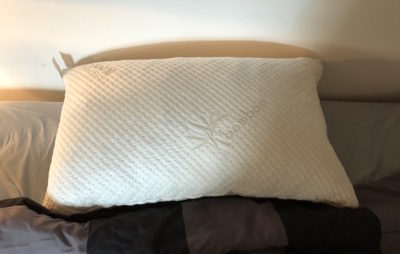 Enjoy the firm, neck-contouring support of the Xtreme Comforts Bamboo Shredded Memory Foam Pillow!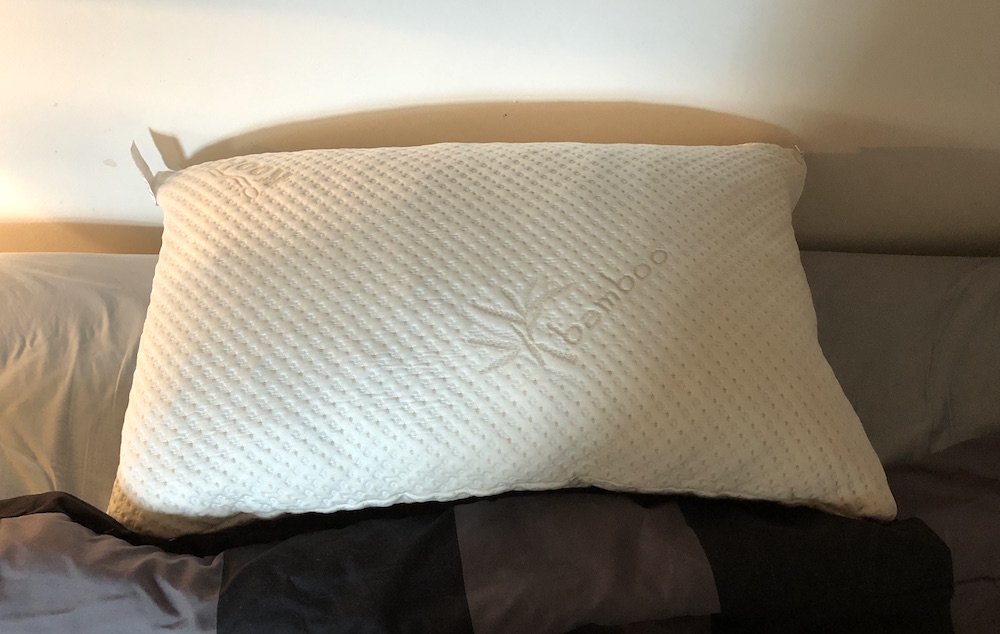 Construction & Feel
Like I mentioned above, the outer case is the first great thing about this pillow's construction. The cover is made with bamboo fabric, which is known for being a sustainable and eco-friendly product. (However, there are a few ways bamboo wood is turned into fabric, and some are more sustainable than others. That said, since this product is regulated by the CPSC [Consumer Product Safety Commision] it's safe to say the cover was most likely produced by combing out the bamboo fibres and spinning them into thread.)
The bamboo is combined with a Kool-Flow Microvented Technology to provide extra softness and air circulation so the pillow's surface stays cool throughout the night.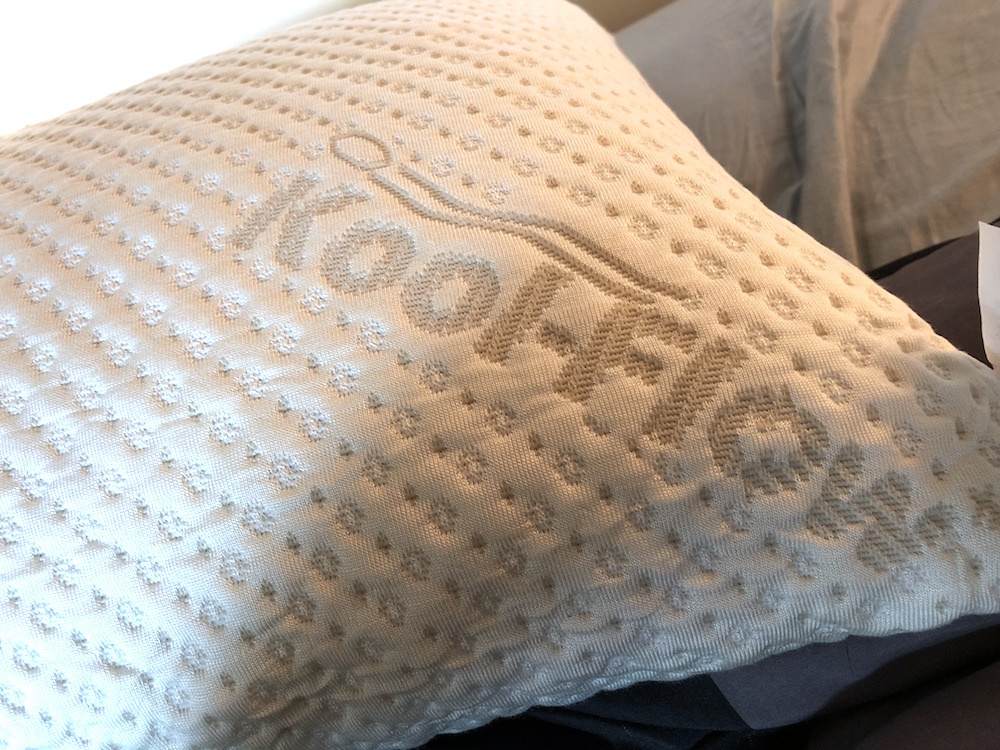 There is an inner case, too, which leads to the actual foam itself. The foam is CertiPUR-US certified deluxe memory foam, and comes shredded—meaning whether you like it fluffy or flat, or somewhere in between, all you need to do is open the zipper and remove the fill. (Note: If you want it super firm, you can add more foam, but would need to purchase it separately.)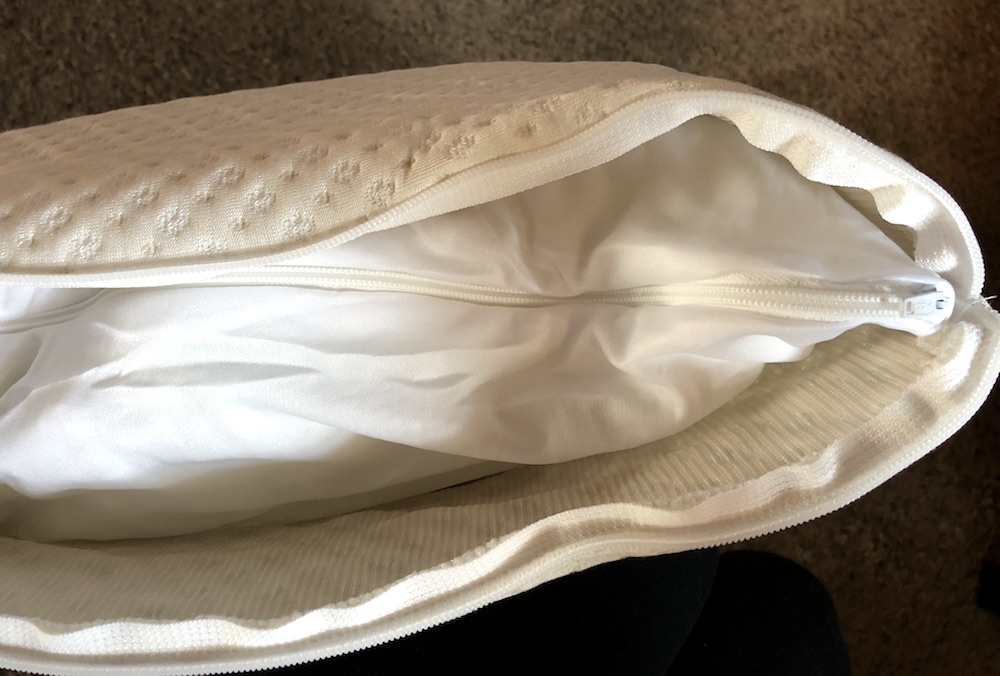 Other Details
Made in the USA
Completely machine washable (cold water to wash, low tumble to dry)
Starts at $49.97 for Standard, is $54.97 for Queen, and $59.97 for King
Completely machine washable
Hypoallergenic and dust-mite resistant
My Experience
The Xtreme Comforts Bamboo Shredded Memory Foam pillow came vacuum sealed, which has become a popular shipping method among pillows to reduce the amount of packaging. However, this means that the pillow came super squished and rolled up—not to mention the fact that there was a lot of plastic wrap around the pillow itself, making me wonder how much more eco-friendly this shipping option really is.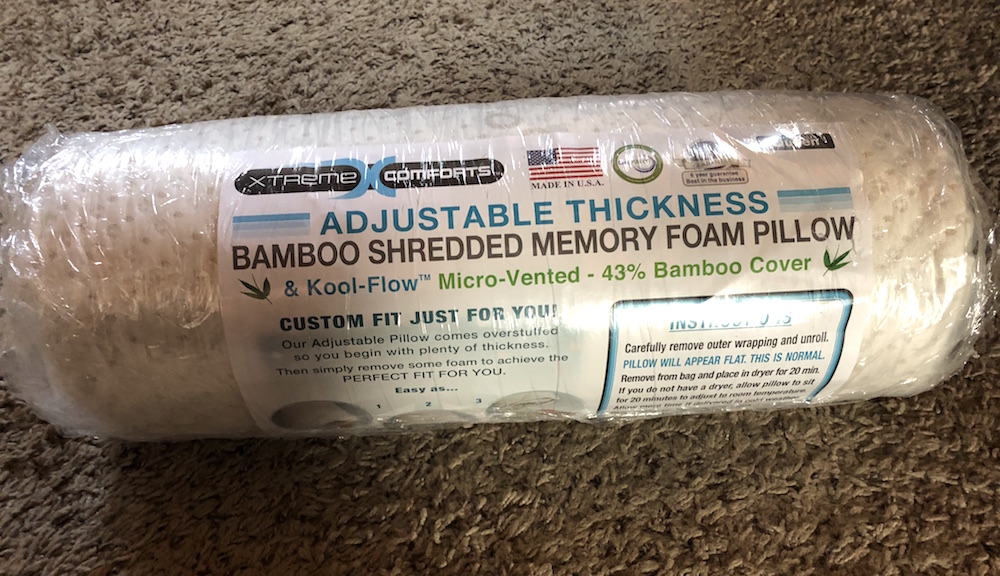 The pillow came out flat, but within minutes returned to its true form! This was good news, given I opened up my pillow in the evening and wanted to be able to sleep on it in only a few hours. (Note: Even though mine filled up really quickly, the instructions say to wait up for four hours for it to come to its full shape.)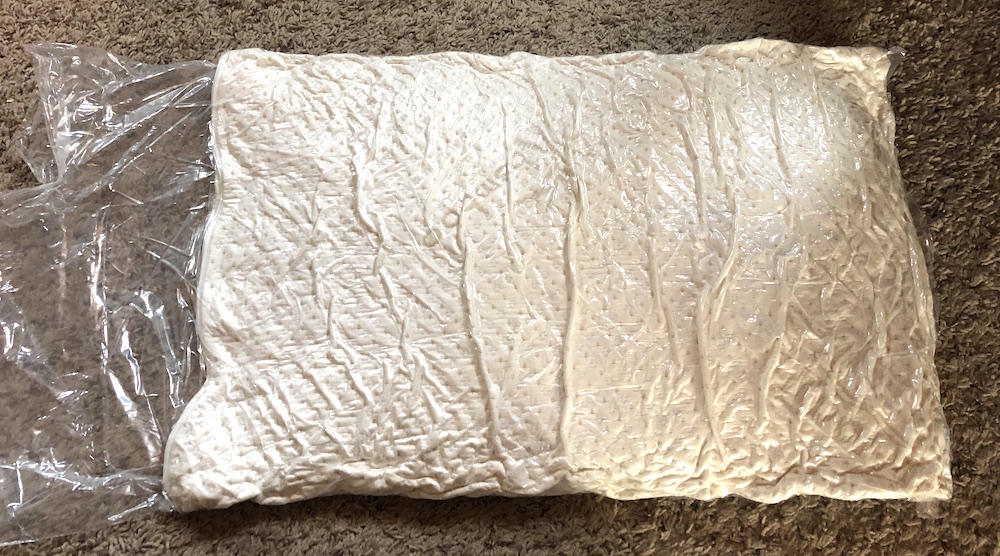 The bamboo cover was really smooth, and I could see the Kool Flow" technology holes in the fabric that keeps this pillow cool and breathable. The outer zipper led straight to the inner casing, where there is another zipper to get to the foam itself. Be careful! I opened up this second zipper and the foam started falling out immediately. Make sure you stand the pillow upright and smoosh some of the foam down before opening up the zipper.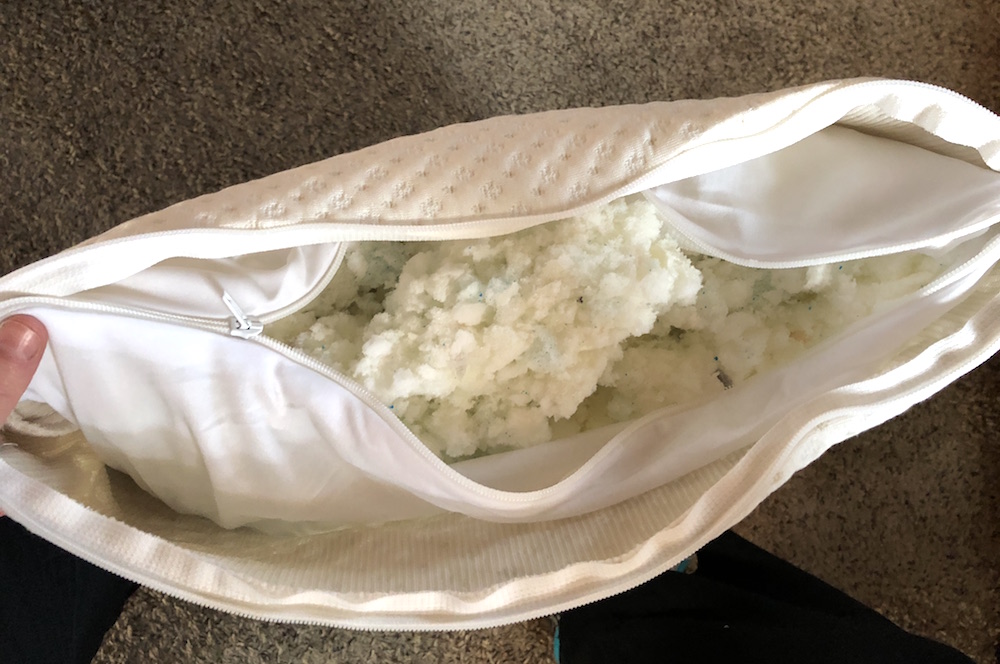 Before I took it to bed, I smelled the pillow. Memory foam often comes with a subtle scent that fades over time, but the scent of this pillow was really strong—an offgasing smell that I knew would interfere with my sleep. I found a pillowcase to go over the pillow, but if you have time, I highly recommend throwing this pillow in the dryer (low tumble) to get rid of the scent asap.
From there, I took it to bed. At first, I noticed how this pillow is pretty lumpy, so I had to move the foam around a good amount to find a shape that allowed my spine to relax. I did, however, like the amount of foam inside; this pillow is naturally really firm, so it would be hard to add any more foam. However, if you like to sleep on your stomach, I would recommend taking a fair amount of foam out.
Once I eased into it (I had to play for a few more minutes to find the right lift for my neck) I felt comfortable; the contouring of the pillow kept my head from bottoming out through the pillow, and from there I went to sleep. I woke up and made note of how it worked for me as a side sleeper. The lift, softness, and sturdiness was balanced enough so there was support between my head and shoulders, which allowed my neck to rest in a safe and comfortable position to avoid any neck soreness in the morning. However, I couldn't stop noticing how this pillow is lumpy, and for a few nights thereafter I had to continue to play around with the shredded foam to find a good fit for me.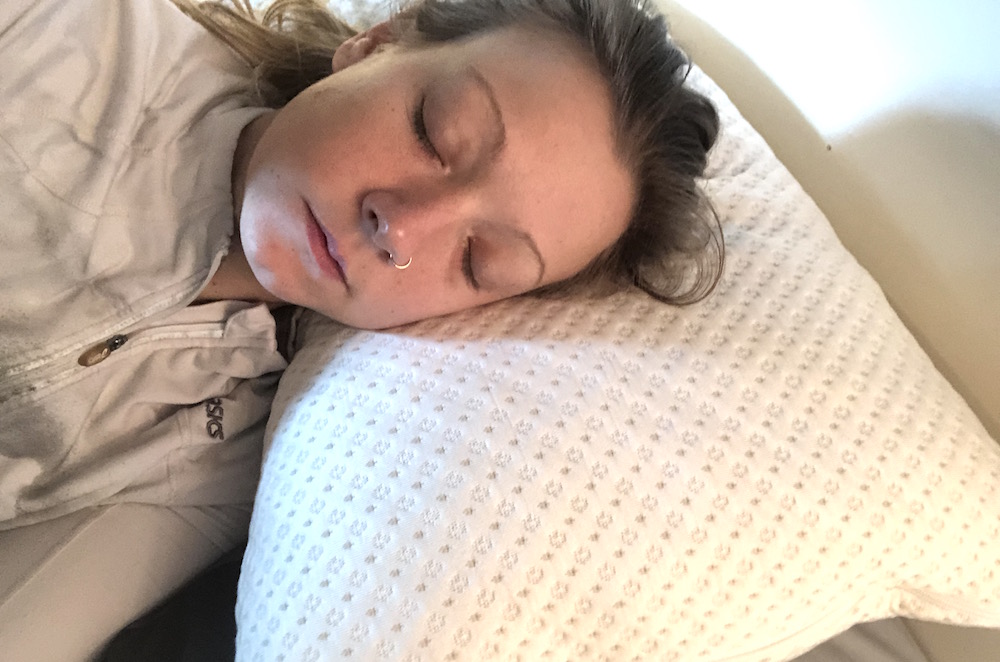 That said, if you like pillows firm and you sleep on your side or back, the softness and support of the Xtreme Comforts is pretty spot on. (I tried sleeping on my back and the pillow had enough support so my head didn't swing back either.) So—if you want a firm pillow that is still pliable, Xtreme Comforts will not disappoint. It's firm enough for slide sleeping, but still has malleable quality for back sleepers, who need something with a medium-level firmness. That said, if you sleep on your stomach and want something super soft, this probably won't be your best option.
Related: Best Firm Pillows
Commons Praise & Complaints
A lot of people had positive things to say about this pillow. The first reviewer specifically talked about how it worked when he needed to sleep on his back, and the second spoke to neck pain:
"I am a recent convert to the shredded memory foam pillow hype. I recently had major hip surgery that required me to sleep on my back for more than four weeks. As a side sleeper, being forced to sleep exclusively on my back was complete torture; I found back sleeping to be akin to being buried alive. A family member purchased a shredded memory foam pillow for me, telling me that it would alleviate the claustrophobia inducing feelings I was getting from back sleeping. After one night with a similar pillow, I was hooked. Selecting a pillow is a very personal proposition. If you prefer a pillow that has a lot of give but is still firm and stays firm throughout the night, this pillow may be what you are looking for."
"My neck pain has improved tremendously! I LOVE THIS PILLOW! Just adjust by removing some filling, zip back up, and test it. Memory foam just needs to air out a bit. This is so worth the money!"
There were a handful of people, however, who were less than thrilled—speaking to it being lumpy and quickly losing shape:
"This pillow is killing my neck. I've removed a lot of foam with no real results. If you know you need a soft pillow that will sink in, stay away from this one. If you like the firm pillows that are like a board then this is for you"
"It's really lumpy. Not my favorite. I was hoping for some extremely comfortably pillows but they are just lumpy without much support. Overpriced for what they are."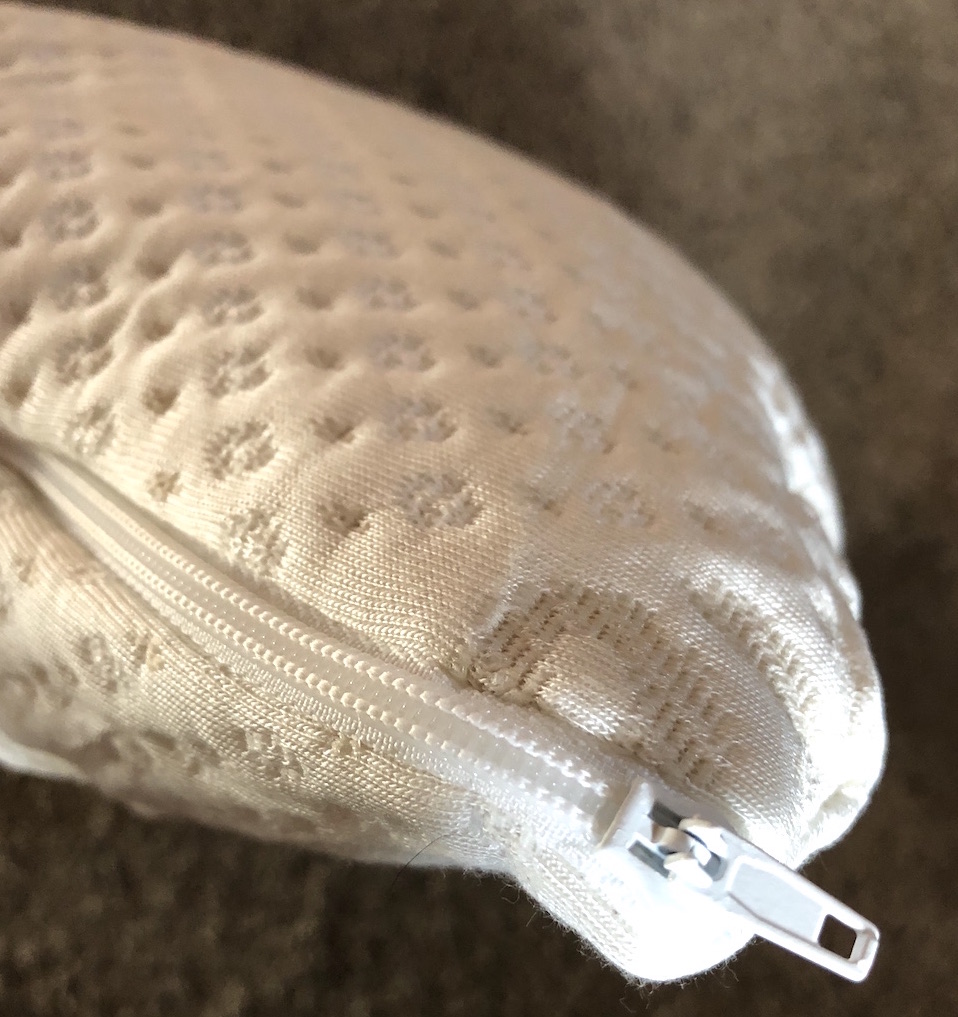 Who Should Buy It
This pillow is priced mid-range, allows you to adjust the firmness, and comes with a really soft cover. However, there is an offgasing smell, it's really firm, and a little lumpy. No pillow will work for everyone, so read these points to see if it might be good for you:
You like your pillows hard. While this pillow might arrive completely flat, it doesn't take long for it to show its true colors: it's a firm pillow. If you know you like extra support, Xtreme Comforts offers a truly sturdy product.
You've had chronic neck pain. If you suffer from neck pain and headaches, this pillow could be worth trying. Many happy customers spoke of the pillow's ability to provide the correct orthopedic alignment and support. Plus, it's adjustable, increasing the odds of it fitting to your body's alignment.
You typically get hot in the middle of the night. Both bamboo and shredded foam promote a ton of breathability, meaning this pillow does a great job at staying cool throughout the night. If you run hot and always need to turn your pillow to its "cool" side, the Xtreme Comforts pillow might solve your problems.
Ready to buy? Grab the pillow over at Xtreme Comforts!