Chenille blankets are known for their distinctly velvety texture and fuzzy appearance, and can be used as a throw or sleep accessory. They're stylish, soft, and come in a variety of colors for folks looking to get creative with decor. But with so many different options on there, finding the perfect chenille blanket can be kind of tricky! That's why I'm presenting my four favorites right here in this guide. Plus, I'll let you in on my personal tips and tricks for finding the chenille blanket that's best for you. Let's get started!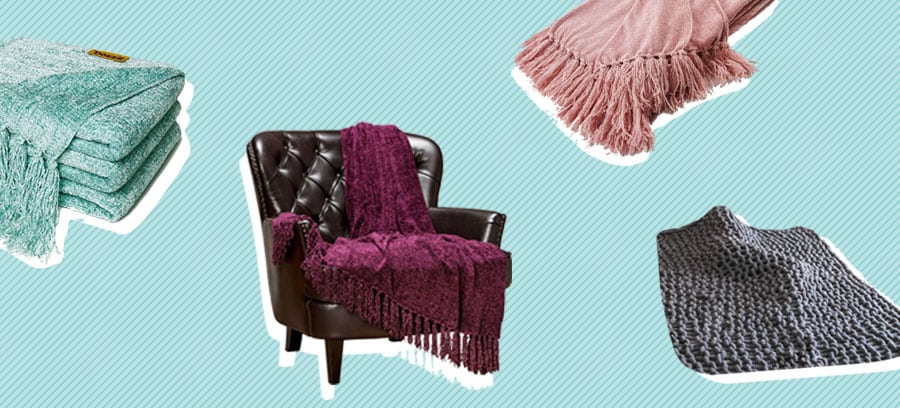 Most Affordable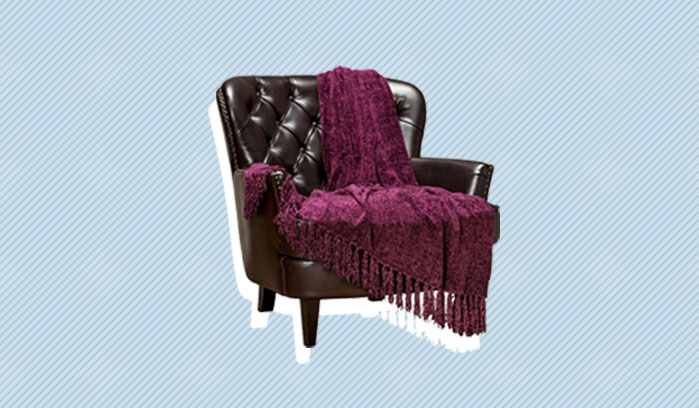 Chanasya Chenille Throw Blanket
A Budget-Friendly Chenille Throw for All Seasons
Made from 100% polyester chenille, this blanket is cozy, silky, and subtly lustrous. It also comes at a very reasonable price, perfect for shoppers on a budget.
Pros
This blanket is warm and cozy, but also quite breathable. If you're looking for a chenille throw that's great for all seasons, this is a fantastic choice.
It's surprisingly affordable for its quality, making it a great choice for budget-conscious shoppers.
Unlike most chenille blankets, this one can be washed and dried by machine.
Cons
To prevent pilling or shedding, it's best to place this blanket in a mesh bag before drying it.
If you're a big and tall sleeper, this throw will probably not cover your entire body.
Chanasya Chenille Throw Blanket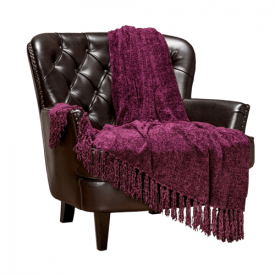 The Chanasya Chenille Throw Blanket is machine washable and budget friendly.
Sleepopolis Score
4.60 / 5
Best Chunky Knit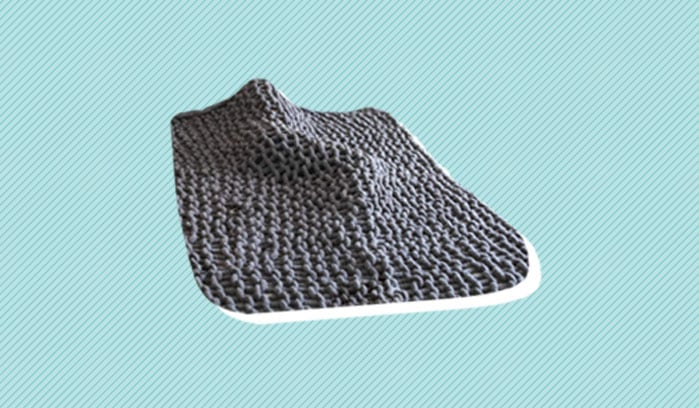 Hearth & Stone Chunky Knit Chenille Blanket
A Luxurious Chenille Blanket with a Chunky Knit Style
Made from premium chenille yarn, this luxurious blanket features a chunky knit design. It's heavy yet breathable, and has a buttery-smooth texture.
Pros
Its chunky knit design gives this blanket a unique style and aesthetic appeal.
Its chunky yarns give this blanket some nice weight, while its open knit design promotes breathability.
The yarn used to knit this blanket is engineered to be extra resistant to pilling and shedding.
Cons
While it's a decent value for its high quality and durability, this blanket is not going to be in every shopper's budget.
It only comes in one gray color.
Hearth & Stone Chunky Knit Chenille Blanket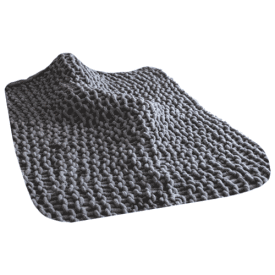 The Hearth & Stone Chunky Knit Chenille Blanket has some nice weight to it and is resistant to pilling and shedding.
Sleepopolis Score
4.50 / 5
How We Picked
Now that you've seen my top four favorite chenille blankets, we're ready to dive into the methodology behind my decisions. Obviously, a lot depends upon personal preference, but there are some key factors to consider when you're shopping for the perfect chenille blanket.
Materials
The first thing to focus on when choosing a new chenille blanket is the specific material from which it's woven. Typically, chenille blankets are made from cotton, polyester, wool, or rayon. Each material brings its own set of perks and pitfalls to the table, so let's take a closer look at these fabrics side by side:
Cotton – Perhaps the most popular of the bunch, cotton-based chenille is known for its soft and breathable feel. Because it's the most common, cotton chenille is pretty easy to find online and in-stores. Additionally, eco-friendly sleepers can take comfort in the fact that cotton is a naturally harvested material.
Polyester – While cotton is frequently used in chenille towels and washcloths, polyester-based chenille is most commonly seen in blankets and throws. Because it's a synthetic material, polyester chenille is often more affordable than cotton or wool. However, it can also be less durable as well.
Wool – Chenille wool is often used to make scarves, shawls, and gloves, as it's a particularly warming material. However, shoppers searching for a warm throw can find wool-based chenille blankets as well! Granted, they tend to be a bit pricier, but they're known for being exceptionally durable and long-lasting.
Rayon – Rayon (commonly referred to as viscose) is a natural material known for its silky smooth feel. It's primarily derived from sustainable wood pulp, which makes it a great pick for eco-friendly folks. It also tends to have a more luminous appearance, which is often considered the basis of its appeal!
As you can see, each material has unique properties, so take some time to decide which is best for you. Once you've ironed out the material details, you're ready to focus on sizing.
Sizing
More often than not, chenille blankets are throw blankets, meaning they are not made to cover your entire mattress. That's why they're not categorized as Twin, Full, Queen, and so on. Instead, they're listed with their exact dimensions. Personally, I think this makes the shopping process easier, as you know exactly how big your blanket is going to be.
That said, I suggest taking some time to actually measure the size of your prospective blanket with a ruler or measuring tape. This will give you the best idea of how long and wide the blanket will be, which will help you decide where it'll fit best in your home.
Finally, it's worth noting that throw blankets won't necessarily cover your whole body (especially if you're on the taller side). Not every chenille blanket is the size of a throw, but most of them are! That's why it's important to make careful note of the blanket's exact dimensions, particularly if you're looking for full-body coverage.
Style
One of the biggest draws to chenille is its fuzzy yet luminous appearance, which is why many folks use a chenille throw blanket to spruce up bedroom or living room decor! So take some time to find the colors that compliment your home and personal style best.
Luckily, chenille blankets are frequently offered in very vibrant colors rather than standard white, gray, and beige options (so you've got room to get creative!). Additionally, some chenille blankets are knit with chunky yarn, giving them a uniquely thick look and feel. Ultimately, choosing the right style is totally dependent on personal preference, and you should feel encouraged to find the one that appeals to your personal aesthetic.
Wash Care
Unfortunately, chenille blankets can be kind of tough to care for. Chenille fabric is delicate, and can pill or shed easily if it's not properly taken care of. That said, you can occasionally find chenille blankets that are machine washable and dryable. However, it's very important to follow the care instructions exactly as they're given by the manufacturer itself. To give you a general sense of what wash care will look like, I've listed machine washing and drying instructions below:
Place your chenille blanket inside a thin, mesh garment bag.
Then, throw it in the wash on a cool, gentle cycle with mild detergent.
Remove the blanket from the washing machine and take it out of its garment bag.
Then, tumble dry the blanket on a low heat setting, or allow it to air dry naturally.
Again, while these are fairly common care instructions, you should still check each brand's specific wash directions. After all, every chenille blanket is different, and you want to maintain the quality of the fabric with proper wash care.
Pricing
Chenille blankets range in price quite a bit, with cost fluctuating according to size, materials, and brand popularity. That's why it's always a good idea to compare prices across several different brands in order to ensure you're getting the best bang for your buck. However, it's safe to assume that chenille blankets made from natural materials like cotton, wool, or rayon are generally going to be more expensive than those made from synthetic materials like polyester. But, again, take some time to explore different cost options before you make your purchase.
Additionally, I always suggest that shoppers familiarize themselves with each retailer's return policy as they vary from brand to brand. For example, some retailers may offer a full refund on blankets that are returned after 30 days, while others won't issue any refund at all. Knowing these return policy terms and learning the exact eligibility requirements for a refund is a great way to ease purchasing pressure and make the most informed buying decision possible.
Sleepopolis Buying Tips
Now that we're nearing the end of my guide, let's recap a few helpful tips that'll point you in the direction of the perfect chenille blanket:
Dimensions – If you're wondering how a particular throw blanket will cover your body, take some time to measure your own height. Then, compare it to the dimensions listed by the blanket brand. This will give you the best sense of how the blanket will fit on your body, and whether or not it's the right choice!
Fringed Edges – If you're looking for a blanket with an aesthetic flare but don't want to explore any bright or vibrant colors, go with a blanket with fringed edges! This is a very popular feature in the world of chenille blankets, and it can add a subtle yet stylish charm.
OEKO-Tex Certification – Whether you've got sensitive skin or not, I always suggest keeping an eye out for the OEKO-Tex certification. Essentially, this seal indicates that no harsh pesticides, flame retardants, or toxic dyes were used in the manufacturing process.
Final Thoughts
Well, you've made it to the end of my article and you're one big step closer to finding the chenille blanket of your dreams. Just be sure to make careful note of sizing, style, and all the material details that appeal to your unique needs. And when in doubt, just refer to this buying guide! Happy shopping, everybody.