Swaddling is a great way for new parents to help their new babies adjust to life outside of the womb. Traditionally, a swaddle involves wrapping fabric around a baby so only their head or face is exposed to the elements. This not only keeps babies feeling warm and secure, but it prevents them from moving their arms and triggering a reflex reaction that might disturb their sleep.
In addition to the more classically-designed swaddles on the market, there are a number of offerings that have more modern trappings. Some swaddles use velcro or a zipper to help secure infants; others have openings or extra space for arm movement. To help figure out which swaddle is right for your child, we've picked out some of our favorites: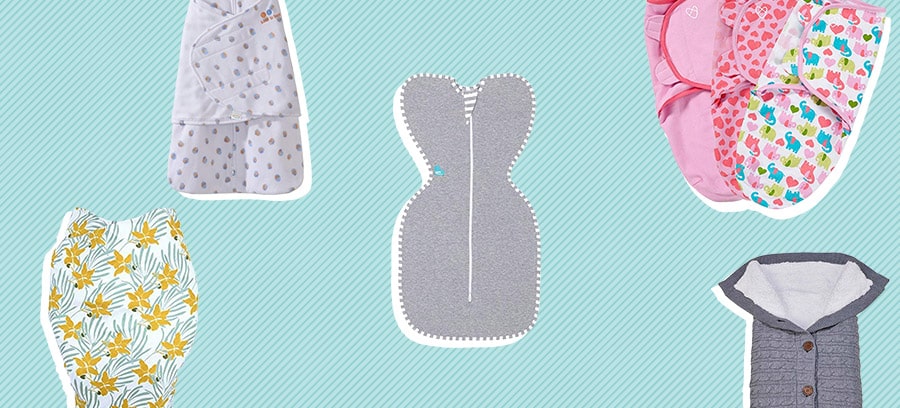 Editor's Choice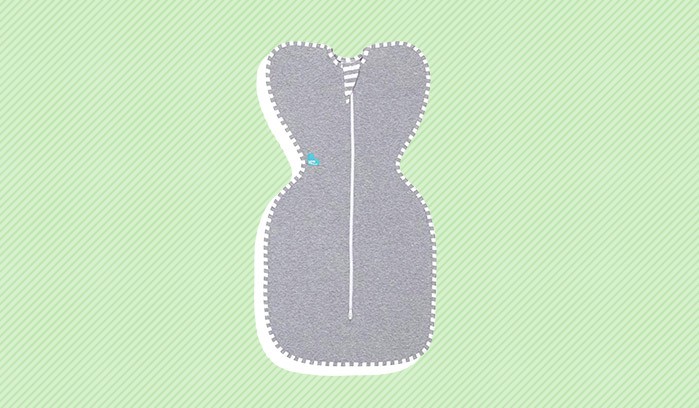 Love To Dream Swaddle
Pros: 
Wing design. This swaddle is designed with a surplus of room sitting around the baby's shoulders. These "wings" allow newborns to move their arms, making it less restrictive and easier to find a comfortable sleeping position.

Double zipper. Most swaddles consist of wrapping layers of fabric around the baby's torso. This product uses a double zipper; place the baby on the open swaddle, place the hands and legs under the fabric, and simply zip up. The zipper can also conveniently open from the bottom for changing diapers.

Snug fit. While traditional swaddles are typically wrapped around a baby, this one envelops the entire baby's body except for the head in one secure layer of fabric. This single-layer swaddle offers more breathability and less excess fabric to worry about.
Cons:
Need to clean often. Because this swaddle is designed to have the baby's arms up near the head, there can be a lot more thumbsucking and hence drool. It may need to be washed often.

Babies can wake themselves up. With the freedom to move their arms, babies may have a propensity to accidentally wake themselves up by trying to move their arms and accidentally hitting their face.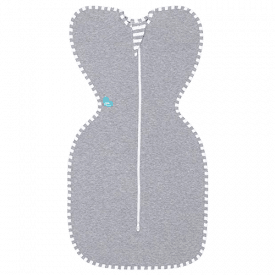 This line of swaddles employs a zip-up design that allows for a snug and stretchy single-layer of fabric to provide secure coverage. The shape is styled so babies have more freedom to move their arms and make themselves comfortable.
The Contender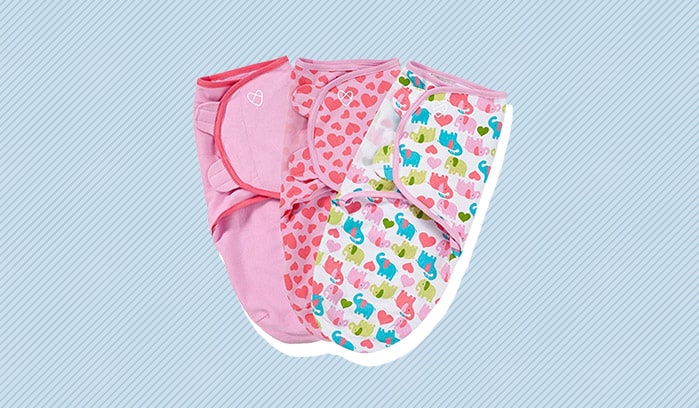 SwaddleMe Original Swaddle
Pros: 
100% cotton. This swaddle is made of a soft 100% cotton fabric. Cotton is more breathable and feels softer than some of the other synthetics or synthetic blends used by others.

Harness slits. These swaddles have harness slits that sit near the baby's back. This is helpful for safely securing a baby to a carseat or other carriage.

Colorful patterns. Not only do these swaddles come in three-packs, but each individual item will feature a unique and colorful pattern. The fabric features a range of designs such as cute elephants, hearts, flowers, polka dots, and other patterns.
Cons:
Tabs are small. The velcro tabs that secure the front wrap of the swaddle are rather small; motivated babies may be able to get them at least partially undone.

Velcro can wake up the baby. The same velcro tabs also may disrupt a baby's sleep; they make some noticeable noise when being pulled apart.
SwaddleMe Original Swaddle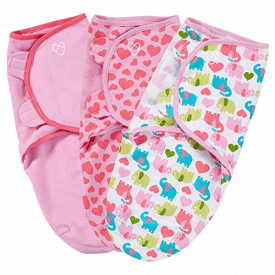 SwaddleMe Original Swaddle
The SwaddleMe Original Swaddle is made out of a soft 100% cotton material printed in colorful and unique designs. Available in three sizes, these affordable sets come with three swaddles each.
Best Design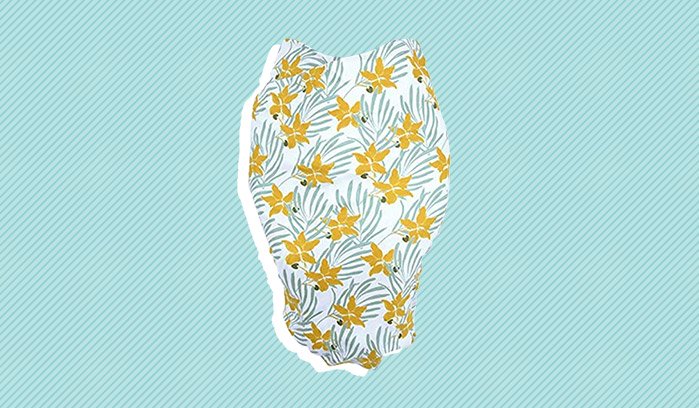 Aumicu Swaddle Blanket 4 Pack
Pros:
Stretchy. This line of swaddles is made from cotton and elastane. This composition makes it durable yet rather stretchy. This is great for babies that get restless and tend to move around a lot.

No irritating fasteners. This traditional swaddle doesn't use velcro, hooks, clasps, or zippers, all of which could potentially irritate a baby's skin. This is the type of swaddle parents might be most familiar with.

Matching headband. Each variety in the 4-pack comes with a matching stretchy headband. This detail is a cute way to dress a baby out in public.
Cons:
Only one size. This line of swaddles is only available in one size geared for newborns from 0-3 months. For swaddling babies over that age, parent will have to look for a different brand

Headbands might be too big for newborns. Though the swaddle is a great size for newborns, the headbands might be a bit too big.
Aumicu Swaddle Blanket 4 Pack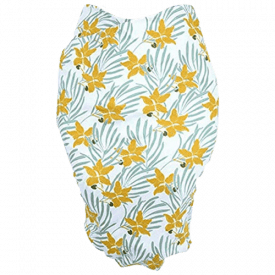 Aumicu Swaddle Blanket 4 Pack
This swaddle blanket four-pack includes a colorful set of swaddles all with unique and elegant prints. The material is soft, stretchy, and doesn't have any potentially skin-irritating elements.
Most Versatile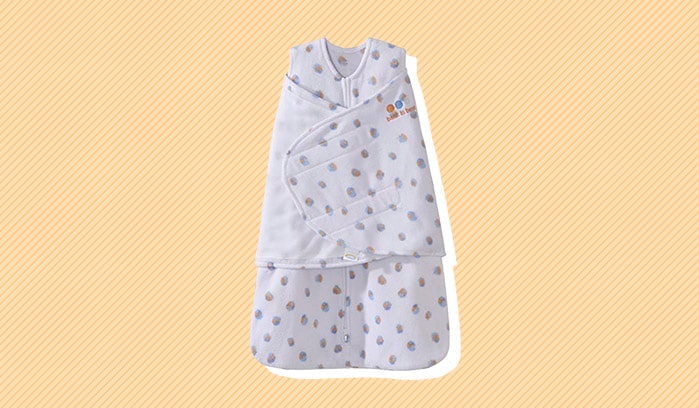 HALO SleepSack Microfleece Swaddle
Pros: 
15 different designs. These adorable swaddles are available in one of the wider selections one can find. The options vary from soft pastel solid colors to subdued patterns that aren't too loud or vibrant.

Arm options. This swaddle is designed in a way that allows parents to put the baby's hands in one of three positions; inside the swaddle towards the body, out of the swaddle, and in the swaddle but positioned up towards the face. This gives more optionality when trying to find the most comfortable position.

Microfleece. For those who like the feeling of fleece, this may be one of the more comfortable swaddles out there. This is great for cold weather as it may insulate better than other materials.
Cons:
Polyester. This swaddle is made out of 100% polyester. While some may find the fleece comfortable, it may not breathe as well as other fabrics.

Can get hot. Though fleece fabrics are very comfortable, they may leave a baby feeling too hot if the room temperature is too high. 
HALO SleepSack Microfleece Swaddle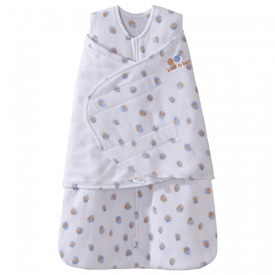 HALO SleepSack Microfleece Swaddle
The HALO SleepSack swaddles are made out of a soft microfleece and are available in three sizes and fifteen charming color and pattern varieties. This swaddle is designed to allow maximum versatility in terms of arm placement.
Most Comfy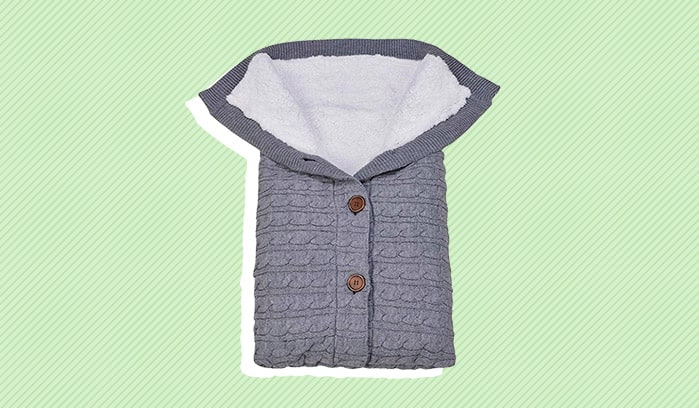 XMWEALTHY Unisex Infant Swaddle Blankets
Pros: 
Wool. The outer layer of these swaddles is knitted in wool. Wool does a great job of insulating a baby during cold weather but also allowing air flow.

Handsome design. While the wool itself is knit in a classic design, what stands out are the large wooden buttons. This provides a sophisticated yet cozy look.

Fleece-lined. Not only is the swaddle made out of insulating wool, but the inner lining is made out of a fleece fabric. This ensures that the baby feels comfortable while wrapped up.
Cons: 
Wool can feel scratchy. The wool outer layer of these swaddles can feel scratchy on the skin. Though a baby won't feel this while inside the swaddle, parents may feel it when holding their baby.

Snags easily. The buttons and the fabric itself have a propensity to snag on things while in transport.
XMWEALTHY Unisex Infant Swaddle Blankets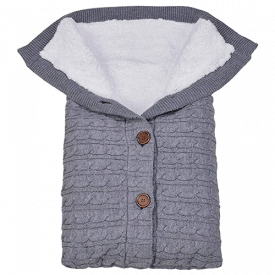 XMWEALTHY Unisex Infant Swaddle Blankets
These unisex swaddles are made out of thick wool and lined with a comfortable fleece. Available in seven colors, the traditional knit pattern and large wooden buttons make for a nice aesthetic.
How We Picked
Swaddles are made in a variety of fabrics, shapes, and colors. Finding the right one means finding one that is easy to operate as a parent and comfortable for a baby. Here is what we weighted heaviest when making our evaluations:
Shape
Traditionally, swaddles are simply designed; a swaddle consists of a piece of square or rectangular fabric that is large enough to wrap around a baby. The baby is placed in the middle of the blanket, with the bottom and sides being wrapped around and fully enveloping the baby. The key for this type of swaddle is to have enough fabric to fully cover the baby securely, but not to have excess fabric that could get in the way or worse, be a choking hazard.
This isn't the only shape of swaddle, however. Some brands have removed the "wrapping" element of the product; these swaddles are designed in almost a bodysuit-like shape that can be zipped up in the front. This can allow babies more room to maneuver their arms and legs, though this can lead to infants waking themselves up at night.
Fabric
The fabric used in a swaddle is typically meant to be soft and comfortable; most parents wouldn't want anything else for their newborn. Cotton, wool, and synthetics like polyester are the most commonly used fabrics. There are potential positives and negatives about each material.
Cotton is known for being soft particularly breathable; an infant covered in fabric can generate a lot of heat that will need a way to ventilate. Polyester is often made in fleece form and some may find this fabric to be the most comfortable for a baby. Polyester is often combined with stretchy elastane in order to allow babies to move more while covered. Wool is a great insulator but may prove to be too thick for warmer months.
Design
Though the babies themselves will probably not be too picky, the swaddle might be one of the first things they are ever dressed in. Parents will want to find a swaddle that matches their aesthetic and adorns their precious new family member in a suitable way. Thankfully there is a wide variety of styles and designs out there.
The gentle and subdued look that many baby garments employ is available in abundance; the pastel blues, pinks, greens, and purples are combined with a soft white for a cozy and simple look. If brighter colors and prints are desired, there are options that will help you and your baby stand out. Prints with polka-dots, geometric patterns, and cute animals may be a fun way to provide color and personality without being too much of a statement.
Tips
Not sure which infant swaddle is right for you? Take a look at the suggestions before making your purchase:
Pay attention to temperature.

Wool and fleece-lined swaddles provide extra warmth during cold months.

Cotton is quite breathable and may be the best material for the warm summer months.

How old is your baby?

Swaddling is not limited to newborns; swaddles can be found in different sizes.

Some brands make swaddles that are larger and can fit babies up to 12 months old.
FAQs
What sizes are swaddles found in?
While some styles are "one-size-fits-all", typically swaddles are available in three month increments (0-3, 3-6, etc).
How tight should I wrap a swaddle?
Though it is important to make sure the baby feels secure, wrapping a swaddle too tightly can lead to some health problems.
How soon can I start using a swaddle?
Swaddles can be used right away! In fact, many hospital nurseries wrap babies in swaddles before sending them home with parents.