A microfiber blanket is a soft and practical bedding essential. Plush microfiber is insulating and easy to care for, and is one of the most budget-friendly fabrics available. Whether you prefer to use your blanket as a primary warmth layer or an accent throw for chilly nights, you can find a durable microfiber blanket you'll love.
Choosing the right microfiber blanket doesn't have to be time-consuming. I've tested an array of fantastic options in a wide range of designs and price points to help you select the perfect model. Here are my 4 curated picks.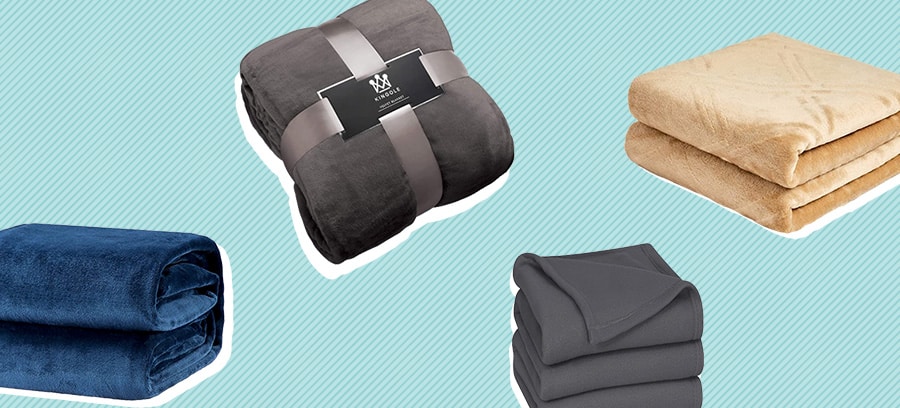 Editor's Pick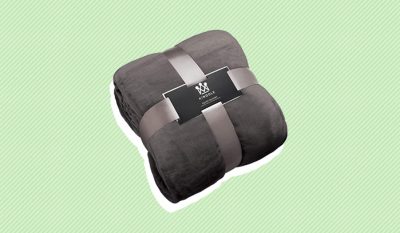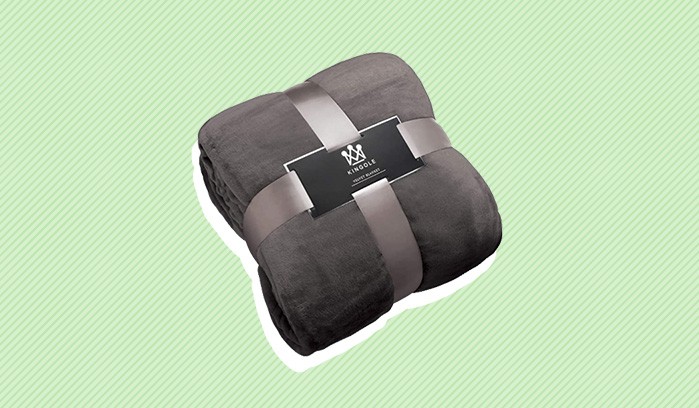 Kingole Flannel Fleece Microfiber Throw Blanket
Classic, Cozy Option
This 100% premium microfiber blanket is available in 44 different colors and twin, queen, king, and throw sizes. The Kingole blanket is machine washable and includes a 30 day money back guarantee.
Pros:
Material. This blanket provides cozy warmth that never feels excessively heavy. True to its name, it has both the classic coziness of flannel and the plushness of fleece
Hand feel. The fabric has a velvety feel and was one of the softest of all the blankets I tried
Colors. The Kingole comes in a great selection of solid colors, including celadon, ivory cream, and olive
Cons:
Less vibrant in person. The colors I tested are not quite as bright and deep as they are in pictures
Simple. This is a simply designed blanket with clean lines. It may not be the right choice for folks looking for a product with more detailing
Most Affordable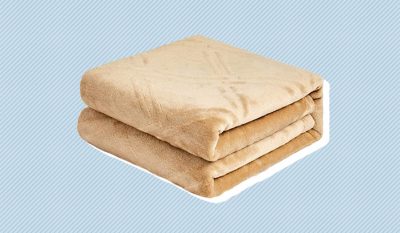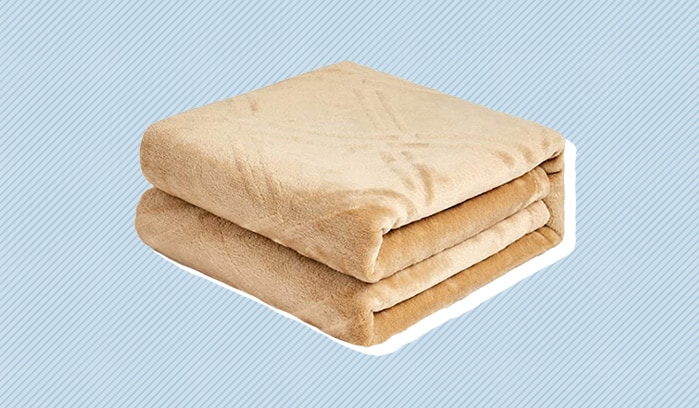 HT&PJ Super Soft Lightweight Flannel Fleece Throw Blanket
Budget-Friendly Warmth
If you're on the hunt for a budget-friendly blanket, check out this 100% microfiber model. This cozy, lightweight blanket is available in 4 sizes and 15 solid colors. The HT&PJ blanket is machine washable in cold water and can be tumble dried on a low setting.
Pros:
Design. The stylish diamond pattern elevates this microfiber blanket above many others I tested
Low-lint. This blanket left my dryer's lint trap and my clothing blissfully lint-free
Price. For this price, you may want to grab one of these blankets for every room in your house. They also make great housewarming gifts
Cons:
Light. This is a nice 3 season blanket, but may not be warm enough for winter
Seams. I noticed some loose threads at the seams after my second washing of this blanket. Time will tell if durability is an issue
Best for Softness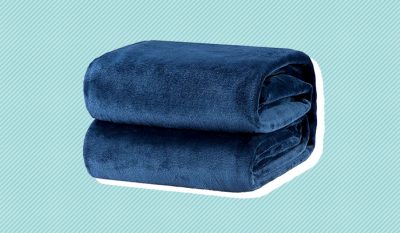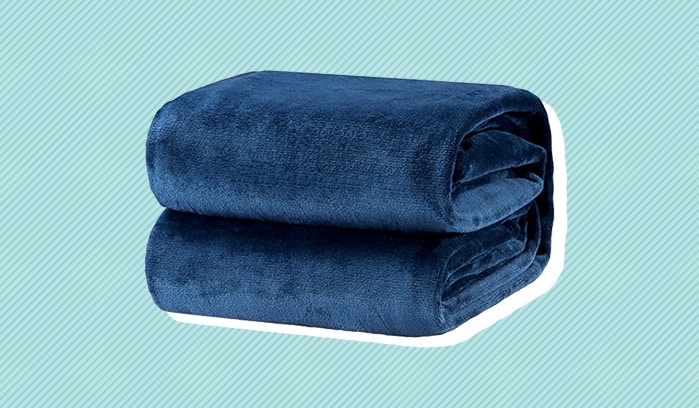 Bedsure Flannel Fleece Luxury Blanket
Plush and Velvety
This velvety warm blanket is made from microfiber that feels fleecy and plush. The Bedsure blanket is available in 18 colors and comes in twin, queen, king, and throw sizes. Machine washable in cold water.
Pros:
Thick. The Bedsure blanket utilizes 260 GSM fleece microfiber for lofty insulation
Wrinkle-resistant. The microfiber material comes out of the dryer looking smooth and ready to use
Cozy. This blanket is about as soft as they come and gets even softer with washing
Cons:
Odor. Air this one out or give it a quick wash if you're sensitive to the smell of new material
Sizing. The sizing is on the smaller side. Folks who like a generous amount of fabric, size up
Most Durable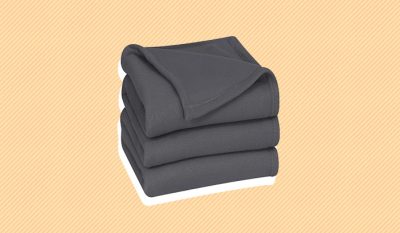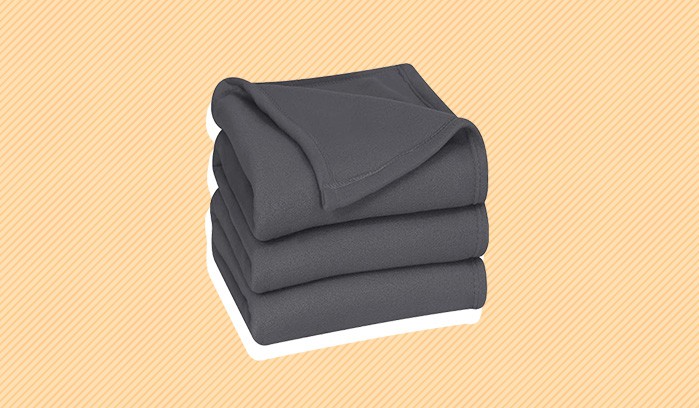 Utopia Bedding Fleece Microfiber Blanket
Cozy and Built to Last
This blanket is made from a strong fleece microfiber that feels smooth and breathable. The Utopia Bedding blanket comes in four earth tones and two sateen-trimmed options. Available in twin, queen, and king sizes.
Pros:
Dense. This blanket's all-season microfiber feels lofty but has a tough, substantial feel. This is a great choice for homes with kids and pets
Affordable. If you're looking for a bargain blanket that wears like one that's more expensive, this could be it. Few microfiber blankets of this quality are this reasonably priced
Trim. The sateen trim adds a silky note of sophistication to the gray and navy blue options
Cons:
Limited colors. A few lighter or pastel colors would be nice choices to have with this blanket
King sizing. I found the Utopia Bedding blanket a little small in the king size, particularly for folks who plan to use it as a bedspread
How We Picked
A good microfiber blanket is a modern classic that offers warmth and comfort year-round. When choosing microfiber blankets to review, I looked at certain metrics that apply to all models, regardless of brand and style. When shopping for a new blanket made from microfiber, consider the following:
Material
Microfiber has become one of the most popular and commonly-used bedding materials. It's also one of the most budget-friendly. Microfiber is manufactured from polyester strands that are finer than a strand of silk. Microfiber is known for its moisture wicking properties, but may not be as airy and breathable as cotton and other natural fibers due to the tight weave of the material. Newer weaves of microfiber may provide better ventilation. Microfiber can be one of the least expensive and most durable bedding fabrics.
Microfiber blankets are known for their soft, plush feel. Some blankets feature different textures on the facing and backing, while others have a consistent feel on both sides. Microfiber's velvety characteristic makes it an appealing blanket material, particularly because it tends to wear well and maintain its softness over time.
GSM Rating
Some microfiber blanket manufacturers refer to GSM, which describes the grams of fiber per meter. A microfiber blanket with a higher grams per meter rating weighs more than a blanket with a lower rating. The higher the GSM, the thicker the material. The pile may also look and feel more plush. Most microfiber fabric rates between 200 and 350 GSM. If you're looking for a warmer blanket, check out the blanket's GSM rating before buying.
Design
Blanket design refers to color, pattern, and the way the material is woven or constructed. The right blanket can be both a practical item and a stylish accent that highlights your decor. A blanket can bring a pop of bright color or subtle design that adds polish and texture to a bedroom. Some blankets feature a pattern in the material itself, such as a diamond or marbled pattern that can increase the texture of the blanket and give it a higher end look.
When shopping for the right blanket, keep your home's aesthetic in mind. A neutral color blanket can blend in with just about any rug, drapery, or bedding. Blankets in different colors or designs can be switched up seasonally for a fresh look, and are an easy and affordable way to add your personal style to a bedroom or guest room.
Price
When picking microfiber blankets to test out, I selected options from the high and low end of the budget spectrum. Microfiber is often a reasonably priced bedding material, making it popular with cost-conscious buyers.
Microfiber blankets range in cost depending on quality, size, and design. Thicker and warmer microfiber blankets or those with a unique design may cost more. Mink blankets that are woven to feel like fur and feature elaborate designs are often more expensive than other microfiber blankets.
Blankets woven from a more breathable form of microfiber may also cost a bit more. If price is an important factor for you, know your budget before you start shopping. Find several blankets in your price range and compare features and reviews before deciding which one to buy.
Care
Most blankets do not need to be washed as consistently as sheets and duvet covers, but do require regular maintenance to keep them looking good and performing well. The majority of microfiber blankets can be machine washed and tumble dried without fading or shrinking.
As is possible with any fabric, laundering can break down a microfiber blanket's fibers and cause holes, rips, or other signs of wear, particularly at the seams. Line-drying or tumble-drying on an air dry setting can help your blanket last longer and resist pilling.
Most blankets come with specific care instructions. Follow these instructions closely to help extend the life of your blanket. As a general rule, blanket manufacturers do not recommend using fabric softeners as they can leave behind residue and damage the structure of the material's fibers.
Buying Tips
To make the process of choosing a microfiber blanket easier, keep the following tips in mind:
Know your warmth needs – Sleepers who tend to get hot at night usually prefer breathable materials, including more ventilated types of microfiber. Cool sleepers should consider a thicker or more tightly-woven blanket that retains warmth
Understand the purpose of your new blanket – Do you need a lighter blanket that will add to the warmth of your comforter but not replace it? Or will your microfiber blanket be your primary warmth layer? Many folks use a microfiber blanket to drape over the end of a bed or sofa to use as a throw. Choose your blanket based on how it will function and how often you'll use it
Don't forget style – A new blanket can add color or texture to a bedroom and make an existing bed look more welcoming. The right blanket can be a focal point as well as a source of cozy warmth and comfort
Make a list – Before you start shopping, make a list of your ideal blanket's features. Are you looking for a particular color or pattern? Is weight most important to you? How about price? Browsing for a microfiber blanket is easier when you know your must-haves
Be sure to measure – The size of your blanket is crucial to your comfort. Some folks prefer an oversized blanket that can work as a bedspread, as well, while others like a smaller blanket that fits neatly over a mattress. When considering a microfiber blanket, know the measurements before buying
Last Word From Sleepopolis
A microfiber blanket is a plush and practical choice that can last for years if cared for properly. Microfiber is insulating, moisture-wicking, and has a luxuriously soft feel on the skin. The right microfiber blanket can be a stylish addition to your bedroom that adds an inviting splash of color and texture. When shopping for a microfiber blanket, make a list of your must-haves and remember key features like warmth, style, and price.
Rose MacDowell
Rose is the former Chief Research Officer at Sleepopolis. An incurable night owl, she loves discovering the latest information about sleep and how to get (lots) more of it. She is a published novelist who has written everything from an article about cheese factories to clock-in instructions for assembly line workers in Belgium. One of her favorite parts of her job is connecting with the best sleep experts in the industry and utilizing their wealth of knowledge in the pieces she writes. She enjoys creating engaging articles that make a difference in people's lives. Her writing has been reviewed by The Boston Globe, Cosmopolitan, and the Associated Press, and received a starred review in Publishers Weekly. When she isn't musing about sleep, she's usually at the gym, eating extremely spicy food, or wishing she were snowboarding in her native Colorado. Active though she is, she considers staying in bed until noon on Sundays to be important research.