If your baby needs a good overnight diaper, congratulations. That means your child is sleeping through the night (and hopefully, so are you!). But in most cases, an ordinary diaper won't be up to the task of protecting your baby through 10 or more hours of sleep. Your child will need a quality absorbent diaper that can perform all night without leaking, slipping off, or becoming uncomfortable.
Choosing a great overnight diaper doesn't have to be a confusing process. To help you navigate the wide array of options and features, I've tested out diapers in a number of different materials, styles, and price points. Read on for my top 4 picks, followed by a full guide to selecting the right overnight diaper for your child.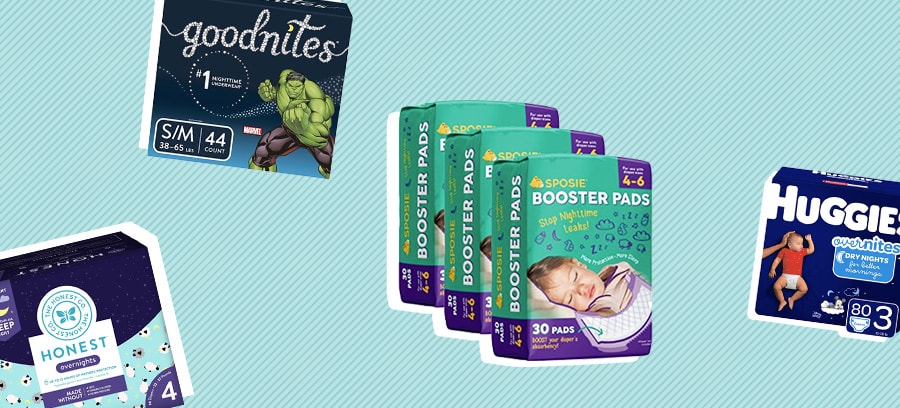 Best Diaper Pad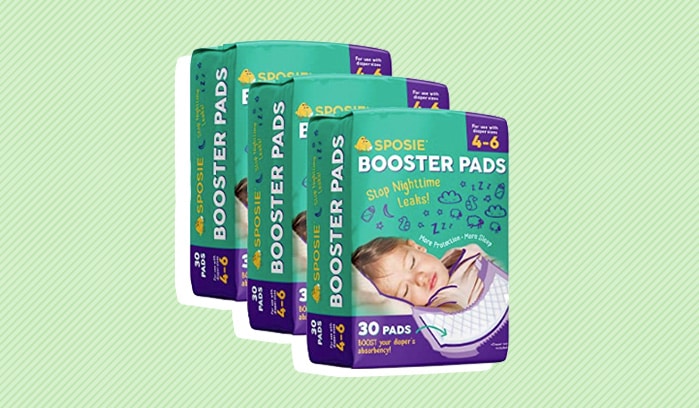 Sposie Booster Pads Diaper Doubler
The Sposie Booster Pads Diaper Doubler is my top pick for diaper pad. This absorbent pad fits into most brands of diapers without discomfort or excessive bulk. The Sposie Booster pad is made of hypoallergenic material and comes 30 to a pack. This pad is also available in an adhesive strip option. 
Pros: 
Fit. This booster pad's u

niversal fit suits most diaper brands and sizes

Adhesive-free. Positioning this pad is easy with no adhesive to stick to your child's diaper or skin

Absorbent. The Sposie booster pad is leakproof, comfortable, and can turn an ordinary diaper into one that keep your child dry overnight  
Cons:  
Not for smaller babies. This pad may be a little large for smaller size diapers

Affordability. These pads are a bit pricey for a product intended to be used with, and not instead of, a diaper
Sposie Booster Pads Diaper Doubler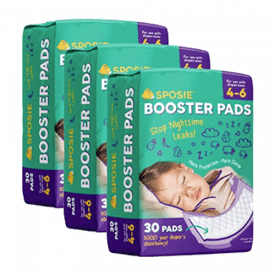 Sposie Booster Pads Diaper Doubler
The Sposie Booster Pads Diaper Doubler are absorbent and fit most diaper brands and sizes.
Best Hypoallergenic Diaper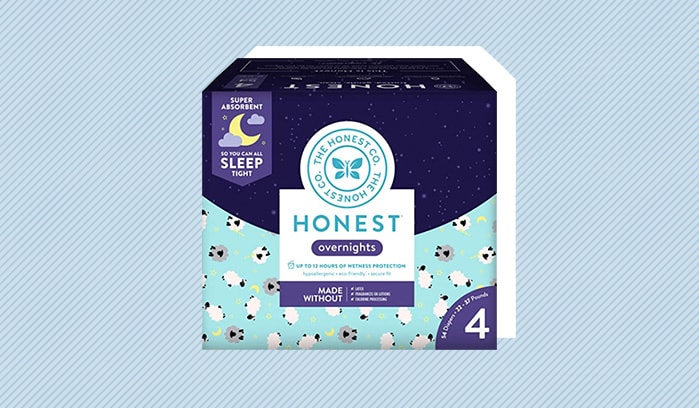 Honest Overnight Baby Diapers
Fans of natural products, listen up. Honest Overnight Diapers are not just absorbent, they're made entirely of eco-friendly and environmentally sustainable materials. These diapers are made without chlorine, fragrances, or latex to help keep your baby safe and comfortable. 
Pros: 
Safety. These diapers are made without chemicals and common skin and respiratory irritants, making them a great choice for any baby 

Soft liner. The Honest overnight diapers had the softest liner of any brand I tried 

Design. The fluffy sheep design is not just adorable, it's made without synthetic and potentially harmful dyes
Cons:
Price. Environmentally sustainable diapers can cost a bit more, but in my view, the benefits of these diapers are worth the higher price tag

On the small side. This diapers are a great option for smaller children but may not be roomy enough for larger babies
Honest Overnight Baby Diapers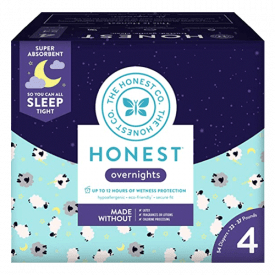 Honest Overnight Baby Diapers
The Honest Overnight Baby Diapers are made without chemicals and have a nice soft liner.
Most Affordable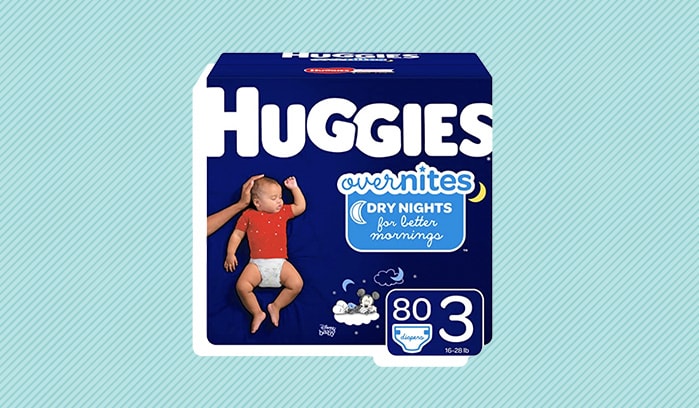 HUGGIES OverNites Diapers
Huggies OverNites Diapers are a dependable choice for parents looking for absorbency and value. These fragrance-free overnight diapers include a wetness indicator stripe that changes color when the diaper is wet. Huggies OverNites are designed to fit babies from 16-28 pounds (in size 3).
Pros: 
Size options. These diapers come in 4 sizes to fit babies between 16 and 35 pounds

Price. It would be difficult to find a diaper of this quality for less 

Secure. The tabs and leg guards feel well-constructed and flexible without being loose 
Cons:
Slight chemical odor. Babies with respiratory issues may find the scent of these diapers bothersome

Absorbency. These diapers didn't quite last all night, but may work for smaller babies
HUGGIES OverNites Diapers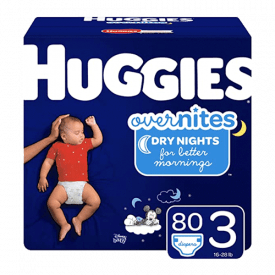 HUGGIES OverNites Diapers
The HUGGIES OverNites Diapers fit securely and come in at a great price.
Best for Bedwetting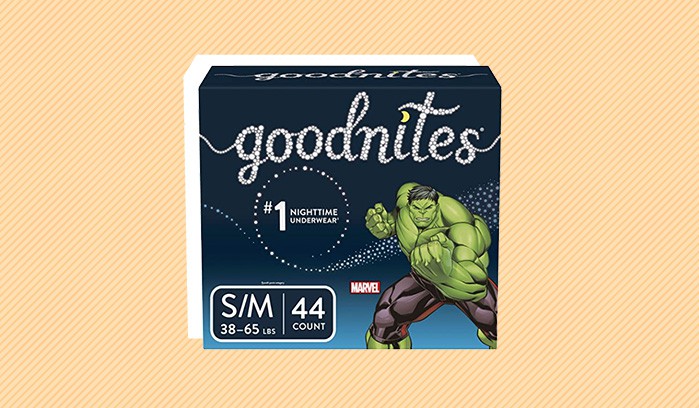 Goodnites Bedwetting Underwear for Boys
If your older child wets the bed, check out Goodnites Bedwetting Underwear for Boys. This pull-on style underwear provides 5 layers of moisture protection and double guards at the legs to help prevent leaks. Though this underwear is designed for boys who weigh between 38 and 65 pounds, I think it's a great option for girls, as well. 
Pros: 
Absorbent. Goodnites Bedwetting Underwear doesn't just claim to be absorbent, it is, and works just as well for children at the top of the weight range 

Durable. This underwear lasted all night without slipping or leaking

Fit. The stretchy elastic waistband makes for a secure, comfortable fit
Cons: 
Dye stains. The combination of moisture and dye can create stained skin on some children

May tear. Vigorous pulling may cause these underwear to tear 
Goodnites Bedwetting Underwear for Boys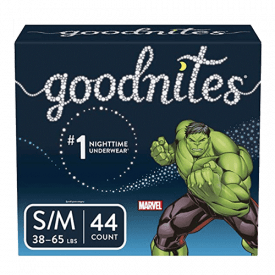 Goodnites Bedwetting Underwear for Boys
The Goodnites Bedwetting Underwear for Boys are absorbent and durable.
How We Picked
Choosing the best overnight diapers from all the great available options took time and a lot of testing. When deciding on my top picks, I used some important metrics to help me determine comfort, value, and absorbency. These metrics hold true no matter which overnight diaper you're considering, and can help you decide which one is right for your child's needs.
Materials
The material used in a disposable overnight diaper is crucial for your baby's comfort. Overnight diaper materials may be in contact with your child's skin for up to 12 hours. Common materials used in overnight diapers include the following:
Core – All disposable diapers include a core of material made from super-absorbent polymers, small particles that wick moisture away from the diaper's surface. The core of overnight diapers features additional layers to absorb more moisture. Disposable diapers may also include a material derived from wood pulp to help distribute fluid to drier parts of the diaper's coreWhen looking for an overnight diaper that will help keep your baby dry and comfortable, look for an option with at least 3-4 absorbent core layers. Diapers designed for daytime use typically include just 2 core layers, and are meant to be changed more often
Outer layers – The outer layer of a disposable overnight diaper is usually made from polyethylene film along with a polypropylene lining that sits against the skin. Natural or organic brands of diapers may use similar materials derived from plants instead of petroleum
Leak protection – Absorbency by itself isn't enough when it comes to overnight diapers. Without leak protection, moisture can come into contact with your child's skin and cause waking during the night, discomfort, or skin irritation. Leak protection materials include plastic exterior liners and elastic leg cuffs to help the diaper fit snugly without feeling too tight. Adjustable side closure tabs and waistbands are also designed to help prevent leaks
Skin Sensitivities
Any diaper can cause skin reactions and aggravate allergies. When choosing an overnight diaper that won't cause irritation, check the list of materials and watch for the following:
Materials treated with chlorine – Chlorine gives materials an appealing snowy whiteness but can cause a rash. To avoid trace amounts of chlorine reaching your baby's skin, choose diapers that are unbleached or bleached with natural methods such as peroxide
Added fragrance – Many brands of disposable diapers use added fragrance to mask odors. Most fragrances are made from chemicals that can cause skin irritation or worsen allergies or asthma. To avoid fragrances, choose unscented products
Coloring agents – Coloring agents include artificial dyes that can be irritating to your baby's skin. Many brands use dyes to create designs on a diaper's outer layer, but these dyes may cause reactions if leakage occurs and the dyes come into contact with the skin. If your child has skin sensitivities, try to choose diapers that don't use dyes in either the outer or inner layers
Latex – Many babies and adults are sensitive to natural latex, which can cause allergic reactions. To help your sensitive baby avoid skin or respiratory irritation, look for diapers made without latex or latex derivatives
Sizing and Fit
Choosing the right size diaper is essential for your child's comfort. A diaper that is too small can feel tight and cause skin irritation. A diaper that is too large may slip or come off. Diapers that are small may leak because of insufficient absorbent material, while a diaper that is large can leak because of a loose fit.
Diapers with stretchy, adjustable tabs and snug (but not too snug) elastic leg guards usually fit best. Choose a diaper based on your baby's weight and unique anatomy, and watch for signs that a new model doesn't fit well. Red marks or indentations on the skin may indicate that a diaper is too small. A diaper that slips or leaks may be a cue to size down a bit. Overnight diapers are typically sized for older babies, so be sure to adjust sizing accordingly when your child transitions to sleeping through the night.
Buying Tips
Still not sure which overnight diaper will help your baby stay dry and sleep comfortably? Try these tips to help guide you through the decision process:
Consider the environment – Disposable diapers require an extraordinary amount of energy and resources to make, and are one of the most common items found in landfills. If choosing eco-friendly products is important to you, look for chemical-free, unbleached diapers that use materials derived from plants. Some diapers may even be biodegradable if disposed of properly. Cloth diapers are an alternative choice that may be even better for the environment
Factor in budget – Diapers are a recurring cost that can add up over time. Eco-friendly diapers may cost more than conventional diapers, but may be a must for babies with respiratory or skin sensitivities. Finding a lower-cost overnight diaper that performs well and fits your baby comfortably may be a challenge, but it is possible. Look for diapers in your price range that include the features and materials you're looking for. Check materials, sizing, and customer reviews before choosing the diaper that most closely fits your needs and budget
Be consistent – Most brands make overnight diapers in addition to diapers for younger babies. If your child sleeps well with a particular diaper style or manufacturer, check to see if the same company makes an overnight diaper, as well
Last Word From Sleepopolis
The right overnight diaper can mean a peaceful night's sleep for both your baby and you. When looking for an overnight diaper that will keep your child comfortable and dry, go for products with a highly absorbent core and stretch-to-fit tabs and leg guards. If eco-friendly is a must-have, look for biodegradable diapers made from plant-based materials. Sensitive babies often do best with dye, chlorine, and fragrance-free options. And finally, look for a diaper that fits well and suits your budget to help your child (and you!) sleep through the night.