Falling asleep, even when in the presence of others, is a very personal experience. Whether people enjoy relaxing to music or podcasts during their last minutes of the day or simply need some audio to act as white noise to help distract them, pillow speakers are a way for someone to fall asleep and not disturb others. 
These speakers need to not only be unobtrusive but have sound that can only reach the intended ears. As in the fable Princess and the Pea, some are more sensitive to others to things underneath them as they slumber. We've examined some of the more popular pillow speakers to see how they work. Here is what we discovered: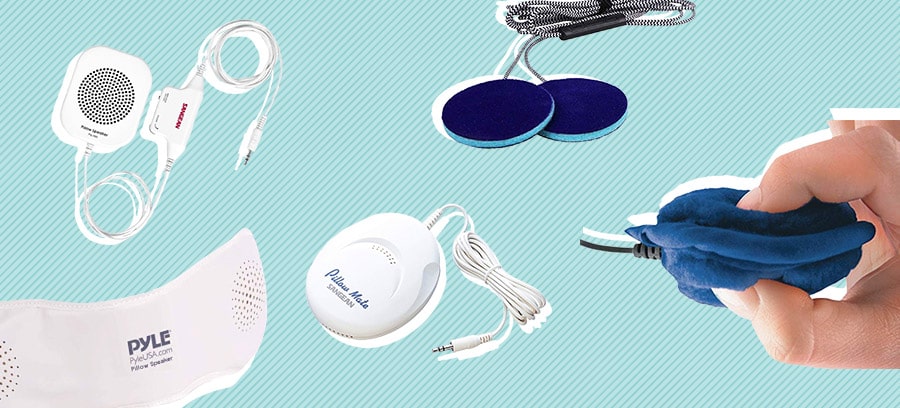 Editor's Choice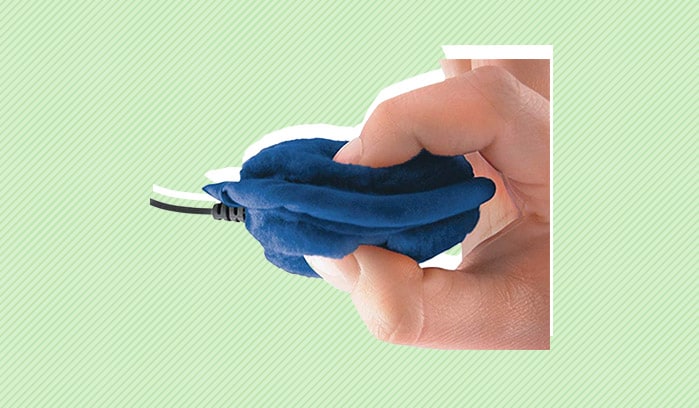 C Crane Company PS2 SoftSpeaker Pillow Speaker
Pros: 
Soft cover. This pillow speaker has a soft – and washable – cover that is designed to not disturb or irritate the skin while sleeping.

Padded foam. The speaker itself is covered in a padded foam. This extra layer of soft material provides comfort and hides the sound enough so that only the intended ears can hear it. Perfect for those sleeping in a room with others.

Long cord. The cord that is included with this speaker is around 2 meters long. This can help users plug into a variety of different sources.
Cons: 
No volume control. While many pillow speakers allow users to control the volume from the speaker itself, this one has no volume control. Users will have to toggle the volume on their music devices.

Padding and cover are bulky. The foam padding and the washable cover add extra bulk to the speaker. Some users may take out the speaker to reduce its footprint.
The Contender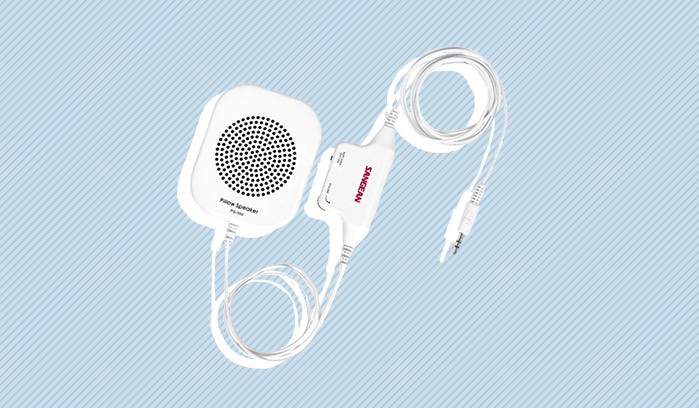 Sangean PS-300 Pillow Speaker
Pros:
Adjustable volume. This product features inline volume control, meaning users can adjust the sound levels from the speaker itself. 

Built-in amplifier. Sangean's PS-300 pillow speaker includes a built-in amplifier that can be turned on or off. This is great for those who are also interested in using these as out-in-the-open speakers.

Flat design. The manufacturer has made this pillow speaker with a flat profile. This makes them less noticeable when placed under a pillow.
Cons:
Amplifier needs battery. To use the built-in amplifier, users will need to install a AA battery, which may run out rather quickly. The battery is not included.

Volume control separate. The volume control mechanism is not on the actual speaker itself; half-asleep users will have to find a separate module connected by wire.
Best Bargain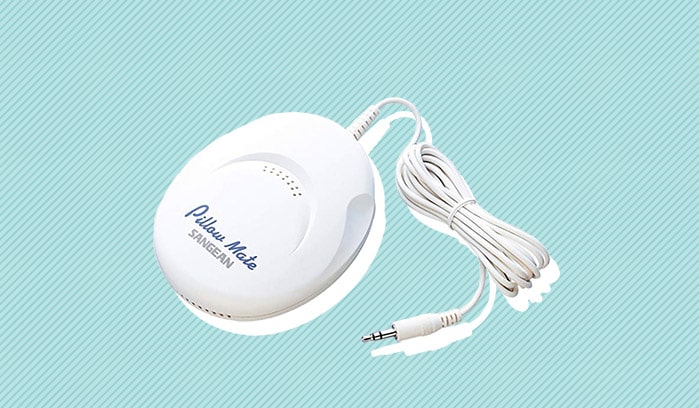 Sangean PS-100 Portable Pillow Speaker
Pros: 
Simple design. This pillow speaker has a slim design and an audio cord on its narrow horizontal side. This lets it serve as a very unobtrusive pillow speaker.

Easy volume control. An aspect of this speaker that is very user-friendly is the volume control. Users can quickly switch from one of three sound levels right on the speaker.

Price. For those looking for a viable pillow speaker for less than most products on the market, this might be the best option. It costs less than half of many competitors.
Cons: 
Handling fee. For those who need to return the product to the manufacturer, there is an 8 dollar handling fee. That is almost the entire cost of the product, so this makes the warranty unhelpful.

Hard material. This product is made out of sturdy – but hard – plastic and isn't flat. It may disturb the comfort of some sleepers.
Best for Side Sleepers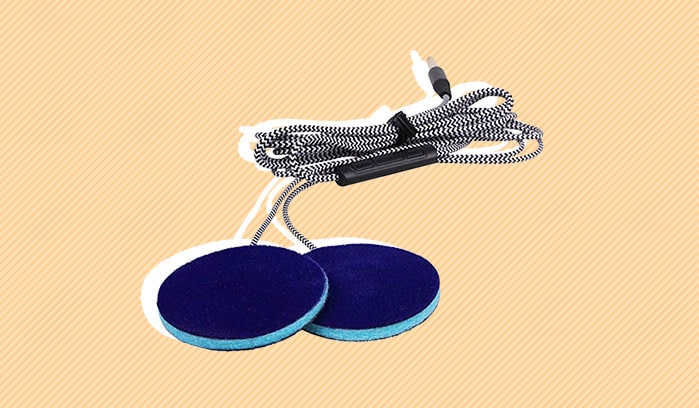 Sleep Ultra Thin Pillow Speakers
Pros: 
Thin speakers. These speakers are some of the least obtrusive speakers available. Measuring only ⅛ inch in depth, even sensitive sleepers might barely notice them.

Lightweight. This product from Sleep Ultra weighs less than an ounce. This makes them great for those planning to take them while traveling or even from room-to-room.

Soft sleeve. These speakers come in a soft sleeve that houses both speakers in one housing. Though intended to be used separately as headphones, keeping the speakers in the sleeve can help direct the sound in one direction.
Cons: 
Best for side sleepers. This audio is designed to be heard only by an ear pressed right against the ear. Those who enjoy sleeping on their backs may have a hard time hearing their audio.

Wires can get tangled.

Due to the nature of having a two-pronged speaker system, the cords can get tangled during the night or when storing. This can be a hassle to unwind.
Best Wireless Speaker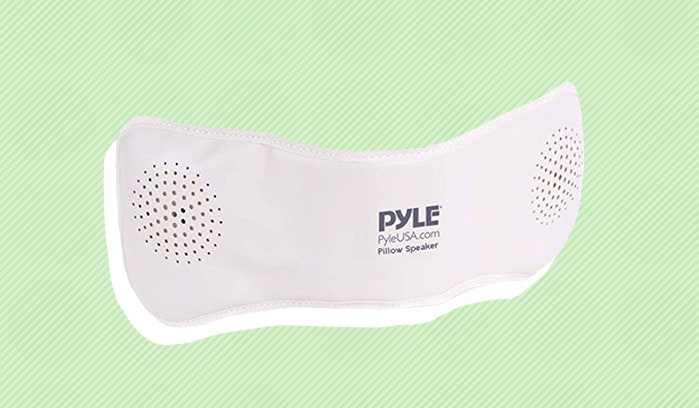 Pyle PPSP18 Bluetooth Pillow Speaker
Pros: 
Bluetooth-enabled. This speaker is bluetooth-enabled, meaning most personal smart devices can be synced without needing to plug in a cord. This makes listening while falling asleep more comfortable as there is no chance of being tangled up in wires.

1 gb of memory. This device has the power to download songs or audio tracks straight to the speaker itself.

Nature sounds. Pyle's Bluetooth Pillow Speaker also doubles as a white noise machine. It has a selection of nature noises it will play to help uncertain sleepers reach a pleasant slumber.
Cons:
Wired remote. While this product has Bluetooth connectivity, the remote control is wired. This can be an inconvenient attachment to sleep with. 

Short battery life. This speaker doesn't last too long with each set of batteries. If left on all night, it may be dead before morning.
How We Picked
Pillow speakers can be a great way for people to achieve a peaceful night of sleep. They allow personalized listening experiences that won't disturb anyone else. With different features and variable design choices, manufacturers have created products that may appeal to a wide array of users. These differences can be hard to measure without close inspection; here are the aspects we keyed in on:
Profile
The shape and size of pillow speakers can make the difference in how useful they are for certain sleepers. If they are too thick, rotund, or awkwardly shaped, they may be felt under even multiple pillows. Some sleepers are more sensitive to their physical surroundings when trying to fall asleep and a hard plastic speaker may be problematic.
Certain brands have padding around their particular line of speakers, helping to mitigate their presence under pillows. The wider the surface area of the speakers, the more compact they can be. Dual-sided speakers showcase this feature.
Wires
Most pillow speakers have some sort of wire to help with functionality. Most speakers use an audio cord to connect to the audio source, typically a 3.5 mm jack. Bluetooth connectivity is great for those wanting to avoid having a wire emanating from their beds at night. Products with audio memory storage can avoid wires as well.
Some speakers have remote controls, which are usually attached via wire as well. Other features that may have a positive effect on the sound, like an amplifier, are usually attached via wire as well. This dilemma forces users to choose between more wires and more features.
Sound
The tricky thing about pillow speakers is the fine line between providing quality audio and making too much noise. Pillow speakers that are too loud can keep users awake or even disturb others. When using an amplifier, it can even be temporarily painful to sensitive ears.
Amplifiers can help make pillow speakers louder; some have a low base of sound intensity, so amplifiers are needed to make some types of audio intelligible. Devices that have their own volume control are handy. Otherwise, users can only toggle the volume using the source, which may not be nearby.
Tips
Not sure which pillow speaker is right for you? Before making your decision, take a look at the following helpful tips:
Are you a light sleeper? 

Some people may enjoy falling asleep to music or an audio book, but once asleep could be bothered by having a wire or hard piece of plastic. These users should get a Bluetooth-enabled or padded speaker.

Those who are bothered by loud noise should find a speaker that has audio levels that can be finely tuned.

Do you sleep on your side or back?

Certain speakers work more efficiently if users are laying on their sides. These speakers direct sound directly into the space next to them.

Two-sided speakers that are spread out underneath the pillow can spread the sound more evenly but less directly. The same goes for speakers with a more round shape.