Men and women have been donning sleep caps for centuries. While fashions have certainly changed over the decades, modern sleep caps can still have many benefits for sleepers with a wide array of needs. Sleep caps can be designed for protected damaged hair, keeping hair warm, disallowing moisture to escape, and for comfort.
To help you understand what this wide range of products can do for you, we've tested out some of the top offerings on the market. Here is what we found out: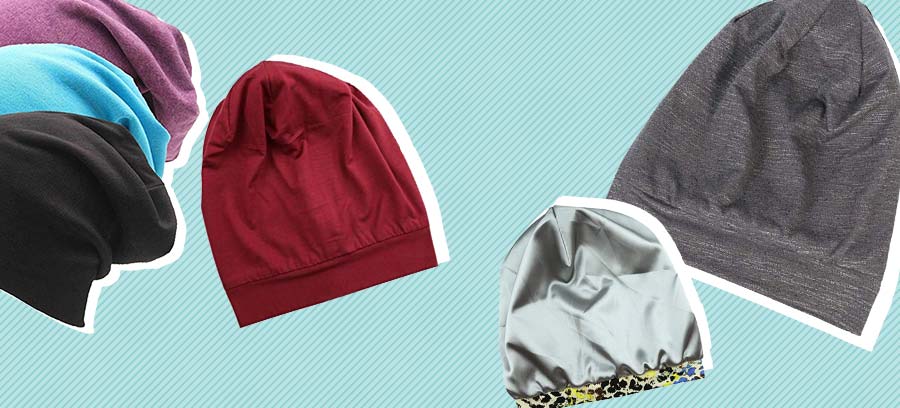 Editor's Choice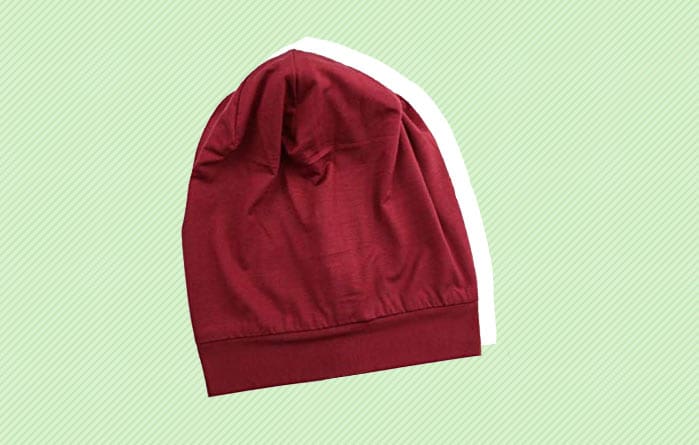 FocusCare Satin Lined Slouchy Sleep Cap
Pros:
Variety. Boasting over forty different colors, styles, and patterns, this sleep cap can match whatever aesthetic you are going for, subdued or vibrant. Perfect for wearing outside the home without thinking twice about how you look.
Breathable polyester. This product has a satin interior lining that is made of 100 percent polyester. The way satin is woven in intermittent weaves allows for air and water molecules to flow more freely than more densely woven materials. The outer layer is made of bamboo fiber, which also tends to have that breathable property as well.
Non-absorbent. The satin polyester is also non-absorbent, meaning your hair can more readily maintain its moisture overnight. This is great for when you don't want your hair to dry out overnight due to the condition of your hair health or the environment.
Cons:
Fit. While a majority of users will find the product to have a nice and firm but comfortable fit, not all users will agree. If your head tends to necessitate a larger or smaller size than in the average range, you may need to try it on upon delivery to make sure it fits.
Too long. This sleep cap is specially designed to be "slouchy." This is useful (and comfortable) for those with long hair or a larger head, but for some users this extra fabric will need to be tied or folded to keep it out of the way.
FocusCare Satin Lined Slouchy Sleep Cap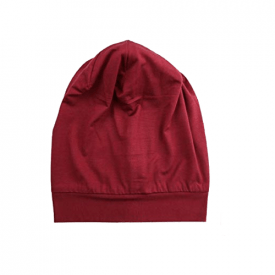 This sleep cap from FocusCare is satin-lined on the inside and made out of 95 percent bamboo on the outside layer. This sleep cap has a "slouchy" design that is specifically made for people trying to tame frizzy hair and those trying to keep their hair and heads safe and stable whether it be for medical reasons or when experiencing hair loss.
Sleepopolis Score
4.20 / 5
Contender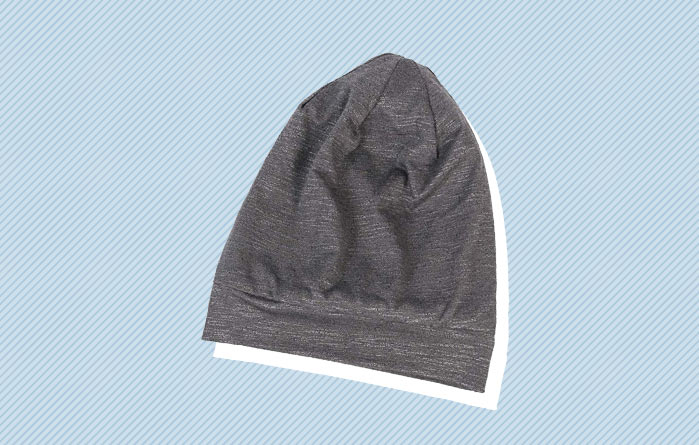 Enjoy Holiday 1981 Satin Silk Lined Beanie Sleep Cap
Pros:
Porous. Silk is a protein-rich material that is especially porous when used as a fabric. It both draws in moisture through its porous fibers and allows it to flow.
2-packs. This product comes both in a single pack but also in a two-pack of various varieties. You can choose colors that complement certain color schemes, such as light grey and red or dark grey and pink.
Machine wash. Unlike some sleep caps available for purchase, this offering from Enjoy Holiday 1981 can be machine washed with your other laundry. Perfect for those who want a sleep cap that they can clean often and easily.
Cons:
Doesn't mix well with some hair products. While most users will not have a problem with this, customers who use moderate amounts of hair oil, whether coconut or other, may cause oil spots on the fabric and possibly damage the material or cause it to bleed.
Can slip off. Some users may find the fit to be larger than necessary. Though this may be a comfortable fit, it may not stay on all night if you toss and turn a lot.
Enjoy Holiday 1981 Satin Silk Lined Beanie Sleep Cap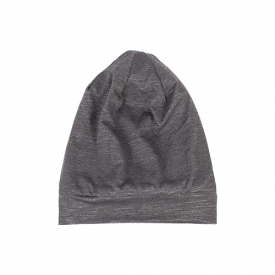 Enjoy Holiday 1981 makes a sleep cap beanie composed of a polyester and silk satin lining and a bamboo and polyester exterior layer. The use of silk is intended to utilize some of the natural properties of silk; porous fibers will allow water and air to breathe while maintaining a low amount of friction on the skin.
Sleepopolis Score
4.10 / 5
Best Bargain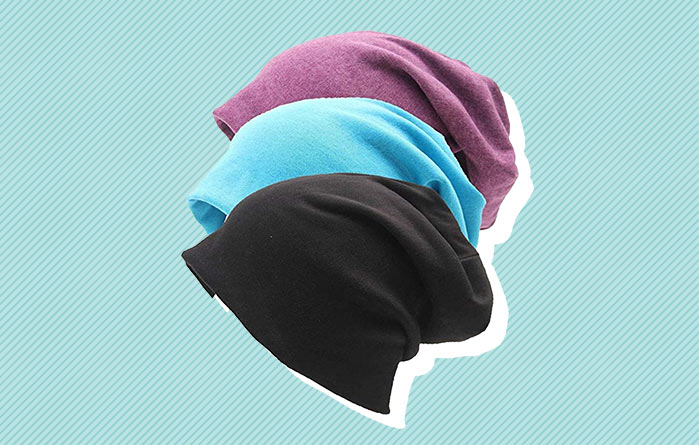 Gellwhu Cotton Beanie Sleep Cap
Pros:
Warmth. One of the elements of this product that stands out when compared to competitors is the cotton composition of the fibers. Cotton is a naturally porous material that can keep the head warm by absorbing water as it evaporates from the head, preventing the evaporating water molecules from cooling the skin.
Style. These sleep caps come in three packs of various color schemes. From solid and neutral colors to heathered and bright ones, these sleep caps have collections that can match most aesthetics, regardless of gender.
Cost. These sleep caps are perfect for purchasers wanting to get caps for the whole family, or are hoping to have a variety to wear inside or outside of the home. At just over $10 for three sleep caps, this product is one of the best values one might find.
Cons:
Not the softest. This may be purely a byproduct of the choice to make these sleep caps out of cotton rather than silk or polyester, but some users will find the cotton not made as soft as other materials.
Durability. If this is a product that you will be wearing every night and washing often because of oily hair or hair products, it may not retain all of its original qualities after many washes.
Gellwhu Cotton Beanie Sleep Cap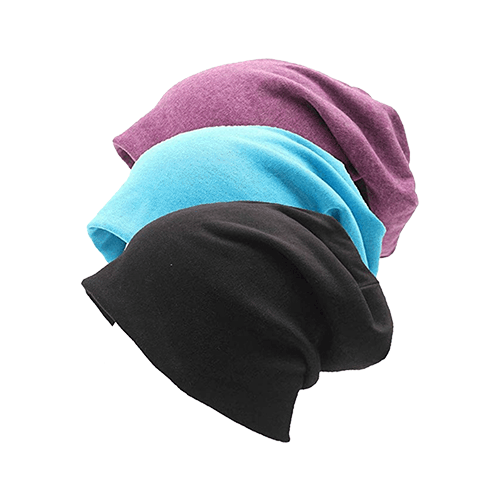 Gellwhu makes a beanie sleep cap that is made out of cotton and bamboo, designed for warmth and comfort. Considering that it comes in a three-pack for just over $10 per pack makes it one of the better offerings available.
Sleepopolis Score
4.50 / 5
Most Stylish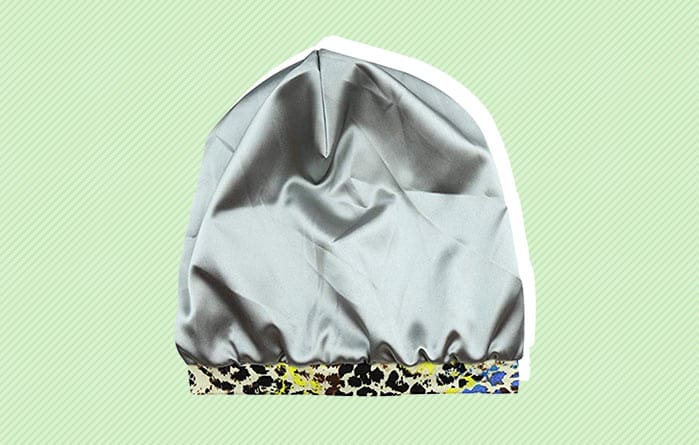 Alnorm Satin Lined Slouchy Beanie Cap
Pros:
Fashionable. Depending on your style sense, some shoppers may be disappointed in the lack of variety found in the sleep cap market. The wide range of eclectic patterns and classic colors – over 30 – should satiate the fashion needs of most customers.
Fits many head and hair types. The thin elastic band helps ensure that these sleep caps will stay snug on many user's heads, while the loose and baggy material can fit most hair types and lengths, due to its "slouchy" design.
Skin-friendly. The rayon or viscose material used in this product – depending on if you purchase a print or solid color – is derived through a manufacturing process that results in a honey-like texture before being formed into fabric. The softness is perfect for those looking for silk-like comfort for a lower price.
Cons:
Won't last as long. Rayon and viscose are two materials that may deteriorate over time and heavy use. Whether it is in the laundry or from absorbing oils overnight, there might be blemishes or signs of faded color eventually after many uses.
Too big. Some users with smaller heads or shorter hair may find the product too big. Though it can be folded and tied, this may be a step too many for some users looking for convenience.
Alnorm Satin Lined Slouchy Beanie Cap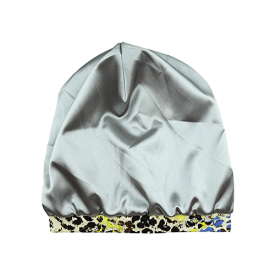 Alnorm's Satin Slouchy Beanie Cap is made with a satin weave in order to provide comfort on the skin during sleep and has a thin elastic band designed to help it stay on your head. Showcasing multiple different patterns on the fabric, these sleep caps stand out for their design and color.
Sleepopolis Score
4.40 / 5
Best Fit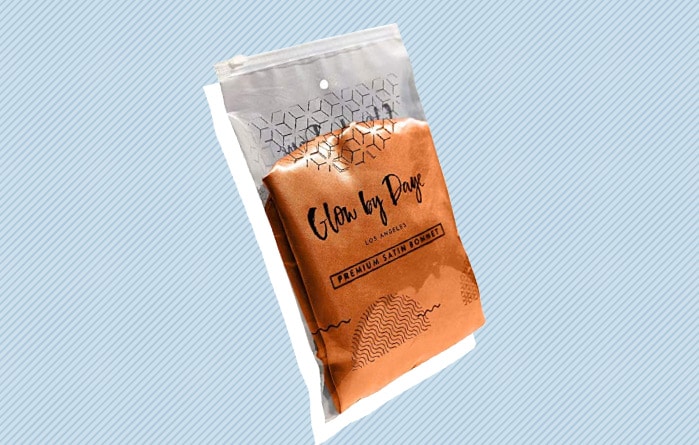 Glow By Daye Extra Large Reversible Satin Sleep Bonnet Cap
Pros:
Reversible. When purchasing one of these sleep caps from Glow By Daye, you are almost buying two at once. Each side will have a color or pattern that offers a completely different look from the other. Some of the suggested combinations are navy floral & floral, a smart white and black pattern accompanied with black, and leopard with black.
Kid version. There is a version of this product specially designed to match kids fashion while having a better fit for their heads. The colors are blue and blue polka dot.
Drawstring. This offering from Glow By Daye has a drawstring rimming the perimeter of the sleep cap. This is perfect for adjusting the sleep bonnet for your exact head size and hair needs. Perfect for those with a high volume of hair or plan to use curls.
Cons:
May be too big. Though this product can be adjusted with the drawstring around the perimeter, you may not want to draw it tight every night after putting it on. There may be smaller options out there for those with small heads or without lots of hair.
Price. These sleep caps cost a little under $18 each. While many competitors offer variety packs for less money, this product is best for those hoping to only use one sleep cap for personal use (and plan on cleaning it often).
Glow By Daye Extra Large Reversible Satin Sleep Bonnet Cap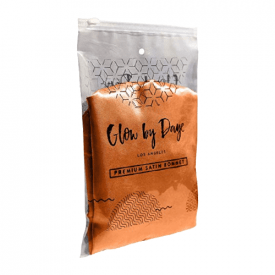 This sleep cap offers some benefits that the other products on the market just don't. By virtue of its sizing, it may accommodate people with large hair, curly hair, long hair, or dreads, as well as people with larger heads. It is also reversible, offering different looks to compliment your pajamas or your day clothes.
Sleepopolis Score
4.40 / 5
How We Picked
Sleep caps can have a wide array of positive effects on our nightly slumber. The nature of the fabric they are comprised of and the physical design of the sleep cap can make a big difference for sleepers. Depending on what we are using them for, it is important to figure out what aspects of each product might end up affecting your sleep health. We've used several different measures for determining how we made our selections. Here is what we looked at:
Comfort
One of the main things to consider when purchasing a sleep cap is always going to be the comfort. It is a piece of clothing you will be wearing every night, so scratchiness, itchiness, and a harsh fabric are all things to avoid. Most manufacturers offer soft satin-woven materials, while others will opt for other soft fabrics, like cotton. Some are silk, while others imitate silk. There are benefits of all sorts of materials, but you should always consider what will make you feel most comfortable.
Design
Even if you are only planning on wearing these sleep caps at night, you still won't want to look silly or unlike yourself. Some of the leading brands offers dozens of different patterns, designs, and styles, both in neutral classic colors or in funky one-of-a-kind style. Some are reversible and offer two looks in one. If you are a person who wants a cap to wear day and night, or perhaps wants a variety to wear throughout the week, there are definitely great options for you from most of the brands.
Price
These products tend to be priced based off of the material, but some sleep caps may be made of identical materials but cost two or three times what the other one costs. If you aren't too concerned about splurging on some nightcaps, you can make purchases that may be more durable or offer more functions. Alternatively, you could also vouch for multi-packs of sleep caps that may be thinner or made of different materials all together.
Porosity
One thing that most users will have in common is that they will want their sleep caps to have enough porosity, meaning the ability to let air and water molecules to flow freely through the fabric. Some users may want their sleep caps to be more porous for air flow and coolness, while it may not matter as much for others, as they are choosing based on value or the material's softness.
Buying Tips
Not sure which sleep cap is best for you? Here are some tips that will help guide your purchase.
What is your fashion style? These sleep caps come in an unexpectedly wide range of unique patterns, fun colors, and basic necessities. If you are only interested in something subdued – whether in the comfort of your home or out in town – there are basic options, often times in two packs. Some offerings are more stylish and may match your aesthetic.If you are unsure or feel like you want to mix and match, there are variety packs that have both basics and fun patterns. Look out for the reversible offerings to allow this as well.
How much hair do you have? These sleep caps are designed to fit different sized heads. Some opt to make them larger than average to accommodate curly hair, voluminous hair, dreadlocks, and hair curlers. These may however slip off the heads of some users over night. The smaller and tighter-fitting elastic of some products may be too tight or be hard to pull over big or stylized hair.
What is your budget? Are you looking to replace one or get many sleep caps? These sleep caps can be under $4 each or over $30 just for one. If you are looking for a high-quality replacement for an existing sleep cap, or if you know that you usage will be frequent, perhaps you should vouch for a sleep cap that matches your exact style and fit. If you are looking for a variety that you can use to match various fashions or seasons, you may want to get a lower-cost value pack.