That moment when we are done with our work for the day, done with our errands, ready to relax and enjoy the company of family members can often be symbolized by one action; putting on pajamas. Lounge pants are a great option for leisure and rest, yet typically versatile enough to wear on errands or while exercising. They offer comfort and a chance to wear favorite patterns and colors that may not be able to be expressed in other outfits.
Finding a pair that fits right and can be worn in different settings can be a hard task, however. Manufacturers make their products with a variety of different fabric blends and have designed their pants to have different looks and fits. To help people figure out what is out there on the market, we've examined some of the top brands. Here are our findings: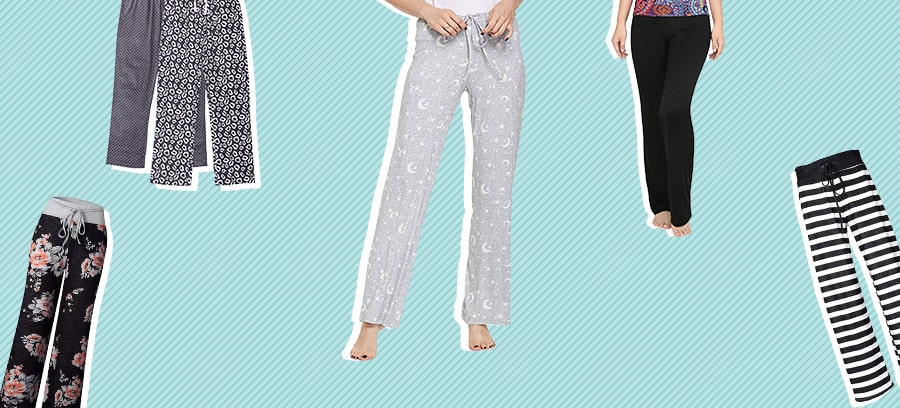 Editor's Choice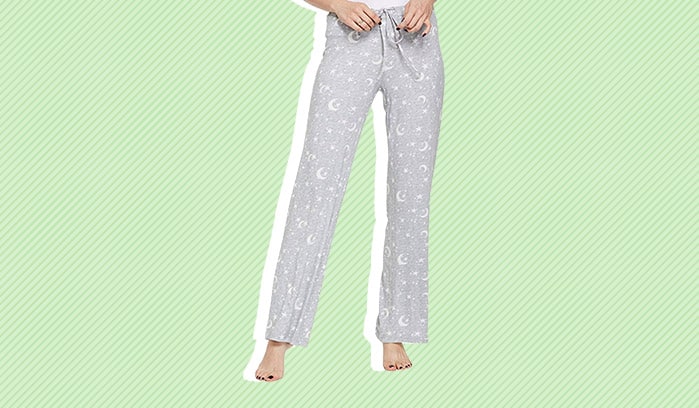 CYZ Women's Casual Stretch Cotton Pajama Pants
Pros:
Stretch knit. These lounge pants are made from stretch knit cotton. This material can stretch with body movement and return to its original form afterwards.
Discount 2-packs.Those looking to quickly increase their pajama bottom collection could do worse than buying CYZ two-packs. The per-unit cost goes down when buying multi-packs.
Thickness. These lounge pants aren't quite as thick as sweatpants but still feel substantial enough to wear around company or for a quick run to the store.
Cons:
Only 4 sizes available. Though many people will fall under small, medium, large, or extra large, this manufacturer doesn't have the largest range of sizes.
No pockets. As many other manufacturers have done with their lounge pants, it would be nice if these lounge pants had pockets.
The Contender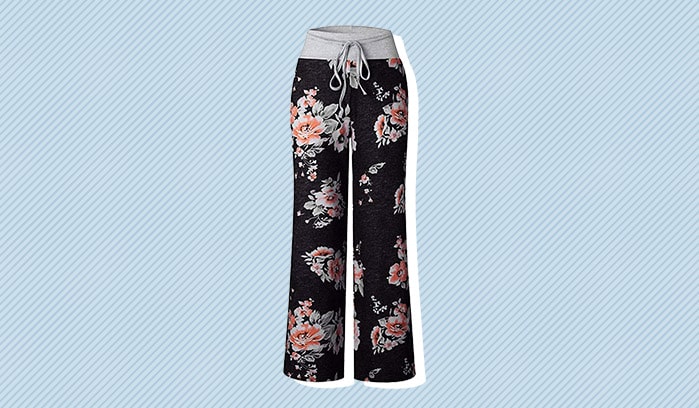 AMiERY Women's Comfy Casual Pajama Pants
Pros:
33 patterns. This line of lounge pants offers a whopping 33 different patterns and designs to choose from. Among the selection are several floral prints and some holiday options.
Wide legs. These pajamas flare out as they go down the length of the legs. This not only allows for increased comfort but also gives the pajama bottoms a nice aesthetic.
Wide waistband. The particular style of this line of pajamas has wide waistbands that are especially noticeable on the bottoms that have two distinct color tones. This is great for those looking for a distinct look.
Cons:
85 percent polyester. Though this won't be an issue for many people, the pants are 85 percent polyester and only 15 percent cotton. Some people may want a higher proportion of cotton for their pajamas.
Sheen. There is a bit of a shininess to these pants, which is hard to tell from photos. The outer material may sacrifice a bit of softness for that sheen.
Best Bargain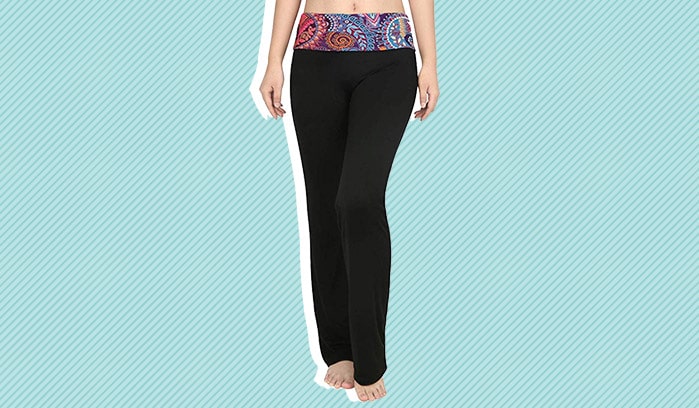 HDE Women's Color Block Workout Leggings
Pros:
Size options. Some of the varieties of these lounge pants can be found in up to 7 different sizes, from small to 4x. This is great for those who sometimes have a hard time finding comfortable pants.
High waist. These pajamas are meant to rest well above the hips and just below the navel. Some may find this to be a more comfortable and secure fit.
Price. Those looking to buy pajama bottoms in bulk or are just shopping on a budget may need to seriously consider this line. Some of the pants cost in the single digits.
Cons:
Pants can fall down. These lounge pants, if not sized correctly, may not maintain the high-waisted position they are meant to stay in.
Can get wrinkled after washing. It is advised to pay attention to these pajama bottoms after washing and drying, as they are prone to wrinkle.
Best Flannel Pants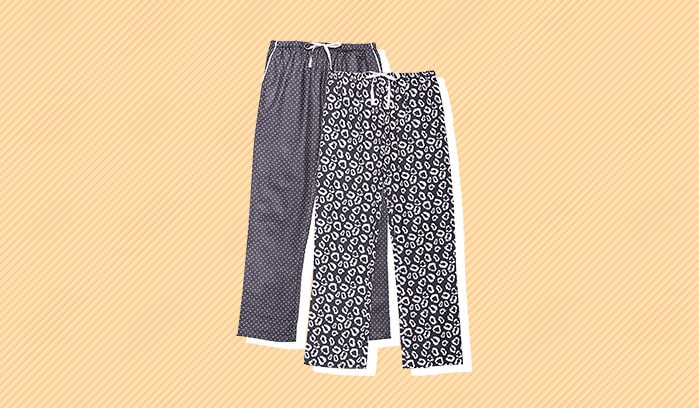 Noble Mount Women's Pajama Pants
Pros:
100 percent cotton. While many manufacturers will have products that have some cotton, these pajama bottoms are made of 100 percent cotton. Cotton is soft and easy to care for, while being durable and lightweight.
Pockets. One thing that makes this line of pajama bottoms stand out is the inclusion of pockets on either side of the hips. This is great for those who may need to run out quickly or want to keep their phone on their person.
Double-brushed. The fabric that these pants are made from is double-brushed, meaning it will have the same soft flannel feeling on the inside as it does on the outside.
Cons:
Can run small. These pants tend to run a bit small, so for some it may be wise to purchase a size larger than usual.
Shrink. Perhaps due to the cotton makeup of the fabric, these pants tend to shrink a bit. Even further reason to get one size larger.
Best Designs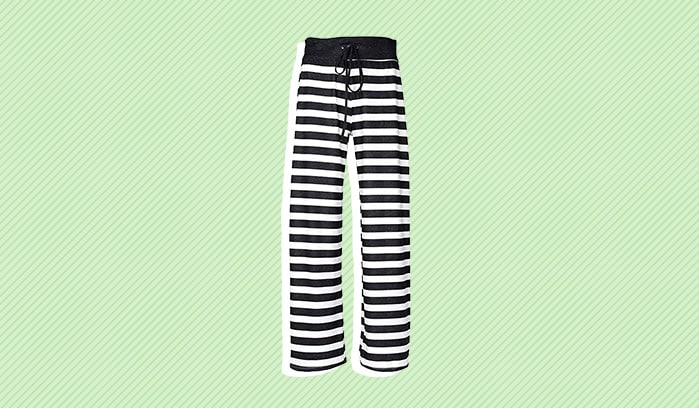 Artfish Women's Yoga Pants
Pros:
Traditional designs. Aside from classic stripes and floral patterns, these pants can be found with traditional elephant designs. That style originated in Thailand and is commonly found in yoga studios.
Detailed drawstrings. Though this may not be noticeable to everyone, but the drawstrings on these pants sport the same design patterns as the rest of the pants. This is a nice detail that isn't found on many lounge pants.
No elastic. Rather than using elastic to secure these lounge pants, this brand uses a drawstring. Elastic can degrade over time and is uncomfortable to some people if it is too tight, so this product is great for those who want to control the tightness of the pants themselves.
Cons:
35 percent cotton. This product is only made of 35 percent cotton, which is less than many similar types of pants.
Pants are long. People who wear these pants may need to hike them up higher than they normally would, as the end of the legs can drag a bit on the ground.
How We Picked
Lounge pants can be a woman's favorite item of apparel. It can be a go-to comfort item and something that is worn almost half the day (while sleeping). Because these sort of pants can be so different between different brands, it is important to identify the most crucial traits. Here is what we looked at:
Fabric
Lounge pants can be comprised of any number of different fabrics. Popular materials include cotton, spandex, polyester, rayon, nylon, and silk. The choice in fabric usually will come down to preference, but sometimes the nature of fabric blends can make that a complicated task.
Those looking for cotton pants can usually find 100 percent options, or ones that are at least mostly cotton. Spandex may provide greater stretchability as a fabric, while polyester may keep their form better and thus be more durable. The appearance of the pants may be affected by the material as well; those who want shinier pants should look for synthetic fabrics.
Fit
Pajama bottoms and lounge pants should be comfortable to wear for long periods of time. Though that is probably not debatable, what one person finds as comfortable may not be the case for the next person. Comfort depends on the material of course, but the fit and sizing of the pants may be of equal or even greater importance.
High-waisted pants are a popular option and may be more comfortable for many women. These fit securely above the waist, allaying concerns about how well they will stay on. However, some may find that elastic that is tightly fitting may not be the best bet while lounging. In that case it is recommended to get a pair of pants that is a size bigger than usual or that is designed to be baggy.
Style
Something that is immediately noticeable with most lounge pants is the design. These types of pants tend to have some stylistic similarities between brands. Stripes, polka dots, and floral prints are commonly found in a wide selection of colors.
Those who plan on using the pants for specific purposes, like yoga, can find pants that have designs that match those activities. Holiday-themed pants and flannel pants can be the perfect choice for winter months. If you are looking for something specific, it is advised to keep on looking; some brand has likely made something similar enough that it is worth the effort!
Tips
Not sure which lounge pants are right for you? Before making your choice, consider the following tips:
How do you plan on using these pants?

Some pants are designed to be comfortable but not necessarily to be worn outside of the house.

Those who want more versatile pants should find thicker ones that can't be seen through and ones that have pockets.

What is the climate like where you live?

Those who live in harsher climates that have extreme colds may opt for flannel or a thicker fabric that is more akin to sweatpants.

For people who live in warmer climates, it is important to get pants made out of fabric that can breathe (like cotton) and won't stick to your legs during the humid months.