Duvet covers are one of the most practical types of bedding you can buy. A duvet cover protects your comforter and allows you to change up the look of your bed instantly. A cover made from microfiber can offer silky softness, easy maintenance, and an airy, lightweight feel. Whether you prefer solid colors or patterns, a buttoned closure or one that zips, you can find a microfiber duvet cover you'll love.
Choosing the right microfiber cover doesn't have to be time-consuming. I've tested a variety of great options in a wide range of designs to help you select the perfect model. Without further ado, here are my top 4 picks.
Best Microfiber Duvet Covers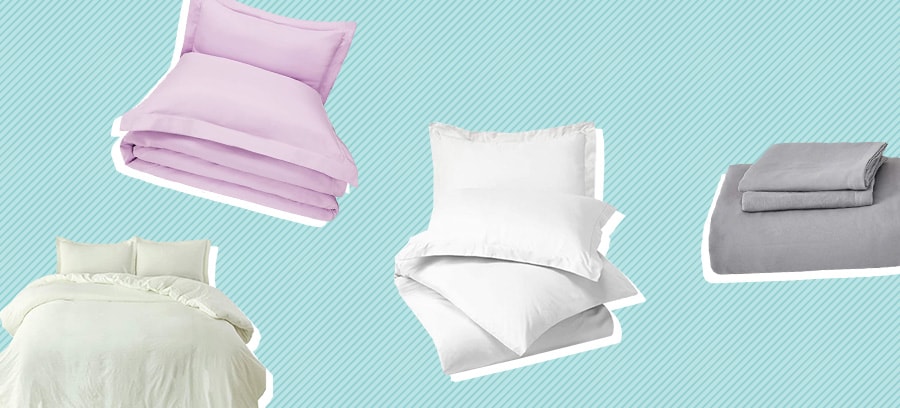 Editor's Pick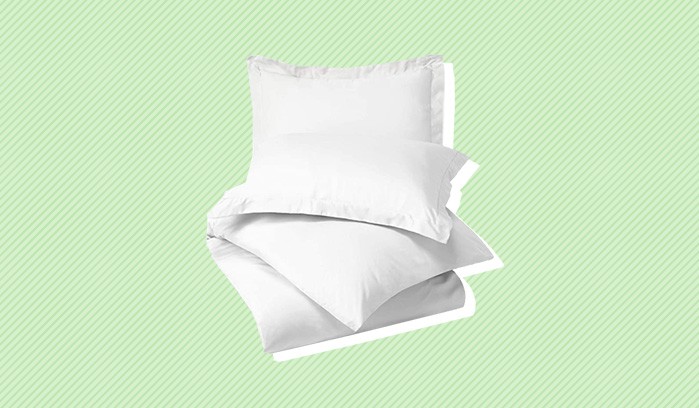 Nestl Bedding Duvet Cover
The Nestl Bedding Duvet Cover set is my choice for overall quality and design. This 100% premium microfiber duvet cover set is available in 44 different colors and twin-California king sizes. The Nestl duvet cover includes 4 corner ties and a clear button closure. 2 pillow shams included.
Pros:
Material. The duvet cover in this set felt practically weightless but durable enough to withstand heavy use
Silky. The fabric has a glossy-smooth feel and was one of the softest of all of the duvet covers I tried
Colors. The Nestl duvet set comes in a fabulous selection of colors, including primary colors, pastels, and neutrals
Cons:
Small shams. While the duvet cover is generous enough for even the thickest comforter, the shams felt a bit meager on my queen pillows
May sleep hot. Warm sleepers might find this duvet cover to be too densely-woven, especially in spring and summer 
Nestl Bedding Duvet Cover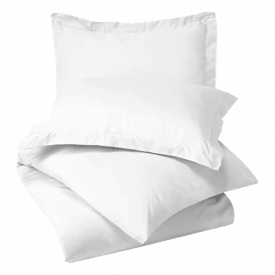 The Nestl Bedding Duvet Cover is durable and comes in a great selection of colors.
Sleepopolis Score
4.40 / 5
Best for Affordability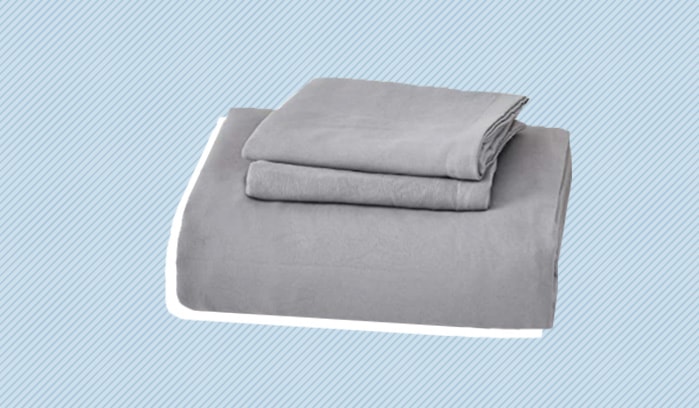 Dreaming Wapiti Duvet Cover
If you're on the hunt for a budget-friendly duvet cover, check out the soft and cozy Dreaming Wapiti 100% Washed Microfiber Duvet Cover Set. This 3 piece set is made from smooth polyester microfiber and comes with a duvet cover and 2 shams. Available in twin, queen, and king sizes.
Pros:
Zippered closure. The Dreaming Wapiti duvet cover includes a smooth zippered closure that makes laundry day a breeze
Opaque. I tried the white cover over a gray comforter and couldn't see a hint of color through it
Fabric. The microfiber material felt smooth and satiny on my skin and is easy to toss in the washer and dryer
Cons:
Light. Folks looking for a bit of extra insulation might need to look elsewhere
Seams. I noticed some loose threads at the seams after my second washing of this duvet cover. Time will tell if durability is an issue 
Dreaming Wapiti Duvet Cover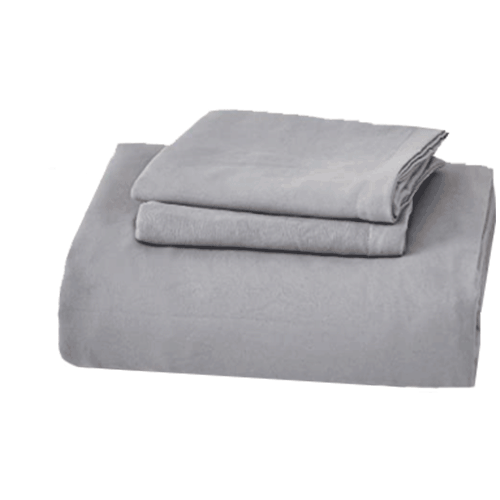 The Dreaming Wapiti Duvet Cover has a smooth, satiny feel.
Sleepopolis Score
4.50 / 5
Best for Style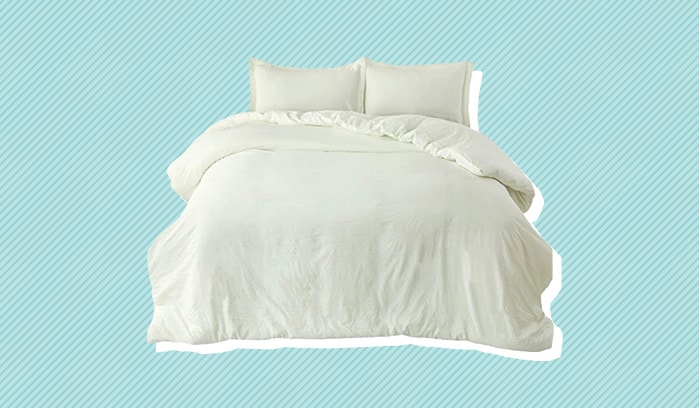 Bedsure Duvet Cover Set
If you're looking for a microfiber duvet cover with a little extra flair, check out the Bedsure Duvet Cover Set. This 100% microfiber duvet cover has a chic crinkled look that gives it a unique Boho vibe. The Bedsure duvet cover set is available in 11 colors and twin-king sizes. Package includes a duvet cover and 2 pillow shams.
Pros:
On-trend. This duvet cover has a stylish vintage flair that would look equally chic in modern or traditional decor
Colors. The slightly distressed colors options are versatile and contemporary. I was partial to the grayish blue
Affordability. This duvet cover set would be worth every penny at twice the price
Cons:
May tear easily. Be careful of tugging when making your bed with this set — I found a small hole at the seam the third time I washed the cover
A bit small. I found this duvet cover to be smaller than I like for a queen bed. Folks who value a generous cut might want to size up
Bedsure Duvet Cover Set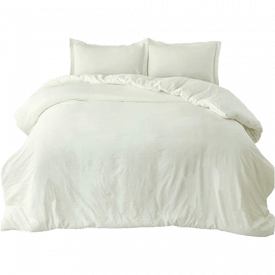 The Bedsure Duvet Cover Set are stylish and affordable.
Sleepopolis Score
4.40 / 5
Best for Softness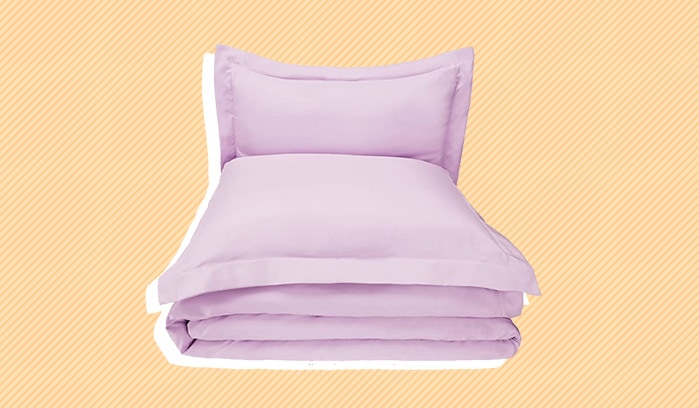 AmazonBasics Lightweight Microfiber Duvet Cover Set
The AmazonBasics Lightweight Microfiber Duvet Cover Set gets my nod for softest microfiber duvet cover. This velvety soft duvet cover is made from a brushed polyester shell that feels smooth, breathable, and cozy. And if you're searching for color variety, look no further. This cover is available in 19 colors and patterns and comes in twin/twin XL, full/queen, and king sizes.
Pros:
Cozy. This duvet cover has a smooth, silky feel that only gets better with washing
Safety. The AmazonBasics duvet cover set is made in a OEKO-TEX Standard 100 factory and is a good option for folks who prefer environmentally safer products
Washes well. This duvet cover set is wrinkle resistant and comes out of the dryer ready to go
Cons:
Limited sizes. This duvet cover set is available only in 3 sizes, which may be a downside for sleepers who like oversize comforters 
Fasteners. The duvet fasteners feel like a hybrid of plastic and polyester. These may not be durable over the long haul
Amazon Basics Lightweight Microfiber Duvet Cover Set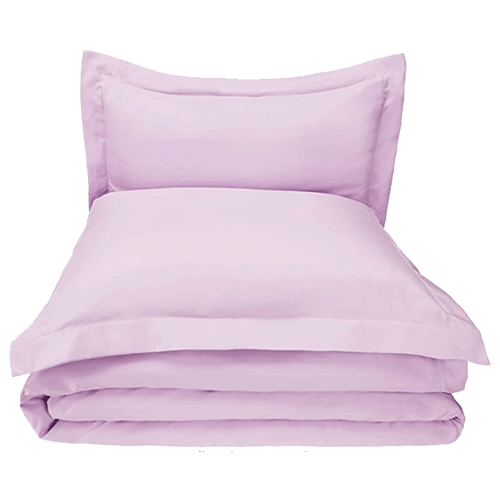 The AmazonBasics Lightweight Microfiber Duvet Cover Set has a cozy feel and is wrinkle resistant.
Sleepopolis Score
4.20 / 5
How We Picked
When choosing microfiber duvet covers to review, we looked closely at a few key metrics. These are common to all duvet covers made from microfiber, no matter which brand or style you choose. When selecting a new cover made from microfiber, consider the following:
Material
Microfiber is one of the most commonly-used and durable bedding materials. It's also become quite popular with buyers. Microfiber is made of strands of polyester that are finer than a strand of silk. Microfiber is generally a moisture wicking fabric, but may be less ventilated than cotton due to the fine weave of the fibers. Microfiber may not be the best choice for folks who get warm when they sleep, though some newer weaves of microfiber provide better ventilation. Microfiber can be one of the least expensive options when it comes to bedding, and may be durable if constructed well.
Design
A duvet cover can pull double duty as both a functional and decorative item of bedding. An all-white duvet cover can add classic chic to any room, but may not be practical if you have children or pets. A duvet cover in a neutral color or earth tone can blend in with just about any rug, drapery, or bedding design.
Duvet cover patterns range from simple stripes and paisleys to florals and ethnic designs. Patterned duvet covers can be rotated in and out for a sophisticated or edgy look, and are an easy and affordable way to add your personal style to a bedroom or guest room.
Cover Fasteners and Closures
Duvet covers have different types of fasteners and closures depending on the model you choose. In addition to a large opening at the bottom for the duvet, some covers have small openings at each corner that allow you to reach in and pull the comforter or duvet and distribute it evenly. Some models also includes ties or fasteners for holding the comforter in place.
Most duvet covers feature buttons or a zipper for closing the primary opening and keeping the comforter inside. Other types of closures may include snaps or fabric ties. More contemporary designs often utilize zippers, snaps, or small buttons, while traditional models may feature ties or matching buttons that add to the overall look and style of the cover.
Price
When browsing microfiber duvet covers for my top picks, I looked at options from across the budget spectrum. Microfiber is typically one of the most affordable bedding materials, making it a great choice for budget-conscious buyers.
Microfiber duvet covers ranges in cost depending on size, design, and quality of the material. Microfiber covers that feature unique or more labor intensive design will typically cost more. Covers made from lighter or more ventilated microfiber may also come with a higher price tag.
If price is an important metric for you, know your budget and must-haves before you start shopping. Find several duvet covers in your price range and compare features and reviews before deciding which one to purchase.
Care
A duvet cover protects your comforter or duvet from spills, dirt, and ordinary wear and tear. But covers require care and maintenance of their own to keep them looking great and performing as they should.
Most microfiber duvet covers require very little maintenance, and can be machine washed and dried without shrinking or bleeding. Over time, laundering can break down a duvet cover's fibers and seams and cause holes, rips, or other signs of wear. Line-drying can help a duvet cover last longer and reduce fading.
Most duvet covers come with washing instructions. Follow these instructions carefully to prolong the life of your cover. Fabric softeners are not typically recommended for any duvet cover as they can leave behind residue and damage the structure of the fibers.
Buying Tips
If you're still not sure which microfiber duvet cover is best for you, keep the following tips in mind:
Know your needs – Folks who tend to get hot at night usually sleep best under airier, more ventilated materials, including breathable types of microfiber. Cool sleepers might want to opt for thicker or more tightly-woven fabrics that hold in warmth
Factor in your comforter – Understand the purpose of your new duvet cover. Do you need a light model that won't add weight to your duvet or a substantial fabric to boost your comforter's warmth factor? Some sleepers need a cover to spruce up a well-loved duvet, while others want to protect a new comforter from kids and four-legged friends
Consider the source – Sleepers with respiratory issues or asthma may want to pick a hypoallergenic, organic, or chemical-free option
Don't forget style – Choosing a new duvet cover can help you change up the look of a room or breathe new life into a comforter you've had for years. The right duvet cover can become the centerpiece of a bedroom or highlight other bedding or bedroom furniture. A duvet cover can also add a welcome pop of color to a monochromatic room
Last Word From Sleepopolis
Microfiber has become one of the most popular and practical bedding materials available. Its many benefits include a soft, smooth feel, easy maintenance, and lots of budget-friendly options. The right microfiber duvet cover can add style and flair to a bedroom and preserve the life of a comforter or duvet. When shopping for a microfiber duvet cover, know your must-haves and keep metrics like quality, price, and warmth in mind.
Rose MacDowell
Rose is the former Chief Research Officer at Sleepopolis. An incurable night owl, she loves discovering the latest information about sleep and how to get (lots) more of it. She is a published novelist who has written everything from an article about cheese factories to clock-in instructions for assembly line workers in Belgium. One of her favorite parts of her job is connecting with the best sleep experts in the industry and utilizing their wealth of knowledge in the pieces she writes. She enjoys creating engaging articles that make a difference in people's lives. Her writing has been reviewed by The Boston Globe, Cosmopolitan, and the Associated Press, and received a starred review in Publishers Weekly. When she isn't musing about sleep, she's usually at the gym, eating extremely spicy food, or wishing she were snowboarding in her native Colorado. Active though she is, she considers staying in bed until noon on Sundays to be important research.