If you're searching for a new Playard sheet set but have no idea where to start, this guide is here to help. While it's true that there are hundreds of options from which to choose, I'm presenting my top four favorites to help narrow your search! Plus, I'll impart my personal tips and tricks for picking the Playard sheets that are best for you and your little ones. Let's get started!
Best Playard Sheets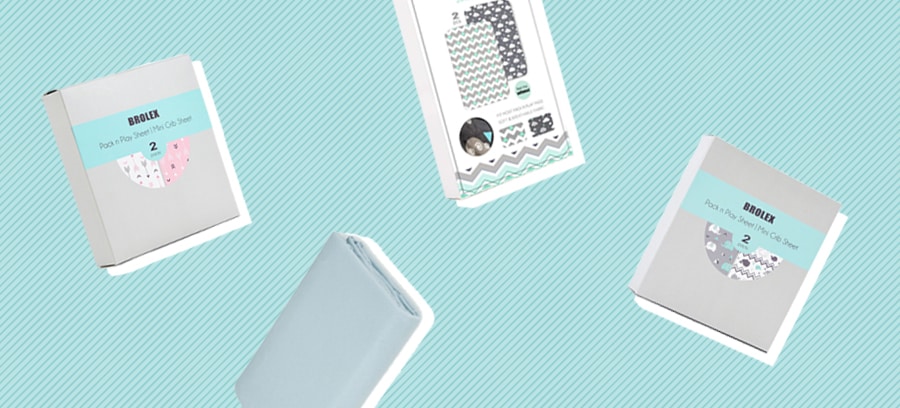 Editor's Pick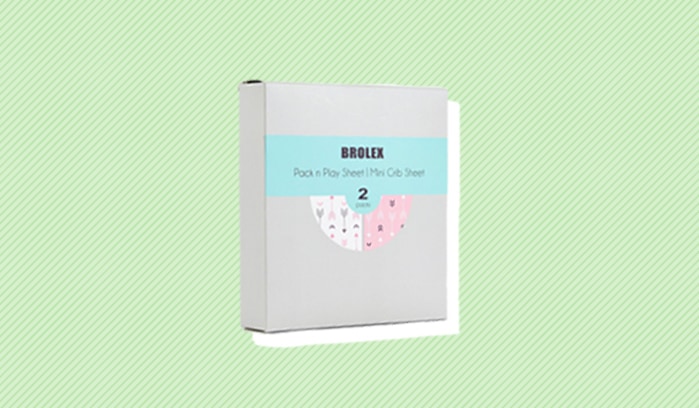 BROLEX 2-Pack Playard Sheet Set
These sheets are made from a stretchy jersey knit material that can easily accommodate most playard or mini-crib mattresses. They're machine washable, stylish, and come in a two-pack for consumer convenience. 
Pros
This set includes two playard sheets, both of which feature a strong elastic band for a secure fit. 

Each fitted sheet in this set features a different design, perfect for folks looking to get creative with style. 

This jersey knit fabric is soft, breathable, and soothing on the skin. 
Cons
This two-pack sheet set is only offered in one style option. 

To avoid color fading, I suggest washing these sheets on a cool, gentle cycle, and then allowing them to air-dry naturally.
Best Style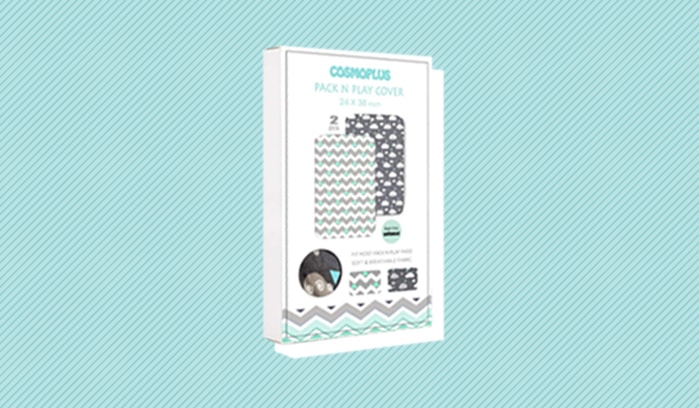 Cosmoplus Pack 'n' Play 2-Pack Playard Sheets
Made from 100% microfiber, these playard fitted sheets are super soft and cozy on the skin. Plus, they come in a two-pack and feature stylish designs for babies and guardians to enjoy. 
Pros
This playard set includes two fitted sheets, both of which feature a jersey knit microfiber construction for enhanced comfort and breathability. 

Both sheets in this set have playful, stylish designs that are perfect for any pack 'n' play or mini-crib. 

To care for these sheets, all you have to do is wash and dry them on a gentle cycle. 
Cons
While these sheets are certainly soft and breathable, they're not

quite

as breezy as jersey knit cotton. 

If you're looking for a more muted, subtle aesthetic, you should probably search elsewhere.
Most Affordable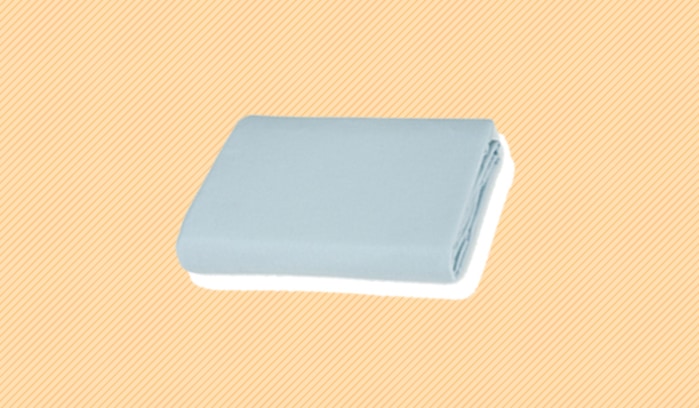 American Baby Company Pack 'n' Play Playard Sheets
If you're searching for a playard fitted sheet that's easy on the budget, you should give this affordable option a try. It's made from a soft jersey knit material, comes in over a dozen different colors, and is very reasonably priced. 
Pros
Its stretchy elastic band makes it compatible with most playard mattresses that are 3-inches deep or less. 

It's offered in over a dozen different designs and printed patterns, so feel free to get creative with style! 

Folks on a budget are going to be particularly compatible with this very affordable playard sheet. 
Cons
While this jersey knit sheet is light and breathable, you might find that it's not quite as durable as woven cotton. 

If you're looking to dress a playard mattress that's deeper than 3-inches, you should shop for a fitted sheet with extra deep pockets. 
Most Breathable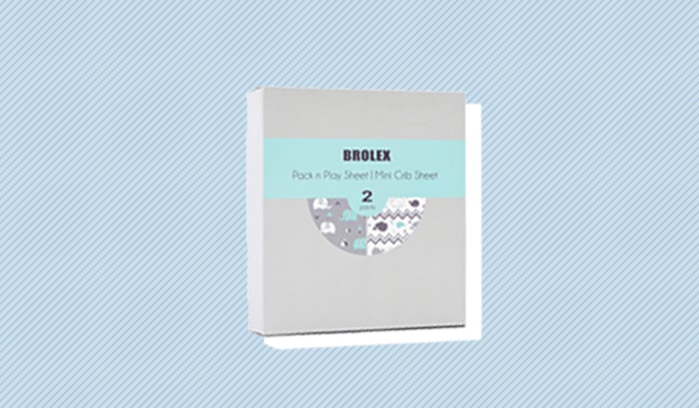 BROLEX Pack 'n' Play Playard Sheets
Made from super soft microfiber, this playard fitted sheet features a jersey knit construction designed to boost airflow and breathability. Its dimensions can accommodate any bassinet mattress, as well as most pack 'n' play cribs. 
Pros
If you're looking for a material that's ultra breathably, this jersey knit playard sheet is a great way to go. 

This fabric has a bit of a stretch to it, which helps it cling to the mattress for a super snug fit. Plus, its elastic band prevents it from slipping off while you're little one snoozes or plays!

If easy maintenance is a priority, take comfort in the fact that this playard sheet can be washed and dried right at home. 
Cons
This playard sheet features different animal prints and patterns, which might not appeal to every shopper. 

The lightweight quality of this fabric might make it less durable over long periods of time. 
How We Picked
Okay, shoppers, now that you've taken a close look at my favorite playard sheets, let's discuss the methodology behind my picks. Yes, a lot comes down to personal preference, but there are some key factors to consider when you're shopping for the perfect playard sheets! Let's examine each one below.
Materials
Your little ones will be in direct contact with their playard sheets, so it's important to know exactly what they're made of. And while I won't be covering the full roster of existing fabrics here in this guide, I've detailed the need-to-know information about the types of playard fabrics you're most likely to encounter.
Cotton – Cotton playard sheets are known for being soft, breathable, and classically cozy. They're almost always machine washable, which makes at-home maintenance nice and easy. Not to mention, cotton is a natural material, which might particularly appeal to those with sensitive skin or folks looking to avoid synthetic fabrics.
Microfiber – Microfiber is a polyester-based fabric that feels uniquely smooth and velvety on the skin. It tends to be less breathable than cotton, which often makes it ideal for wintertime or cooler climates. Additionally, it usually comes at a lower price point as compared to cotton, as it's a synthetic material.
Jersey Knit- The most popular playard sheets are jersey knit, but it's important to note that this does not actually refer to the specific material itself. Instead, it indicates the style in which the fabric was made (hence the word "knit"). More often than not, jersey sheets are made from 100% cotton, but you'll also occasionally find jersey knit polyester as well. This particular style can be perfect for playards, as jersey knit fabric is known for its superior breathability and softness.
Once you've landed on the material that suits you best, it's time to focus on size. So let's talk about that next!
Sizing
Unlike with standard sheet sets, playard sheets are not categorized as Twin, Full, Queen, etc. Instead, most retailers will provide the specific dimensions of its playard and crib mattress sheets in order to give you the most accurate sizing information. That's why it's important to measure the length, width, and depth (thickness) of your playard or crib mattress before you make your purchase.
Most playard fitted sheets measure about 27" x 39" x 4", but this can vary across bedding brands. Personally, I suggest you add an inch or two to your playard mattress in order to accommodate any shrinkage that might occur in the washing and drying processes. For example, if you're shopping for a mattress that's 25" x 37" x 3", look for a fitted sheet that's just slightly bigger than that.
Finally, make sure the elastic band spans the entire perimeter of your playard fitted sheet. This will make sure that it stays securely put on the mattress rather than slipping and sliding around while your child sleeps or plays on it!
Colors, Prints, and Patterns
Let's face it — your playard sheets should look, well, playful! So take some time to explore the colors, prints, and patterns that you and your child will like best. But keep in mind that there are many from which to choose, so you might want to focus on sizing and materials before you decide on style.
It's also worth noting that colors do fade over time, and will probably fade a bit after the first wash cycle. It's usually a rather subtle change in color, but just remember that the bright pink sheets you buy might not stay that bright after several washes.
Finally, you might notice that playard sheets with elaborate designs or patterns are a bit more expensive than those with a more subtle aesthetic. But don't worry — most bedding brands offer a variety of color options to appeal to different styles and budgets!
Wash Care
Because playard sheets are bound to get dirty fairly regularly, they're almost always machine washable and dryable. In fact, every playard sheet in this guide can be washed and dried right at home. That said, it's important to follow the exact wash care instructions as provided by the manufacturer in order to protect the integrity of the fabric.
To give you an idea of what you're in for, take a look at the most common wash care instructions for cotton and polyester playard sheets:
Wash your playard sheet on a cool, gentle cycle with mild detergent.
Tumble dry on low heat, or allow to line-dry in the sun.
Use dryer sheets and/or fabric softener sparingly, as these things can leave a residue on the surface fibers of your sheet, and potentially irritate sensitive skin.
Pretty easy, right? Just remember to follow the exact instructions as listed on the bedding brand's website, as the above directions may vary. And most importantly, be sure to protect your investment with proper maintenance so your playard sheet lasts as long as possible.
Pricing
Playard sheets are much smaller than your average sheet set, which makes them pretty affordable across the board. In fact, it's rare for a playard sheet to be more than $20. That said, price is influenced by materials, size, style, and even popularity of the retailer who sells it. That's why I like to compare prices across several different brands before committing to a set of sheets!
It's also worth noting that every manufacturer has a different return policy, so be sure to familiarize yourself with each brand's stipulations. For example, some brands offer full refunds for products that have been used for a month, while others will not accept returns that have been opened or used in any way. So, again, be sure to check the details of each return policy before you make your purchase.
Sleepopolis Buying Tips
Okay, shoppers, let's recap a few tips and tricks that'll help you make the best buying decision:
OEKO-Tex Certification – Keep an eye out for the OEKO-Tex certification, as this guarantees that no harsh chemicals or dyes were used in the manufacturing process. Remember — your baby's skin will be in direct contact with their playard sheet, so it's important to make sure the fabric will not irritate them.
Mattress Depth – If you're shopping for a crib or playard mattress that's 3-inches deep, make sure you get a fitted sheet with pockets that are at least 4-inches deep. This will compensate for any shrinkage that might occur in the wash and dry cycles!
All-Around Elastic – Go with a playard sheet that has a full elastic band, rather than one that's only elasticized at the corners. This will make sure it stays secure on the mattress!
Final Thoughts
Now that we've reached the end of my guide, you're much closer to picking the perfect playard sheet. Just be sure to keep a close eye on materials, dimensions, wash care, and all the little details that appeal to your child's unique needs. Happy shopping, everybody!