In this review, I'll be testing the Microfiber Sheet Set from bedding brand Comphy. Microfiber sheets are known for their distinctly suede-like feel, and are considered by many to be a bedsheet essential. But what do these sheets feel like, and are they the best fit for you? Keep reading to find out!
Comphy Microfiber Sheet Set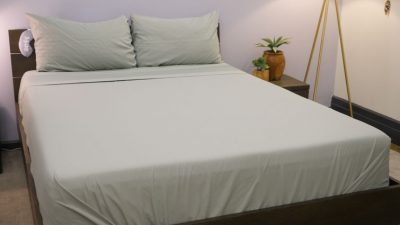 The Comphy sheets have a great suede like feel and come in a variety of color options!
Sleepopolis Score
5.00 / 5
Read Full Review
Brand Snapshot
Comphy got its start in 2003, and was originally dedicated to making luxury spa linens. But since its founding, the inventory has expanded to include bedsheets, duvet covers, pillowcases and weighted blankets.
Despite the brand's consistent growth, the Microfiber Sheet Set remains Comphy's most popular product. So, naturally, Sleepopolis is here to see what it's all about! Follow along as I show you everything you need to know about this Comphy bedding.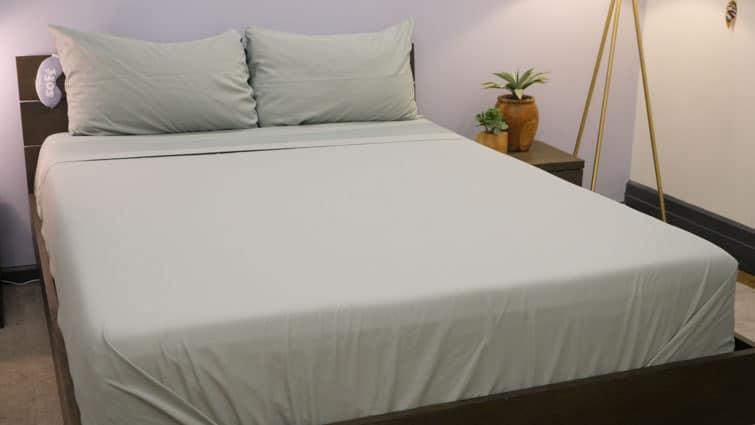 What Are Comphy Sheets Made Of?
Okay sleepers, first thing's first — what are these sheets made of? Well, you've probably already gathered that they're made from microfiber, but not all microfiber feels the same. So let's take a closer look at this material.
Material: Polyester Microfiber
These sheets are made from 100% polyester microfiber, a material known for its uniquely smooth and suede-like feel. Polyester is also naturally moisture-wicking, which might be particularly beneficial for those prone to night sweats.
However, it's important to note that microfiber sheets are engineered to have a very tight weave, meaning the individual threads are super close together. This typically makes the fabric less breathable, more insulating, and quite durable. Sleepers who run cold or are looking for wintertime bedding are likely to be most compatible with microfiber sheets.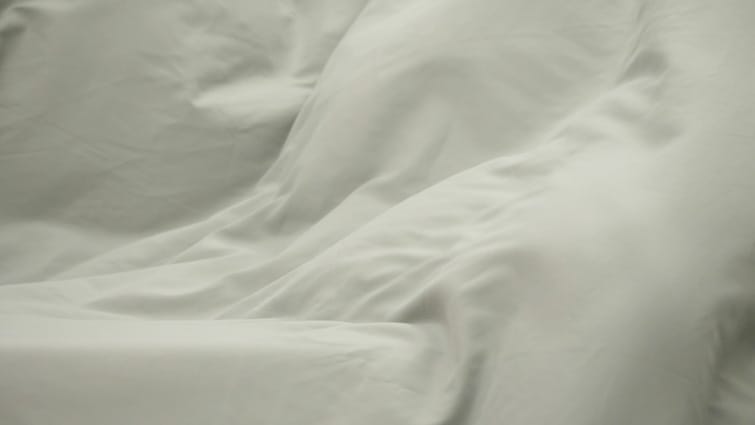 Additionally, most microfiber sheets (these included) are manufactured by machine and made from synthetic materials. Because of this, microfiber bedding tends to be more affordable than fabric made from natural materials (and we'll get into more about that later).
Perhaps one of the most important points about microfiber is that, unlike cotton, the quality of this material is not measured by weave or thread count. All microfiber sheets are woven from very thin fibers that, as I said, are very close together. This textile style is what gives microfiber its signature soft feel.
Finishing Technique: Brushed
While all microfiber sheets are tightly woven from thin fibers, the technique used to finish the fabric varies from brand to brand. The most common finishing method applied to microfiber bedding is called "brushing."
When a microfiber sheet set is advertised as "brushed," that means it's been treated with a textile manufacturing technique used to raise the surface fibers of one side of the sheet. This creates a warm and fuzzy feel that's very soft to the touch, which is why many sleepers look specifically for microfiber that's been brushed.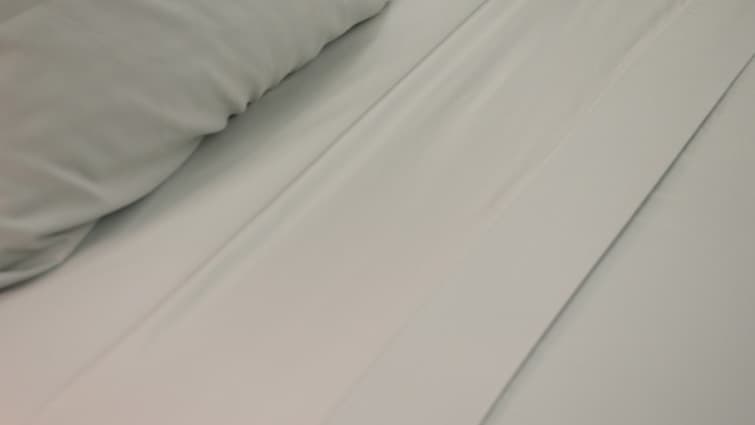 When a microfiber sheet set is categorized as "double-brushed," this means that the surface fibers of both sides of the sheet have been raised. The sheets we're looking at here are brushed on only one side which, in my opinion, makes them a bit more cooling as compared to double-brushed microfiber.
The Bottom Line: Warm, Smooth, Durable
Simply put — this bedding has a classic microfiber feel. It's warm, durable and, because it's brushed, feels extra smooth on the skin. Sleepers looking for a cozy set of brushed microfiber sheets should definitely give these a try!
More: Want to know how these sheets stack up against the competition? Check my guide to the best microfiber sheets on the market!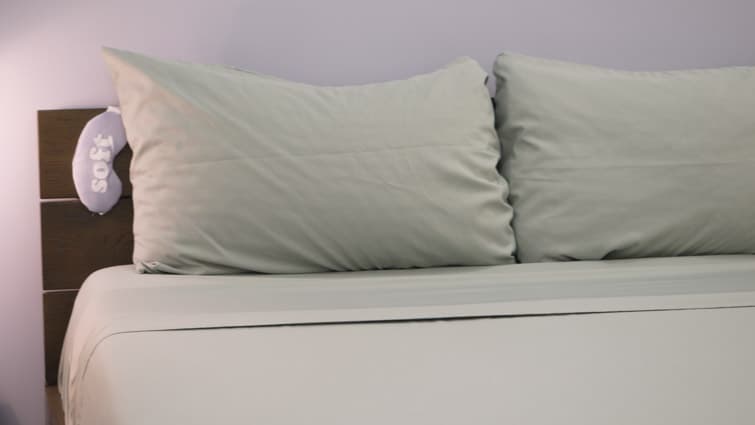 What Do Comphy Sheets Feel Like?
Now that we know exactly what these sheets are made of, allow me to dive deeper into my personal experience testing them. But first, let's talk about what comes with each sheet set.
Comphy Microfiber Sheet Set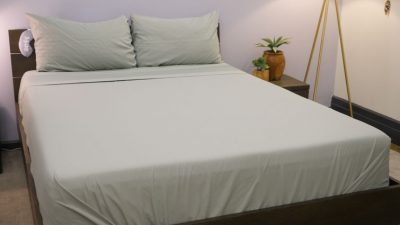 The Comphy sheets have a great suede like feel and come in a variety of color options!
Sleepopolis Score
5.00 / 5
Read Full Review
What's Included In Each Set?
The Comphy Microfiber Sheet Set comes with one top sheet, two pillowcases, and one fitted sheet capable of accommodating mattresses up to 18 inches deep. However, it's important to note that twin-sized set comes with one pillowcase instead of two.
Wash Care
One of my favorite things about microfiber is that it's almost always easy to care for and, luckily, these sheets are no exception. All you have to do is wash on a high heat setting, dry on a medium heat setting, and that's it!
Another great thing about these sheets is they don't wrinkle easily at all. Despite all my rolling around, I never noticed much creasing or crinkcling. Of course, if you can't stand a single wrinkle, feel free to iron these sheets on medium heat.
However, it's important to note that your sheets will likely shrink after the first wash. Don't worry — this is common with microfiber sheets and not specific to this brand. In my experience with these sheets, the amount of shrinkage was not enough to affect the overall fit on my mattress.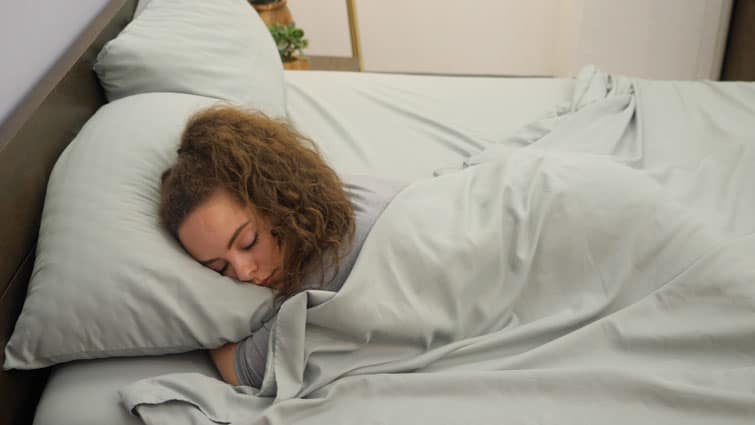 Look & Feel
These sheets remind me of the linens they use when you're about to get a massage at a spa, which makes sense considering the brand was founded by a former spa director. They are matte in appearance, but the brushed side of the sheet does have a slightly fuzzy look and feel.
That said, remember that only one side of this bedding is brushed. This means that the look and feel of one side of the sheet is slightly different than the other. The brushed side (which is the side that doesn't lay directly on your skin) feels fuzzier, softer, and warmer than the other side. Additionally, the brushed side is a bit lighter in color.
The side that hasn't been brushed is silkier, smoother, and less warming. Personally, I prefer microfiber bedding that's brushed on one side rather than two as brushed fabric can feel a bit too warming on the skin.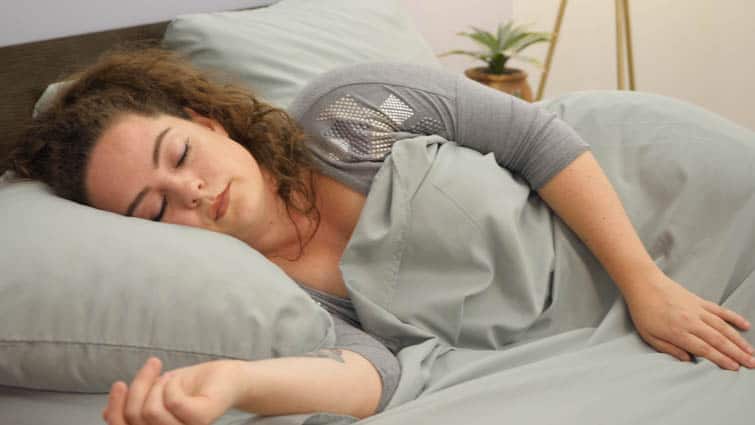 Cooling & Breathability
As a hot sleeper, I can tell you that I got pretty warm testing these sheets. While I do enjoy the distinctly soft and cozy feel of brushed microfiber, it's not a great pick for folks looking to sleep cool.
Additionally, the tight weave style of microfiber bedding makes it more insulating and less breathable. So, again, if you're shopping specifically for sheets that'll keep you cool, you might want to check my roundup of summertime bedding.
Meanwhile, those looking for a warm and cozy set of sheets would probably really enjoy these! I could definitely see myself snuggling up with this sheet set when the cold weather rolls in.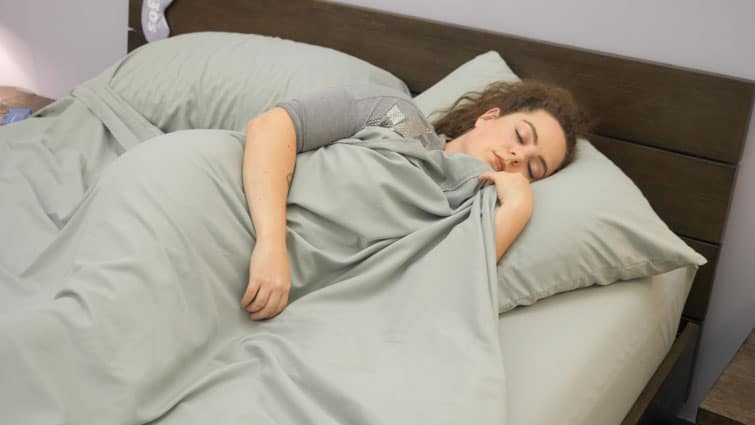 Should I Buy Comphy Sheets?
We're nearing the end of my review, but before you decide whether or not these sheets are the best fit for you, let's recap the highlights:
Brushed Microfiber – Not all microfiber sheets are brushed but, personally, I prefer those that are. It gives them a distinctly suede-like feel that's super smooth on the skin. And because these sheets are only brushed on one side, they're a bit less warming than double-brushed microfiber.
Color Options – This set comes in a wide variety of color options, which is great for those looking to take a break from plain white bedding. I'm testing the set in green here, but it comes in grey, lavender, blue, beige, and a few others as well. So feel free to get creative!
Easy Wash Care – You can wash these sheets on a warm or hot cycle, dry on medium heat, and iron as needed. While microfiber sheets do tend to be less prone to wrinkling, it's still best to remove them from the dryer as soon as the cycle is finished. Spread them out over the mattress while they're still warm, and that'll help keep the wrinkles at bay.
Comphy Microfiber Sheet Set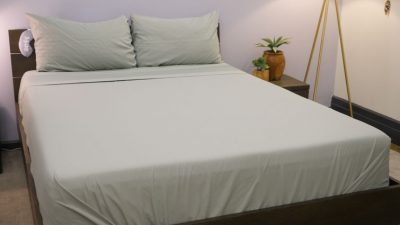 The Comphy sheets have a great suede like feel and come in a variety of color options!
Sleepopolis Score
5.00 / 5
Read Full Review
Comphy Sheets Complaints
Of course, there are a few things about these sheets that some might consider to be drawbacks:
Not for Hot Sleepers – As a hot sleeper, I can tell you that this bedding did not keep me cool. I could see myself enjoying it in the winter, but microfiber sheets do tend to be less breathable and more insulating as compared to other fabrics.
Price – As I mentioned, microfiber sheets tend to be among the least expensive (which many consider to be the basis of their appeal!). In fact, you can often find a great set of microfiber sheets for under $30. So I'm a little surprised that these sheets range in price from about $140-$180. Yes, they're quite cozy, but there are certainly more affordable microfiber sheets on the market.
No Trial Period – No trial period is offered with these sheets, which means there's no way to try before you buy. You can return them, but they must be unwashed and in their original packaging.
Anything Else I Should Know?
Pricing – $138-$183
Sizing – Twin, Twin XL, Full, Queen, King, California King, Split King
Free Shipping & Returns – within the U.S.
Wash Care – wash on warm or hot cycle, dry on medium heat, iron as needed
Now that you know everything there is to know about the Comphy Microfiber Sheet Set, you're that much closer to determining whether or not it's the right fit for you! And while you carefully weigh the options, don't forget to like and subscribe to our YouTube channel, and follow us on Facebook, Twitter, and Instagram!
Sarah Riccio
Sarah is the former senior writer and bedding expert at Sleepopolis. She received her degree in Creative Writing from Brooklyn College and spends her free time doing stand-up, making pasta, and hanging with her cats.