On the hunt for cotton bedding, but not sure where to start? Well you're in luck because I'm about to personally test two cotton sheet sets from industry veteran Peacock Alley, and let me tell you — they each bring something special to the game.
So kick back, relax, and read everything there is to know about Peacock Alley's Lyric Percale and Soprano Sateen Sheet Sets.
Brand Snapshot
Peacock Alley is a family-owned business that's been serving up luxury bedding and bath linens since 1973. And though the brand began with an aim to offer just the basics, its inventory has since expanded to include everything from baby blankets to dust ruffles. But in this review, we're honing in on Peacock Alley's most popular sheet sets — the Lyric Percale and Soprano Sateen.
Now, I've written all about the differences between sateen and percale, but every bedding brand brings its own unique style to the game. So let's find out exactly how these sheets are made, and which sleepers will be most compatible with each one!
What Are Peacock Alley Sheets Made Of?
Lyric Percale Sheet Set
The Lyric Percale Sheet Set is made from 100% extra-long staple cotton, features a percale weave, and a thread count of 500. Not sure what that means? Don't worry — I break it all down below.
The Fiber Factor: Extra-Long Staple Cotton
This fabric is made in Italy, and is woven from extra-long staple cotton. When you're on the hunt for cotton bedding, one of the most important factors to consider is the length of the cotton fibers (also known as staples). And the general rule of thumb is — the longer the fiber, the softer and more durable the finished fabric will be.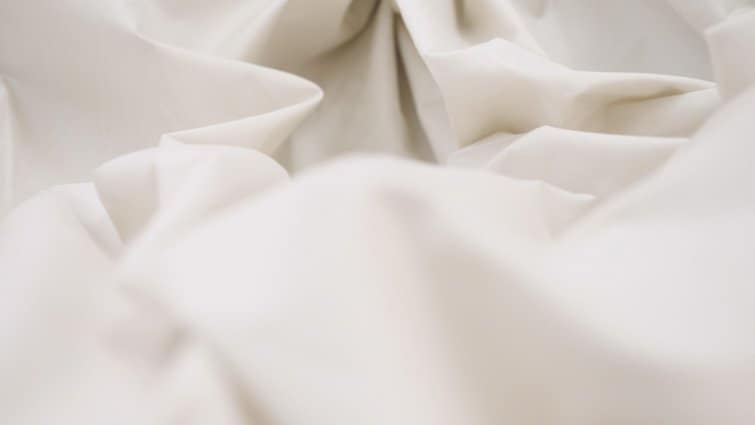 The length of the fibers won't be explicitly given in any particular measurement, but the two terms to look out for are "extra long-staple" (which is what we see here) and "long-staple." A cotton sheet set woven from short fibers is unlikely to make any mention of staple length.
Weave Style: Percale
Meanwhile, "percale" refers to the style of weave used to craft these sheets, and the two weave styles you'll find most often are percale and sateen.
Percale bedding has a looser weave as compared to sateen, which typically makes it lighter in weight, and gives it a cool, crisp feel. That's why sleepers who run hot tend to be more compatible with percale.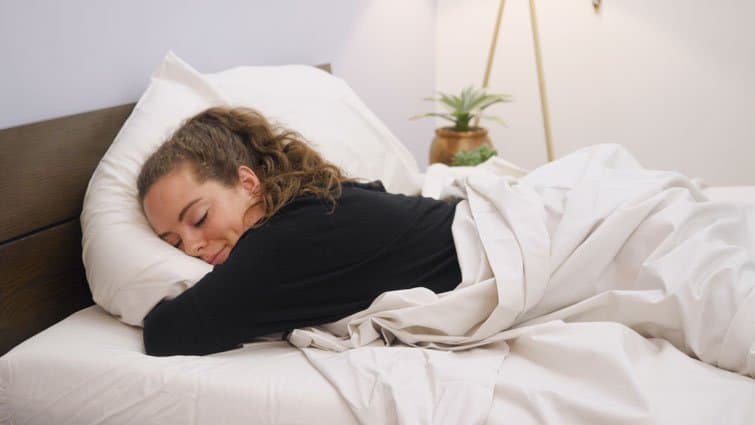 Thread Count: 500
This bedding features a high thread count of 500, but there are a few important things to know about the significance of thread count.
Many are under the impression that a high thread count guarantees high quality, but that's just not the case. Thread count refers to the individual yarns per square inch of fabric, and when you're dealing with long, supple cotton fibers, a higher count means a smoother, more durable fabric.
However, when bedding is woven from shorter, weaker cotton fibers, thread count kind of loses its value. In fact, some brands will splice a ton of short cotton fibers together in order to boast a higher count. So remember — if bedding is woven from weak yarn, no amount of thread is going to boost its quality.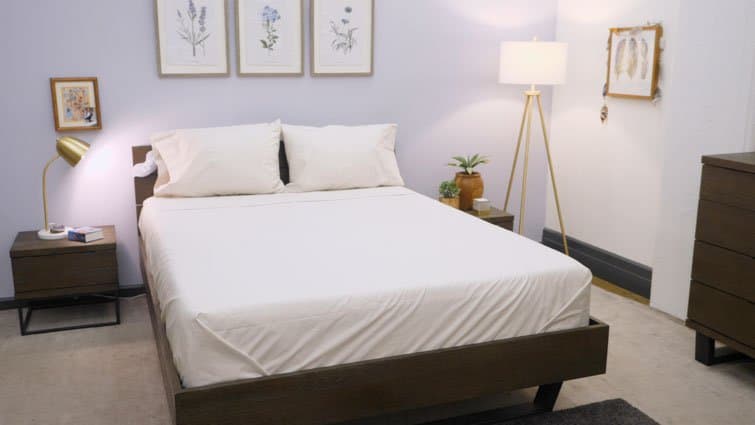 Pro Tip: Sheets that advertise a thread count of 700 or higher are probably woven from short fibers.
The Bottom Line: Cool, Crisp & Luxurious
When you're working with extra-long cotton fibers like we see here, a good thread count benchmark is 400-600, so this set definitely qualifies as high-end bed linens. Of course, luxury bedding usually comes with a luxury price tag (and these sheets are no exception), but we'll get into that later.
Okay sleepers, now that we know more about what this sheet set is made of, we can dive deeper into how it feels. But before we do, let's talk about the Soprano Sateen Sheet Set.
Soprano Sateen Sheet Set
Like the Lyric Percale Sheet Set, this bedding is woven from 100% extra-long staple cotton, and features a comparable thread count of 420. However, it features a sateen weave which brings an entirely different set of traits to the table.
The Fiber Factor: Extra-Long Staple Cotton
This fabric is made in Portugal, and is woven from extra-long staple cotton. As I said, longer cotton fibers improve durability and softness, but they also boost resistance to pilling as well!
Additionally, sheets woven from extra long-staple cotton tend to have better color retention, and I'm pleased to report that I didn't notice any fading after I washed these sheet sets. I tested the Soprano Sateen in blue, and the Lyric Percale in ivory, and both retained their respective hues very well.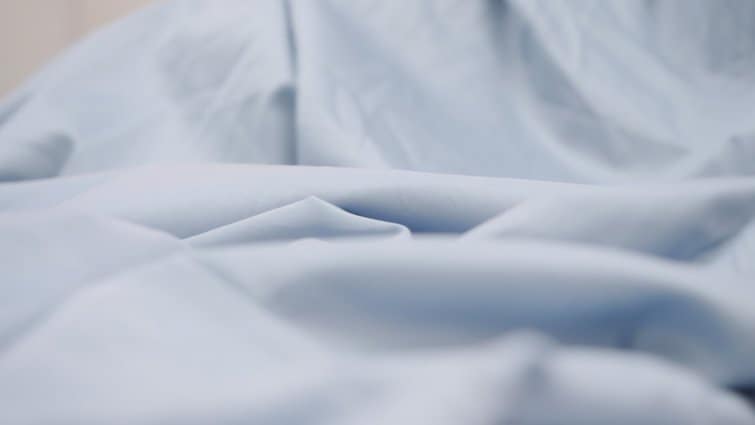 Weave Style: Sateen
Instead of the cool crispness you get from percale, sateen sheets are typically heavier in weight and feel silky to the touch. Additionally, sateen bedding is known for its lustrous sheen rather than a matte appearance (so if you like shiny sheets, sateen might be your best bet).
However, because a sateen weave is tighter as compared to percale, it produces a thicker, less breathable sheet that's better suited to those looking to keep warm. This extra weight also contributes to an elegant draping over the mattress and your body's shape that many sleepers consider to be the basis of sateen's appeal.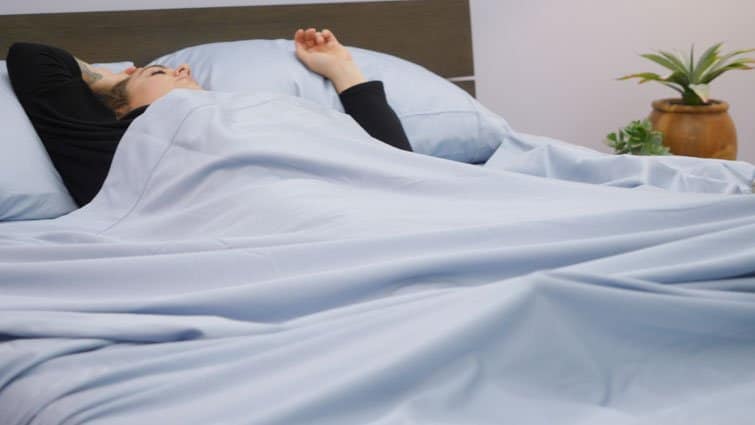 Thread Count: 420
These sheets feature a high thread count of 420, just 80 threads shy of the Lyric Percale set. And while 420 and 500 are comparable counts, some bedding brands make sateen sheets with a slightly lower thread count in order to promote breathability. Remember: sateen woven sheets tend to be heavier and less cooling as compared to percale.
That said, 420 is still a luxuriously high thread count in the world of extra long-staple cotton and, in this case, boosts the silky-smooth feel of the fabric. It also enhances the lustrous sheen of these sheets, which is a personal favorite feature of mine!
The Bottom Line: Silky, Lustrous & Elegant
Sleepers looking for a silky, lustrous set of sheets are likely to be more compatible with the Soprano Sateen Sheet Set.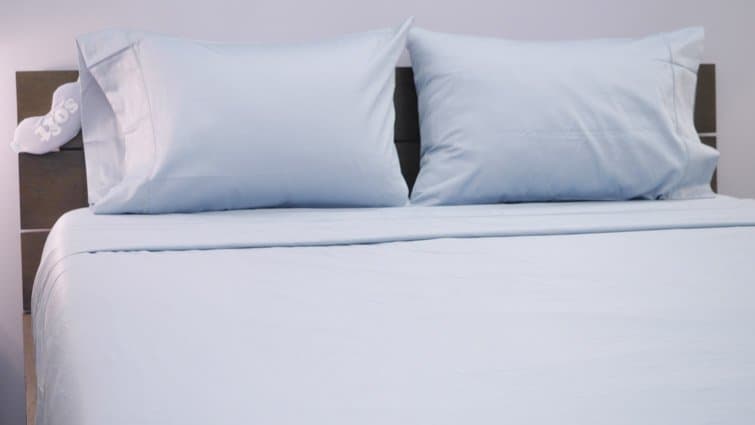 It's important to note that both of these sheet sets are incredibly durable, soft, and made from high-quality materials. However, the percale sheets offer a classic cotton feel that many compare to a freshly ironed dress shirt, and the sateen sheets look and feel much silkier in comparison.
Speaking of which, let's take a closer look at how each Peacock Alley sheet set performs so you can decide which is best for you.
How Do Peacock Alley Sheets Feel?
When I first unpackaged these sheet sets, I couldn't help but "ooh" and "ahh" at their luxurious look and feel. So let's discuss what's included in each set, how they each perform, and which sleepers might be most compatible with each one.
What's Included in Each Set
Both sets come with two pillowcases, one top sheet, and one fitted sheet capable of accommodating mattresses up to 17 inches deep (which is about as deep as it gets). So even folks who sleep on taller mattresses should be able to find a good fit.
Additionally, each top sheet and set of pillowcases has its own aesthetic flare, both of which evoke a hotel-type style. The Lyric Percale set features a double open hemstitch, and the top sheet and pillowcases of the Soprano Sateen set are detailed with a satin stitched border.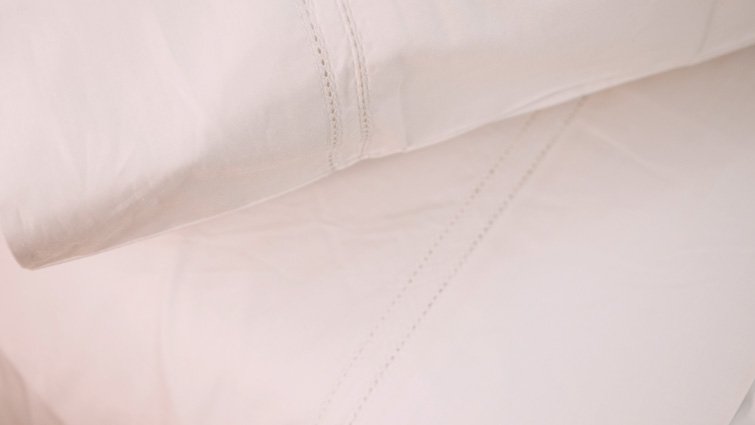 Breathability & Cooling
Percale woven bedding tends to be more breathable and cooling as compared to sateen, and I found these sheet sets to be true to their respective weave styles.
The Lyric Percale is crisp, clean, and airy while the Soprano Sateen is silky, lustrous, and lies heavier on the body. As a hot sleeper, I really appreciate the Lyric's ability to keep me cool, and I think it would make a great addition to any collection of summertime bedding.
Conversely, the Soprano Sateen is noticeably heavier in weight, and brings a warm and cozy quality to the game. Sleepers who run cold, or those shopping specifically for wintertime bedding are probably better off with this set.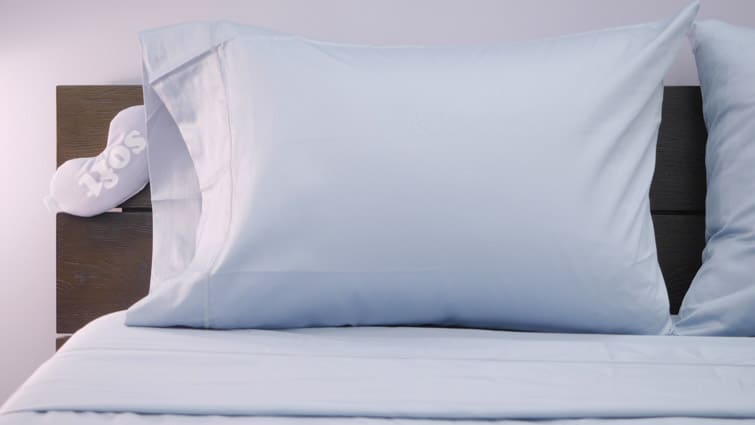 Look & Feel
If you're not sure which sheet set offers the look you're going for, ask yourself this question: Do I prefer a matte finish or a lustrous sheen?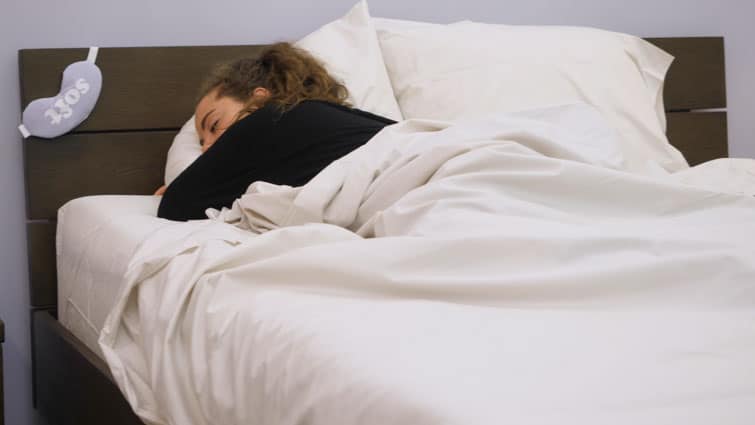 Those looking for sheets with a matte appearance and no luster are probably better suited to the Lyric Percale. This bedding is not shiny and, as I mentioned, looks similar to a freshly ironed dress shirt. And the fabric feels how it looks! It's got a crisp, classic cotton quality that's not silky or slippery at all.
Meanwhile, the Soprano Sateen sheets look and feel very silky, making them better suited to those who prefer a high luster. In fact, these sheets are even shinier than other sateen sheet sets I've tested and I'll be honest — I can't resist their elegant sheen.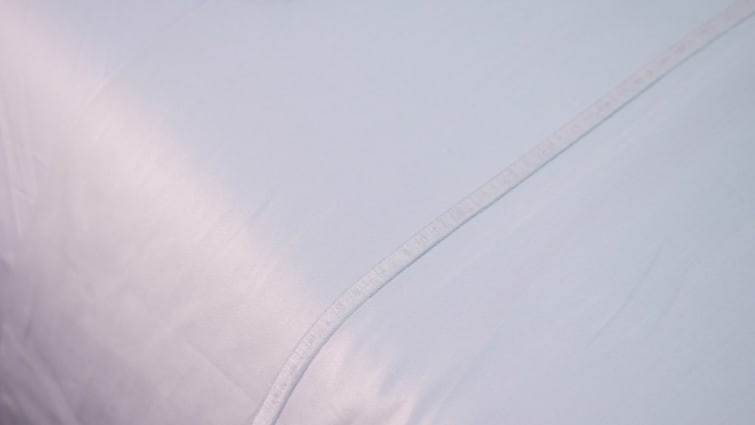 The Bottom Line
At the end of the day, bedding is largely about personal preference, especially when you're deciding between two sheet sets of equal quality. And hey, cotton percale and sateen are both bedding essentials, so if you've concluded that you need one of each, I can't blame ya'.
But if you're looking specifically for a crisp, cool set of sheets, I suggest you go with the Lyric Percale. If you're trying to boost your collection of silky, lustrous linens, go with the Soprano Sateen.
Should I Buy Peacock Alley Sheets?
Now that we've taken a close examination of each sheet set, lets recap the highlights so you can better determine which is the best fit for you:
Luxurious – It's important to note that, regardless of weave style, both sheet sets are made from extra long-staple cotton and feature high thread counts. This makes them both very durable, and earns them a spot in the "luxury bedding" category. Not to mention, all sheet sets can be monogrammed (for an additional fee of about $20), and there are some lovely font styles from which to choose. If you're looking for a sheet set that's going to make you feel like you're in a high-end hotel, I think both of these hit the mark.
Lyric Percale – Sleepers who prefer a crisp handfeel and a matte appearance should go with the Lyric Percale. As I mentioned, it feels kind of like a freshly ironed dress shirt, and is not at all silky. Additionally, this sheet set is lighter and more breathable as compared to the sateen bedding, making it better suited to those who sleep hot.
Soprano Sateen – If silky, lustrous sheets sound more appealing than crisp, cool bedding, you're probably better off with the Soprano Sateen. But remember: these sheets are heavier in weight, so if you're a naturally hot sleeper who needs help keeping cool, you might want to air on the safe side and go with percale. That said, this is a stunning set of sheets that I'll be enjoying all winter long.
Peacock Alley Sheets Complaints
When it comes to craftsmanship, I've got no complaints. However, there are a few things to note before you make your purchase:
Lyric Percale – This sheet set is more expensive than its sateen counterpart, and ranges in price from $740-$820. Additionally, it only comes in Queen, King, and California King sizes.
Soprano Sateen – Meanwhile, this sheet set comes in a wider range of sizes, ranging from Twin to Split King. But it's still going to run you about $400-$660 which is, of course, not in everyone's budget.
No Trial Period – Unfortunately, no trial period is offered with this bedding, so there's no way to try before you buy. Peacock Alley does extend a 60-day return policy, but sheets that have been monogrammed or washed cannot be returned. And because it's always a good idea to wash your bedding before you sleep on it, you kind of have to be sure that these are the sheets of your dreams before you make your purchase.
Anything Else I Should Know?
Free Shipping & Returns – within the U.S.
Pricing – Lyric Percale ($740-$820), Soprano Sateen ($400-$660)
Sizing – Lyric Percale (Queen, King, California King), Soprano Sateen (Twin, Twin XL, Full, Queen, King, California King, Split King)
Wash Care – both sets may be washed on a cool gentle cycle with mild detergent, dried on low heat or left to air-dry. Iron on low heat as needed.
60-Day Return Policy
Lyric Percale – made in Italy
Soprano Sateen – made in Portugal
Now that you know all about Peacock Alley's most popular luxury linens, you're that much closer to deciding which sheet set is best for you. And as you carefully consider your options, don't forget to subscribe to our Youtube channel and follow us on Facebook, Twitter, and Instagram!