Founded in 2017, California-based Yaasa Studios is a new furniture company in the sleep world that prides itself on its ability to adapt to its customers needs. In this vein, the brand's not only released a mattress, but also blankets, candles and an adjustable bed.
Today I'll be taking a look at this last item—the Yaasa Adjustable Bed—which acts as a movable frame for your mattress. I'll be giving this bad boy the once over to figure out how it moves, how it supports a sleeper and whether or not it could be the perfect bedroom accessory for you.
Does this adjustable bed have what it takes to win you over? Continue reading to find out! Don't have enough time to read the full review? Click here to jump straight to the summary.
Yaasa Adjustable Bed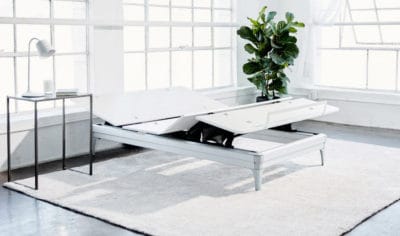 Enjoy a sleek, minimalist design that will compliment any modern bedroom with or without a bed frame! 
Sleepopolis Score
4.80 / 5
Read Full Review
CONSTRUCTION
The Yaasa Adjustable Bed features a metal and wood construction, which gives it a strong, sturdy feel. The structure has four legs and stands 15" in height. These legs are connected by metal side rails, which together help to support four individual planks of wood, which you'll hand-screw onto the surface. The panel at the head and the two nearest the feet move independently of one another, offering a wide range of mobility.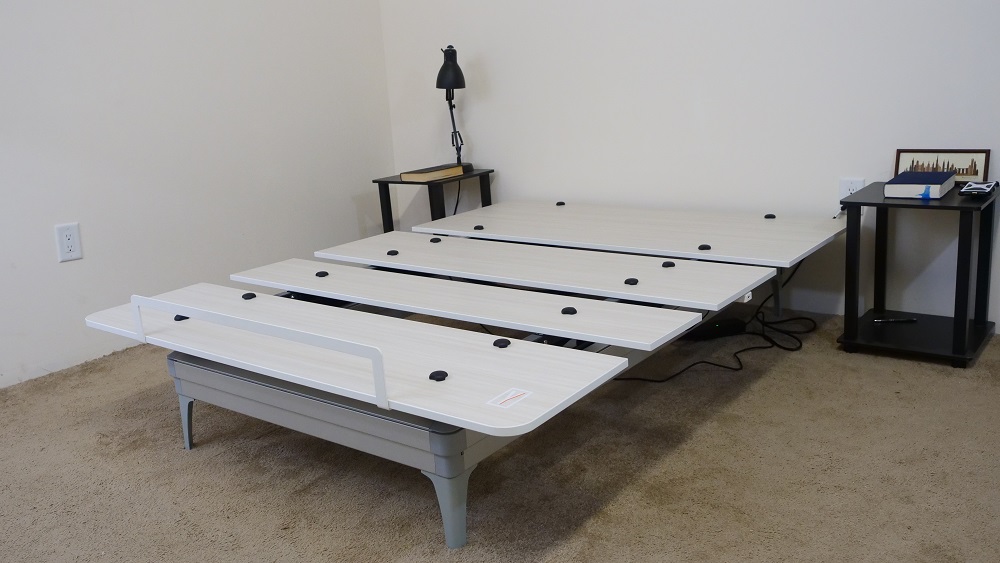 Underneath the bed, you'll find four motors, two placed at the head of the mattress with the other two situated along the legs. These mechanisms are located in the side rails of the bed and connected via a thin wire, so you'll be able to store things under your mattress without obstruction.
You power up the bed by plugging it into the wall, but a battery backup can be used to lower the bed in case of a power outage. Located on either side of the bed you'll find USB ports, which allow you to charge up your devices throughout the night. I should add that the motors are built to be ultra-silent as not to disturb your peaceful slumber.
The structure is built with an elegant, minimalist design. The planks feature a wood finish and the lower frame is made from lightweight aluminum, which should look good with almost any decor.
Yaasa Adjustable Bed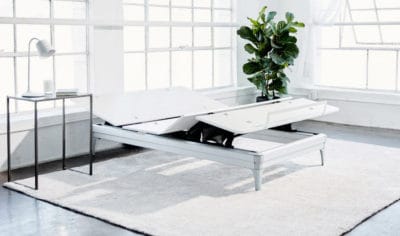 Enjoy a sleek, minimalist design that will compliment any modern bedroom with or without a bed frame! 
Sleepopolis Score
4.80 / 5
Read Full Review
ASSEMBLY
The Yaasa Adjustable Bed will arrive in a sleek bundle of two packages. You'll have to assemble a lot of the structure yourself, but it won't take more than a few minutes. The package includes easy-to-follow instructions, which walk you through how to attach the legs and the various platform planks.
A major selling point of this particular bed is that you don't have to attach the legs for it to work, meaning that if you have a bed frame you already love, you can just set the bed inside it. This will ensure that it blends in seamlessly to the rest of your bedroom furniture. Another cool thing to note: if you want to alter the height of the base, you can swap out the aluminum legs for any other pair as long as they have an 8mm male screw diameter.
MORE: Adjustable Bed Reviews
I should note that the structure comes with a large brace at the end that will hold your mattress in place as you adjust the height of the bed.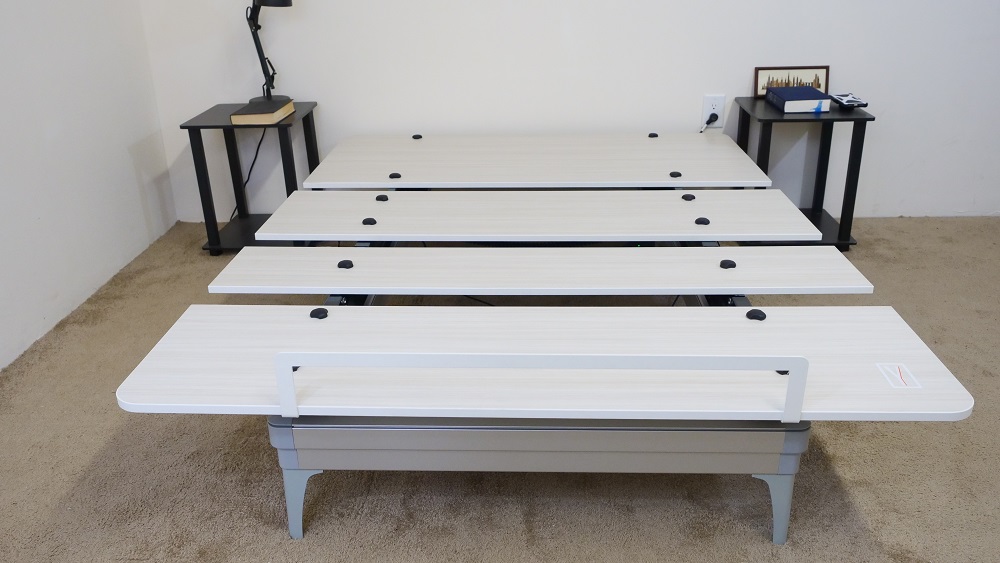 MOBILITY
Now that we've discussed how the Yaasa's built, let's chat a bit about how it moves. The sleeper controls the bed with a wireless remote, which comes equipped with two buttons, one connected to the motor at the head of the bed and one connected to the motor at the feet.
Since the motors move separately of one another, you'll have a wide range of angles to choose from. A cool feature of the bed is that the head moves in such a way that it'll always keep you close to your night stand and won't scratch or hit the wall as it glides into your desired position.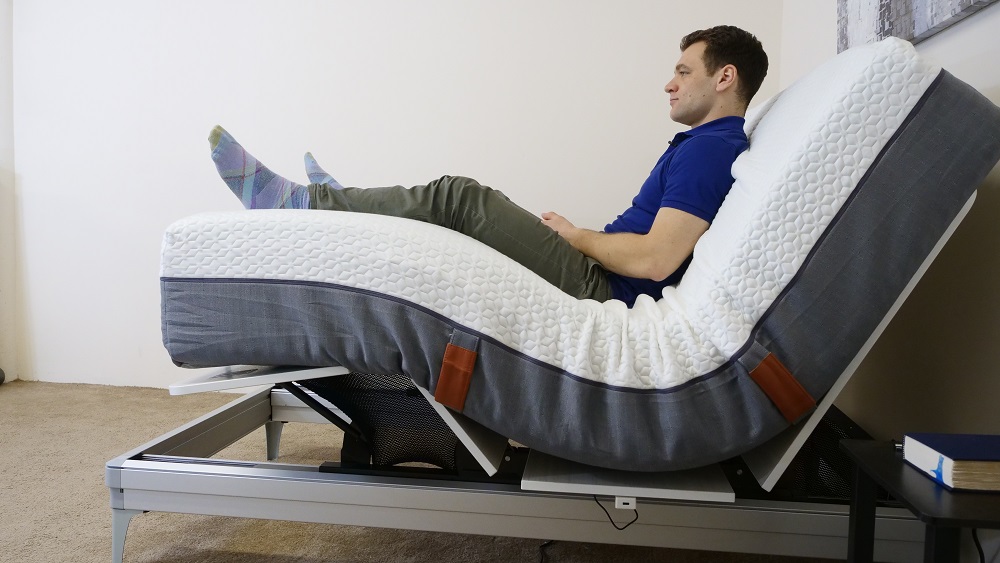 Once you've settled into a combo that feels comfortable, you can click on one of two designated "memory" buttons to store the position in the structure. These buttons are designated with either one or two dots and come preset with anti-snore (button number 1) and zero gravity (button number 2) positions, which you can easily override with your own.
I should note that once you're ready to sleep or just want to move back to a flat position, there's a button in the middle of the remote that will return the bed to neutral. And if you want to ensure that no one else can tamper with the bed once you've settled down for the night, you can hit the remote's "lock" button.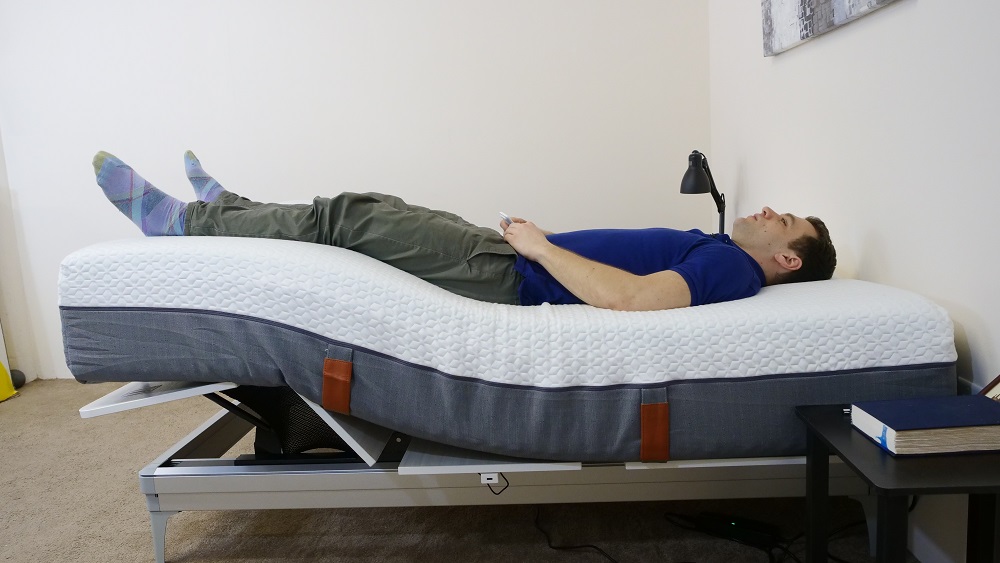 SUPPORT
The Yaasa Adjustable Bed can support either a Queen or King-sized mattress of any brand. It holds up to 700 lbs. and would make a great accessory for someone who likes to sit up in bed to read, watch Netflix or even enjoy a leisurely breakfast in bed.
While it would be totally fine for a back sleeper to slumber with the bed inclined, stomach and side sleepers should always sleep with the bed in neutral. The odd angles could send the spine severely out of alignment for these sleepers and cause the formation of major pressure points.
PHOTO OF BASE
FEATURES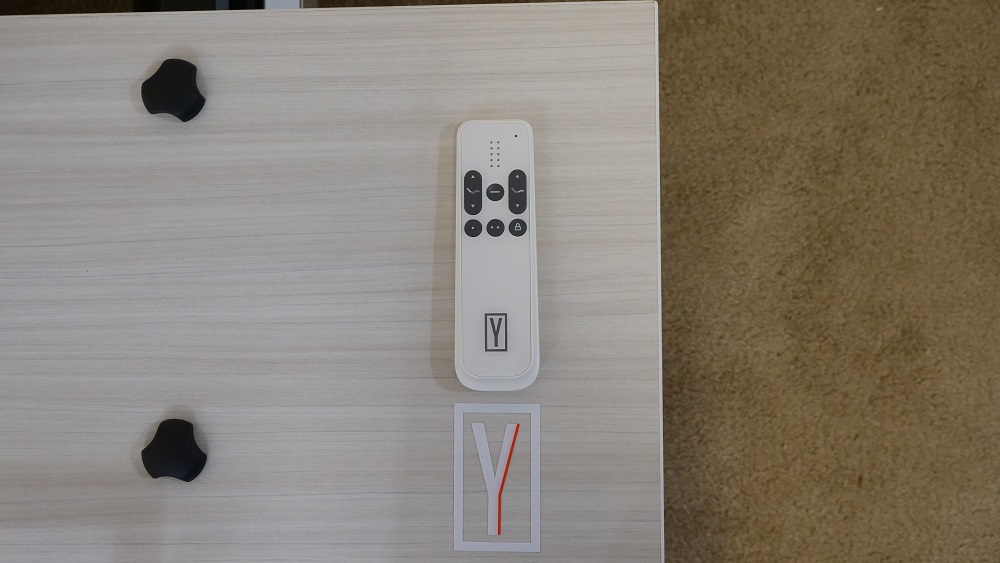 | Feature | Included? |
| --- | --- |
| Foot Decline | Yes |
| Zero-Gravity | Yes |
| Anti-Snore | No |
| Lounge | Yes |
| Massage | No |
| A/C Outlets | No |
| USB Port | Yes |
| Under-Bed Lighting | No |
| Flashlight on Remote | No |
| Pre-Programmed Configurations | Yes |
| One Click Settings | Yes |
| Wireless Remote | Yes |
| Mattress Clip(s) | No |
| Zero-Clearance | Yes |
In addition to its ability to control the two motors and return the bed to a memory or neutral position with a single click, the remote also comes equipped with an LED backlight. This small glow will come in handy when you need to move around in the middle of the night but don't want to turn on the overheads or disturb your partner.
SIZE & PRICING
The standard pricing for the Yaasa Adjustable Base is listed below but you can save $100 by using the promo code SLEEPOPOLISADJUST at checkout!
| Size | Dimensions | Weight | Price |
| --- | --- | --- | --- |
| Twin XL | 79.25" x 37.25" x 15" | 140 lbs | $1,299 |
| Queen | 79.25" x 58" x 15" | 176 lbs | $1,499 |
| King | 79.25" x 74.5" x 15" | 198 lbs | $1,799 |
| Split King | 79.25" x 37.25" x 15" (x2) | 140 lbs (x2) | $2,499 |
BASIC INFORMATION
The bed has a weight capacity of 700 lbs.
Free shipping, arrives in a bundle of two packages.
Yaasa offers a 10 year warranty on this product.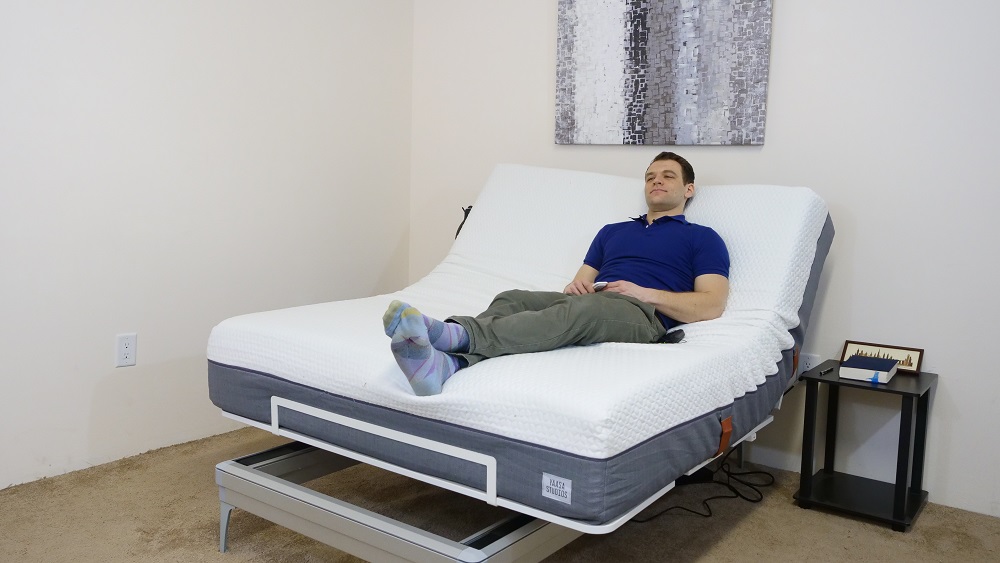 WHAT SETS THE YAASA ADJUSTABLE BED APART?
Yaasa Adjustable Bed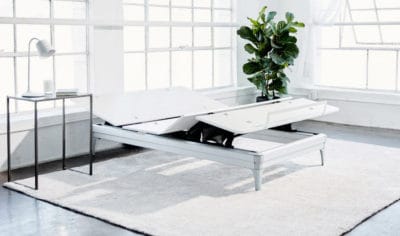 Enjoy a sleek, minimalist design that will compliment any modern bedroom with or without a bed frame! 
Sleepopolis Score
4.80 / 5
Read Full Review
Here are a few specs that make this bed different from others on the market:
Motors in the side rails – By placing the motors in the sides of the bed, Yaasa is able to free up some value under-mattress space for storage. This placement is unique among beds and could make a big difference for some sleepers.
Don't need the legs – Unlike other beds, this one can slip right into your favorite bed frame. Add the legs or ditch them, either way the adjustable bed will function just fine.
Stylish aesthetic – The Yaasa Adjustable Bed features an attractive, minimalist design that will fit into most modern homes. Even without a bed frame, this bed looks pretty great all on its own.