Body pillows offer a unique kind of coziness that makes you feel like you're cuddling with a cushy companion (and they never hog the blankets!). However, when it comes to choosing the body pillow that's perfectly suited to you, there's a lot to consider. Size, shape, materials, price, cooling features… The list goes on and on.
Like all sleep accessories, body pillows come in a wide range of materials including latex, memory foam, down, and more. And they are particularly beneficial for pregnant women, and those who sleep on their sides. Why? Well, holding a body pillow between your arms and legs helps to align the spine and relieve pressure in the lower back. But which body pillow is the best fit for each specific sleep need? Keep reading to check out my personal favorites!
Best Body Pillows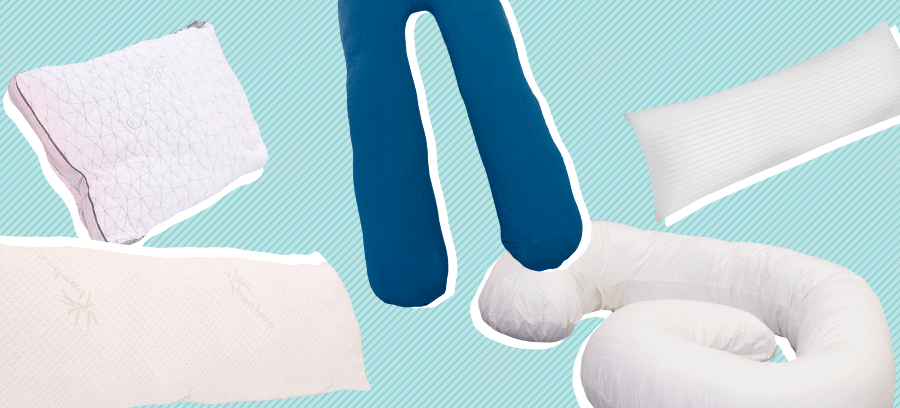 Editor's Pick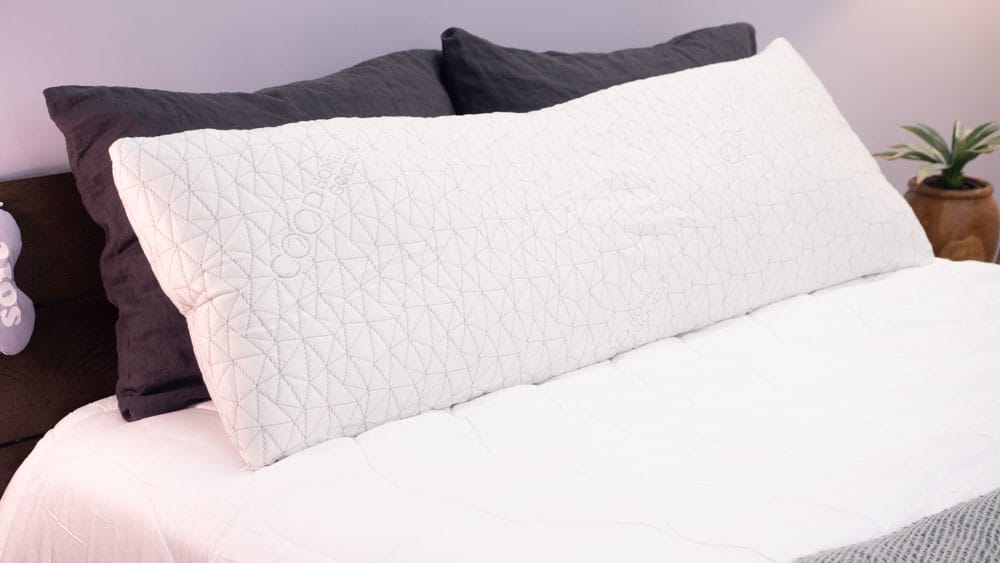 Coop Home Goods Body Pillow
Pros
Not sure how lofty you like your pillow? The Coop Home Goods Body Pillow features an adjustable fill, allowing you to customize the loft and firmness to your liking.
In general, shreds of memory foam offer much better breathability as compared to a solid piece of foam, and this pillow is no exception.
Sleepers who love the way memory foam conforms to pressure, but also need help staying cool at night should give this pillow a try. The fill is breathable, the cover is moisture-wicking and, in my experience, it never trapped my body heat.
Cons
An adjustable fill is great… until the stuffing gets everywhere! If you do decide to remove some of the fill, be sure to carefully store it in a concealed bag.
Best Value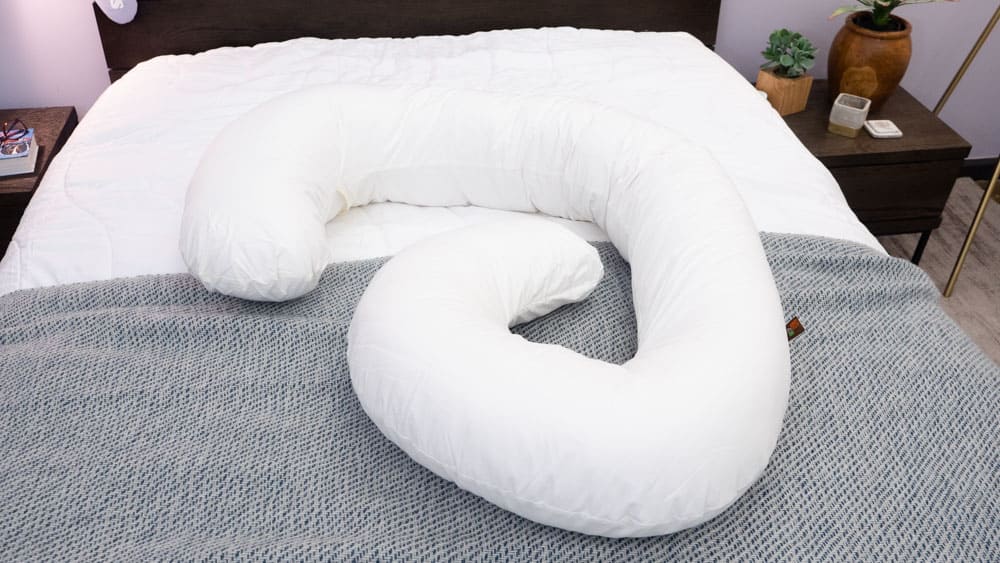 Leachco Snoogle Pregnancy Body Pillow
Pros
Depending on how you position the pillow, you can enjoy extra pressure relief for your back or tummy. Personally, I felt most comfortable with my body tucked inside the curve of the "C," and my back rested against the cushion.
The cover fabric is removable and machine washable, making wash care nice and easy. Just unzip the cover and throw it in the wash with the rest of your cotton bedding!
For lower lumbar relief, tuck the curved end of the pillow between your knees. This will help to align the spine, and help to dissipate heat below your hips.
Cons
This pillow can be used in a lot of different ways, which is great… but it can also be a little confusing at first. Luckily, there is a detailed card that illustrates all the different ways you can cozy up with your Snoogle.
Because it's C-shaped, sleepers don't get the same balanced pressure relief on both sides of the body that is offered with a U-shaped pillow.
Contender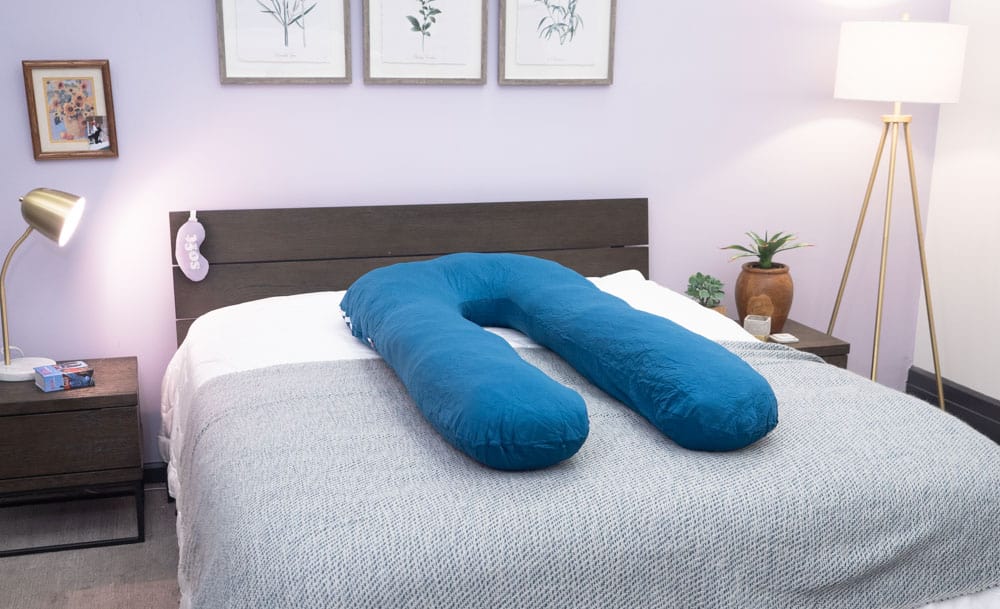 Queen Rose Pregnancy Body Pillow
Pros
This pillow's contoured support offers even pressure relief for both sides of the body. This is especially beneficial for pregnant women and side sleepers with lower back pain.
Don't be deterred by it's name — this pillow is not just for pregnant women. Though this pillow is particularly beneficial for pregnant women and side sleepers, its U shape made me feel comfortably cradled in the back sleeping position as well.
The cover fabric is super soft to the touch, and totally machine washable.
Cons
I had to fluff up the top part of this pillow in order to achieve enough support for my head. Remember: when you're on your side, you need a pillow with a high loft in order to keep a neutral spine.
This pillow doesn't feature any cooling properties, and I found it to warm up a bit over the course of the night.
Best Design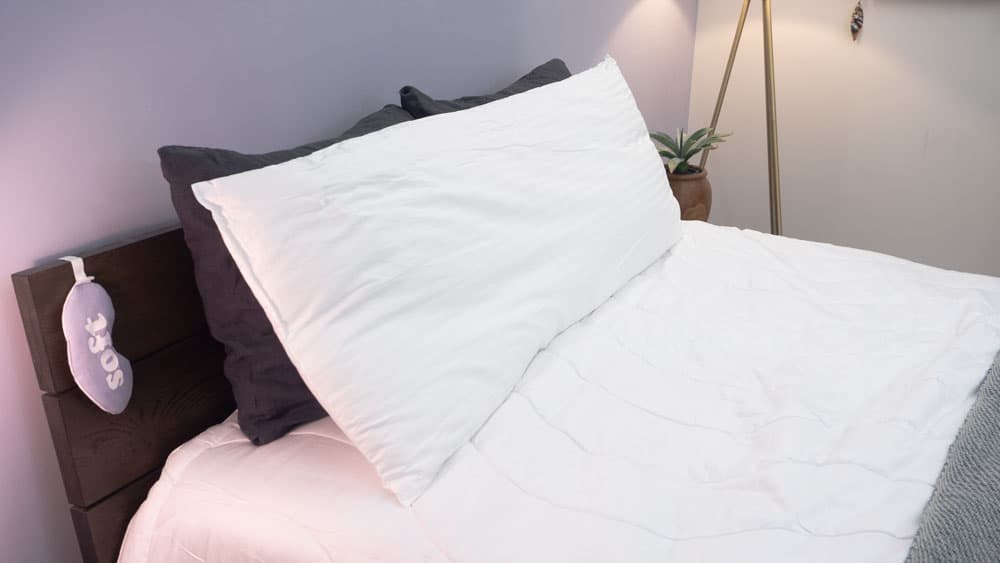 Utopia Bedding Body Pillow
Pros
Unlike some body pillows, this one has a very straightforward design. It's traditionally shaped, and offers a familiarly cozy cotton-polyester feel.
Folks who prioritize easy wash care might like to know that this pillow is totally machine washable and dryable.
This pillow has a low profile, so sleepers should feel free to stack it atop other pillows without worrying about being too propped up!
Cons
This pillow has a very low profile of less than 2 inches tall. Personally, I found it to be better for pillow-stacking rather than stand-alone support.
In my experience, this pillow went a bit flat over the course of the night and required frequent fluffing!
Best Support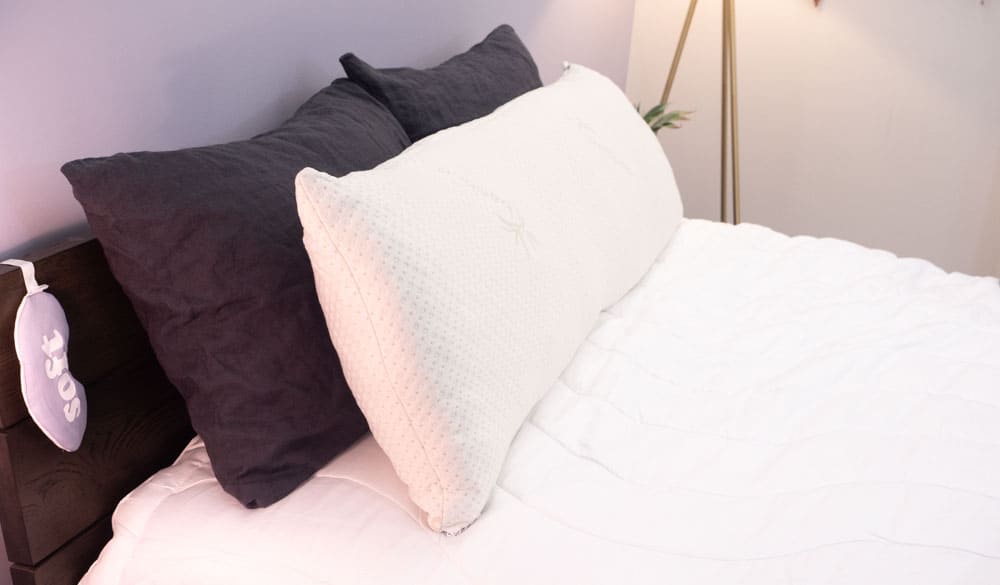 Snuggle-Pedic Body Pillow
Pros
The folks at Snuggle-Pedic did not skimp on the shredded memory foam here. This pillow is very lofty and offers a medium-firm feel, perfect for sleepers who need extra supportive pressure relief.
The cover fabric is breathable, moisture-wicking, and super soft. As a hot sleeper, I was pleased with how well this pillow kept me feeling cool and fresh.
It can be tough to find a memory foam pillow that's machine washable — but this one is! Wash care for this pillow is nice and simple, and easy-to-follow instructions come with every order.
Cons
Personally, I enjoy how lofty this pillow is, but there is no way to adjust the internal fill. So, sleepers have to be compatible with the loft exactly as it comes.
While the shredded memory foam is quite moldable, sleepers who prefer a soft, fluffy feel might want to look elsewhere.
How We Picked
When you're shopping for body pillows, it's important to consider every last detail in order to find the one that perfectly matches your unique needs. That's why I picked pillows that offer quality craftsmanship, and reflect a wide range of preferences and body types. Of course, there are a few key elements to pay attention to when choosing the very best body pillow on the market.
Internal Fill
Nothing is stopping you from using a body pillow in every position you can think of, but they are ideal for side sleeping. With that in mind, I chose the materials that are best for relieving pressure when you're lying in the lateral position. Each pillow's internal fill offers a tight conformance to your body's natural curves, and does a great job of maintaining shape throughout the night.
Personally, I find a fill of shredded memory foam to be the best option for both snuggling and relieving pressure in my lower back. Not to mention, a shredded fill usually means better breathability!
Cover Fabric
To accommodate those prone to night sweats, and menopausal women who experience hot flashes, I chose cover fabrics that are naturally moisture-wicking and breathable. Every pillow listed here is covered in a fabric designed to keep you feeling cool and dry. Additionally, I picked pillows with cover fabrics that can be washed and dried by machine… because who wants to dry-clean their pillows every time they get dirty?
Shape
Typically, body pillows come in three shapes — traditional, U-shaped, and C-shaped. The traditionally shaped pillow runs parallel with your body, and offers more versatility when it comes to sleeping positions. You can hold it in front of you, let it rest behind you, or (if you're like me) lie directly on top of it like it's a miniature mattress.
Meanwhile, the U-shaped and C-shaped body pillows are often specifically marketed to pregnant women, and those who need a little extra help staying on their sides throughout the night. These pillows are designed to cradle you, and keep you completely surrounded in cushion.
The U-shaped construction offers equal pressure relief for both sides of your body, prevents you from rolling onto your stomach or back, and is long enough so that you can fully stretch out. Similarly, the C-shaped pillow provides pressure relief for both sides of your body but, depending on which way you position it, can offer more support for your back or your baby-bump.
Price
Regardless of your personal budget, price is an important factor and can often be indicative quality. A pillow that's suspiciously inexpensive can be a warning sign of low-quality materials, but your sleep accessories shouldn't break the bank either. That's why I chose the pillows that are made from high quality materials, but also come at a reasonable price point. When it comes to body pillows, I suggest staying within the $50-$100 range.
Key Features To Look For
Yes, everybody is different and our sleep habits vary from person to person, but there are a few special features to look for when shopping for the best body pillow for you: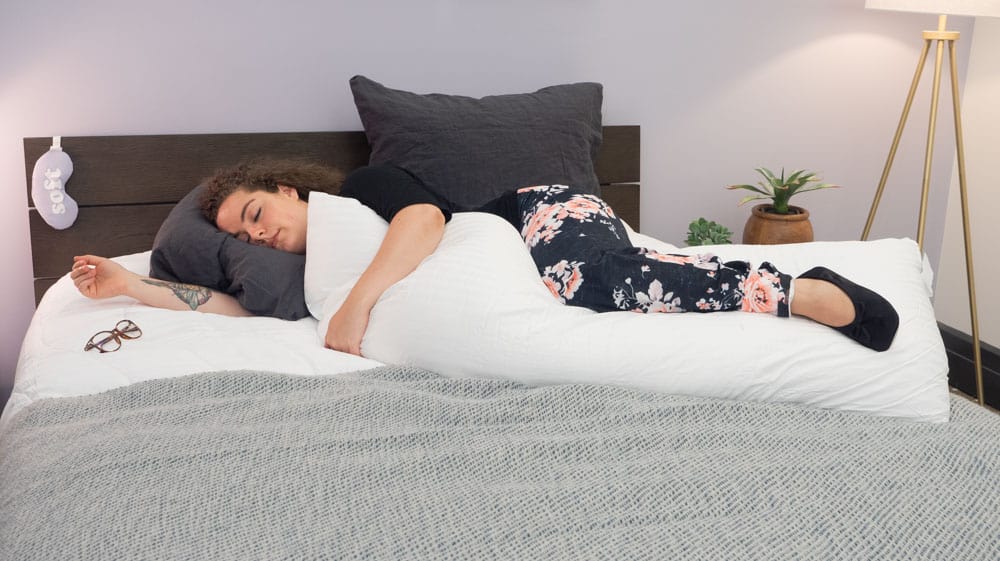 Adjustable Fill
An adjustable fill is great because it allows you to customize your sleep experience. Whether you want to remove fill to lower the loft, or manipulate the fill within the pillow in order to adjust the firmness and feel, all you have to do is unzip, reach in, and fine-tune the stuffing to your liking!
Here are a few tricks of the trade: if you're sleeping on your side, keep the pillow at full-loft capacity! This will help to relieve pressure in the shoulder and align the spine. If you're going to use your body pillow for stomach sleeping, remove the internal fill until the loft is 2 inches or fewer to ensure your
Wash Care
Some pillows are spot-clean only, or must only be dry-cleaned while others can be thrown in the washing machine on a regular ol' cycle. Now, finding the pillow that's best for your body is the most important thing, but wash care is always something to pay attention to. The truth is — not everyone has the means or the time to dedicate to complicated care instructions, so I suggest that you always check exactly how to care for your pillow before you make your purchase.
Hypoallergenic Materials
Be on the lookout for materials that are antimicrobial and/or hypoallergenic. Dustmites, mold and mildew love to hang out in pillows and bedding, so I like to aim for fabrics that keep those allergens at bay. Organic cotton, Tencel, and bamboo-based materials are my personal favorites!
Cooling Properties
Falling asleep when you're too hot is not easy and, unfortunately, pillows can often trap your body's heat and cause you to warm up throughout the night. Whether you're prone to night sweats or simply prefer to sleep cool, aim for pillows that advertise cooling properties. If you like a memory foam pillow, go with a shredded fill rather than a solid piece. If you like a cotton-based cover fabric, look for pillows with bamboo or polyester woven into the fabric for better moisture-wicking ability.
Sleepopolis Pro Tips
Many bedding brands offer trial periods with sleep accessories, and I always recommend taking advantage of those when possible. Being able to try before you buy is a good way to figure out exactly what you're looking for.
When it comes to body pillows, size and shape matters! Before making your purchase, determine the kind of support you're looking for. If you just want a big, fluffy cuddle-buddy, go with a traditionally shaped pillow that's at least 50 inches tall. If you're pregnant or specifically trying to alleviate pain in the lower back, aim for a U or C-shaped pillow that can cradle your whole body.
As a hot sleeper, I can't stress enough how important breathable, moisture-wicking materials are. After all, a cool, comfortable pillow will help you fall asleep and stay asleep through the night.
Final Thoughts
The world of body pillows is wide, and it can be a little overwhelming when you're trying to pick the perfect fit for you. Just remember: finding the shape and materials that support your unique body and sleep needs is the most important thing. Once you've done that, you can pay attention to all the little details that will take your slumber experience from "hey, this is cozy" to "how did I ever live without my body pillow!?"
Sarah Riccio
Sarah is the former senior writer and bedding expert at Sleepopolis. She received her degree in Creative Writing from Brooklyn College and spends her free time doing stand-up, making pasta, and hanging with her cats.