Whether you sleep on your back, side, or stomach, a long pillow can promote a healthier sleep. They help you achieve a posture that can be helpful with back pain, pregnancy pain, and snoring.
What's more, the best long pillows are made of high quality fibers such as memory foam and bamboo, the latter of which helping to keep you cool throughout the night. So which long pillow leads the pack? Keep reading to find out.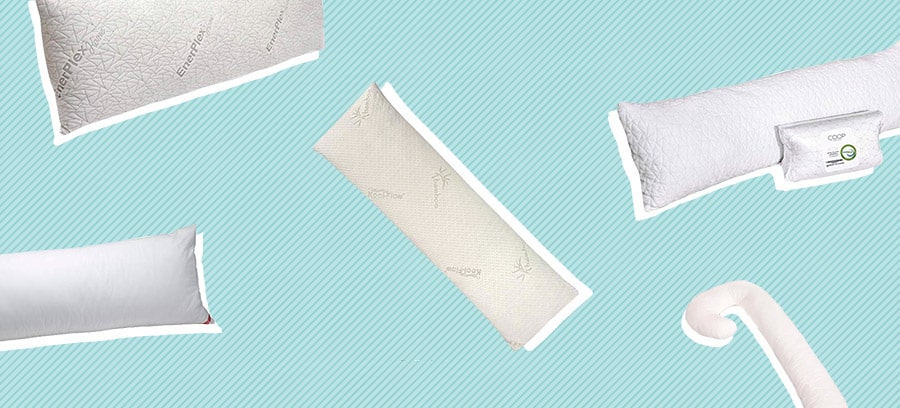 Editor's Pick
Snuggle-Pedic Memory Foam Body Pillow
Pros:
This pillow is filled with a proprietary foam mix that provides orthopedic support to your body and resists ever going flat.
At 54 inches long, this pillow can support your entire body while still providing enough room to continue using your own neck pillow.
This pillow is also fully machine washable and dryer safe.
Cons:
This pillow does not include a zip-off cover, meaning that there's little room for adjustion to its firmness. 
Top Contender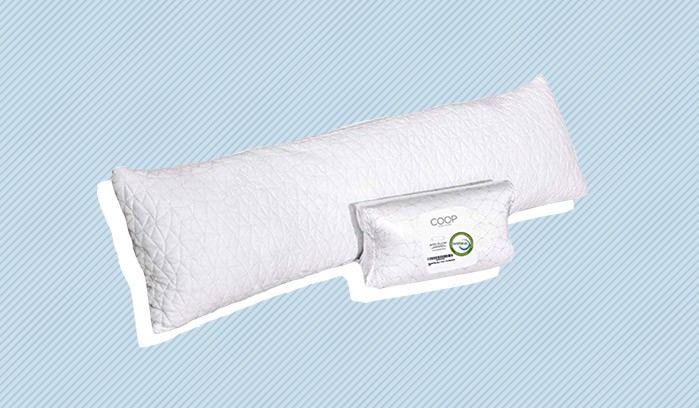 Coop Home Goods Adjustable Body Pillow
Pros:
This long pillow encourages side sleeping, a healthy posture that reduces the likelihood of snoring.
The memory foam fill inside this pillow is hypoallergenic, dust mite resistant, and certified by Certi-PUR US, meaning it's free of ozone depleters and other toxins.
If you aren't satisfied with this pillow, you can return it for a full refund for up to 100 days.
Cons:
Though they quickly dissipate, the fumes from this pillow's foam are initially unpleasant.
Best Value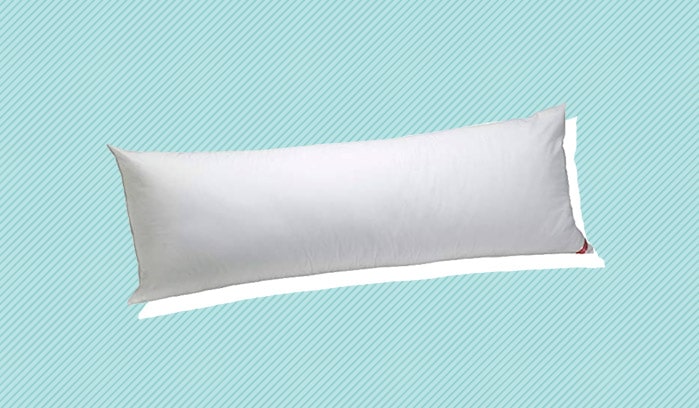 AllerEase Cotton Body Pillow
Pros:
At 54 inches long, this pillow can simultaneously provide support to your hips, back, neck, and stomach.
The cover on this pillow is made with 100% cotton, allowing air to pass through the fabric and preventing the trapping of heat.
This pillow is completely machine washable, and when tumble-dried on low, the fiber filling re-fluffs.
Cons:
This pillow's filling produces a crinkling noise when pressure is applied or shifted.
Best For Neck Pain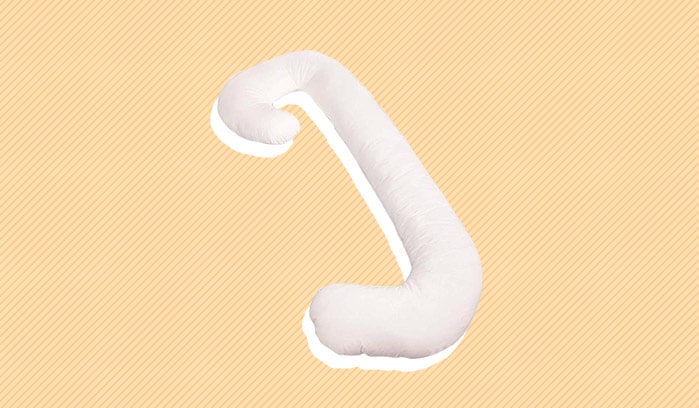 Leachco Snoogle Total Body Pillow
Pros:
The unique shape of this pillow provides superior versatility, allowing you to support your side while also tucking it beneath your neck and legs.
Its cotton cover is removable and safe to put in the washing machine and dryer.
Due to its flexibility, this pillow can also function as a reading pillow.
Cons:
Until you break in this pillow, it can be difficult to get it to hold your desired position.
Best For Stomach Sleepers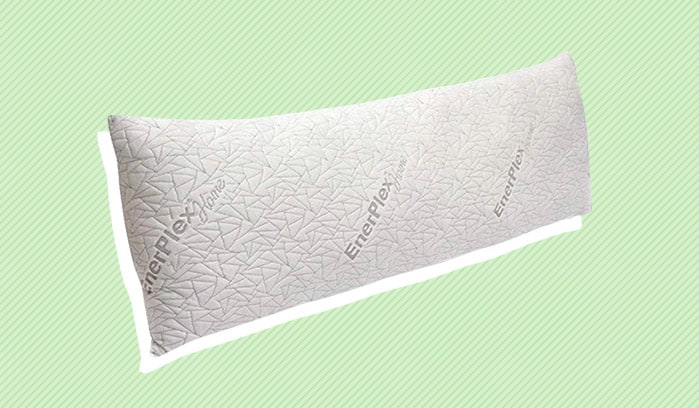 EnerPlex Never-Flat Body Pillow
Pros:
All the parts of this pillow are fully machine washable. They're also safe for the dryer on low heat.
The blend of memory foam that fills this pillow is designed to mimic the support and softness of a traditional down pillow.
Designed with a blend of bamboo and polyester fibers, this pillow's cover is breathable, keeping you cool at night.
Cons:
Like some of the other pillows reviewed here, this one also has a pungent odor that fades over time. 
How We Chose The Best Long Pillows
When it comes to customizable support, there is hardly a better solution than a long pillow. Their variety of shapes, sizes, and firmness levels ensures that you can find the sleep you've been craving. With so much diversity when it comes to long pillows, we had our work cut out for us. Here is what we paid close attention to:
Firmness
Most long pillows are filled with memory foam, polyester fibers, or a blend of the two. As we looked at all of the long pillows, we considered which of them provided optimal support, not just once but throughout extended periods of use.
Cooling and Airflow
Just as important as the filling is the cover that surrounds it. Whether the pillow is sheathed in bamboo, polyester, or cotton, we sought out pillow covers that maximize breathability, a characteristic that prevents against overheating.
Ease of Cleaning
Just as a traditional pillow picks up dirt, dust, and sweat, so does a long pillow. With this in mind, we considered not only which pillows were resistant to allergens but also which ones were easily cleaned with a washing machine.
Tips On Choosing Long Pillows
Pillow Length

: Naturally, an adult will require a longer pillow than a child, but just how long should your pillow be? We recommend that you select a long pillow that reaches from your head to past your knees. This way, it can promote support throughout your entire core.

Hypoallergenic Filling

: Apart from making sure that your long pillow is free from plastics known to be toxic, you should also make sure that it resists the accumulation of allergens such as dust, pollen, and animal dander. Check to see that the pillow is CertiPUR-US certified, which is an independent foam rating system that tests product purity.
Recapping The Best Long Pillows
Long pillows are the ideal way to achieve the support that normally requires three or four traditional pillows. Even though they're usually more expensive, a long pillow can actually end up saving you money. By taking the time to find the right one for you, you can promote proper sleep posture and become one step closer to a good night's rest.