Meditation pillows are a great pillow to have around for specific practices like meditation but also for a variety of other reasons. This style of pillow is ideal for sitting due to its typical sturdy composition and for its compact shape. These pillows can be designed in a variety of ways, but they all tend to provide support in a compact form.
When looking for a meditation pillow, it is important to establish how it will be used. Having several of these pillows around can be great for family storytime or for when sitting for long periods, like while doing arts and crafts. We have evaluated our favorites based on comfort, design, and support. Here is what we found: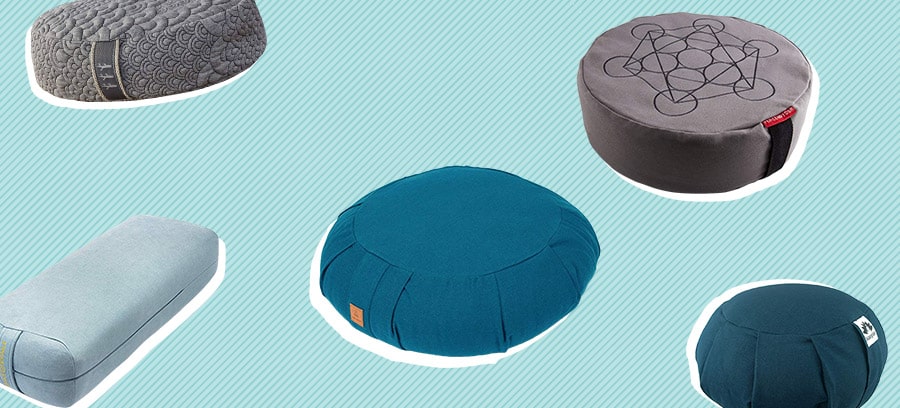 Editor's Choice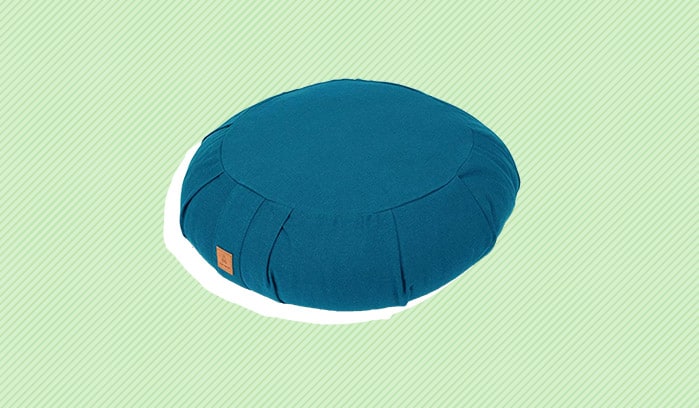 Seat Of Your Soul Buckwheat Meditation Cushion
Pros:
3 shapes available. This line of meditation pillows offers three different shapes to choose from, whereas most brands only have one. Available are a crescent, round, and a flat rectangular shape.
7 colors. For those looking for a specific temperature of color to match their space, this brand offers more options than most. The colors range from bright to subdued.
Crescent shape. The crescent-shaped pillow is wonderful for napping and for various arm-resting positions. Some may find this to be the most comfortable pillow for some purposes.
Cons:
Short. These pillows are a bit shorter than most similar pillows. This may make it harder to sit on and get up from.
Color availability. Not every color is always available in each of the three shapes. Some shapes have less of a selection.
The Contender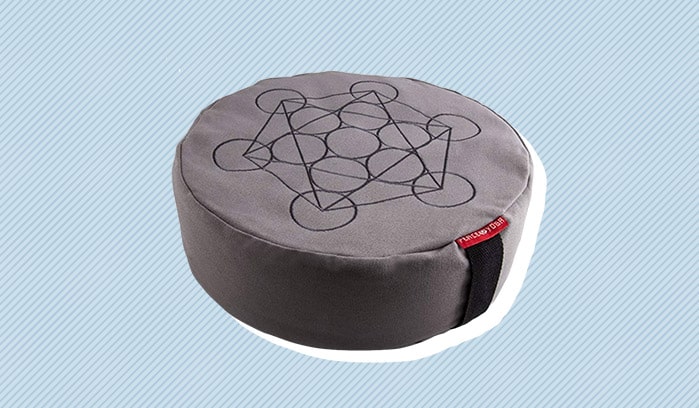 Peace Yoga Meditation Buckwheat Bolster Pillow Cushion
Pros:
Size options. While most meditation pillows only come in one size, this one has a smaller and larger option (13" x 13" and 16" x 16"). This is great for accommodating different sized people and for different uses.
Embroidery. Each of the different color options has a unique embroidery pattern. Among the patterns are a tree, a peacock, and a celestial sun & moon.
Machine washable cover. This pillow has a cover that can be conveniently removed from the inner filling and can be machine-washed. Many similar pillows either don't have a removable cover or the filling is loose and hard to manage.
Cons:
Stiff. While some will enjoy the firmness of this pillow, others may find it a little stiff. Depending on how long one will be sitting on it, it may not be as comfortable as other options.
Smell. Perhaps due to the material or the filling, this pillow has a distinct smell. While the scent may fade over time, it may be too noticeable for those with sensitive noses.
Softest Pillow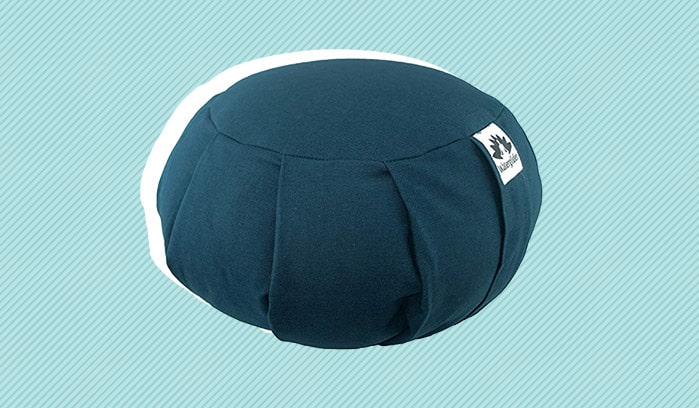 Waterglider International Zafu Yoga Meditation Pillow
Pros:
Organic cotton. Waterglider prides itself on using only organic cotton for its pillows. This is great for those who are concerned about the sourcing of their home furnishings.
Loose filling. These pillows are filled with loose buckwheat. This allows the pillow to be customized to accommodate different firmness preferences.
Domestic manufacturing. This pillow, even though it is manufactured domestically in the US, is still one of the more affordable options one may find. Many competitors are made abroad.
Cons:
Hard to wash. Because the filling is loose, it is a bit harder to manage when trying to remove to cover to wash.
Saggy. Though the manufacturer advertises the pillow as being "over-stuffed", some may find that it isn't as firm as desired.
Best Design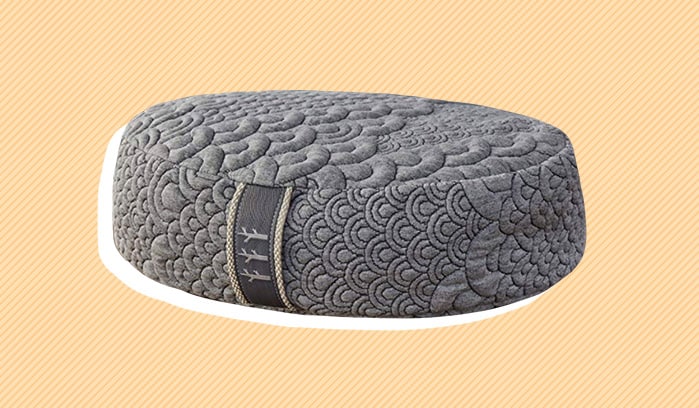 Brentwood Home Crystal Cove Meditation Cushion
Pros:
Large size. This pillow is one of the larger circular or round-shaped meditation pillows available. It measures 18" across and offers a large surface area to sit on.
Carry handle. The pillow has an attached carry handle that is sturdily designed. This makes carrying it from room to room or out of the house more convenient, especially when carrying other objects.
Pillow texture. The stretch-knit cover of the pillow is designed with a series of embroidered patterns that not only give the pillow a unique look, but offer a nice texture that is pleasant to the touch.
Cons:
Price. Those looking for the most affordable pillow may have to look elsewhere. This pillow costs double many similar offerings.
Only one size and color. This pillow is unfortunately only offered in one size and with one color (gray). This may be disappointing for those looking for several pillows for their home.
Best Support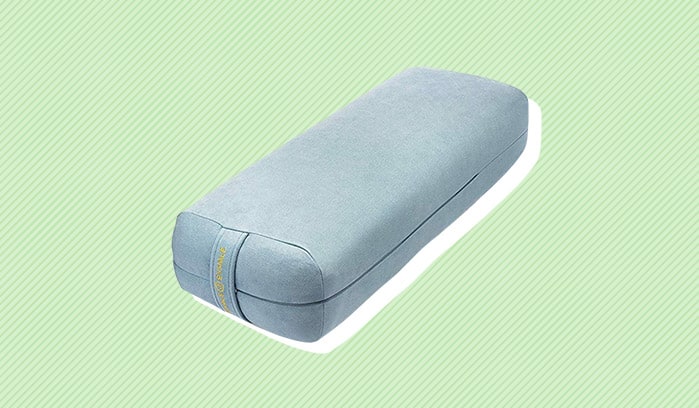 Ajna Yoga Bolster Pillow for Meditation
Pros:
25 inches long. Those looking for a long and straight surface to sit on may want to check out this pillow. At over 25 inches long, it provides a nice length that is ideal for sitting or even to rest one's head.
Recycled foam. Not only is the inner filling comfortable yet firm, but it is made of recycled foam. This is just one way in which this line of pillows is eco-friendly.
Vegan materials. All of the materials used for this pillow, from the eco-suede outer cover to inner layers of foam, are vegan. For those concerned with sustainability, it is nice to know the provenance of each element of this pillow.
Cons:
May be too big. This pillow may actually be too large for some people. Depending on how it is used, it may prove to be too bulky for some situations.
Linear shape. The elongated shape may be perfect for some, but may not be as comfortable for some sitting positions as a rounded shape.
How We Picked
Meditation pillows have widespread use as a tool for yoga but also can be utilized in many other ways around the house other than for yoga. They offer much more comfort than a hard floor but allow movement around the house without anchoring people to their beds or chairs. With the variety of uses in mind, here are the categories by which we judged the meditation pillow market:
Design
Meditation pillows, while small enough to be kept in storage, typically live in a person's bedroom or living room. This means that the style and design of these pillows can have an impact on the aesthetic of a room. Thankfully pillow producers tend to have considered this when designing their products.
Many brands offer pillows in a variety of colors. If there is a certain color temperature that is desired, it is likely that one of the more prominent manufacturers has a pillow that fits the bill. For an added touch, many pillows have interesting patterns and designs embroidered on the surface of the pillow itself.
Support
One of the main reasons someone may buy a meditation pillow is for the support it provides. As opposed to a bed or couch pillow, meditation pillows tend to have a more substantial filling. While soft, the firmness of meditation pillows allows users to sit up straight or lay prone for extended periods.
Often meditation pillows are filled with buckwheat hulls, which are small and rather condensed inside of the pillow. Other pillows may be filled with foam. A benefit of using (loose) buckwheat hulls is that the density and thus the level of support can be adjustable.
Price
One of the first things someone may notice when looking for a meditation pillow is the difference in price between different offerings. While no meditation pillow will break the bank, the decision between two pillows may come down to price. Some pillows cost twice as much as a near competitor.
Usually, when opting for a more expensive pillow, what is gained is a softer surface, a firmer density, or a specific shape. Features such as a carry-handle or a washable cover are not unique to the top-of-the-line products. Pillows with sustainably sourced materials often cost more due to the added expense of the production process.
Tips
Not sure which meditation pillow is right for you? Take a look at the below tips for some guidance:
How will you be using this pillow?

These pillows are often used for yoga. If you will be using it for that purpose, the firmness, size, and shape will all matter and be based on your style of yoga.

Those who hope to use them for relaxation may be looking for one of the best firm pillows to sit on or a softer pillow on which to rest their heads.

Will you need more than one pillow?

Some families love these pillows for sitting around the house doing homework, activities, organizing, or doing arts and crafts, so will need more than one.

Brands that offer a variety of colors and shapes may help differentiate between them and make it more fun for a family to use.