Buckwheat pillows might seem like a pretty simple and monotonous equation: pillow case + buckwheat hulls = buckwheat pillow.
Yet after ten weeks of sleeping on ten different buckwheat pillows, I beg to differ. While the composition of these pillows might seem minimal, a lot goes on behind the scenes to construct them to produce a restful night's sleep. There's the fabric, amount of hulls, scent, sturdiness, zippers, manufacturing location, and more, all of which goes into making a buckwheat pillow.
Of course this is only my opinion, but after ten weeks of sleeping on the most popular buckwheat pillows on the market, here are my top picks:
Editor's Pick
Hullo Buckwheat Pillow
https://www.amazon.com/Hullo-Buckwheat-Pillow-Standard-Size/dp/B01DJG7T9G/
The Hullo pillow was my favorite buckwheat pillow. It was just the right balance of firmness yet softness, sturdiness yet lightness. The buckwheat hull to pillowcase ratio seemed perfect, too. All of the materials to make the pillow are carefully and thoughtfully sourced, and was the least noisy pillow out of the bunch.
Best Value
Sobakawa Buckwheat Pillow
https://www.amazon.com/Natures-Pillows-NP-55000-Buckwheat-Protective/dp/B01BHY1SQM/
Sobakawa is hands-down the most affordable buckwheat pillow option. Many buckwheat pillows start around $50. Yet Sobakawa offers a good buckwheat pillow experience for much less. If you're new to the world of buckwheat pillows and want to try one out to see if it's for you, this is your best intro option!
Also Consider
Beans72 Organic Buckwheat Pillow
https://www.amazon.com/Beans72-Organic-Buckwheat-Pillow-Japanese/dp/B0006HVVFK/
Beans72 was another one of my favorites. The pillowcase is soft and well put together, and there is a generous amount of hulls inside (that you can easily remove and adjust). I also appreciate that it comes in seven different sizes.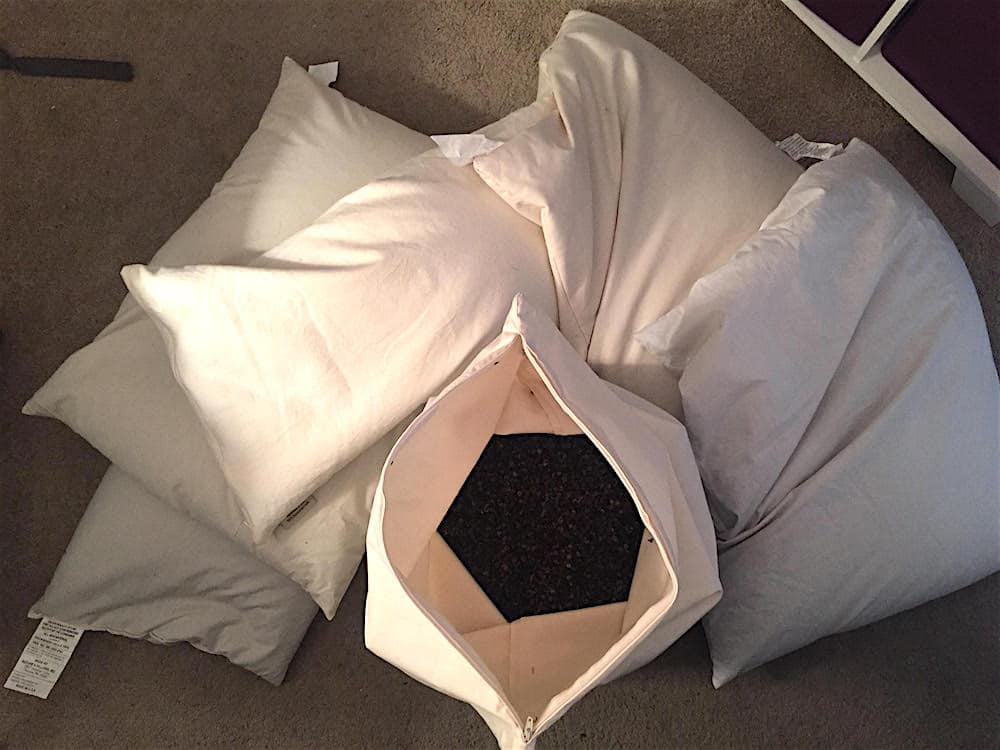 Why buckwheat?
Buckwheat pillows are naturally very firm, with its nothing-but-buckwheat-hull filling providing a feel that's both sturdy and moldable for your head. (So-long pillows that collapse in the middle of the night!) You can move the hulls to shape the pillow how you want it, providing relief for neck pain while aligning your spine.
All of these buckwheat pillows have zippers, too, so you can add or remove filling through its zippered opening to adjust the thickness based on your preference. There are are no chemical fillings in buckwheat pillows, meaning you're not potentially breathing in harmful chemicals or toxins that are no strangers to mainstream foam and feather pillows. With proper care, buckwheat pillows can last up to 10 years. And for an average cost being around $50, they're a great investment for your bedroom.
Yet, that's not to say that you should throw out all your pillows and replace them with buckwheat. Buckwheat pillows are extremely firm, so if you're used to fluff and softness, these will take a lot of getting used to. Due to their hull filling, they can be a bit noisy due to them shifting every time you toss and turn at night. In order to clean them, you need to remove the buckwheat hulls, which add a few extra steps (and time) to the overall cleaning process.
Final thoughts
Overall, I don't think you can go wrong with any of these pillows. Remember that buckwheat pillows really come down to preference. If you like really soft and fluffy pillows, buckwheat pillows might take some extra time getting used to. But I do think it's worth a try! It's helped me with neck and back pain (note that's just my personal experience, you should consult a doctor for any pain concerns), and I'm now a total convert.
Sarah is the Senior Writer and bedding expert at Sleepopolis. Every week, she personally tests and reviews new pillows, sheet sets, and other sleep accessories. She accompanies every video review with a meticulously detailed article to ensure her audience has all the pertinent info they need for the best shopping experience possible. Perhaps that's why her fans have dubbed her "the most thorough pillow reviewer on the Internet." Having tested everything from sleep trackers to mattress toppers, Sarah's expertise runs deep and is always expanding. She received her degree in Creative Writing from Brooklyn College and spends her free time doing stand-up, making pasta, and hanging with her cats.