When it comes to the crowded space of buckwheat pillows, beans72 declares quality as their true value proposition. According to their website, their team is "dedicated to producing Rolls Royce quality pillows." Those are pretty high standards, if you ask me. So I gave the beans72 buckwheat pillow a try to see how it compares to the other buckwheat pillows on the market, and if it indeed is Rolls Royce material.
Looking for a quick read? Click here to jump to the summary.
Beans72 Organic Buckwheat Pillow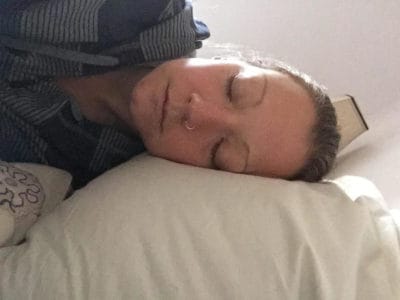 Filled entirely with organic buckwheat hulls, the Beans72 pillow is firm and ultra-supportive.
Sleepopolis Score
4.40 / 5
Read Full Review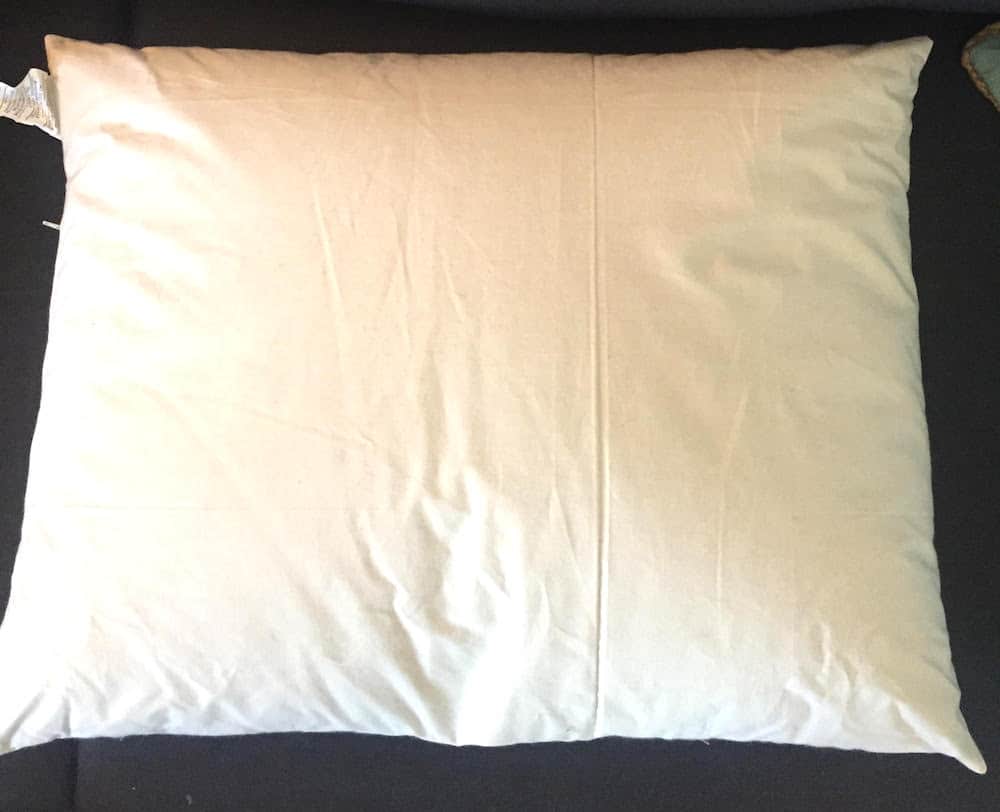 (Time out: For those unfamiliar with buckwheat pillows, they're an alternative and all-natural pillow that originated in Asia, and is filled with nothing but buckwheat hulls. The firm filling aims to mold to your head, helping people escape muscle, neck, and back pain, and enjoy a deep and restful sleep.)
What's unique about beans72 is their pillows used to be exclusively made by their founder, who has slept on buckwheat pillows since she was a child in Japan. When she moved to the U.S., she couldn't find any pillow that resembled what she was used to sleeping on, so started making her own.
The success of the company means that now, she alone can't make all the pillows. Yet she prides herself for still being heavily involved in the day-to-day operations of the pillow's creation, and promises a designed, calculated, and hand-fabricated pillow that is genuine Japanese.
Looking for the right brand? Check out my favorite buckwheat pillows page!
Construction & Feel
The beans72 buckwheat pillow is filled with 100% natural and organic buckwheat hulls that are hypo-allergenic and triple air cleaned (an in-depth cleaning process that removes dust, buckwheat flour, and any other debris from the hulls). According to their website, the founder has handpicked the hulls herself, which are harvested and grown in the U.S.
As for the pillow's cover, it's made with 100% unbleached cotton and comes in a "natural," cream color. The cover is in fact very smooth and soft—definitely one of the perks of this pillow! There is a handy zipper, also cream-colored, where you can remove the hulls when cleaning the pillow, or if you want less buckwheat hulls inside when you sleep.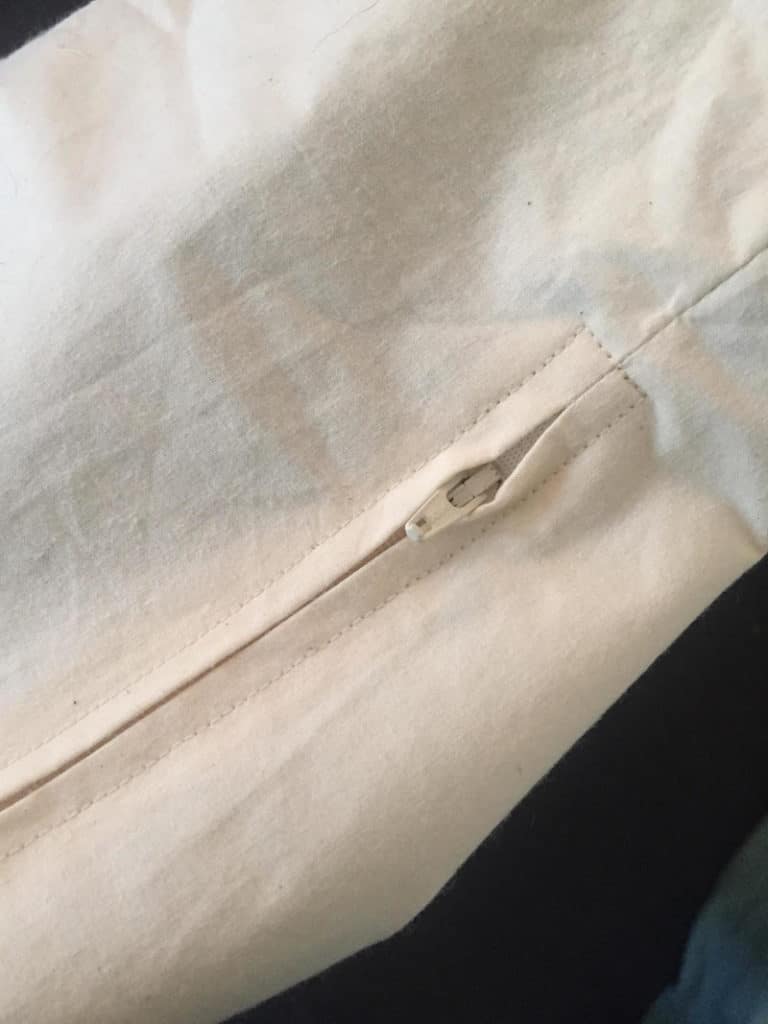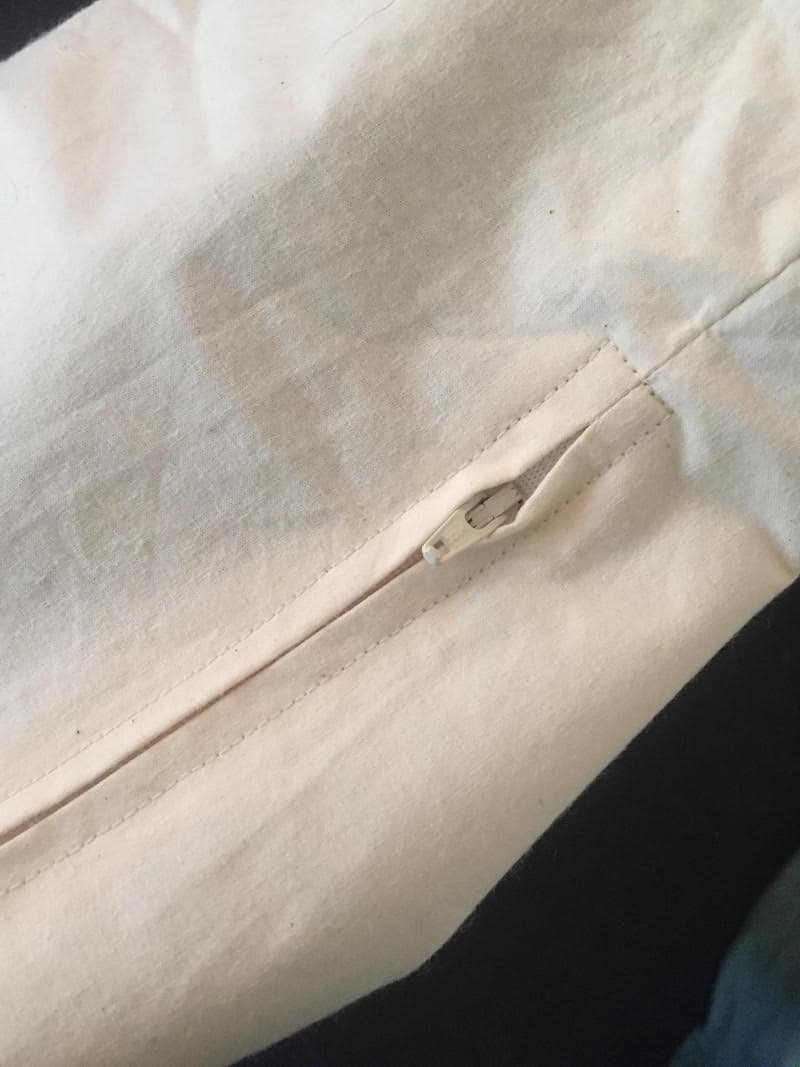 Other details
Materials made in the U.S.
Made with 100% cotton
It comes in many sizes, from travel to king sizes
| Size | Dimensions | Weight | Price |
| --- | --- | --- | --- |
| King Size Buckwheat Pillow | 20" x 36" | 12 - 15 lbs | $74.99 |
| Queen Size Buckwheat Pillow | 20" x 30" | 10 - 12 lbs | $64.99 |
| Twin/Standard Size Buckwheat Pillow | 20" x 26" | 8 - 10 lbs | $59.99 |
| Japanese Size Buckwheat Pillow | 14" x 20" | 4 - 5 lbs | $39.99 |
| Travel Size Buckwheat Pillow | 11" x 16" | 2 - 3 lbs | $34.99 |
| Body Pillow Large Size Buckwheat Pillow | 20" x 54" | 20 - 24 lbs | $114.99 |
| Body Pillow Small Size Buckwheat Pillow | 12" x 42" | 8 - 10 lbs | $74.99 |
My experience
The beans72 buckwheat pillow came in a unique package: a plastic and hemp-like bag with handles. It overall was a nice touch versus simply receiving a pillow in a cardboard box!
The first thing I noticed when I picked up the pillow was its weight. It was heavy. I checked the size and realized it was their Twin/Standard size. Still, it felt a lot heavier and larger than other buckwheat pillows I'm used to. Perhaps this is a perk, though: The standard size should be a good fit for most people, meaning you don't have to cough out money on the higher end of their pricing spectrum. (Pro-tip: if you're getting any size larger than standard, make sure you have an oversized pillow-case on hand! A tight pillowcase could restrict the pillow's molding abilities and make it feel less comfortable.)
In addition to the size, I noticed beans72 puts a liberal amount of buckwheat hulls inside. This for me was a huge perk. Some buckwheat pillows tend to skimp out on the amount of hulls, and you need to purchase extras separately if you want more filling. I found that I liked having a large amount of hulls in the pillow, and realized it made the pillow a lot less noisier at night when adjusting my head to get in my desired pillow-position, something that can be hard for a side-sleeper!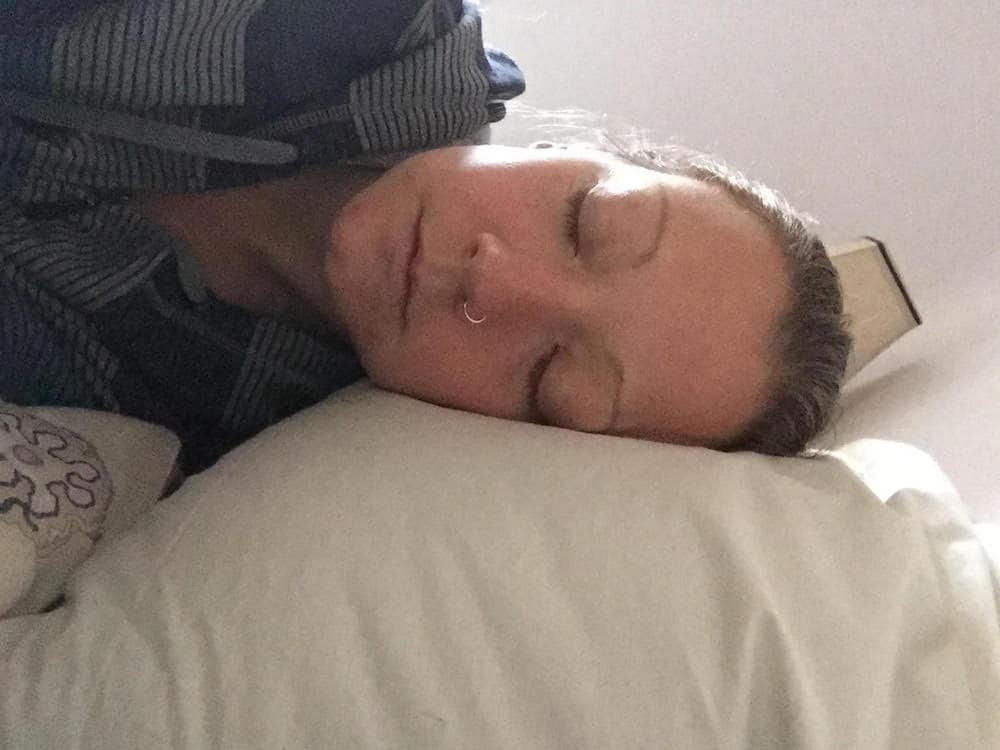 As for my sleep, it was deep and restful. I could definitely tell that quality is, in fact, what makes beans72 stand out. (You pay for it, though.) The case was soft, the hulls were full, and I had a supportive and serene night's rest.
I look for two signs when I wake up to see how my pillow has fared:
Did I wake up often in the middle of the night?
Is my neck sore?
After using beans72 for a week, I realized that I rarely woke up tossing and turning, and no, I did not have neck pain. Neck pain is something I typically deal with with other pillows, so this one absolutely passed the test.
Common praise and complaints
There are a lot of people who love this pillow. For instance:
"I must have tried a million different pillows. I've tried feathers, down, microbeads, synthetic fill, foam, memory foam, wool and I have to say buckwheat hulls give me the best rest." along with: "Best buckwheat pillow I have bought online!!" and "Prior to buying this pillow, I went through at least 10 different pillows trying to ease neck pain, shoulder pain and migraines. Since the purchase of my original buckwheat pillow from this seller approximately 5-6 years ago, I have not slept with any other type of pillow."
However, that doesn't mean there aren't people out there who didn't have as great of an experience. But like most buckwheat reviews I've read, the common theme is that the pillow is just simply not for them:
"The buckwheat pillow was too firm for my taste. I put a pillow case on it and laid down on it and rose right back up knowing it would be impossible to sleep on. I hated it. I guess I should have done more investigation, I am sure it was good for my allergies" and: "The noise is too much for me. We use it on the couch."
I agree with this second user that the noise is never a great factor, but like I mentioned before, it's something that I got used to, and is a lot less noisy when there are a lot of hulls inside the pillow.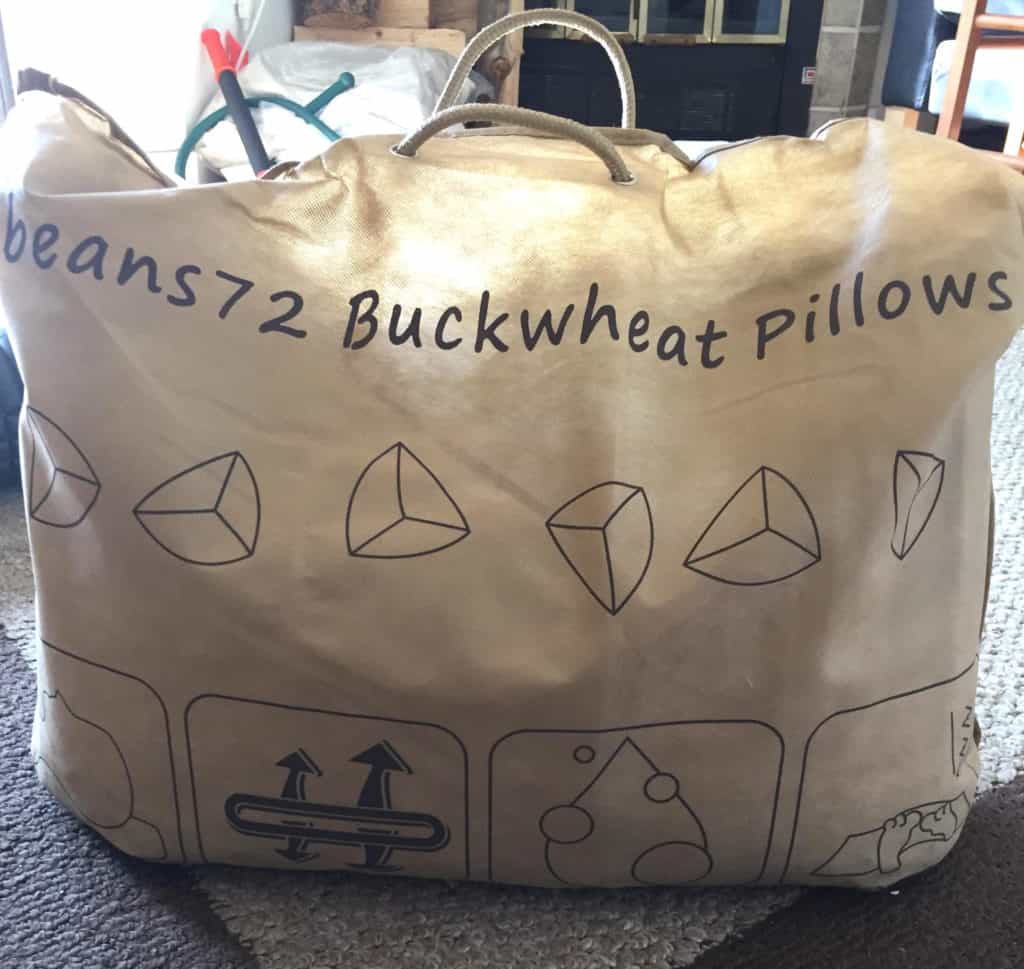 Who should buy it
This pillow is high-quality, and comes with the price-tag to prove it. However, if you know (or think you know) that a firm buckwheat pillow is for you, here are some additional reasons why you should make the purchase-plunge:
You want to transition away from chemicals. The founder of beans72 puts a large emphasis on using all organic products that are thoroughly cleaned and hypo-allergenic. If you're looking to add more all-natural products to your life, including the bedroom, you can be confident beans72 is a good choice.
You want something high-quality. You can tell there is a lot of emphasis on quality with beans72. The pillow's cover is soft and well put together, the buckwheat filling is generously stocked, and the packaging is a nice touch. You definitely are paying for it, but I have a feeling this pillow will last longer than others. Plus, your sleep is worth the investment!
You're yearning for size options! Many buckwheat pillows come in select sizes. However, beans72 comes in seven different sizes, meaning you have good options for what size (and price!) you want.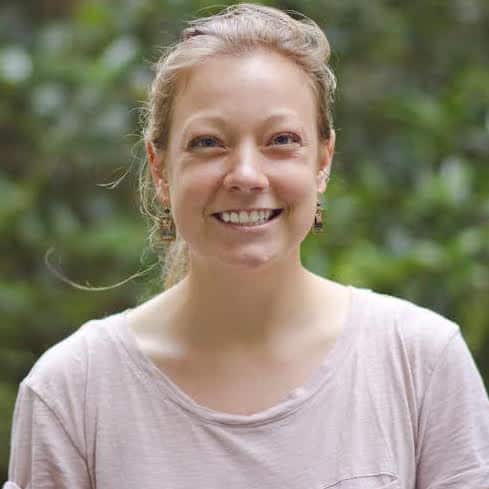 Laura Schwecherl
Laura is a journalist with nearly a decade of experience reporting and covering topics in the health, fitness, and wellness space. She is also a marketing consultant, where she works with impact-oriented startups to build marketing and editorial strategies. Outside of work, you can find her reading Murakami novels, writing amateur poetry, or trail running in her hometown, Boulder, Colorado.