If you're looking for a truly royal sleeping experience, you may want to seek out the best king-size pillow. Larger than a standard-size pillow, it gives you plenty of room to stretch out, roll around, and luxuriate in a good night's rest. But not all pillows are created equal. Each one has a different construction and features that will appeal to different types of sleepers. So to help you decide, we've put together a list of what we believe to be the best king-size pillows. Read on so you can get to sleeping like a king!
Best King-Size Pillows of 2022
Editor's Pick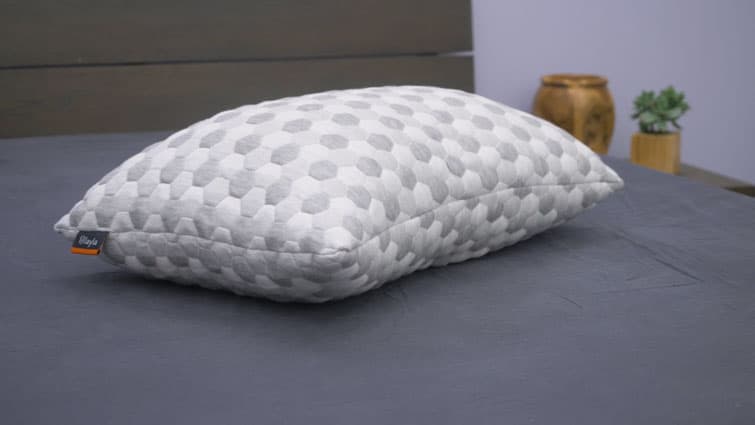 Layla Kapok
We chose the Layla Kapok as our Editor's Pick for the best king pillow because of its universality. Its adjustability allows it to appeal to many different sleeping positions, it has an infusion of copper to help it sleep cool, and it manages to be plush yet dense at the same time. 
Materials
The Layla Kapok is filled with a down alternative — a mixture of shredded memory foam and fibers made from seeds of the kapok tree. As for the cover, it's composed of a blend of polyester, viscose, and poly lycra, all woven together with copper fibers, which help keep the pillow's temperature low. 
Why It's a Good Pick
With all of the filling in place, the Layla Kapok has a high loft that's ideal for side sleepers, as it keeps their head and neck supported. But you can also remove the filling to your liking. So back sleepers can easily create the lower loft they need. And its firmness should be comfortable for combination sleepers who need a responsive pillow that allows them to easily switch positions.
The one sleeping position that may not find the Layla Kapok to be comfortable is stomach sleepers. Even with a lower loft, it probably won't be soft enough for them. 
Mosey on over to our full review of the Layla Kapok for additional info. And for more great options, check out our roundup of the best pillows of 2022. 
Price (as of August 1): $129
Best Latex Pillow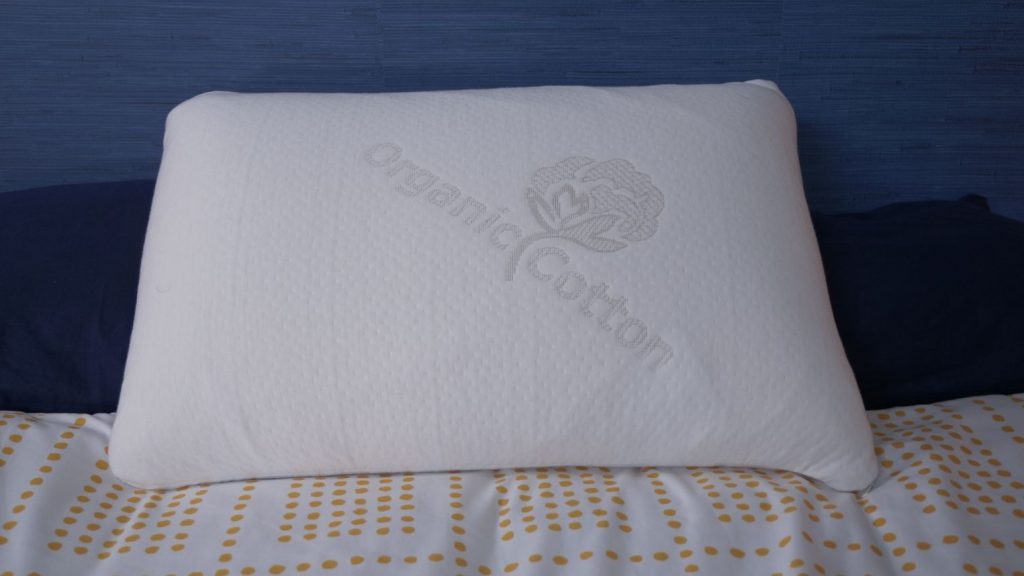 Brooklyn Bedding Talalay Latex
The Brooklyn Bedding Talalay Latex pillow has all of the traits that make its namesake material fit for a king: it's soft but responsive, cooling, and can be a great option for sleepers with allergies. It also comes in two loft options to give it some versatility.
Materials
Obviously, the pillow's core is made of Talalay latex foam. It's derived from the sap of a rubber tree, with talalay being a softer, lighter type of latex than its firmer cousin, Dunlop latex (click here to read about their differences). The core is surrounded by an organic cotton cover that allows for a lot of airflow. You can even remove it and throw it in the wash. All of these materials are hypoallergenic, so anyone who suffers from allergies can enjoy a good night's rest. 
Why It's a Good Latex Pick
Because the pillow is available in both a high and low loft, there's something here for every sleeping position. The high loft is ideal for side sleepers, the low loft is best for stomach sleepers, and back sleepers should be comfortable on both. And because latex is naturally cooling, hot sleepers of all positions should be quite comfortable. 
Our one caveat is that larger sleepers with especially broad shoulders may need an even higher loft than the one being offered here. 
If you're intrigued by this naturally comfortable pillow, learn more in our full review. And you can continue exploring the wonderful world of latex in our guide to the best latex pillows. 
Price (as of August 1): $99
Best Adjustable Pillow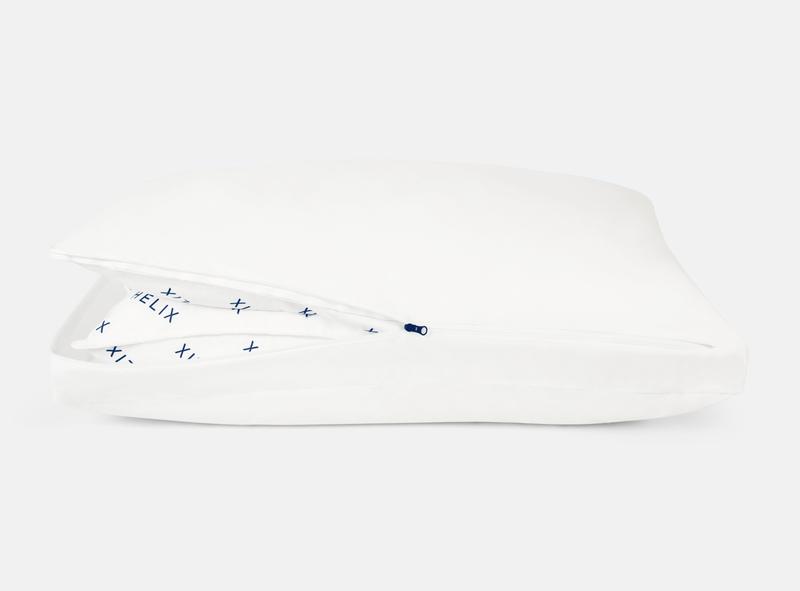 Helix Adjustable
As a mattress brand, Helix is known for its customizable beds, so it only makes sense that they would apply this same principle to their pillows, from standard to king-size. With the Helix Adjustable, you can remove the support insert layer and find your ideal loft based on your body type and sleeping position. 
Materials
The removable support insert is made of polyester, with the fill containing a cushy gel microfiber. The gel helps the pillow stay cool, as does an outer cover of breathable cotton. 
Why It's a Good Adjustable Pillow
As with any adjustable pillow, different lofts will appeal to different sleeping positions. Helix recommends that back sleepers and side sleepers keep the support insert layer in place for a higher loft. Stomach sleepers tend to need a lower loft, so they're advised to remove the support insert layer. Combination sleepers can try out both options, then make a decision that suits them best. 
Full review coming soon! And if you're interested in other choices, see our roundup of the best adjustable pillows. 
Price (as of August 1): $99
Best Down Pillow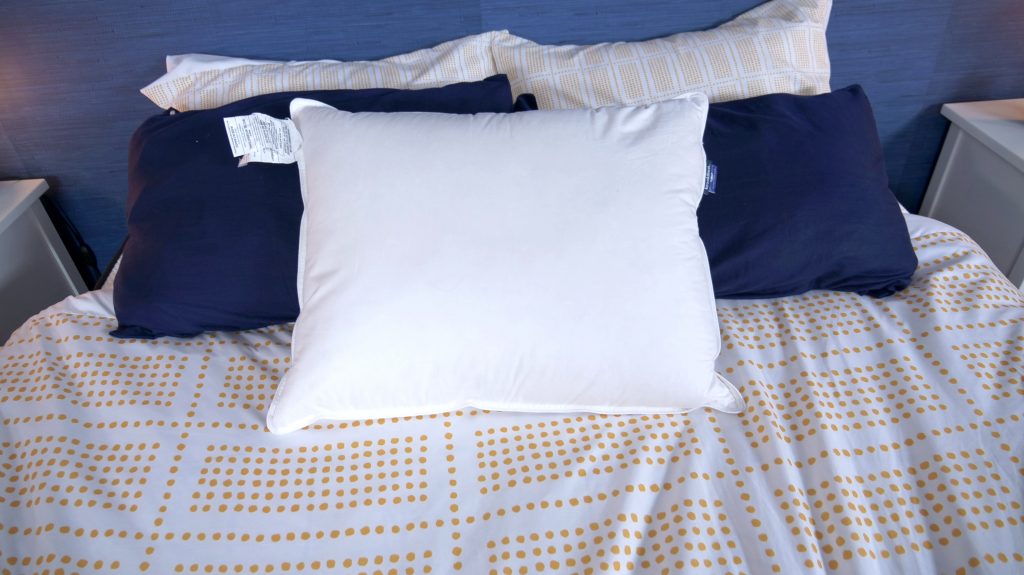 Brooklinen Down
Just because a king-size pillow is big doesn't mean it can't be soft. The Brooklinen Down treats sleepers to extra-comfy plushness, courtesy of its filling of Canadian down clusters and feathers. But there are also three different levels of firmness available for anyone who wants a different kind of filling and loft. 
Materials
The softest model — the Plush — is only filled with fluffy down clusters. This is the best option for stomach sleepers. The Mid-Plush is a bit firmer, outfitted with a firmer, more supportive inner layer of feathers and an outer layer of down clusters. This model is likely the most comfortable for back sleepers and combination sleepers. Some side sleepers might find it comfortable, too. 
Finally, there's the Firm model, which is similar to the Mid-Plush, but has more feathers than clusters. Because of its firmness, it's likely best for side sleepers who need their neck and shoulders kept in a proper alignment. 
Regardless of which pillow you choose, they all come shrouded in a soft and breathable cotton cover. 
Why It's a Good Down Pick
For one, there's the versatility. There's something for lovers of extra-soft down, as well as sleepers who prefer a more responsive pillow. They also come at different price points, so there's a little bit of flexibility with the budget.
Are you down with the Brooklinen Down? You can learn about more of its features in our full review. Note that our review is from before there were three different pillows available, so not all of the firmness levels get mentioned.
Still searching? See some of our other picks for the best down pillow.  
Price (as of August 1): $99–$129. Brooklinen also currently has a pack of two or three pillows available for a discounted price.
Best Pillow For Back Sleepers
Saatva Latex
Take note, luxury lovers: the Saatva Latex has the plush vibe of a hotel pillow, all while still remaining supportive enough for back sleepers. Its high loft, elegant construction, and cozy feel truly put the "king" in king-size. 
Materials
The pillow's namesake material can be found in its core, which is made up of shredded natural latex. Moving outward, there's an outer pillow made of a down alternative called microdenier fiber. This is where the fluffiness comes from. And surrounding it all is an organic cotton cover that can be unzipped, removed, and washed. 
Why It's a Good Pick For Back Sleepers
Don't be deceived by the fluffiness. The latex core gives this pillow enough support to keep back sleepers' spines in a neutral alignment. Side sleepers should also find this to be a comfortable pillow. And hot sleepers should find a lot to love in all of the cooling features present. Not only is latex naturally cool; the cover is highly breathable, and there are gussets on the side that release any hot air and help the pillow maintain its shape.
As good as the Saatva Latex is for back and side sleepers (and probably combination sleepers, too), stomach sleepers are probably going to need something softer. 
For all the features of this king-sized pillow, read our full review. And if you're a back sleeper who's still on a mission, see our other picks for the best pillows for back sleepers. 
Price (as of August 1): $185
Best Firm Pillow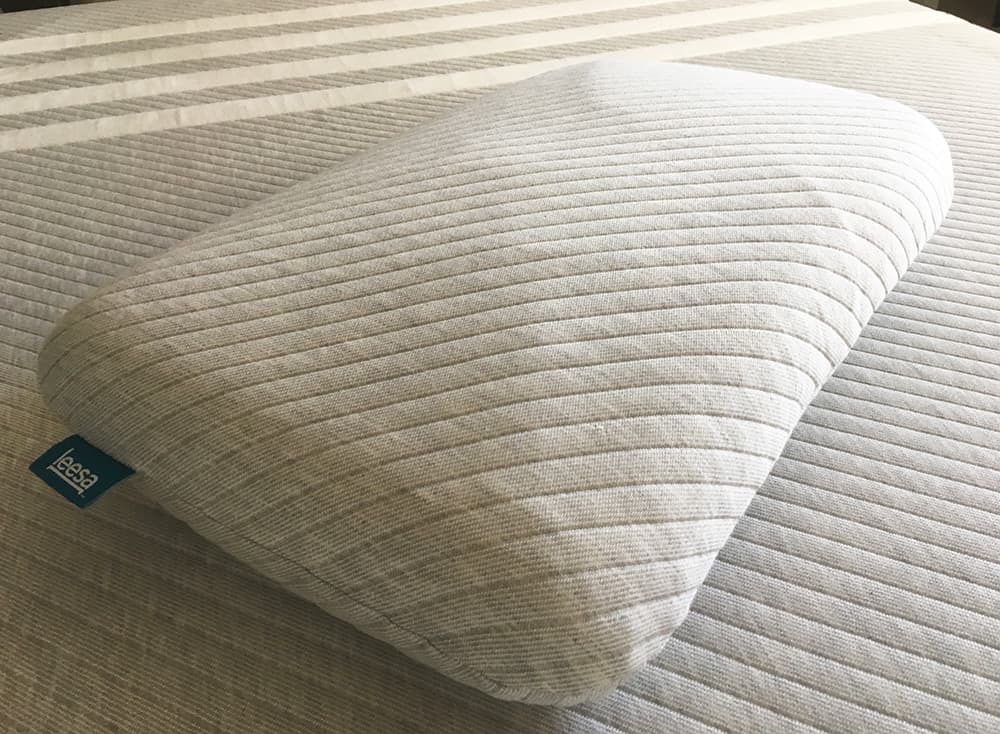 Leesa Premium Foam
Responsive and ventilated all over, the Leesa Premium Foam pillow offers a king-sized experience that should appeal to hot sleepers and anyone who enjoys a firm pillow. While the pillow does offer a little bit of sinkage, this is a supportive sleep accessory with a good amount of bounce. 
Materials
Once you unzip the soft cover (which can also be hand-washed with a mild detergent), you'll find a solid piece of foam that's similar to latex, but a bit firmer. The responsiveness and support should be especially comfortable for back-sleeping.
But the foam's most important feature is its ventilation. It has hundreds of little channels throughout its surface, allowing air to pass through and prevent the buildup of heat. One minor note: the cover may get a little warm during the summertime, so to get the maximum cooling experience, you may want to switch it out with a lighter-weight cover in the warmer months. 
Why It's a Good Firm Pick
Even though this is an extremely firm pillow that we most recommend for back sleepers, we also found it to be comfortable in all other sleeping positions. While the pillow isn't adjustable, the foam is moldable enough to offer up some universality. 
To see what the Leesa Premium Foam pillow is all about, head on over to our full review. Or you can see our guide to the best firm pillows for more options!
Price (as of August 1): $109
Best Organic Pillow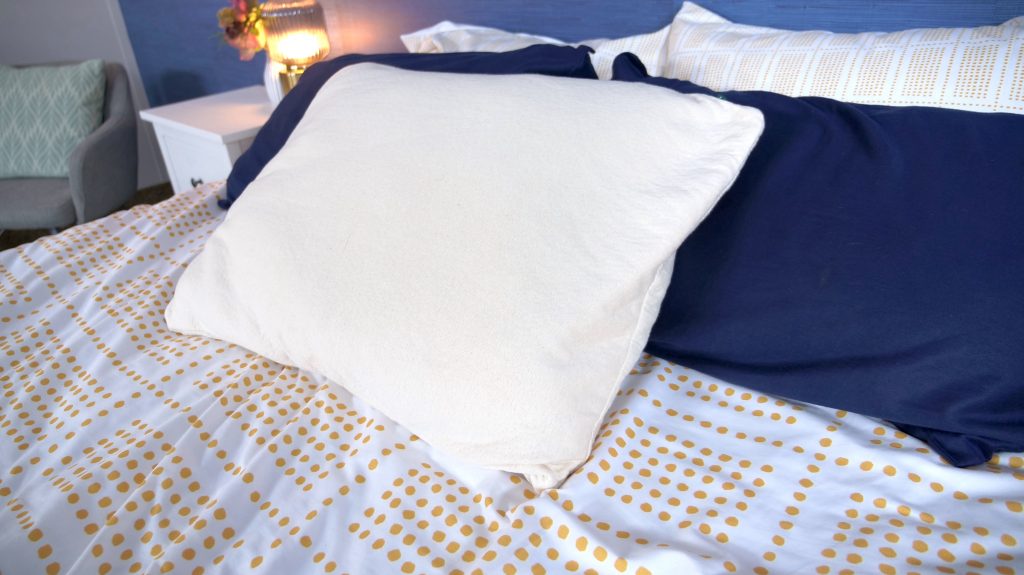 Birch
Dreamed up by the folks at Helix, Birch is the brand's natural line of products. It started with a mattress, and today, there's an organic pillow. From wool to Talalay latex, everything in this king-sized sleep accessory lives up to its nature-themed name.
Materials
The cotton of the Birch's cover is 100% certified organic, meaning that no genetically modified seeds or synthetic pesticides were used in its manufacturing. From there, you have a blend of wool and shredded Talalay latex as its core. In addition to being thermoregulating and helping sleepers stay cool, the wool is sourced from sheep on New Zealand farms, where they're free-range and pasture-fed. 
Why It's a Good Natural Pick
All of the natural materials in the Birch pillow are environmentally friendly, as well as hypoallergenic and antimicrobial. Sleepers can sleep with a good (and green) conscience while also knowing that they're keeping mold and allergies at bay. 
Feel-wise, this is a buoyant and fluffable pillow with a medium firmness that should appeal to all sleep positions. This isn't a surprise, as latex tends to be responsive rather than slow-sinking. 
Does the Birch feel like a natural fit? Fall even more in love with it in our full review. 
Price (as of August 1): $119
Best Cooling Pillow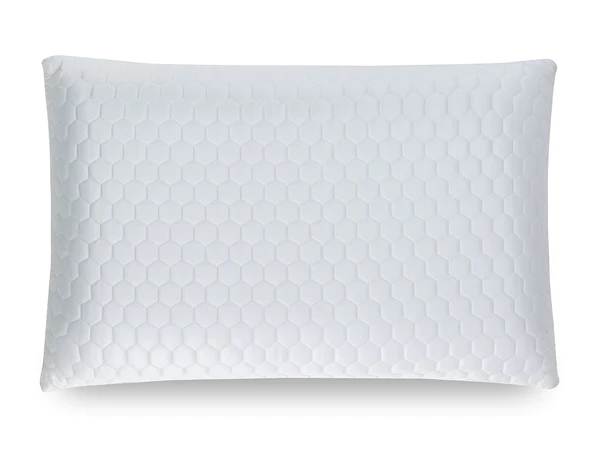 Dreamfoam Luxury Cooling
It's hard to know where to begin with the cooling features in this king-size pillow. From the ventilated construction to temperature-regulating gel infusions, the list goes on. And since it's available in both a high loft and low loft, it could appeal to all sorts of sleepers. Dreamfoam recommends the high for side sleepers and low for stomach sleepers. Back sleepers may be comfortable on both.   
Materials
The cooling begins the minute that sleepers lie down and experience a breathable, circular knit cover. Inside, the memory foam core has an open-celled construction, which makes for plenty of airflow in the pillow. The surface is also infused with gel to assist with keeping the temperature low. 
Why It's a Good Pick for Hot Sleepers
In addition to everything mentioned above, there's an extra infusion of copper graphite, showing that this is a pillow that pulls out all the stops when it comes to cooling. As an added bonus, the materials are antimicrobial and resistant to mold, dust mites, bacteria, and other allergens. This creates a highly breathable sleeping experience, especially if you have allergies. 
Full review coming soon! While you wait, see some of our other chill options in our best cooling pillows roundup.
Price (as of August 1): $149
Best Memory Foam Pillow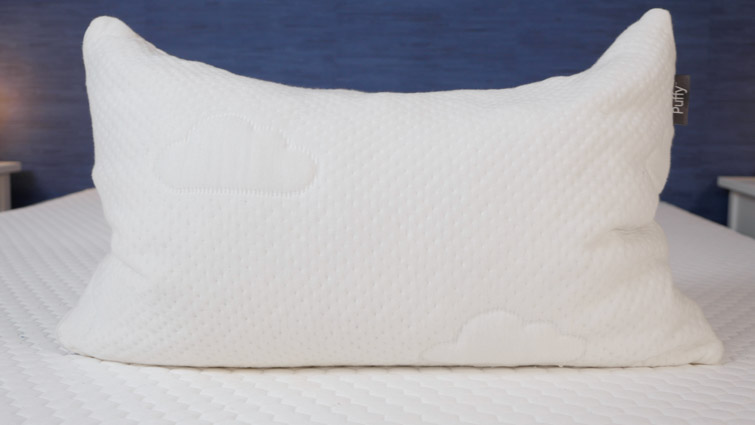 Puffy Pillow
When creating their flagship mattress, Puffy sought out to offer sleepers "cloud-like comfort," and they've done the same with their flagship pillow. But it's a cloud you can customize. Just take off the king-size cover, unzip the inner lining, and adjust the memory-foam fill to your liking.
Materials
There are essentially three parts to the Puffy Pillow: a cover made of bamboo rayon and polyester, the synthetic inner lining, and the real star of the show — the fill. This pillow is packed with shredded memory foam that's easily moldable and leaves plenty of room for airflow. 
Why It's a Good Pick For Memory Foam Lovers
Unlike other memory foam pillows, the fill of the Puffy Pillow is cut into varying indefinable shapes, as opposed to cubes or even strips. This makes it even more compressible and easy to remove. The adjustability also makes the pillow a great fit for any sleeping position. Simply add or subtract the fill until you're comfortable.  
Learn all about this unique sleep accessory in our full review of the Puffy Pillow. And if you're not sold just yet, look at some of our other options in our guide to the best memory foam pillows.
Price (as of August 1): $120
Best Pillow For Combination Sleepers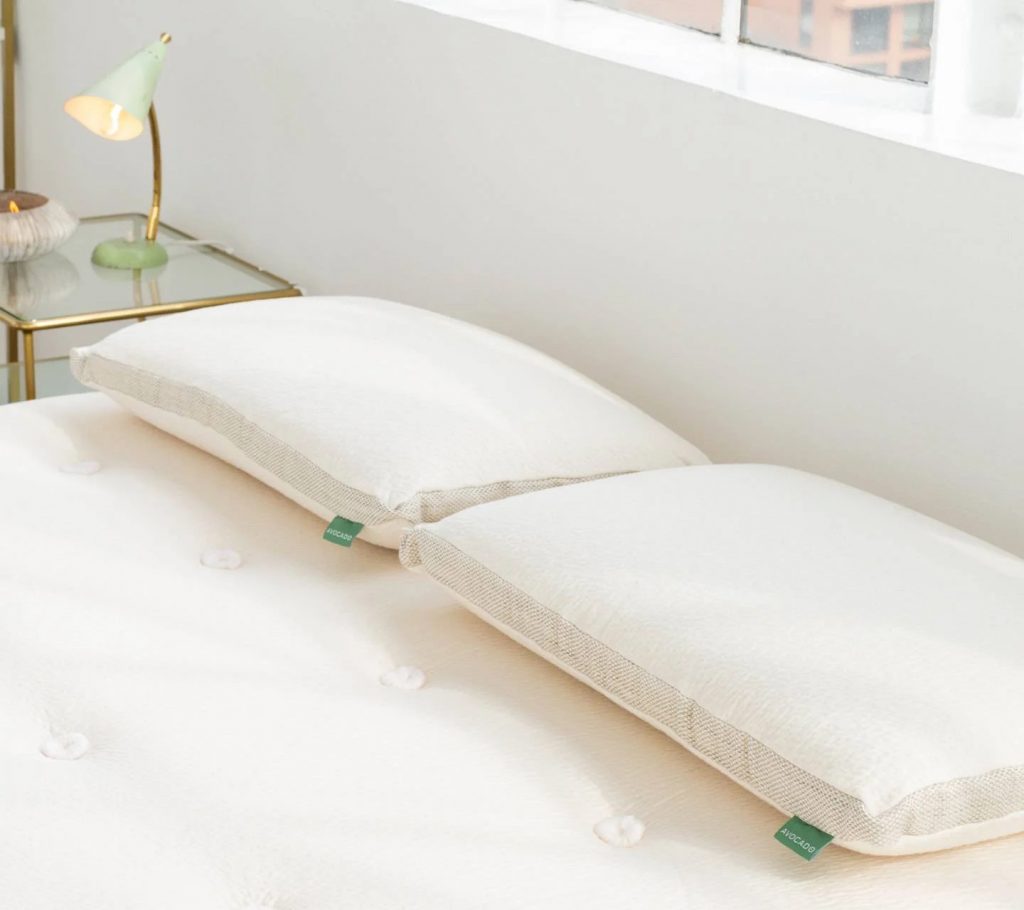 Avocado Molded Latex
Avocado's original Green pillow is known for its adjustability. While that's an excellent option for some sleepers, others — such as combination sleepers — may require something more solid that can offer plenty of support and mold to their head and neck. Luckily, the brand has created the Avocado Molded Latex pillow. 
Materials
Made from a single piece of latex, the pillow's core has actually been infused with charcoal and steam-baked until it has the right amount of support. The charcoal also helps reduce odors and regulate temperature. After the pillow has been molded, it's outfitted with a 100% GOTS organic cotton cover. Like all of Avocado's products, the materials here are PETA-approved vegan, which means eco-conscious customers can sleep sound when using the Avocado Molded Latex pillow.
Why It's a Good Pick For Combination Sleepers
Combo sleepers usually need a pillow that's supportive and responsive since they frequently change positions at night. If a pillow is too soft or has too much sinkage, they can start feeling stuck and find it hard to move. But the single piece of latex here helps prop them up and allow them to shift around when they need to. 
Full review coming soon! Until then, you can switch positions and take a look at some of our other best pillows for combination sleepers. 
Price (as of August 1): $149. You can also purchase a pair for a discounted price.
Some Other King Pillow Options
Purple Harmony:

Purple has made a name for itself with mattresses that contain its patented Purple Grid Hex — essentially a hyperelastic polymer that collapses in accordance with your weight. You can now get this experience in king-size pillow form with a product that's breathable and responsive.

Casper Foam

: Made with three layers, this pillow from Casper feels like a more responsive take on memory foam. It should be a good fit for side sleepers and back sleepers.

DreamCloud Best Rest

: This is another pillow made from a single, solid piece of memory foam. Even though memory foam tends to sleep hot, this has an infusion of CopperGel to keep the pillow cool. We found the DreamCloud Best Rest to be a great fit for every position except stomach-sleeping.
King Pillow Sizing
The term "king pillow" is just a fancy way of saying that it measures 20" x 36". Compare that to a Queen-size pillow (20" x 30"), standard-size pillow (20" x 26"), and super-standard size pillow (20" x 28"), and you can see how its dimensions are truly fit for royalty. In fact, the only pillow bigger than a king is a full-body pillow. 
King Pillow Pricing
Of course, because it's bigger than other pillows, a king-size pillow is going to cost more. While it varies depending on the brand and materials, a king pillow is usually going to be the most expensive of the sizes being offered. For added context, the pillows on this list range from $99 to $189. This is an accurate representation of what it might cost for a high-quality king-size pillow. 
King Pillow Loft
When we say "loft," we're talking about the height of a pillow, and different sleeping positions have different needs. For instance, stomach sleepers tend to need a low pillow loft that prevents their neck from craning upward and causing pain. Side sleepers, on the other hand, need a higher loft that gives them the proper neck support. And back sleepers need a medium loft for a mixture of comfort and support. 
It's worth noting that king-size pillows come in all loft sizes, and the categorization itself doesn't affect the height. The "king" designation has more to do with the length and width of the pillow than how tall it is. 
Who a King Pillow Might Be Good For
Heavy people. Because a king-size pillow has a bigger surface area than other pillows, it can accommodate people with larger body types.

Those with back and neck pain. The pillow's bigger size helps comfortably align the neck and spine. 

Simply put, anyone who wants a larger pillow! Everyone has different sleep preferences, so decide whether you want a sleeping surface that gives you more room to spread out, or if you prefer something smaller and more compact.
Who a King Pillow Might Not Be Good For
Those who sleep on a twin-size bed. Because of its size, a king pillow will only leave about one inch of mattress space on either side of the mattress. It's really a better fit for full-size beds and bigger.
FAQs
What is the best king-size pillow?
The word "best" is somewhat misleading, as different sleepers require different things from a pillow in terms of feel, material, and price. That being said, we think the Layla Kapok pillow is a good universal pick that should appeal to a variety of people.
Is a king-size pillow worth it?
We believe it's worth it if you prefer a larger sleep surface for your head and can afford a more expensive pillow. But as we said before, it's probably not the best option for someone who sleeps in a smaller bed such as a twin-size, as it will likely take up too much space on the mattress.
Is a king-size pillow the same as a body pillow?
No. Although they're the same width, the body pillow is much bigger, measuring 20" x 54" (a king-size pillow is 20" x 36"). You probably only want a body pillow if you have a queen- or king-size mattress. It will take up too much room on anything smaller.
How many pillows should be on a king-size bed?
If two people sleep in the bed, you only need two pillows, at minimum. However, some sleepers prefer to load up their mattress with multiple pillows, especially if they have the extra room on a king-size mattress. It's really up to you!
Dan Caffrey
Dan is a Performance Editor and Certified Sleep Coach at Sleepopolis, where he writes and edits mattress roundups to give readers the most up-to-date information on sleep products. In 2020, Dan earned his MFA In Playwriting from UT Austin, and his plays have been seen around the country in Chicago, Austin, Washington D.C., and elsewhere. He's also a pop-culture fanatic, having written for publications such as The A.V. Club, Consequence, Pitchfork, and Vox. He co-hosts two popular horror podcasts on the Bloody Disgusting Podcast Network — The Losers' Club: A Stephen King Podcast and Halloweenies: A Horror Franchise Podcast. When he's not catching up on the latest King novel, you can find Dan in and around Brooklyn walking his dog Hank, seeing a play with his wife, and going to way too many concerts.