If you're searching for a sleep accessory that'll calm your mind and body before bedtime, it's time to kick back and read this Bear weighted blanket review. It may look like a regular blanket, but it's actually crafted to provide a therapeutic technique that'll make you sleepy, relaxed, and ready for dreamland… But does it actually work?
To find out, I'm exploring the ins and outs of the Bear weighted blanket right here and now. I'll show you what it's made of, how it performs, and let you know which sleepers should give it a try. Let's get started!
Brand Snapshot
Bear Mattress was established in 2015 with an aim to make sleep accessories that promote post-workout recovery. Since then, Bear has amassed a team of sponsored athletes, fitness influencers, and even medical professionals who all attest to the soothing, cooling qualities of its pillows and mattresses.
Here at Sleepopolis HQ, we've had the pleasure of testing quite a few Bear Mattress products, but today is all about the weighted blanket! So without further ado, let's see what it's all about.
What Is The Bear Weighted Blanket Made Of?
Before I dive into my personal experience with the Bear weighted blanket, let's talk materials. In this section, we'll take a close look at this blanket's cover fabric, weighted fill, and the therapeutic benefits that come with it.
Cover Fabric: Polyester Microfiber
The Bear weighted blanket is covered in 100% polyester microfiber, a material known for its velvety-soft feel. In addition to its super smooth texture, hot sleepers might like to know that polyester is a naturally moisture-wicking fabric. This means that the cover fabric is actively working to dissipate any night sweats you might have during the course of your snooze.
This blanket's cover fabric features gridded stitching, which I consider to be an essential feature for any weighted blanket. Basically, gridded stitching keeps all the weighted material locked away in individual squares in order to create a balanced distribution of pressure, and prevent it from concentrating in any one area.
Keep in mind, though, that this cover fabric is not removable. Oftentimes, weighted blankets come with removable duvet covers that allow sleepers to experiment with different fabrics and feels, but this one does not. That said, it does feature four corner loops, should you want to dress it with a duvet cover of your own.
More: Check out my roundup of the best weighted blankets I've ever tested!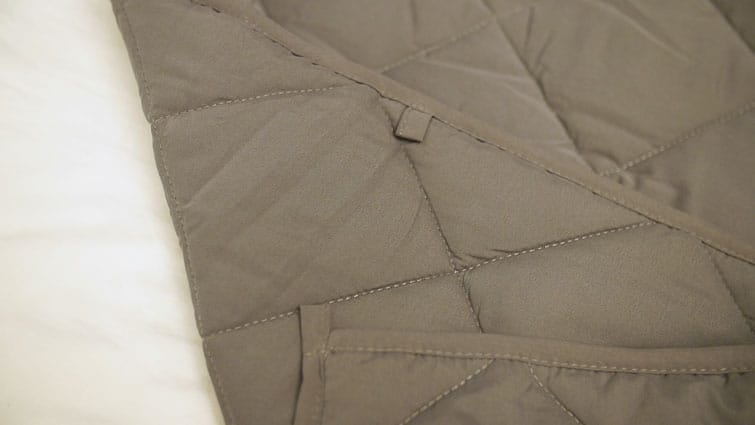 Weight & Fill: 15 lbs., Glass Beads
So… what makes this blanket heavy, anyway? Well, dozens and dozens of tiny glass beads fill each gridded square of this blanket for a total weight of 15 pounds. Typically, weighted blankets are either filled with glass beads or plastic pellets and, personally, I find glass beads to offer a better distribution of weight.
The Bear weighted blanket is only available in a 15-pound option, which means it's going to be most compatible with sleepers in the 150-pound range. Don't worry if you're not exactly 150 pounds — you can give or take a few LBs. But when you're shopping for weighted blankets, it's best to go with the weight that's closest to 10% of your own body weight.
For example, folks who weigh 200 lbs should search for a 20-pound blanket, those who weigh 250 lbs should pick a 25-pound blanket, and so on. Again, you don't need a blanket that's precisely 10 % of your body weight, but the closer you get, the more you'll benefit from the blanket's soothing properties.
Speaking of which, you might be wondering why this weighted blanket is said to calm to your nerves. So, let's talk about that therapeutic technique I mentioned earlier!
Deep Pressure Touch
Weighted blankets provide something called deep pressure touch (DPT), a stress-reducing technique that promotes the release of melatonin (a hormone that makes us feel sleepy) and serotonin (a neurotransmitter that makes us feel happy). When activated, the melatonin and serotonin combine to produce a general sense of calm, which is why DPT is often used to treat sensory processing disorders and anxiety.
More: Check out my article on the history of weighted blankets!
That said, a weighted blanket is not necessarily meant to replace your comforter, and some sleepers may experience muscle fatigue after using one for more than 90 minutes at a time. Additionally, prolonged use of a weighted blanket can potentially desensitize you to the healing benefits of DPT. So, if you're wondering whether or not a weighted blanket is right for you, I suggest consulting your healthcare provider.
My Experience with the Bear Weighted Blanket
After rolling around with the Bear weighted blanket, I can confidently say that it gets the job done. Its even distribution of pressure and cozy cover fabric made me feel super relaxed after only ten minutes, and I could definitely feel those fantastic DPT effects.
However, I have to admit that I was a little underwhelmed, overall. Almost every weighted blanket I've ever tested had a special feature of some kind, whether it be a removable duvet cover or extra-cooling fabric. But, ultimately, this one offers just the basics.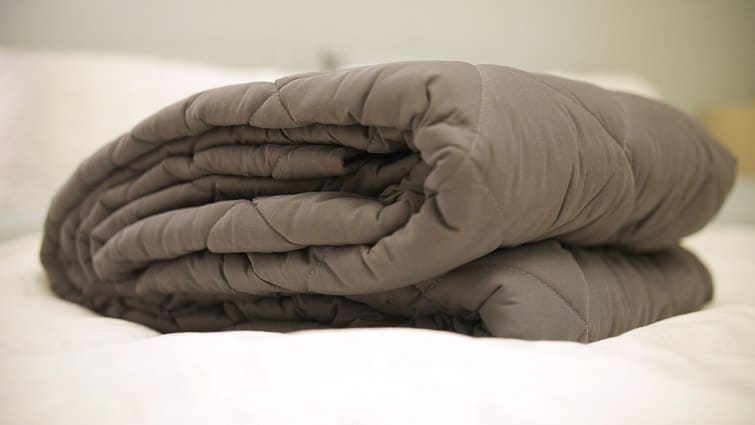 Don't get me wrong — it still made me feel calm and ready for a nap (and it's also more affordable than the fancier models I've tested!). But if you're looking for a weighted blanket with a few bells and whistles, this isn't it. That said, some sleepers might prefer this simple design, especially since it offers the option to dress it with a duvet cover of your own. Remember — its four corner loops allow you to attach any duvet cover that has internal ties.
The Verdict: While I thoroughly enjoyed the calming effects of this weighted blanket, I found myself wanting a little something extra. Perhaps I was missing Bear's signature cooling materials! But if you're looking for a straightforward, budget-friendly weighted blanket that'll keep you comfortable and relaxed, I suggest you give this one a try.
Should I Buy the Bear Weighted Blanket?
Now that we've taken a close look at this weighted blanket, let's recap the highlights so you can better determine if it's the right fit for you:
Soft Cover Fabric – The microfiber cover fabric feels really soft and soothing on the skin which, in my opinion, enhances this blanket's calming effects. Plus, it features four corner loops so you can attach a duvet cover if you choose.
Gridded Stitching – As I said, gridded stitching is a crucial element to any weighted blanket because it keeps the pressure evenly distributed. In this case, it secures all the little glass beads and prevents them from falling to the bottom of the blanket as you roll around.
Budget-Friendly – In my experience, weighted blankets can get pretty pricey (like, upwards of $250). So I was pleased to see that this blanket is relatively affordable, ideal for sleepers on a budget.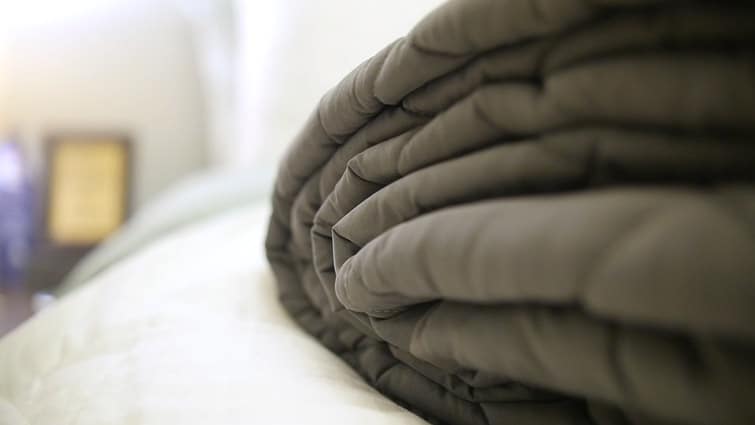 Bear Weighted Blanket Complaints
Before you make your purchase, there are a few things to consider about this weighted blanket:
Weight Option – This blanket is only offered in a 15-pound option, which means folks who weigh much less or more than 150 lbs should probably look elsewhere. Remember — you should use a weighted blanket that's close to 10% of your body weight in order to fully benefit from the properties of DPT.
Wash Care – This weighted blanket can not be washed or dried by machine, and should only be spot-cleaned. That's why I suggest investing in a compatible duvet cover to throw over this blanket for an extra layer of protection. Otherwise, you might find yourself spot-cleaning this blanket fairly often!
Simple Construction – If you're looking for a weighted blanket with a few special features, this might not be the right pick for you. While some models come with dual-sided covers, printed patterns, or cooling textiles, this weighted blanket offers just the basics.
Anything Else I Should Know?
Weight Options – 15 lbs
Price – $120
Free Shipping – within the U.S.
100-Day Return Policy
Wash Care – spot-clean only, air dry.
FAQs
How do I wash the Bear weighted blanket?
To clean your Bear weighted blanket, spot-clean the cover fabric with a damp cloth and mild detergent. Then, allow it to air dry.
How heavy is the Bear weighted blanket?
The Bear weighted blanket measures 60" x 80" x 14" and weighs 15 pounds.
Does the Bear weighted blanket make you hot?
Unlike many Bear products, its weighted blanket does not feature any cooling properties. Instead, it's covered in a microfiber material that's able to wick moisture, but may feel a bit warming on the skin.
Final Thoughts
Well, now that you've learned everything there is to know about the Bear weighted blanket, you're one step closer to deciding if it's the sleep accessory for you. Sweet dreams and happy shopping, everybody!