Bear is the brand behind several beds, like the flagship Bear mattress, that are cooling mattresses specifically designed for athletes. In this review, I'llbe taking a closer look at the Bear pillow, which, much like the mattresses, sports some cooling technology.
I'll go over what this pillow is made of, how it feels, and who it's best suited for to help you decide if it's the right pillow for you. But if you just want the highlights, you can skip to the end for my review summary.
Bear Pillow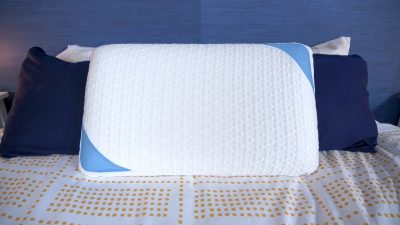 With a Phase Change Material cover, the Bear pillow is best for back sleepers who run hot.
Sleepopolis Score
4.90 / 5
Read Full Review
Is the Bear Pillow a Good Pillow for You?
Every sleeper has different needs and preferences when it comes to pillows, so let's go over who I do (and don't) recommend the Bear pillow to.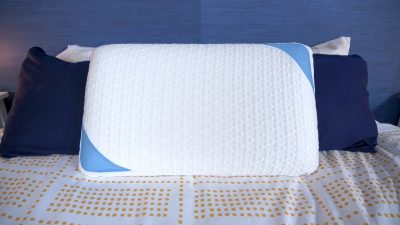 Who should try the Bear pillow
Back sleepers

should find

the Bear pillow

quite comfortable, as it has both a medium firmness and medium loft — ideal characteristics for back sleeping.

Hot sleepers

will likely appreciate

the Bear pillow

's perforated foam (which allows for airflow) and cool-to-the-touch cover.

Sleepers who like a bouncy and elevating feel from their pillow should find the Bear quite comfortable.
Who should not try the Bear pillow
Most

stomach sleepers

will probably find

the Bear pillow

to be too lofty to sleep comfortably. Too high of a loft can lead to

stomach sleepers

' necks craning. See our

best pillows

for

stomach sleepers

for better options.

Sleepers who prefer a classic

memory foam

feel in their pillow may not like the bouncy, latex-like feel of

the Bear pillow

. If you love sinking into

memory foam

, check out the

Tempur-Pedic pillows

.

If you're looking for an adjustable pillow, the Bear is likely not the best option for you, as it is not adjustable.
What Does the Bear Pillow Feel Like?
Let's discuss what the Bear pillow feels like, including its firmness, loft, and how it'll work for different sleep positions. Keep in mind that you may have a different experience with this pillow than I did, particularly if you are larger or smaller than I am.
Bear Pillow Firmness
When it comes to firmness, I generally recommend a soft pillow to stomach sleepers, a firm pillow to side sleepers, and a pillow in the middle to back sleepers. That's to ensure proper spinal alignment in each position.
When I first laid on the Bear pillow, I immediately thought, "This doesn't feel like a normal memory foam pillow." And that's because it's not — it's made with Bear's proprietary Loft-X foam, which has a feel that I found much more similar to latex foam than memory foam. This pillow feels super bouncy, buoyant, and elevating, but still offers a little contouring around your head and neck.
Overall, I found the Bear pillow to have a medium firmness, making it ideal for back sleepers.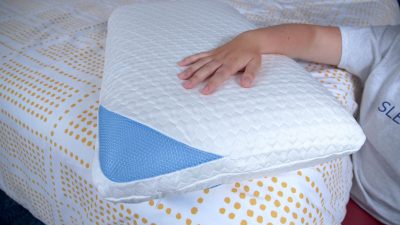 Bear Pillow Loft
Like firmness, each sleeping position generally maintains spinal alignment best with a different loft of pillow. Loft refers to the height of the pillow and I recommend a low loft for stomach sleepers, a medium loft for back sleepers, and a high loft for side sleepers.
At five and a half inches tall in the standard size (just five inches for the king), the Bear pillow has a medium loft.
Now let's go over my experience with this pillow in different sleeping positions.
Side — While the Bear pillow isn't quite a perfect side sleeper pillow, I actually found it to still be comfortable for side sleeping. The loft is high enough that I felt my neck was still in line with my spine and the foam's elevating feel kept my head from sinking down too far. Taller side sleepers may want to find a loftier pillow to fill the space between their neck and shoulder better, but for sleepers of my height, I thought it worked well.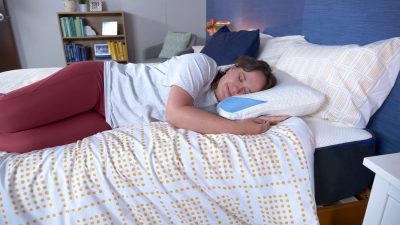 Back — The Bear pillow is ideal for back sleeping, in my opinion. The medium firmness and medium loft are just right for keeping back sleepers propped up enough to maintain their spinal alignment, but not cause their necks to crane. As a back sleeper myself, I loved the Bear for sleeping in this position!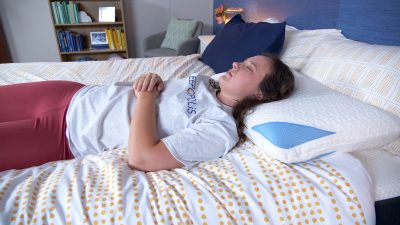 Stomach — I didn't find the Bear pillow to be comfortable for stomach sleeping, as the loft was too high and caused my neck to crane. I would definitely opt for a lower loft, softer pillow to prevent any neck strain as a stomach sleeper.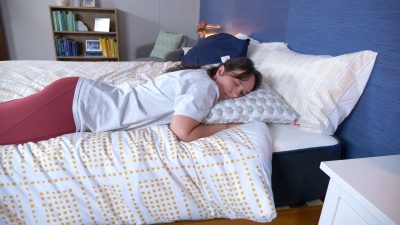 Under the Arm — I think the Bear pillow is decently comfortable to sleep with under your arm, but I generally prefer a pillow that's a bit more moldable for this position. A more moldable pillow will conform around you as you hug it, whereas this block foam won't.
Between the Legs — The Bear pillow could work for sleeping with between your legs, but I would opt for something that allows your legs to sink in a bit more than this pillow does. Additionally, the shape is a little awkward for this position, in my experience.
What is the Bear Pillow Made Of?
Cover: The cover of the Bear pillow is made of Bear's Double Ice Fabric, which has a cool-to-the-touch feel. It's made from a blend of cotton and cool yarn and has two mesh panel corner accents to allow for additional airflow.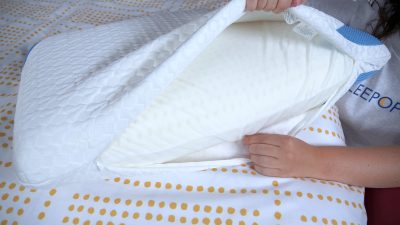 Core: The pillow's core is a block of Bear's Loft-X foam, a polyurethane foam which they call a "hybrid foam" between latex and memory foam. This foam is perforated to prevent body heat from being trapped.
The Bear pillow is available in a standard size and a king size. Additionally, Bear says the materials are hypoallergenic and antimicrobial, keeping out dust mites, bacteria, and allergens.
Is the Bear Pillow Good for Hot Sleepers?
I thought the Bear pillow was an excellent choice for hot sleepers. The Double Ice fabric used for the cover feels cool to the touch, which is fantastic for keeping hot sleepers comfortable. Additionally, I think the breathability of this pillow helps, as the perforations in the foam allow air to flow instead of being trapped in the core.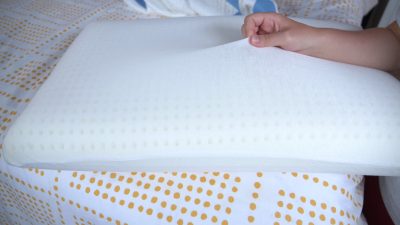 For more cooling pillow options, check out our best cooling pillows. And don't forget to round out your breezy, breathable bed with some of our best cooling sheets.
Bear Pillow Sizes and Prices
Wondering how much the Bear pillow costs? Here's a breakdown of the prices, by size.
Price listed will be before discount or offer for each size. Use our Bear coupon to get the best price.
| Size | Dimensions | Weight | Price |
| --- | --- | --- | --- |
| Standard | 15.75″ x 26″ x 5.5″ | 5 lbs | $125 |
| King | 15.75″ x 35.4″ x 5″ | 7 lbs | $145 |
Bear Pillow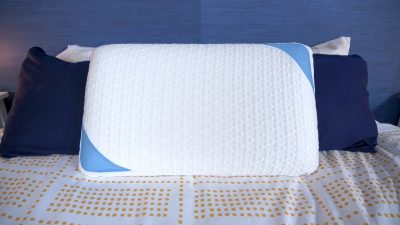 With a Phase Change Material cover, the Bear pillow is best for back sleepers who run hot.
Sleepopolis Score
4.90 / 5
Read Full Review
My Final Thoughts About the Bear Pillow
All in all, I really liked the Bear pillow. With a medium firmness and medium loft, it feels just right for back sleeping, but can also work well for side sleeping. That could make it a great pick for back/side combo sleepers as well, especially given the responsive feel the pillow has.
I enjoyed the feeling of the Loft-X hybrid foam, which has the bounce of latex but still allows for a bit of conforming around you. I also appreciated how cool this pillow sleeps, thanks to the cool-to-the-touch cover, dual mesh side panels for breathability, and ventilation holes.
However, one complaint I have is this pillow's cover is not machine washable. The whole pillow is spot-clean only, which may be inconvenient for those who like to be able to machine wash their sleep products.
Additionally, I wouldn't recommend this pillow to stomach sleepers, as it is not soft enough nor does it have a low enough loft to prevent their necks from craning.
Bear Pillow Policies and FAQs
How does the Bear pillow ship?
Bear ships for free within the contiguous United States. They also ship to Hawaii and Alaska for an additional fee. Estimated shipping is within two to seven business days.
Does the Bear pillow come with a sleep trial?
Bear offers a 30-night trial period, meaning they allow returns within 30 nights of the date of delivery and returns are free, including return shipping costs.
Does the Bear pillow come with a warranty?
For this pillow, Bear offers a 2-year warranty.
Is the Bear pillow machine washable?
This pillow is spot-clean only, for both the fabric cover and the foam core.
Bear Pillow Vs
Now let's compare the Bear pillow to one of its competitors, the DreamCloud Best Rest pillow.
Bear Pillow vs DreamCloud Best Rest Pillow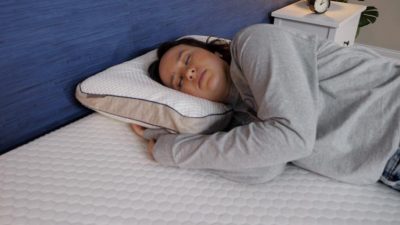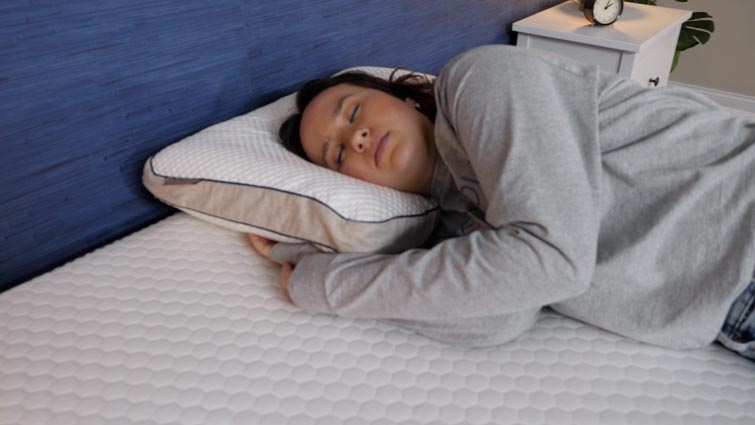 The DreamCloud Best Rest pillow has some similarities to the Bear: it is rectangular in shape, has a perforated foam block core, and a cooling cover. However, it is made with CopperGel-infused

memory foam

, giving this pillow a more classic

memory foam

feel.

The CopperGel infusions promote cooling, by conducting the heat from your body away from you. The perforations in the foam promote

breathability

to keep it cool, as well. Plus, the cover — made with a blend of polyethylene, polyester, and spandex — has a cool-to-the-touch feel.

Like the Bear, the Best Rest pillow is also a great

back sleeper

pillow. It works well for

side sleepers

too, but is too lofty for

stomach sleepers

.

Want to learn more? Read my full

DreamCloud Best Rest pillow review

.
DreamCloud Best Rest Pillow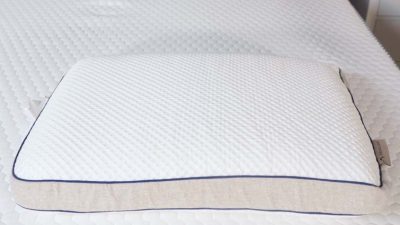 The DreamCloud Best Rest is a memory foam pillow made with a cool-to-the-touch cover and CopperGel foam. It's a great pillow for hot sleepers!
Sleepopolis Score
4.80 / 5
Read Full Review
Other Products from Bear
Finally, here are my star ratings for the Bear pillow.
Hybrid Foam, Higher Loft
Materials

Comfort

Value

Cooling

Trial

Warranty