When you're looking for the perfect pillow, it can be easy to get sucked into sales reviews and attractive branding. So you buy this new pillow, get it home, and take it to bed with you, only to find that after a couple great nights, it has now deflated and left you longing for something more substantial. While this is the story of many sad pillow owners, it doesn't have to be yours.
A great pillow should last longer than the 6-month lifespan of a low-quality pillow before losing its shape and form. This review is for the Bear Pillow by Bear Mattress, a quality example of a pillow meant to last the test of time. Let's take a closer look as we break down the components that aim to separate this pillow from the pack.
Click here for a quick summary of the highlights at the bottom of this review.
Construction
Okay, so first, let's look at the construction of the Bear Pillow. This particular pillow is made up of a solid core LOFT-X hybrid foam, meaning that it's one large piece of foam shaped to contour to your head / neck / spine. The LOFT-X foam is a poly foam. This foam offers the support of a traditional memory foam with the response and bounce of latex.
The foam is then covered with a stretchy cotton blended fabric that protects the foam from water, dirt, and allergens. There is no zipper on this liner and it is not intended to be removable.
Cover
However, there is a removable cover with zipper closure. This cover uses what Bear calls their "double ice" fabric technology on the front and back, which helps keep the pillow cooler while you sleep. Additionally, the mesh side panels help to improve breathability and airflow.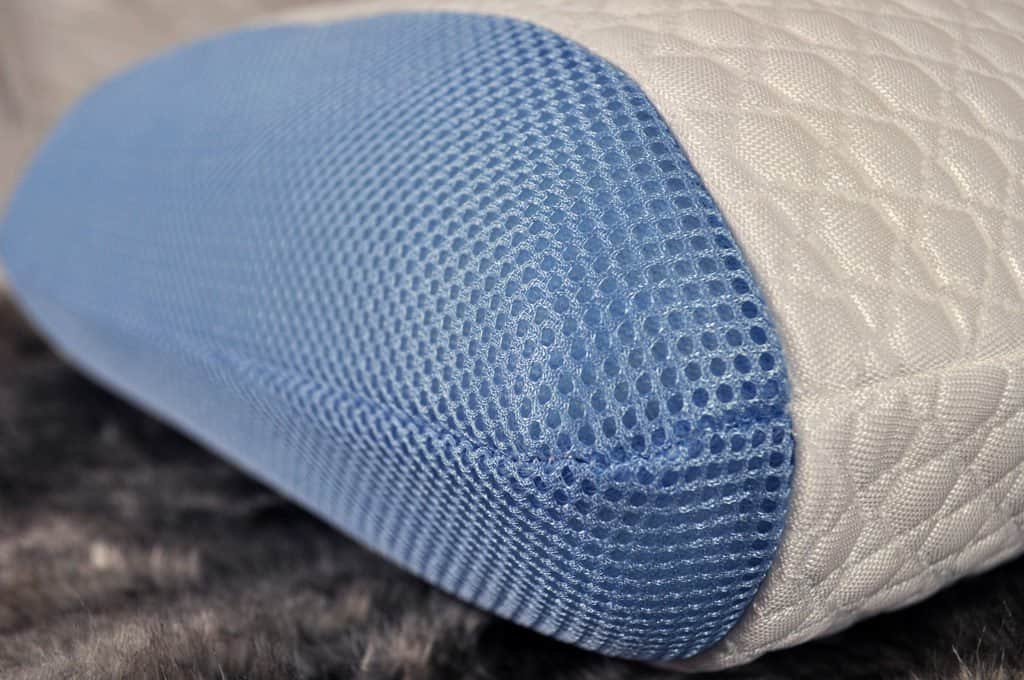 Feel & Support
The hybrid foam used in the Bear Pillow is a poly foam that has both qualities of memory foam and latex foam. This type of foam creates a pillow that allows for excellent hug, contour, and support, but still has fast response, so you never feel stuck or that the pillow isn't adapting quick enough to your movement changes.
The latex-like attributes also helps the pillow to feel airy and cool. It would be very difficult for a pillow that is 100% memory foam to have these types of qualities.
REVIEWS:  More pillow reviews
I am regularly a stomach sleeper, but for the sake of this review, I tested the pillow in all positions. I found this pillow to be most comfortable when on my back and stomach. There is not much loft to this pillow; in fact, there's considerably less than what you would find in a traditional down pillow or something similar. For side sleepers, it would have been nice to see some variation in the loft of the pillow at the edges. I found myself stuffing my arm under the pillow to give it some extra height in order to fall asleep comfortably.
The cooling fabric cover is quite nice. This pillow remained cool to the touch even after hours of laying on it.
I will also add that it's actually quite slick. After sleeping on it all night, I found that the pillow had moved a decent amount from its original position on the bed and was halfway out of the pillow case. That said, according to Bear, the pillow can be used with or without a pillow case. The external Bear pillow cover is washable.
Other Details
Price – $95
Smell – There was a slight smell for the first few days.
Trial – 100-night trial period (30 nights required)
Refunds – 100% money back guarantee, customer pays return shipping
Warranty – 2 year
Size – 28″ x 18″ x 2″
Made in the USA
Who should buy the Bear Pillow?
Bear Mattress claims that the Bear Pillow is good for all sleepers, due to its responsive and adaptable hybrid foam core. Sleeping on my back and stomach, I found the Bear Pillow to be pretty comfortable overall.
The company's all-inclusive approach to pillow design results in a pillow that would be a good choice for most sleepers, regardless of sleep position, although I did certainly prefer it on my back and stomach.
Many side sleepers may enjoy it as well, however, it should be noted that the profile is a bit on the thinner side. So you'll want to ensure you're comfortable with the lower loft.
I would recommend the Bear Pillow for sleepers who:
Want to sleep cooler at night – The cooling technology in this pillow is quite nice. Even with a pillow case, the pillow remained cool to the touch all night long. This is a great asset to sleepers who like the contour, hug, and pressure relief of a memory foam pillow, but want to avoid the heat retention.
Want a hybrid foam based pillow – This pillow is made from a solid poly foam that has qualities of both memory foam and latex foam. The pillow creates a nice level of hug and contour, but still has a responsive feel.
Great for back / stomach sleepers, and some side sleepers – This pillow is one consistent shape, with no variations at the sides. For a side sleeper, you may find this pillow to be too flat to provide enough support during the night. Stomach and back sleepers, on the other hand could really enjoy the shallower loft to this pillow since it doesn't position your head at an awkwardly high angle, causing uncomfortable pressure points on your neck and spine. Some side sleepers still may enjoy the feel, however, you'll want to be sure you like / need the lower loft.
For more information on the Bear Pillow, visit bearmattress.com.
Hybrid Foam, Lower Loft
Materials

Comfort

Support

Value

Cooling

Smell

Company
Summary
Overall, the Bear Pillow is a great choice for sleepers who are looking for excellent cooling properties with the contouring of a foam pillow. The dual mesh side panels allow airflow throughout the night, while the body of the pillow remains cool to the touch with the Bear's LOFT-X foam technology. Great for most stomach and back sleepers, and a good choice for some side sleepers, provided you like the thinner loft.
The following two tabs change content below.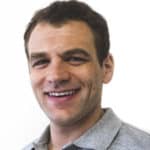 Logan Block
Logan is the Director of Content at Sleepopolis and the main mattress man around these parts. A Buffalo native, Logan spent several years working in project management in both Boston and New York City. In his free time Logan likes walking his dog, lifting weights, and searching for the best cheeseburger in New York City.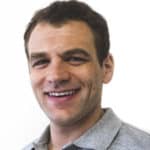 Latest posts by Logan Block (see all)