Nectar is a company that specializes in affordable sleep products. They offer a variety of memory foam and hybrid mattresses, as well as sheets, pillows, and more. But today we're going to be talking about the Serenity weighted blanket.
If you're in a hurry, skip to the end for my review summary. Otherwise, let's dig into this review on the Nectar Serenity weighted blanket!
Editor's Note: This product used to be called the "Resident Serenity Sleep weighted blanket." It is now called the "Nectar Serenity weighted blanket" and this review has been updated to reflect that. Resident is the parent company of Nectar.
What is the Nectar Serenity Weighted Blanket Made Of?
There's a good variety of materials used in weighted blankets, so let's go over what the Nectar Serenity blanket is made of.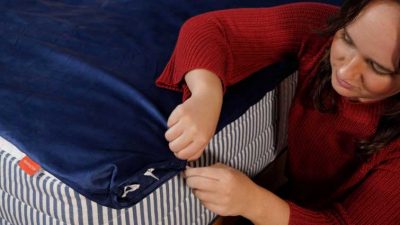 This blanket has an inner and outer layer. The outer cover unzips to reveal the inner blanket, which is attached with ties inside the outer cover. The inner blanket has gridded stitching that holds glass beads, which are what gives the blanket its weight. That gridded stitching ensures that the glass beads are contained and can't pool on one side of the blanket. Additionally, the outer cover is treated with an antimicrobial finish to prevent bacteria growth.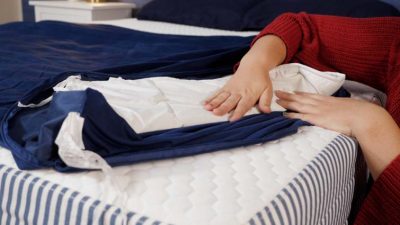 The Serenity blanket also has a Dual-Temperature design — one side is cooling, one side is warming. Each side has slightly different materials. The outer cover of the warm side is made from a soft, minky material that almost feels like crushed velvet. The inner blanket on the warm side is made with polyester.
On the cooling side, the outer cover is a much smoother material than the mink fabric; it reminds me of the feel of a soft T-shirt. The inner blanket on the cooling side is made with Phase Change Material. Phase Change Material absorbs and releases your body heat to maintain a cool temperature.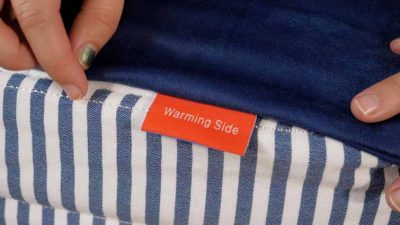 How Much Does the Nectar Serenity Weighted Blanket Weigh?
The Serenity weighted blanket is available in three weights: 15, 20, and 25 pounds. It's also available in two sizes: 48 inches by 72 inches and 80 inches by 87 inches. For this review, I tested the 48 inches by 72 inches, 15-pound blanket.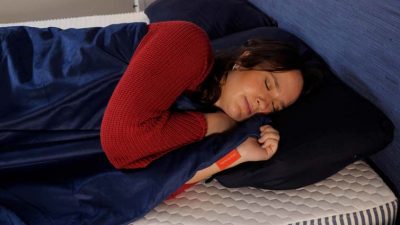 When choosing a weight, you'll want to pick a blanket that's about 10 percent of your body weight. For example, if you weigh 150 pounds, then the 15-pound option would be the best weighted blanket for you. This ratio is the best to experience Deep Pressure Touch, which is what creates the positive effects from a weighted blanket. Applying Deep Pressure Touch has been shown to reduce stress-inducing hormones and increase productions of hormones that make you feel calm and happy. Basically, a weighted blanket could help you get a better night's sleep!
Many people with ADHD, anxiety, autism, or insomnia have found weighted blankets to be helpful for this reason, as well as just being comforting and cozy!
What Does the Nectar Serenity Weighted Blanket Feel Like?
I thought the Serenity blanket had excellent weight distribution, thanks to the quilted grid on the inner blanket that partitions the glass beads. Each square on the grid contains some glass beads and the stitching prevents them from pooling on one side of the blanket.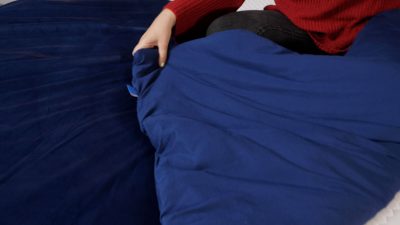 The amount of weight and pressure I felt from the blanket was really comfortable and relaxing. I actually ended up accidentally napping when I was reading under it at home! I think this blanket  can help you sleep better and reduce nighttime. It also works great as a throw blanket in your living room for reading or watching TV.
I also really like the feel of the duvet cover. The ultra-soft warm side is definitely my favorite, but the cooling side still has a nice feel, too. I'm always a fan of all things super soft, so I'm a little biased towards the warm side's velvety feel.
Is the Nectar Serenity Weighted Blanket Good for Hot Sleepers?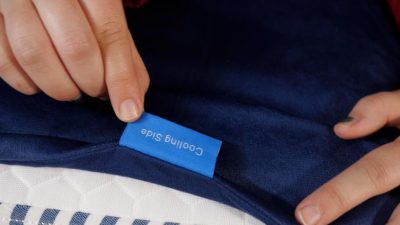 I was super impressed with the reversible Dual-Temperature design on this blanket. When I first tested it, I tried the warm side first. As predicted, it was pretty toasty — which, as someone who is usually cold, I loved.
After warming up quite a bit, I switched over to the cold side. I was honestly taken aback by how cool the cooling side felt! The Phase Change Material is super effective at making the surface of the blanket feel cool to the touch. I will say that over time, the cool side didn't remain as cool as that initial moment, but it was still significantly cooler than the warm side.
This blanket would be a great option for hot sleepers, people who fluctuate between hot and cold, or for someone looking for a weighted blanket for all seasons.
How Durable is the Nectar Serenity Weighted Blanket?
Overall, I would say this blanket seems quite durable. The materials used in the removable cover and the inner blanket feel high-quality and the blanket seems well made. One small less-than-stellar product detail I did notice is that since the zipper is a little smaller, it can be tricky to zip and unzip without snagging on the fabric.
Additionally, since the outer cover is machine washable, it should be easy to keep this blanket fresh and clean.
Is the Nectar Serenity Weighted Blanket Good for You?
Okay, we've covered a lot about this heavy blanket! Let's go over my recommendations for who should consider trying it.
Who Should Try the Nectar Serenity Weighted Blanket
Hot sleepers should really like the Nectar Serenity blanket!

I was seriously impressed with the Phase Change Material's ability to keep me cool.

If you want a

weighted blanket that's easy to keep clean

, you'll appreciate that you can

machine wash

the outer cover. The inner blanket is

spot clean

only, but if you keep the cover on, that should be no problem.

This blanket can also

work well either for sleeping or using as a throw blanket

. The smaller size works really well for the latter, but the larger one could be better for sleeping since it's more similar in size to a comforter.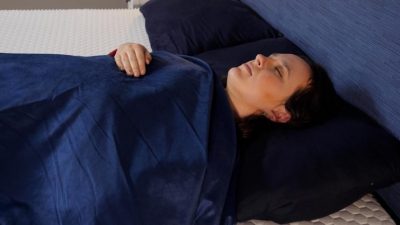 Nectar Serenity Weighted Blanket Complaints
This blanket may not be the best option for

people who weigh significantly more than 250 pounds or significantly less than 150 pounds

. None of the weight options would be close to 10% of super light or super heavy people's

body weights

, so they could end up with a blanket that's way too heavy or not heavy enough.

It's also

not a great weighted blanket for those who want to share with a partner

, as you'd want a blanket that's equal to 10 percent of your combined

body weights

.

Additionally, this blanket is

only available in two sizes

, so your options are a little more limited there.
Nectar Serenity Weighted Blanket Prices, Sizes, and Colors
Interested in buying the Serenity blanket? Here are the prices, listed by size. All prices are listed before discounts, which you can get by clicking one of the coupons throughout this review!
| Size | Weight | Price |
| --- | --- | --- |
| 48" x 72" | 15 lb | $159 |
| 48" x 72" | 20 lb | $169 |
| 80" x 87" | 20 lb | $189 |
| 80" x 87" | 25 lb | $199 |
When shopping for bedding and accessories, color is an important consideration. The Serenity blanket is available in three colors: tan, gray, and navy blue, which is the color of the blanket I tested for this review.
Nectar Serenity Weighted Blanket Policies and FAQs
How does the Serenity weighted blanket ship?
The Serenity weighted blanket ships for free within the United States, except in Hawaii and Alaska, where you'll have to pay an additional fee. The blanket should ship within 1–3 business days
Does the Serenity weighted blanket come with a warranty?
Yes, the Serenity blanket comes with a 5-year manufacturer's limited warranty.
How do I clean the Serenity weighted blanket?
Nectar's care instructions for the Serenity blanket recommend washing the outer cover in cold water and tumbling on low to dry. The inner blanket is spot clean only.
Can I return the Serenity weighted blanket after opening it?
You can initiate a return within 30 days of delivery, if you've already opened the blanket. To return it, the blanket must be clean and in good condition. If you haven't opened it, you can return within 300 days of delivery.
Will a weighted blanket help me get a good night's sleep?
Weighted blankets and the Deep Pressure Touch they provide have been shown to increase production of hormones that make you feel relaxed, which can help you fall asleep if you struggle with anxiety or restlessness around bedtime.
Nectar Serenity Weighted Blanket Vs
Now that we've covered the Serenity weighted blanket in-depth, let's compare it to one of its competitors: the Hush Classic weighted blanket.
Nectar Serenity Weighted Blanket vs Hush Classic Weighted Blanket
The Hush Classic

weighted blanket

has a

two layer construction

, like the Serenity, with an inner blanket and an outer duvet. The outer duvet is made with a

super-soft, minky microfiber material

.

The outer duvet of the Hush is also

machine washable

, but a key difference is that you actually can

hand wash the inner blanket of the Hush

, unlike the Serenity.

The Hush is also available in

more sizes and weights than the Serenity

. It comes in a teen size,

twin size

,

queen size

, and king size, ranging from 12 pounds to 35 pounds in weight.

However, the Hush Classic

retains a lot of heat

and isn't the best choice for those who tend to run hot.

Read my full Hush Classic

weighted blanket review

to learn more.
Here are my star ratings for the Nectar Serenity weighted blanket!
Cooling

Materials

Comfort

Value

Durability

Warranty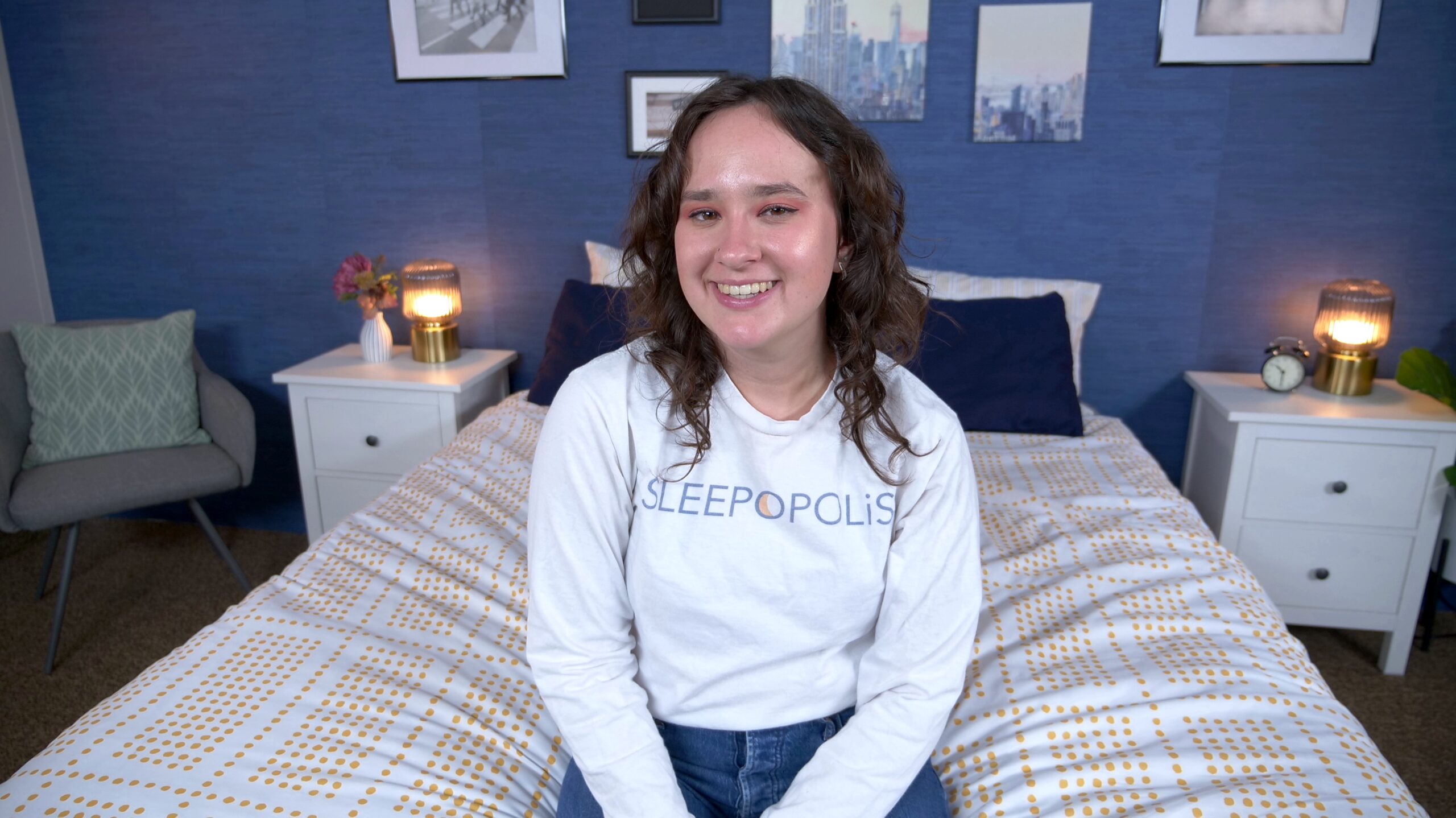 Amelia Jerden
Amelia is a Senior Staff Writer for Sleepopolis. She primarily covers bedding and sleep accessory products in reviews, how-to guides, and more. You can also find her over on the Sleepopolis YouTube channel. Amelia is a graduate of the University of North Carolina at Chapel Hill, with double majors in media and journalism and in dramatic art. Outside of work, Amelia can usually be found on a hike, traveling to a new city, or at her local thrift store.