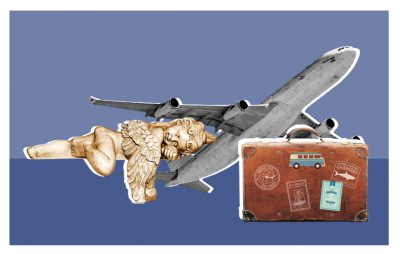 Traveling is one of my favorite things in the world — visiting new places, seeing and trying new things, and… getting severely lackluster sleep. Okay, that part I don't love as much.
Sleep can be hard to come by during travel, from the tiny uncomfortable seats on airplanes to sleeping in unfamiliar places once you've arrived at your destination. But a lack of rest can put a serious damper on travel plans, so I've rounded up some of the best products out there to help you sleep better while traveling.
Airplane Sleep Essentials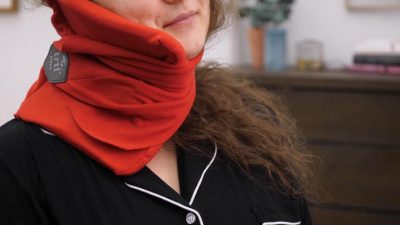 If you can never seem to keep your neck upright while sleeping on a plane, you may be interested in the trtl travel pillow. This pillow is really more like a neck brace than a traditional pillow, as it uses a plastic insert to keep your neck in alignment. However, it does have a soft, fuzzy cover to still keep things a bit cozier.
We found the trtl to be very effective in both our trtl Travel Pillow review and our trtl Travel Pillow Plus review, which is the adjustable version of the original pillow.
Right now, the trtl pillow costs $32.99 on Amazon.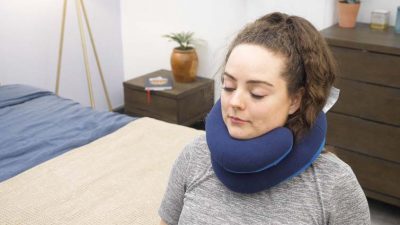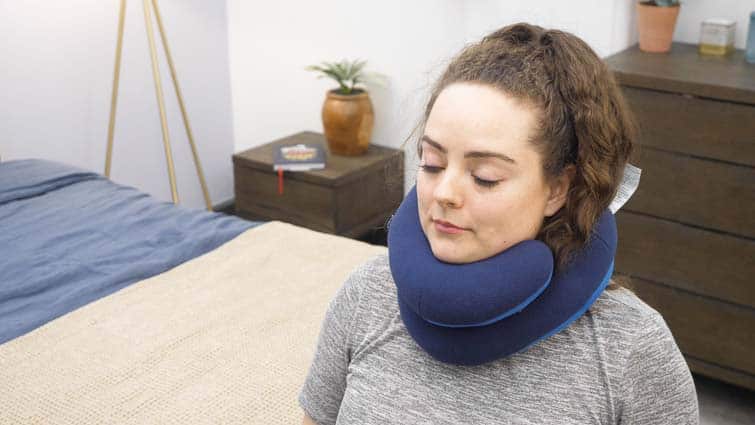 If you're worried about chin support for in-flight sleeping, the BCOZZY travel pillow is a great option. This pillow has a more traditional travel pillow design than the trtl, but wraps all the way around the neck to provide chin support.
It has a two-sided cover, so you can choose between smooth microfiber and fuzzy fleece, and the plush fill is supportive and maintains its shape well. Plus, this pillow is small enough to easily wrap around your suitcase handles or even just wear around your neck in the airport.
The BCOZZY pillow currently costs $49.97 for the large size.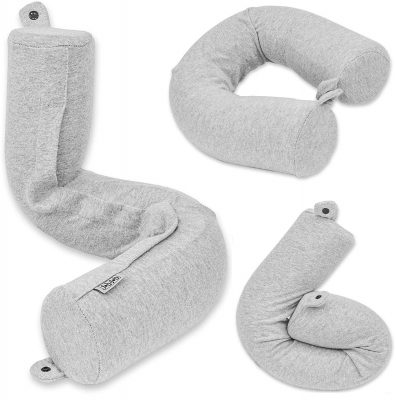 Another unique take on the travel pillow, the Dot & Dot Memory Foam Twist pillow has the traditional U-shape but can be twisted into different shapes. This allows you to customize the pillow to different situations and sleep preferences.
For example, say you've been lucky enough to score the window seat on a plane: you can twist and bend the pillow to provide a cushioned support for leaning against the window. Or if you've been stuck with the middle seat, you can shape it to use as neck support for sleeping upright.
Plus, this pillow has a removable and washable cover so you can keep it squeaky clean. And it comes in multiple color options.
Currently, the Dot & Dot pillow costs $24.99 on Amazon.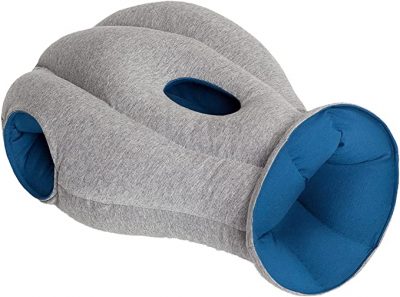 If leaning forward to sleep on the tray table is your go-to for sleeping on planes, you might be interested in the Ostrichpillow Original Napping pillow. That is, if you don't mind looking a little odd as you sleep. The Ostrichpillow is basically a pillow helmet that envelops your head to block out all light. And it has openings on the side so you can fold your arms through the pillow to rest on them.
Despite looking a bit strange, the Ostrichpillow is popular for providing an immersive sleep environment that makes it easier to sleep in public places, like airplanes.
You can purchase the Ostrichpillow for $99.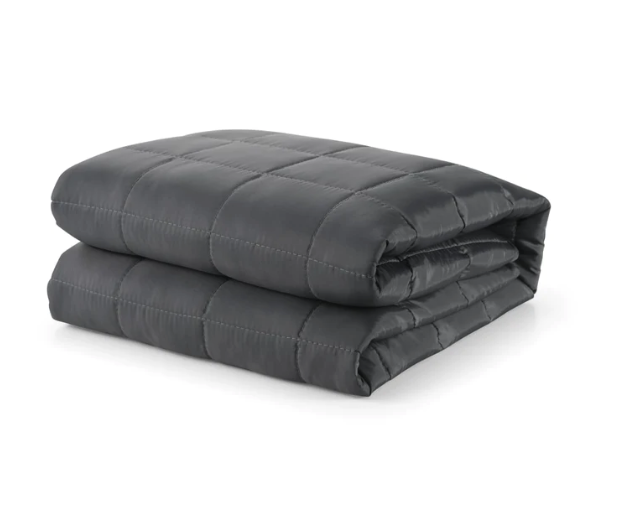 Does flying make you anxious? Consider adding a travel-sized weighted blanket to your packing list. This blanket from Gravity is six inches smaller than their original weighted blanket and weighs only 10 pounds. It also comes with a carrying case that's small enough to fit on top of a rolling suitcase.
The Gravity Flex Travel blanket currently costs $100 and comes in two colors: black and gray.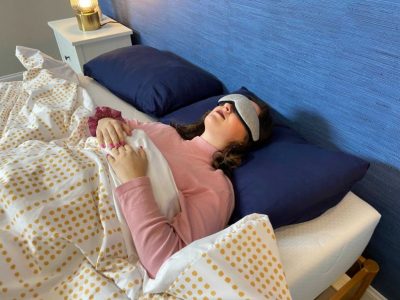 Having the right eye mask can be key for sleeping in less-than-ideal conditions. This mask from Ostrichpillow is effective at blocking out light, but still comfortable, thanks to its molded foam construction. The foam is soft and plush on your face, and the shape is molded to fit your facial features so you don't feel squished. It also has an elastic strap that's adjustable to fit different head sizes.
Throw it into your carry on bag to ensure your sleep won't be interrupted by cabin lights or your neighbor's in-flight entertainment. You can also read my full review of the Ostrichpillow eye mask to learn more.
This eye mask currently costs $45.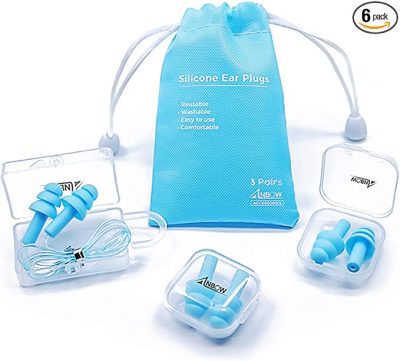 Even though most passengers are fairly quiet on airplanes, they tend to be noisy environments. If that noise makes it harder for you to fall asleep, ear plugs can help to block out the ambient noise. These ANBOW silicone earplugs are reusable and adjustable to fit different ear sizes. One pack comes with three sets of earplugs, each in a plastic case, and a waterproof bag.
The earplugs are designed to reduce noise up to 32 decibels and the silicone is super soft and flexible to prevent any discomfort in your ears.
Right now, these ear plugs cost $15.99 on Amazon.
Road Trip Sleep Essentials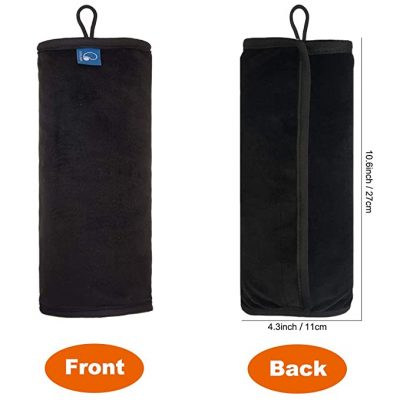 If you or your child struggle to sleep in the car, a car seat belt pillow could be the answer. The pillow wraps around the seat belt to provide a cushion to rest your head on, as well as reducing shocks and vibrations from the movement of the car. This one from COOLBEBE is plush and velvety, so it's cozy to rest your head on. Plus, it comes in three different colors: pink, black, and light blue.
Currently, this seat belt pillow costs $9.99 on Amazon.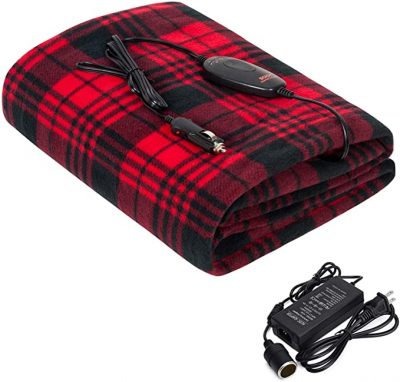 For those who are traveling by car and get cold easily, an electric car blanket can add a touch of luxury to the road trip experience or provide extra warmth while car camping.
The Sojoy Heated Electric blanket is 40 inches by 60 inches, so it's large enough to share. It features three different heat settings and an automatic timer to prevent draining your car's battery. And it has an extra long power cord, so it can easily be used by the driver or a passenger. Not to mention it's made of a warm flannel material.
This blanket currently costs $62.99.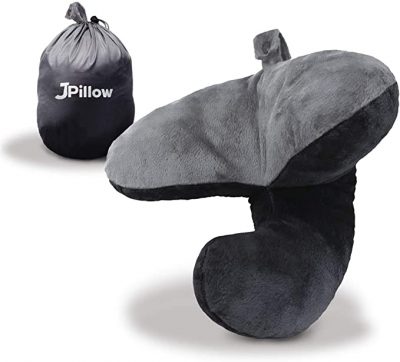 The J-Pillow is another creative version of a travel pillow. As the name implies, this pillow has a J-shape that is intended to provide chin support. This pillow is an especially good choice for car travel because its shape makes leaning against a hard surface to sleep while sitting upright more comfortable, which is the go-to for sleeping in the car.
The upper part of the J design gives you a soft cushion to rest your head against the window or doors of the car, while the "tail" of the J sits under your chin to provide support.
Additionally, the J-Pillow is completely machine washable, so it's easy to keep clean. And it comes in three different color options.
The J-Pillow costs $39.95 on Amazon.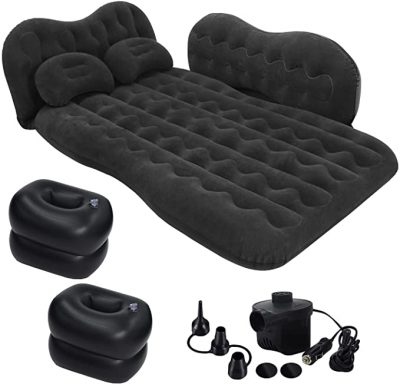 For a car camping adventure or just in case of emergencies on a long road trip, an inflatable car air mattress is a great way to make sleeping in your car a little more comfortable. This air mattress is specifically designed to fit in the back seat of your car. It even has cushions at the head and side to prevent you from hitting your head on the car doors or rolling up against the front seats.
The air mattress comes with its own pump kit too, so you can easily inflate it on the go. And when it's deflated, you can fold it away for storage.
Right now, it costs $56.95.
Sleeping in the car with light streaming in through the window can be challenging — not only does the light keep you up, but also can make you feel overheated. These window shades from EcoNour are the perfect solution to blocking out some light in the car to get some shut-eye.
These shades use static cling to stick to your windows without leaving residue. And they're semi-transparent, so they won't completely block the driver's vision. Plus, they can be folded away for storage when not in use.
The EcoNour shade can be yours for just $14.99.
Sleeping Away from Home Essentials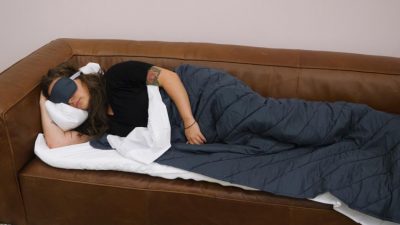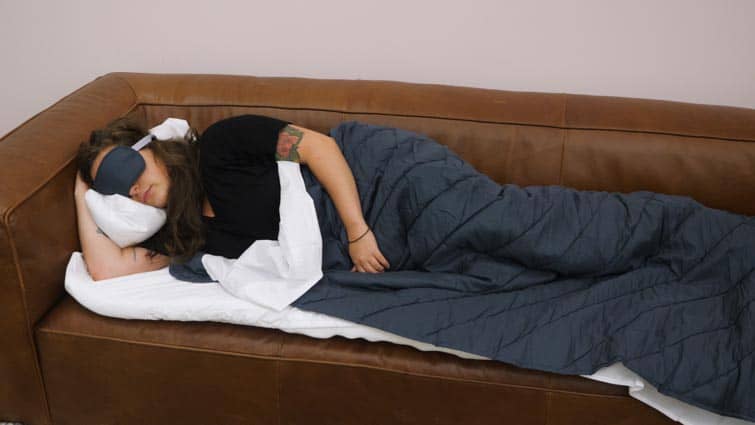 Are you more of a couchsurfer than a hotel-devotee? Whether you're trying to save some cash or simply visiting someone who doesn't have a guest bed, sometimes spending a night on a couch can't be avoided.
The Burrow Sleep Kit aims to make couch sleeping a little comfier. The kit includes a memory foam topper that's two inches thick and offers great pressure relief. It also comes with custom sheets, a pillow, quilted blanket, and eye mask. All of that rolls up into a convenient carrying bag, so you can pack the kit in with the rest of your luggage and instantly upgrade your makeshift bed.
Read our full Burrow Sleep Kit review to learn more. Right now, the Nomad Sleep Kit costs $345.
When you're sleeping away from home, you can't always be sure that you'll have a comfortable pillow to sleep on. Bringing your own pillow is always a great option, but it's not always feasible to carry around a full size pillow.
This travel and camping pillow from Coop Home Goods is a great option for sleeping on the go. It's basically a miniature version of the Coop Home Goods Original pillow that can be packed away into a nylon stuff sack for easy carrying.
The pillow is filled with a blend of shredded memory foam and microfiber fill and has a machine washable cover. The moldable but supportive foam will ensure you're sleeping comfortably no matter where you're sleeping.
The Coop Home Goods Original Travel & Camp pillow costs $35.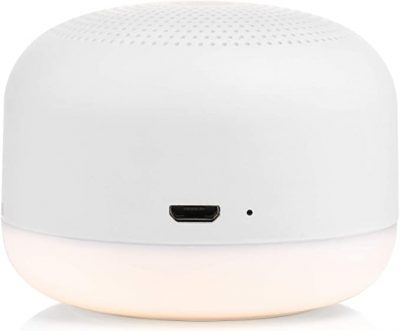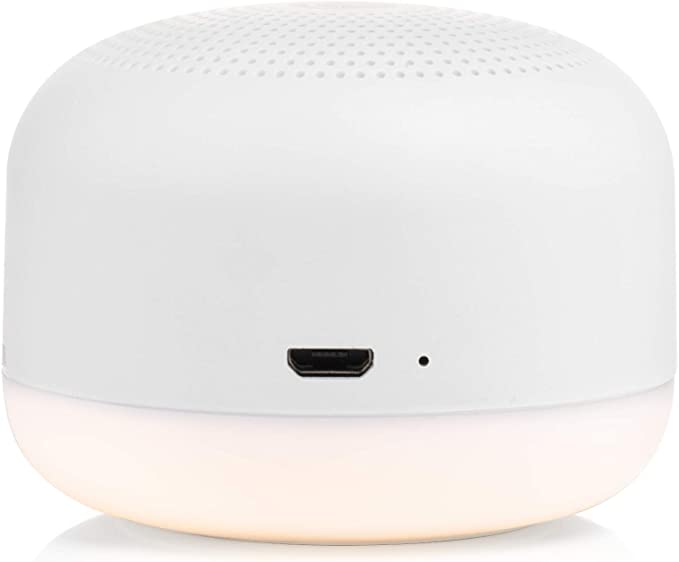 White noise can be a helpful way to block out noise and fall asleep. However, odds are that even if you're already a fan of white noise, you don't want to lug around a white noise machine when you're traveling. That's where Yogasleep's Portable White Noise sound machine comes in.
This sound machine offers six different soothing sound options to lull you to sleep, as well as acting as a nightlight, with three warm, amber light options. It's small enough to fit in the palm of your hand and it only weighs six ounces, so you can easily toss it into a purse or backpack. And it easily charges with a micro-USB charger.
You can purchase the Yogasleep Portable White Noise sound machine on Amazon for $25.99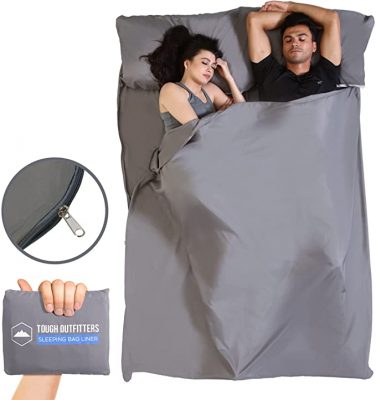 When you're traveling, you're generally sleeping in environments that are a little out of your control. Whether you're spending a night in a less-than-desirable hostel bed or the idea of sleeping in sheets that others have slept in just gives you the ick, one way to preserve your peace of mind is using a sleeping bag liner.
This sleeping bag liner is designed to be used inside a sleeping bag for extra warmth and protection, but it can easily be used in a hotel bed, on a couch, or anywhere you're resting your head for the night. This soft and breathable liner from Tough Outdoors folds down small enough to stash away in your luggage and is machine washable, so you can always ensure you have a clean place to sleep.
It also comes in two sizes, to fit one or two sleepers, and even the solo-sleeper model is designed to be roomy enough for taller folks.
It currently costs $20.95 on Amazon.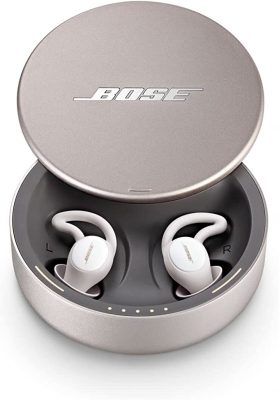 If you're easily awoken by noise, canceling out ambient sound is important when you're traveling. There's already so many factors that can disrupt your sleep, so no need to let others' late-night hotel antics or noise keep you up.
These "sleepbuds" from Bose look like regular headphones, but stream relaxing, noise-masking sounds to help you fall asleep. The earbuds are designed with a soft silicone and adjust to three different sizes for a comfortable fit while sleeping. And they're designed to hold a charge up to 10 hours, so they'll last all night long.
Plus, you can select exactly which sounds you want the Sleepbuds to play with the Bose Sleep app, which has a library of over 50 curated sleep sounds.
These Sleepbuds currently cost $249 on Amazon.

Light streaming through a window can seriously disrupt your sleep. If you're an avid user of blackout curtains at home, you may miss them when you're traveling. Fear not — portable blackout curtains are here to save the day.
These portable blackout curtains from Amazon Basics use suction cups to attach to any window and be easily removed, without causing damage. They feature Velcro edges that allow you to alter the dimensions of the curtain to fit different windows. The curtains also come with a travel bag, so that they're easy to bring with you wherever you go. Plus, they come in a few different colors and fun pattern options.
You can get these curtains for $27.66.
Final Thoughts
Whether you're traveling for fun, for work, or to visit family and friends, a lack of sleep (or a lack of quality sleep) can really ruin the trip. I hope these recommendations will help you get the best sleep you can on your next trip.
Safe travels and sweet dreams!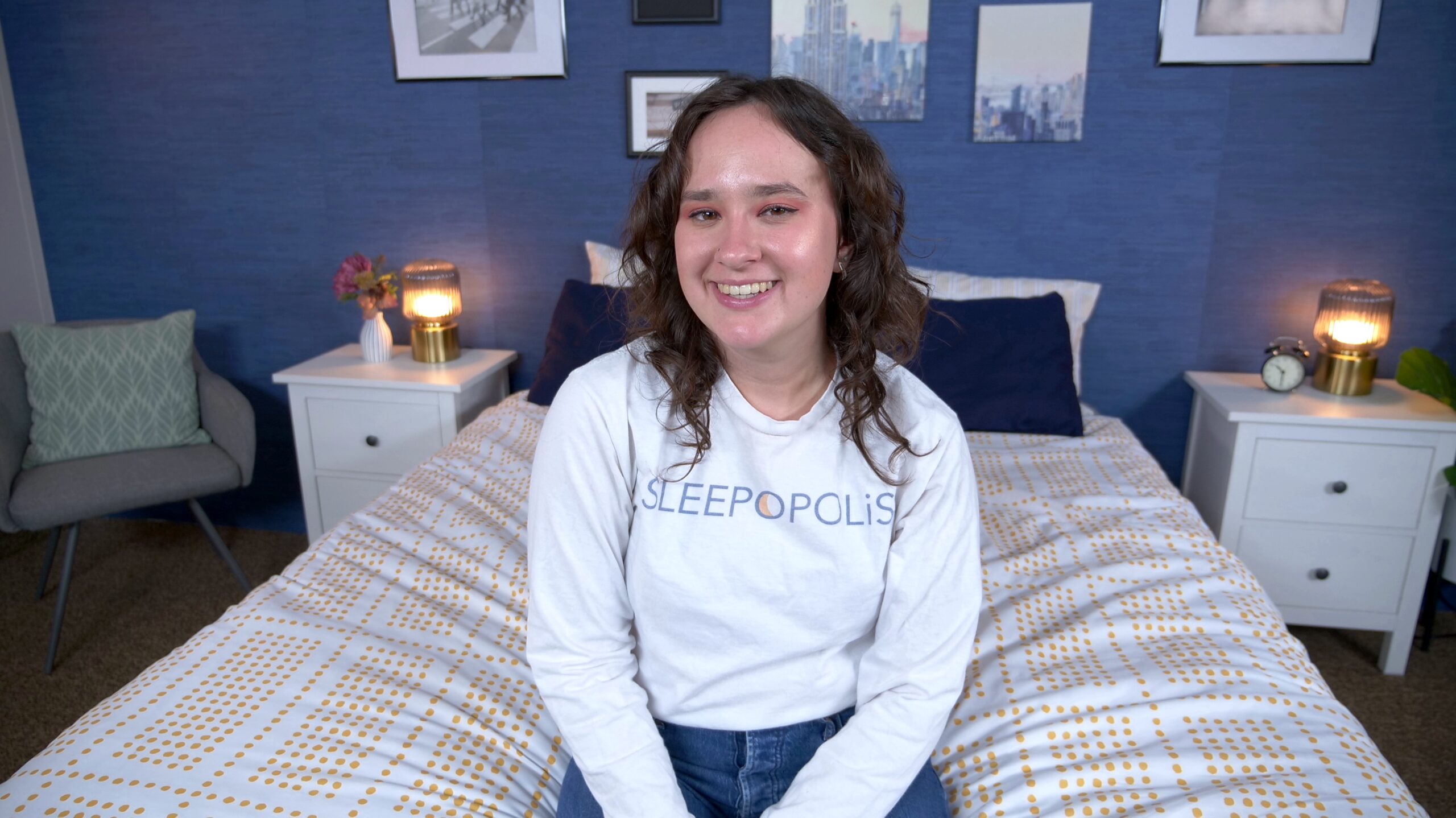 Amelia Jerden
Amelia is a Senior Staff Writer for Sleepopolis. She primarily covers bedding and sleep accessory products in reviews, how-to guides, and more. You can also find her over on the Sleepopolis YouTube channel. Amelia is a graduate of the University of North Carolina at Chapel Hill, with double majors in media and journalism and in dramatic art. Outside of work, Amelia can usually be found on a hike, traveling to a new city, or at her local thrift store.