Let's be honest — a bed is the best place to sleep, but it's not always an option. Whether you're traveling or hosting out-of-towners, sometimes you've got to spend a night or two on the couch. But that doesn't have to mean scrambling for warmth atop cushions that separate every time you move.
Enter the Burrow Sleep Kit, a bedroom accessory made specifically for catching Zzz's on the sofa. But how does it work, and what's included with every kit? You'll have to keep reading to find out.
Burrow Sleep Kit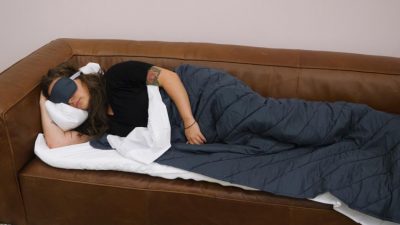 The Burrow Sleep Kit is a great way to make sure your guests are comfortable while staying on your couch!
Sleepopolis Score
4.70 / 5
Read Full Review
Brand Snapshot
Founded in 2016, Burrow began as a furniture retailer specializing in modular sofas, loveseats, and chairs. Each piece of Burrow furniture can be customized and, according to its founders, is intended to "adapt and move with the user's lifestyle." So I guess it makes sense that a company that makes custom couches would eventually invent a way to make the sofa-sleeping experience a little more comfortable.
Although Burrow is new to the bedding scene, every Sleep Kit comes with a pillow, blanket, sheet set, eye mask, and a memory foam pad. You know… Everything you might need to cozy up on the couch. But is this kit really a practical couchsurfing solution, or is it more of a novelty? There's only one way to find out!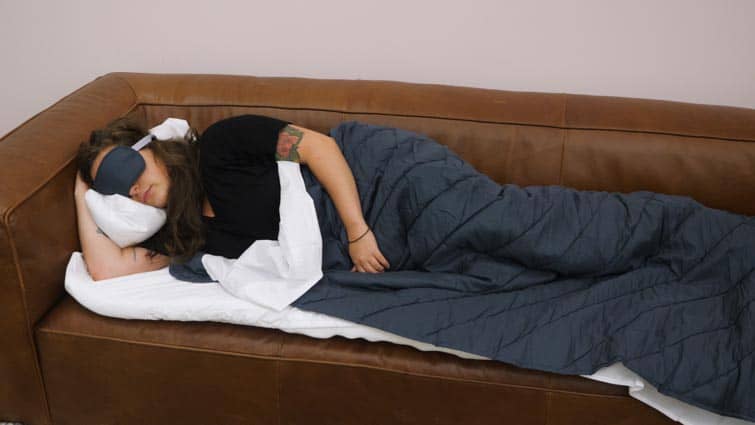 What Is The Burrow Sleep Kit Made Of and How Does it Work?
As I said, every Burrow Sleep Kit comes complete with a sheet set, pillow, eye mask, blanket, and memory foam topper. But it's up to you to set it all up, so let's examine every component of this kit and learn how to set it up:
Memory Foam Topper – The memory foam topper is what you'll place directly on top of the sofa cushions. It's 2 inches thick, offers a slow response to pressure, and provides balanced relief for your whole body. Some sleepers may choose to remove the couch cushions in order to create more surface space, but I left them on for a little extra support.
Custom Sheet Set – Once you put the memory foam topper exactly where you want it, it's time to dress it with the sheet set. Cover the topper with the fitted sheet, then drape the top sheet over that (just like you would with a regular mattress). Then, cover the pillow with the pillowcase. This sheet set is made from 100% cotton, and feels light, breathable, and soft.
Pillow – The pillow is covered in cotton and filled with a soft down-alternative called polyfiber. In my experience, it's perfect for resting against the arm of the sofa. Without the extra support of the arm, though, side sleepers may find that this pillow is too soft and compressible, and that they need to supplement with an additional pillow in order to keep a neutral spine (more on this later!).
Quilted Blanket – Once you're settled on the sofa, pull the quilted cotton blanket over the top sheet for some extra warmth. Again, it's made from 100% cotton, and feels very soft and breathable on the skin.
Eye Mask – When your Sleep Kit is set up, all that's left to do is enjoy your light-blocking eye mask as you slip sweetly into dreamland.
Now you might be thinking, "Wait… all of this fits inside one storage bag?" Yes it sure does and, personally, I think that's a big part of the appeal. The bag itself is pretty big (25″ H x 15″ W), and there's a large storage pocket attached to the end of the memory foam pad as well.
For maximum efficiency, this is how I pack and store the Burrow Sleep Kit:
Stack the folded blanket and pillow on top of the memory foam pad, on the opposite side of the storage pocket.
Tightly roll the foam pad toward the storage pocket, keeping the pillow and blanket tucked inside.
Finish rolling the contents into the storage pocket, and stretch the pocket over the foam pad until everything is completely covered.
Fold and store the sheets and eye mask in the front pocket of the storage bag.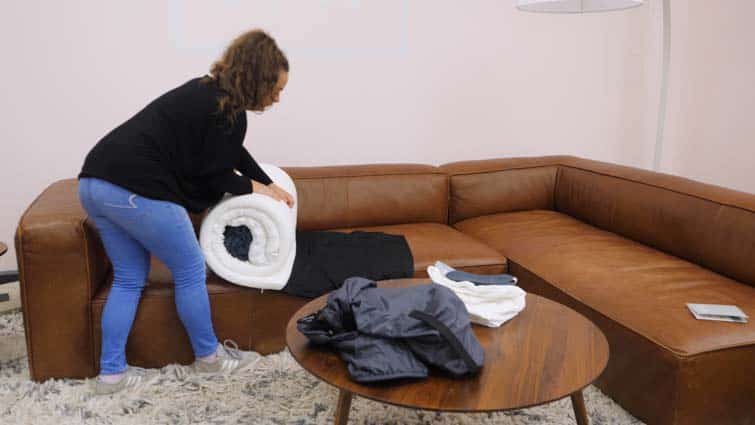 Once everything is all stowed away, just put the cushions back on the couch and — poof — it's like you were never there.
Okay sleepers, now that we've taken a close look at the Burrow Sleep Kit, let's talk about a bit more about how it feels and with whom it might be most compatible.
Burrow Sleep Kit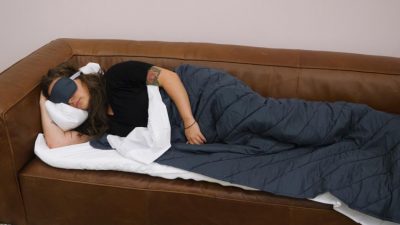 The Burrow Sleep Kit is a great way to make sure your guests are comfortable while staying on your couch!
Sleepopolis Score
4.70 / 5
Read Full Review
How Does The Burrow Sleep Kit Feel?
I thoroughly enjoyed testing the Burrow Sleep Kit, but I will say that it's a little bit pricey, and there are a few features that stood out more than others.
Firstly, the memory foam pad is the star of the show in my opinion. It's got a super slow response to pressure and offers a nice, deep sink into the material. It also feels quite durable and reminds of the Tempur-Pedic mattress topper I tested (which is amazing, by the way.) If you're worried about how much support this Sleep Kit provides, rest assured — the memory foam kept me cozy from head to toe.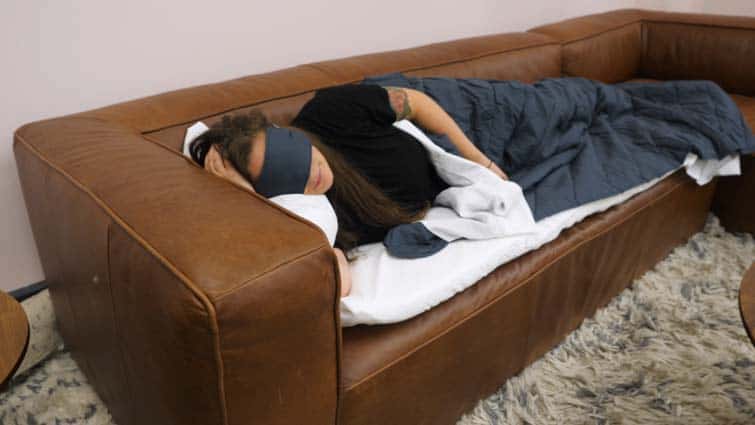 Speaking of which, the memory foam pad is about 3 feet wide and 6 feet long which could more than accommodate my 5 foot frame. However, if you're taller than 6 feet, you might want to take advantage of the trial period that comes with this Sleep Kit to make sure it's a good fit for you.
As far as everything else is concerned, I was satisfied with the pillow, sheets, and blanket but didn't find them to be quite as impressive as the memory foam pad. The pillow is very soft and compressible which, as I said, was ideal for leaning against the arm of the sofa. But without that extra support, the pillow is simply too flat.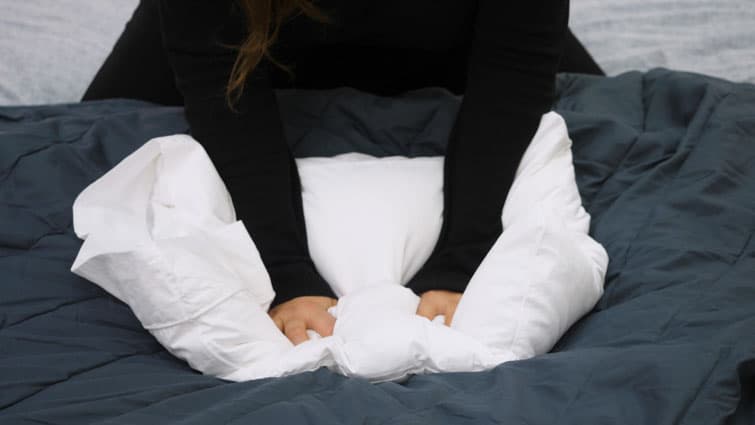 Similarly, the quilted blanket is lightweight and breathable, so sleepers who run cold should probably supplement with an additional blanket in order to keep warm. Even I found myself longing for an extra comforter, and I'm a very hot sleeper. Don't get me wrong — the quilted blanket is very soft, but I wish it were a bit more insulating.
That said, the cotton sheet set definitely hit the mark. It's light, airy, and smooth on the skin, just like cotton bedding should be. Not to mention, a little pocket for your phone is sewn into the fitted sheet so that you can keep it nearby and charging while you snooze.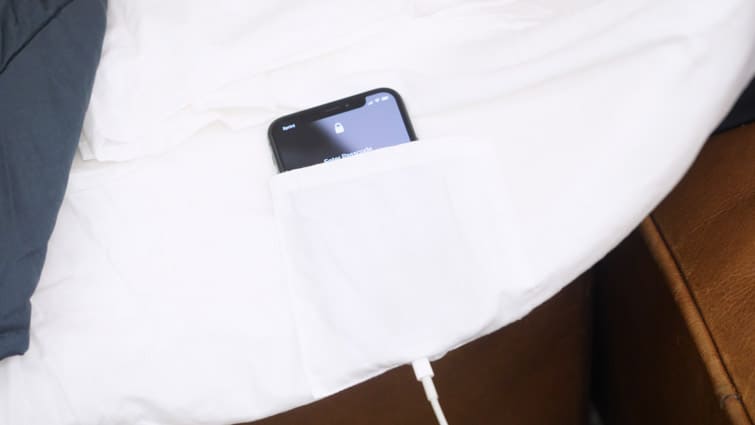 Despite the few tweaks I would make to the pillow and blanket, I give the Burrow Sleep Kit two thumbs up. It customized my couch-sleeping experience in an inventive way, and I think it would be a great addition to anyone's collection of bedroom accessories.
The Verdict: Frequent travelers or those who host overnight guests should definitely look into the Burrow Sleep Kit! It's easy to set up, easy to store, and offers sleepers on the go a cozy place to rest.
Should I Buy The Burrow Sleep Kit?
Burrow Sleep Kit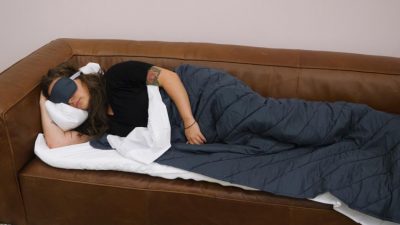 The Burrow Sleep Kit is a great way to make sure your guests are comfortable while staying on your couch!
Sleepopolis Score
4.70 / 5
Read Full Review
Now let's recap the highlights so you can better determine whether or not the Burrow Sleep Kit is the right fit for you:
Memory Foam – My favorite part of the Sleep Kit is the memory foam topper. It's nice and thick, feels very durable, and provides balanced pressure relief for my whole body (which can be tough to accomplish when you're sleeping on a couch).
Machine Washable – Everything except the memory foam is machine washable, which makes maintenance pretty easy. The blanket and sheets can be thrown into the wash together on a warm cycle with mild detergent, and dried on low heat. The pillow and sleep mask can be washed on a cold gentle cycle with mild detergent, and dried on low heat as well. The memory foam is a different story, but we'll get to that next.
30-Day Trial – Every Burrow product comes with a 30-day trial that allows you to "try before you buy." If, within that time frame, you decide this Sleep Kit isn't the best fit for you, just send it back for a refund. Burrow will even handle the cost of return shipping!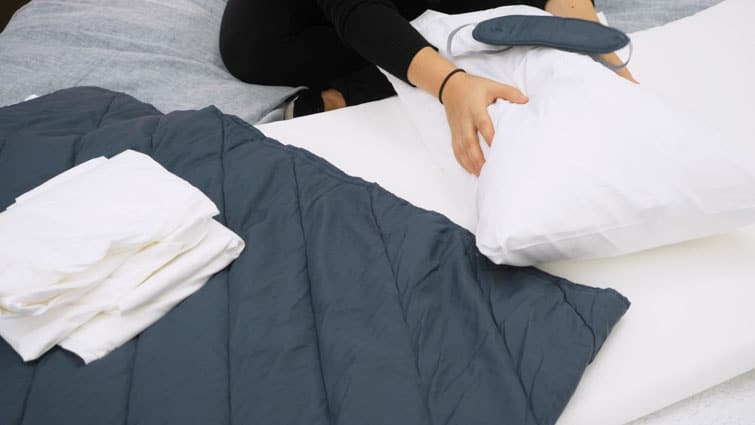 Burrow Sleep Kit Complaints
Of course, there are a few things about the Sleep Kit that some folks might consider to be drawbacks:
Spot Clean Only – The memory foam pad is not machine washable or dryable, and should only be spot cleaned with a damp cloth and mild detergent. Even then, you should avoid getting the foam wet as much as you can, as water can damage memory foam and/or promote the growth of mold and mildew.
Pillow & Blanket – As I said, the pillow is not firm or lofty enough to use on its own. It's perfect if you can rest it against the arm of the couch (which is what I did), but without that extra support, I struggled to keep healthy sleeping posture. The same principle applies to the blanket; it's very soft and cozy, but it probably wouldn't be enough to keep me warm throughout the night.
Pricey – The Burrow Sleep Kit is about $350 which, in my opinion, makes sense considering the materials used, how much is included in the kit, and the convenience factor. But it's not going to be in everyone's price range, and even if it is, I strongly suggest taking advantage of the trial period to make sure it's right for you.
Anything Else I Should Know?
Free Shipping & Returns – within the U.S.
Sizing – one size
Dimensions of Sleep Surface – 76" L x 28" W
Total Weight of Sleep Kit – 15lbs
Pricing – $350
30-Day Trial Period
Well, we've reached the end of my review and you're that much closer to deciding whether or not the Burrow Sleep Kit is the answer to your couch-sleeping needs. And while you carefully consider every last detail, be sure to subscribe to our YouTube channel and follow us on Facebook, Twitter, and Instagram! Sweet dreams, everybody.
Sarah Riccio
Sarah is the former senior writer and bedding expert at Sleepopolis. She received her degree in Creative Writing from Brooklyn College and spends her free time doing stand-up, making pasta, and hanging with her cats.