When you talk about world changers, most people wouldn't consider mattress companies near the top of the list of those doing good and making a difference in their communities. This isn't without justification. If you look at the mattress industry over the last 25 years, it has consisted predominately of mega brands owned by the very rich that dominant and control the vast majority of the industry, product development, and pricing…in any case, giving back and helping those in need has never been something I have associated with the big traditional retail brands.
This past year the mattress industry saw a huge shake up. A number of new start-up companies entered the industry and they are taking direct aim at Tempurpedic, Serta, Simmons, and the other big brands. Leesa, Tuft & Needle, and Yogabed are just a few of the new contenders to join the mattress fight this year.
Beyond just creating a great product and offering great service, this new breed of online mattress company isn't just sitting by on the sidelines of their communities. Many are getting directly involved by donating their time, resources, expertise, money, and mattresses to help those in need.
Leesa
Leesa as a company is weird. They don't have an army of investors. They don't have a fancy NYC office. And they don't have a massive high-paid staff. Instead, they are a small team of marketing, design, and sleep experts who are building their business on a foundation of giving back. I had a chance to interview Leesa's CEO, David Wolfe, earlier this year. Wolfe's perspective on his company couldn't be further from the status quo:
"I hope that the thing that makes us different is what drives us. We're not interested in just building a big business. We see ourselves as part of a community and giving back is not a marketing gimmick for us, it's in our DNA. From my very first job as a 21 year old I've been encouraged to give part of my time and money to giving back. Now I've passed this on and everyone on my team shares the same passion. Between us we've worked with and helped people in need all over the world. Leesa is an incredible platform for giving back." – David Wolfe, Leesa CEO
Leesa's one-for-ten program represents their foundation of giving. For every ten mattresses Leesa sells they donate one mattress to homeless shelters or others in need. As you can imagine, this translates into a substantial number of mattresses. Leesa just hand-delivered their first batch of free mattress to the Union Mission in Norfolk, Virgina. 325 mattresses were specially designed and manufactured to meet the specific needs of the newly built shelter, which is opening in June.
REVIEW:  Leesa Mattress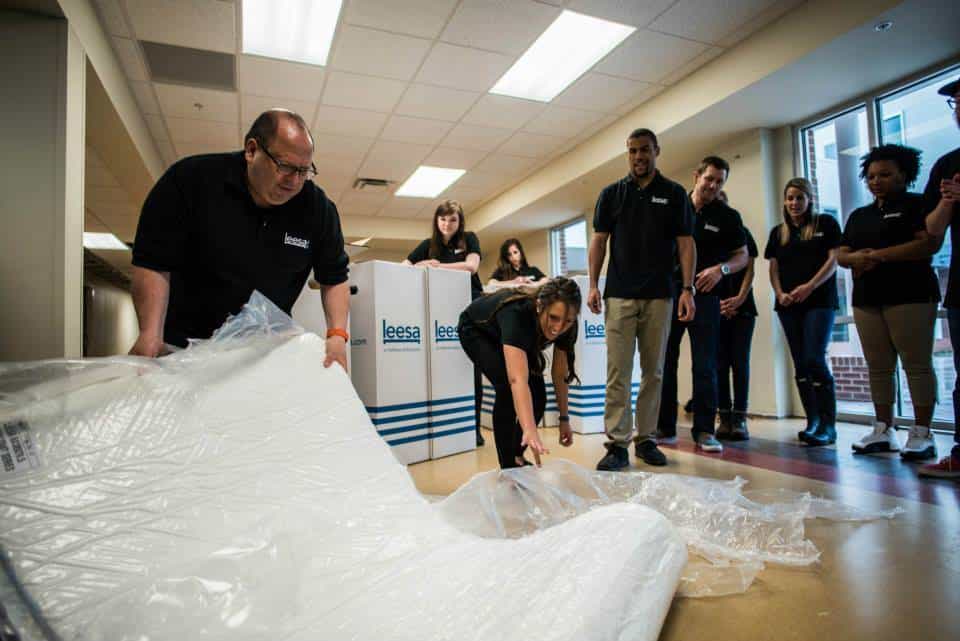 Leesa offers an impressive 100 day trial period and 100% money back refund policy. Beyond this being a great incentive for new customers to try Leesa it's also a great way Leesa helps other communities around the US. If a customer decides the Leesa isn't the right mattress for them Leesa will help to arrange for a donation center to come pick up the mattress. This helps ensure no mattress goes to waste.
Tuft & Needle
When it comes to giving Tuft & Needle takes a hands on approach. Based out of Phoenix, Arizona, Tuft & Needle is actively getting involved within the local community. Within the last 6 months Tuft & Needle has made two sizable donations.
Moma's House – Tuft & Needle donated and hand-delivered 21 new mattresses. Moma's house helps female survivors of abuse rebuild their lives and recover from their past.
Chrysalis – Tuft & Needle doubled their support and once again hand-delivered 40 new mattresses. The Chrysalis shelter helps women, men, and children who have been the victim of violence and abuse.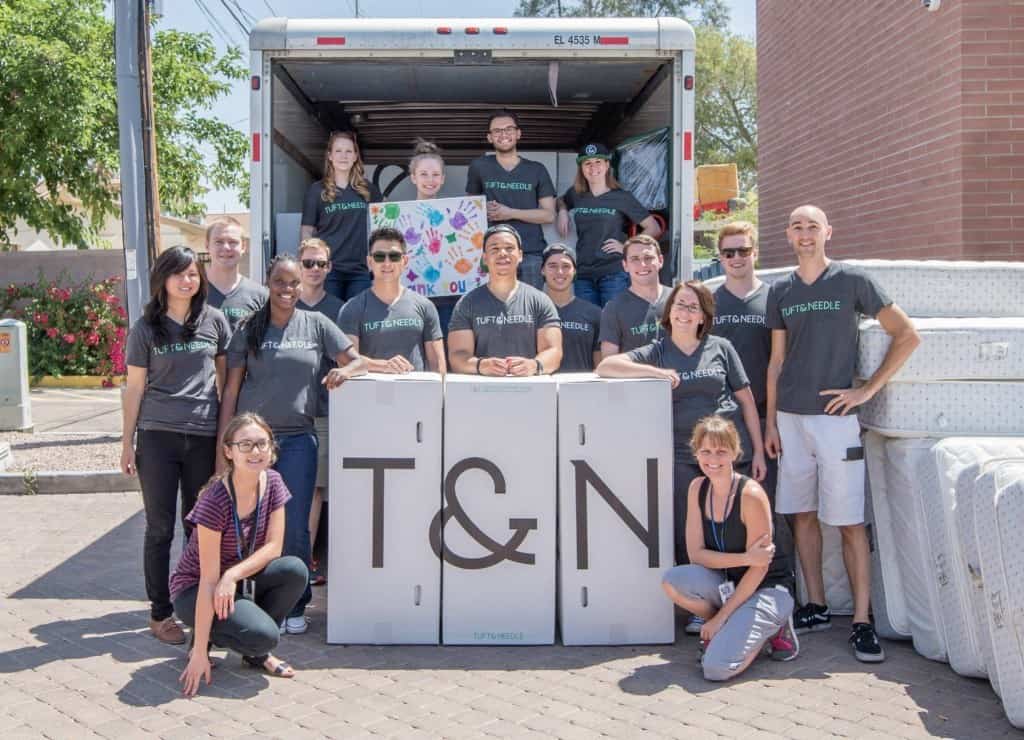 Tuft & Needle brought their entire Phoenix based team out to deliver the new mattresses and also helped remove and dispose of the old mattresses. As a Phoenix native myself it really brings a smile to my face to see a local company so actively involved in bettering the lives of those around them…but especially the lives of people that are sometimes forgotten or cast aside.
REVIEW:  Tuft & Needle Mattress
Additionally, like Leesa, Tuft & Needle also donates or recycles returned mattresses to local communities around the US.
Yogabed
Like Leesa and Tuft & Needle, Yogabed is actively using their company to improve and better lives from coast-to-coast.
Yogabed has partnered with several shelters across the country and is planning to donate $50,000 worth of mattresses over the next 12 months. Additionally, a portion of every Yogabed sale goes to a fund that will be donated to cancer research. Within their first year of operation Yogabed hopes to contribute over $100,000 to charities and others in need.

Giving back isn't a marketing tactic for Yogabed. As a result, you won't find much about Yogabed's philanthropic programs on their website. They have made the decision to quietly make their mark and laser target their donations at selected charities where they know they will have the maximum impact.
REVIEW:  Yogabed Review
Just like Leesa and Tuft & Needle, Yogabed also helps give back by donating any returned mattresses to local charities.
Final Thoughts
Despite their relative size that isn't stopping any of these world changers from making a big impact. For my fellow nerds out there I think Gandalf's quote from the the last Hobbit movie sums it up perfectly:
"[Some believe] it is only great power that can hold evil in check, but that is not what I have found. I found it is the small everyday deeds of ordinary folk that keep the darkness at bay. Small acts of kindness and love."
Hats of to Leesa, Tuft & Needle, and Yogabed. Keep up the good work!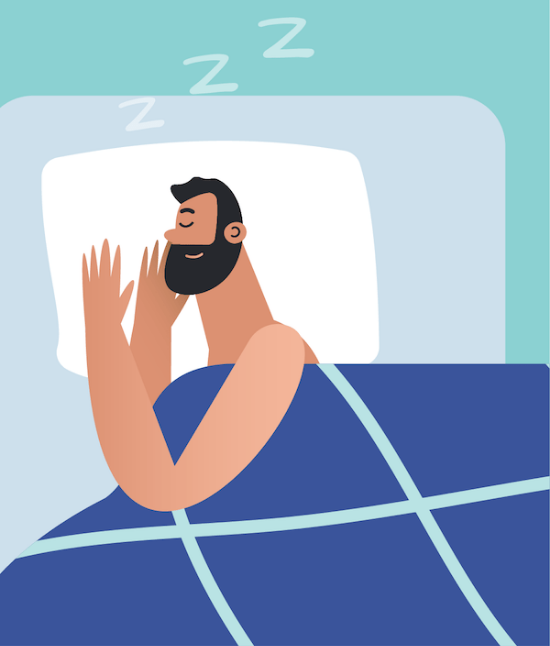 Sleepopolis Team
The Sleepopolis team is all about helping you sleep better. We live, eat, breathe, and sleep (ha!) all things, well, sleep! Whether you need a new mattress, are having trouble sleeping, or are just tired of counting sheep, we've got you covered. Check back here often for the latest and greatest in mattress reviews, sleep news, or health tips, and in the meantime, sleep well.