There's no shortage of tech specs, design notes, and analysis that we could include about every mattress we review. But sometimes just knowing the basics are enough to know if it's the right mattress for you. Check out our Leesa mattress review infographic below. This infographic hits all of the key design, functionality, and pricing attributes of Leesa Sleep, one of the most popular and fastest growing online mattresses.
If you're intrigued by our infographic summary stop by and give our complete Leesa mattress review a read.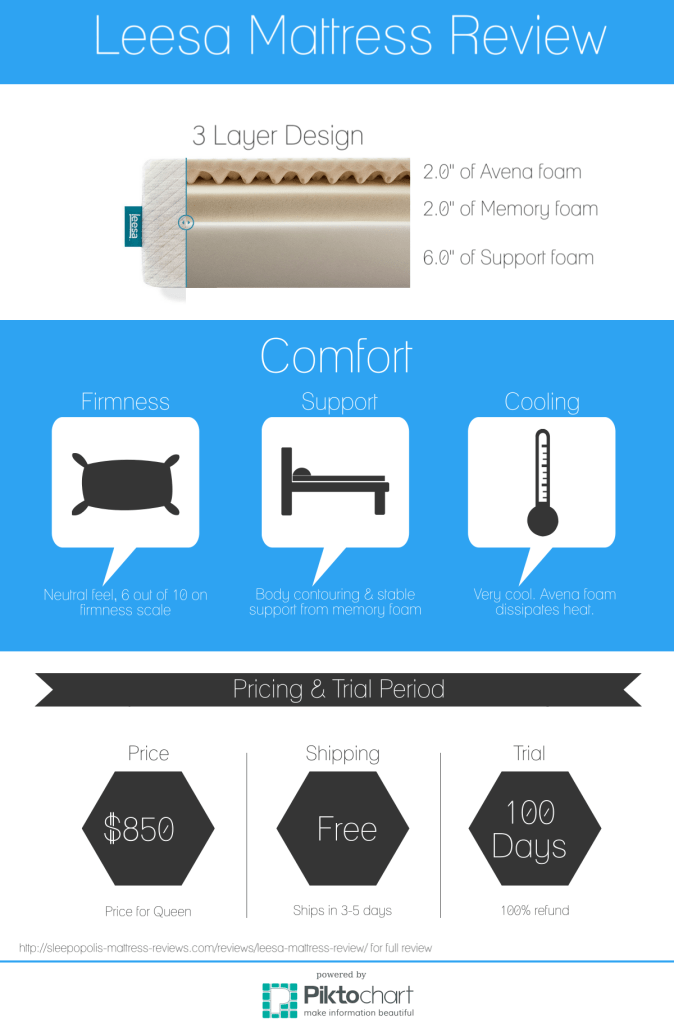 Design
Constructed from 3 separate foam layers
The top layer is 2.0″ of Avena foam. Avena foam is a latex alternative and is designed to be comfortable and provide exceptional cooling
The middle layer is 2.0″ of Memory foam. The memory foam is the support layer. It provides great body contouring and pressure relief, allowing consistent blood flood and minimizing your need to toss and turn during the night.
The bottom layer is 6.0″ of Support foam. The support foam acts as a strong foundation for the other foams to rest upon and gives the mattress shape.
Comfort
Firmness – the Leesa sits at a 6 out of 10 on the firmness scale. It has a fairly neutral feel. The Leesa was designed to be a balanced firmness so that it meets the needs of most sleepers.
Support – the combination of the Avena foam and memory foam create a strong team of both support and comfort. As mentioned above, the memory foam provides great pressure relief from top to bottom.
Cooling – the layer of Avena foam (a latex foam alternative) allows for breathability and minimizes heat build up, allowing the mattress to sleep cool during the night.
Pricing & Trial Period
| Size | Price |
| --- | --- |
| Twin | $595 |
| Twin XL | $625 |
| Full | $895 |
| Queen | $940 |
| King | $1070 |
| California King | $1070 |
Shipping is free and comes in 3-5 days. The mattress is shipped compressed in a large box. Once it arrives you simply cut it loose from its box and plastic bindings. It will take the mattress several hours to decompress.
The trial period is one of the best available. You have 100 days to sleep on the Leesa. If for whatever reason you don't enjoy your sleep experience you can request a refund at any time during the trial period.
Still need more info? Give our full Leesa mattress review a read here. If you think the Leesa is right for you make sure to use our $75 instant discount promo code here.
The following two tabs change content below.
The Sleepopolis team is all about helping you sleep better. Whether it is through extensive sleep product reviews, sleep tips, or debunking sleep myths, we're here for you!
Latest posts by Sleepopolis Team (see all)