UPDATE: New Love Bed design for 2016 has launched, see new Love Bed unboxing here & read updated Nest Love Bed Review here
One of the biggest concerns I hear from my readers when they are searching for a new mattress, especially foam mattresses, how is it for sex? This is a fully warranted and valid concern. Foam mattresses have got a bad reputation as being not very good for sex, a reputation that has merit to some degree. However, Nest Bedding's newest mattress creation, the Love Bed, is aiming to change all that.
[box type="download"] Love Bed Coupon: Save $50 on the Love Bed with code "SLEEPOPOLIS"[/box]
It's the first online mattress I have seen that's been specifically designed with both great sex and great sleep in mind. Watch the video below as my wife and I unbox our brand new Nest Love Bed mattress.
Nest Love Bed Mattress Review After Night #1
Great bounce – no mattress designed for great sex would be complete without good bounce. The Love Bed definitely delivers in this area. With 3″ of natural latex as the top layer it does a great job of maximizing bounce for amorous activities. It's not quite at the same level as an innerspring in terms of bounce, but it's not far off.
Cool cover – the cover uses a bamboo blended fabric. It has a great softness, good thickness, breathability, and a classic…yet subtle modern style. The design is very understated. I like the simple aesthetic touches of grey along the perimeter and within the top piece of fabric.
Disappointing edge support – I still need to do all of my formal edge support and other sinkage tests, but after my initial quick checkout of the edges I'm a bit disappointed. It's not that they are any worse than any foam mattress, but they aren't any better either. I expected a little better edge support for a mattress optimized for sex.
Good deep compression – even though it's only 10″ thick it does a good job of maintaining deep compression support without bottoming out. This is most likely due to the convoluted foam core. It's tough stuff and does a good job of keeping the mattress cool and providing great support
Impressive trial period – 100 days has become basically the standard in terms of trial period, which the Nest Love Bed mattress has. However, they coupled this with a 365 day comfort guarantee. This means you have 100 days to test the mattress…if you don't like it you can return for a 100% money back refund, but you also have a full 365 days on your comfort guarantee, which will allow you to exchange it for any other Nest mattress within 1 year. Really good stuff.
One other fun bit in in the box…the official Nest Bedding Love Bed bear! Pretty cute idea.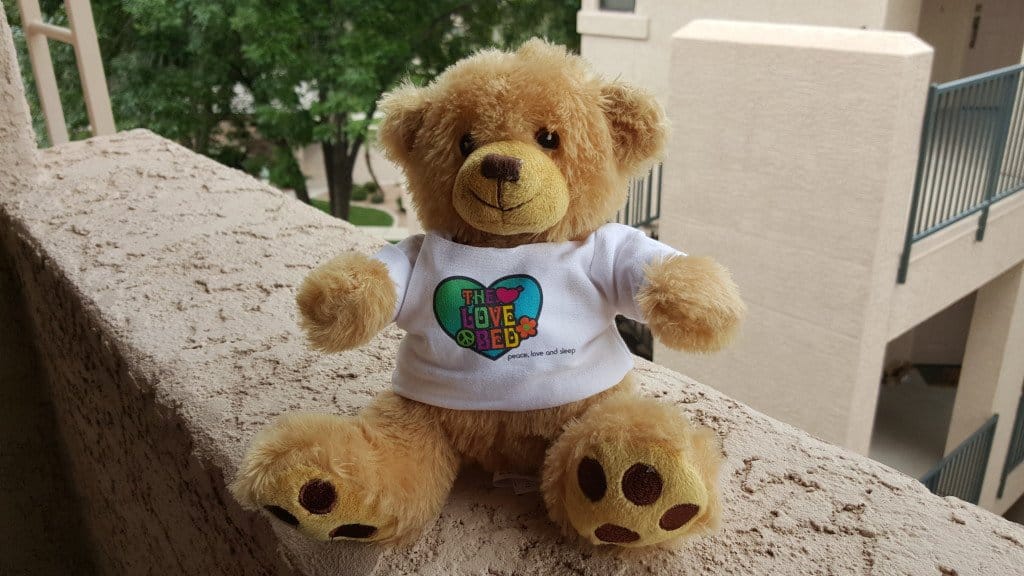 My full review of the Nest Bedding Love Bed mattress will be coming very soon. You can expect it within the next week.
Full review of the Nest Love Bed now available here.
For more information on the Love Bed visit NestBedding.com.
The following two tabs change content below.
The Sleepopolis team is all about helping you sleep better. Whether it is through extensive sleep product reviews, sleep tips, or debunking sleep myths, we're here for you!
Latest posts by Sleepopolis Team (see all)