It's time for a new mattress unboxing. Meet the Yogabed! Yogabed is the newest player in the ever growing online mattress industry. With a litany of existing competitors from Leesa, Casper, Tuft & Needle, and more, Yogabed has an uphill battle to prove itself to become part of the family.
My Yogabed came in the mail a few days ago, so I'm only a few nights into my sleep test. However, I did want to show everyone our Yogabed unboxing experience.
Watch our unboxing video below:
A couple of weeks ago I had a chance to talk with Yogabed founder, Chris Marsh. In addition to providing me with all of the details about the Yogabed he also was gracious enough to setup a $50 discount promo code for Sleepopolis readers. Simply enter "SMR50" at checkout to get a $50 discount on any Yogabed mattress.

As I said above, I am only a few days into my Yogabed test, so it's far too early to pass judgement. However, the first few nights were pretty good. The Yogabed is one of the more unique mattresses I've slept on, opting to utilize a custom foam of their own creation, Yoga Instant Response Foam, as opposed to latex or memory foam.
The Yogabed also includes two Yogabed pillows, also made from the Yoga Instant Response foam material. I'm definitely liking the pillows more than I thought I would. Most foam block style pillows end up being too firm for my taste. The Yogabed pillows are quite a bit more cuddly and moldable, especially compared to most foam pillows.
Also included in the box was: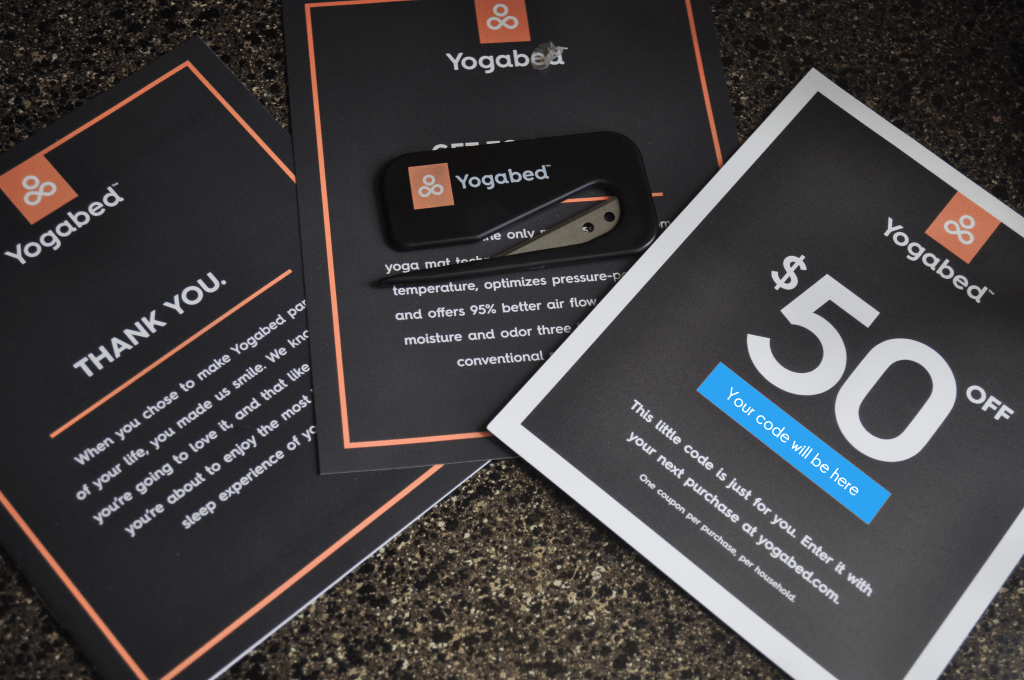 Thank You Booklet – has some basic instructions and helpful tips on enjoying the mattress
Unboxing Tool – a letter opener type tool you can use to unbox your mattress, though if you've watched any of my other unboxing videos you know for me it's always going to be my folding Buck survival knife or bust :)
A $50 Coupon Code – you can use it buy other stuff on Yogabed.com, in addition to their mattress they have sheets, a mattress protector, pillows, and an extra cover. Alternatively, you could share it with friends or family so they can save $50 on a new mattress. It does expire 45 days from purchase, so you don't have much time to wait.
One final reminder, if you do decide to give Yogabed a try make sure you use our $50 discount promo code. You'll save $50 instantly. Just enter "SMR50" at checkout.
I hope you guys enjoyed our unboxing video. We'll have more to come on the Yogabed soon, including our full contextual and video review within the next week.
Let me know via the comments below if there are any specific features or questions you have and I'll make sure they are addressed in our upcoming reviews.
The following two tabs change content below.
The Sleepopolis team is all about helping you sleep better. Whether it is through extensive sleep product reviews, sleep tips, or debunking sleep myths, we're here for you!
Latest posts by Sleepopolis Team (see all)