Massage For Sleep: The Ultimate Guide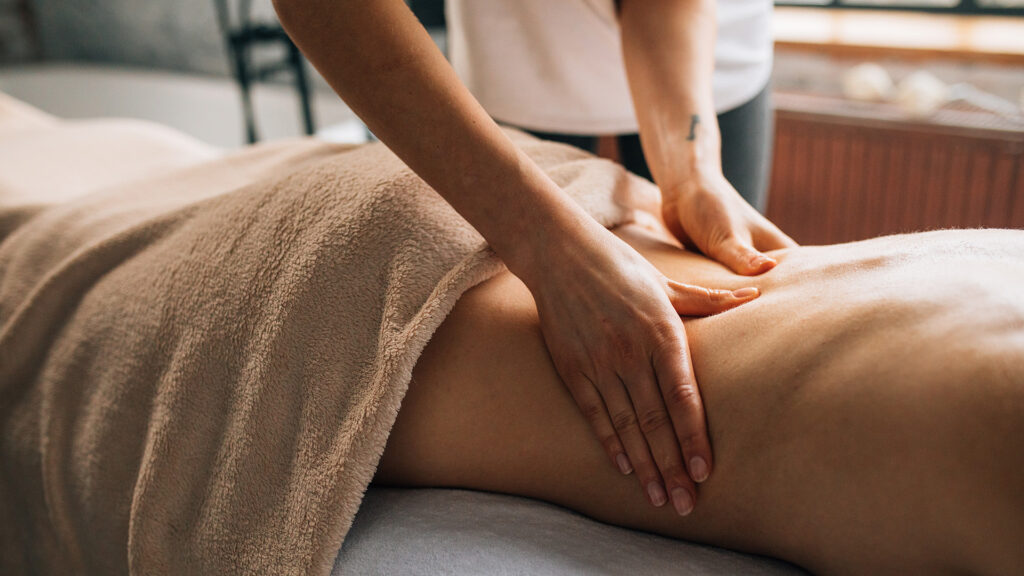 Massage therapy can work wonders for relieving tension, easing stress, reducing fatigue and generally promoting relaxation. But the same benefits can make for a better night's sleep, too. That's the position of the American Massage Therapy Association, and there's a fairly wide body of research to back it up. We combed through the studies and chatted with a certified massage therapist for everything you need to know about massage for sleep.
How Does Massage Help with Sleep?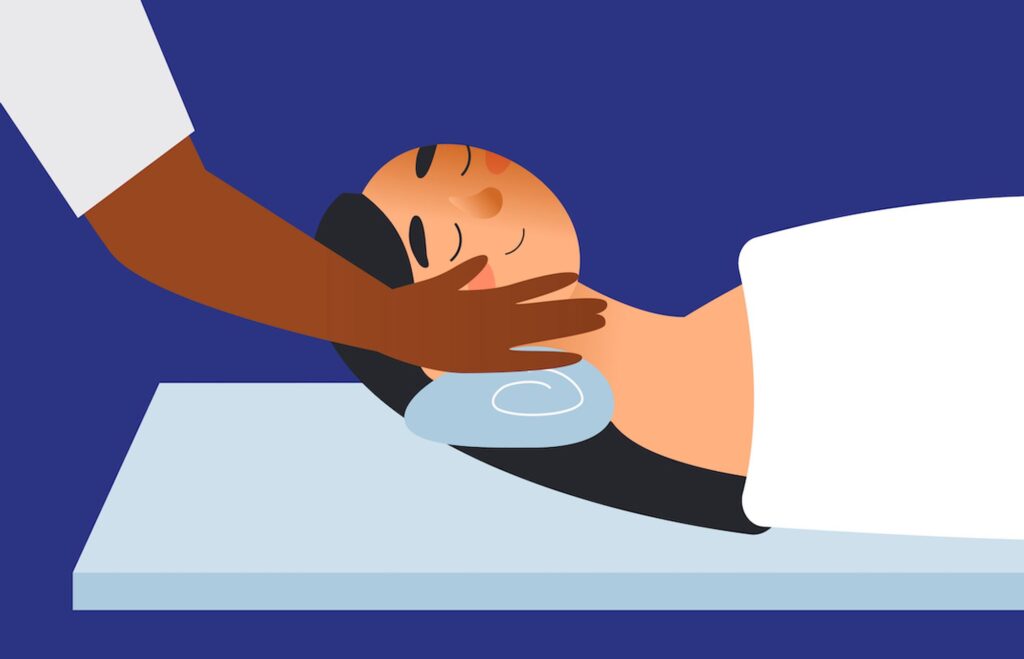 Massage therapy is a tool for improving mental and physical health. The act of pressing, rubbing and otherwise manipulating the skin, muscles, connective tissues, tendons and ligaments, with varying degrees of pressure, has a number of benefits. Massage helps boost circulation, supports the immune system, releases muscle tension and increases relaxation, all of which help mitigate symptoms of stress and anxiety. Physically relaxing the body and quieting the mind can make it easier to fall asleep.
How Does Massage Affect Sleep Quality?
Studies confirm that massage can have a significant impact on sleep quality by reducing anxiety and physical discomfort. But it's not simply because massage feels good. "Massage lowers stress levels by reducing cortisol levels in the body," Audra Testa, licensed massage therapist, tells Sleepopolis. "It also lowers the body's fight or flight hormones, including epinephrine, adrenaline and norepinephrine."
In addition to cortisol levels in the body decreasing after massage therapy, serotonin and dopamine levels rise. Both neurotransmitters play an important role in sleep quality. Plus, the brain uses serotonin to make melatonin, the hormone needed for a functional sleep-wake cycle.
What Type of Massage Is Best for Sleep?
To promote sleep specifically, Testa recommends Swedish massage. This form of massage therapy is known for its relaxation benefits. Scalp and facial massages may be beneficial for stress and tension relief, too. "It's always surprising how much tension can be held in the muscles of the face and head," says Testa.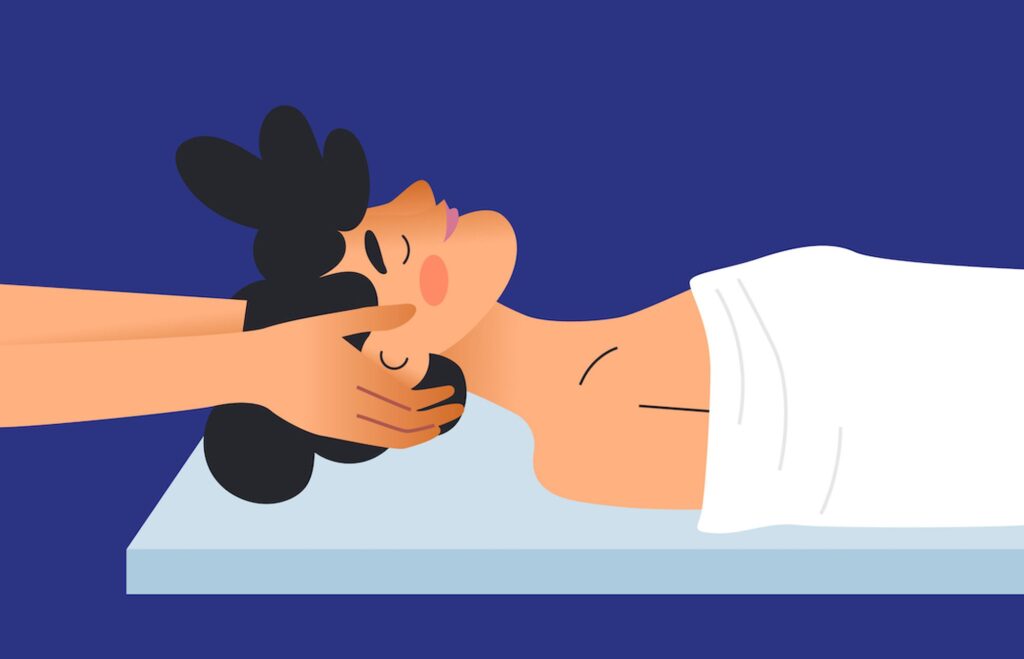 Massage for Insomnia
Insomnia is a complex condition with many causes. It's classified as a sleep disorder, with symptoms that include difficulty falling asleep, staying asleep, or falling back to sleep after waking. Relaxation techniques can help improve symptoms of insomnia, making it easier to both fall asleep and enjoy more restful sleep.
Testa says Swedish massage is based on Western medicine and principles of both anatomy and physiology. She recommends two techniques common to this type of massage. "Effleurage is a succession of strokes applied by gliding the hand over an extended portion of the body. Petrissage includes lifts, squeezes and presses of the tissue," says Testa. "Both techniques are relaxing and can work well for someone who struggles with insomnia."
The right amount of pressure is important, but it's also personal. "Some people enjoy the deeper pressure and breaking up of muscle tissues to relieve tension and lessen stress," says Testa. "Others enjoy a lighter pressure."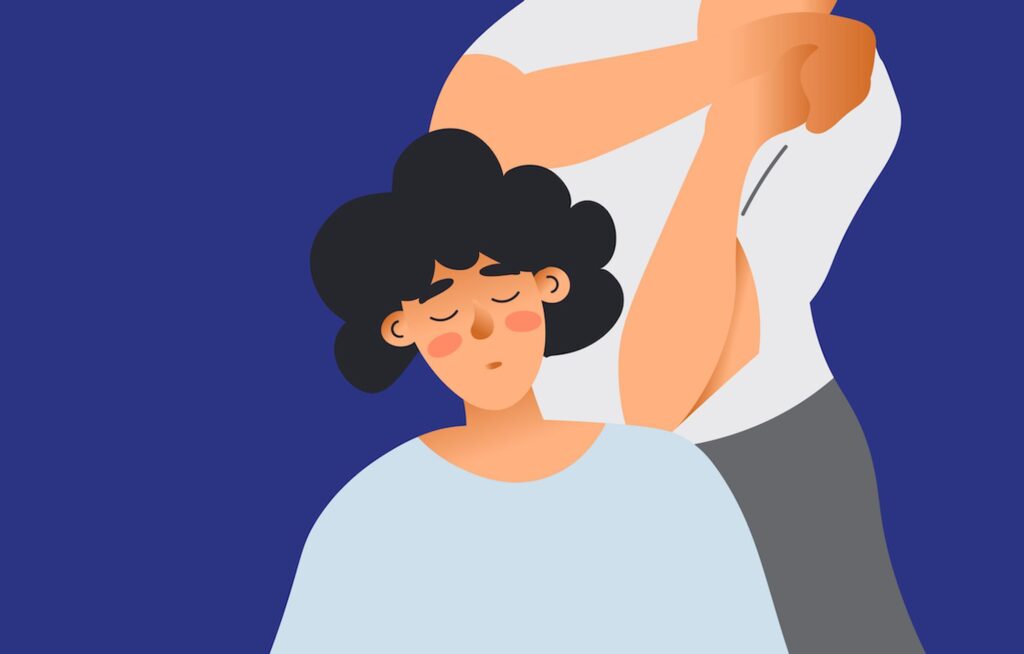 Massage for Anxiety
People with anxiety disorders often experience sleep issues. One study finds that massage therapy can be considered an effective treatment method for relieving symptoms of anxiety. "For someone with high anxiety levels and a brain that cannot seem to shut off, I would suggest gentle stimulation to the soft muscle tissues," says Testa. She recommends the same techniques of effleurage and petrissage, with a special focus on areas of pain or tension. "Holding pressure on sensitive trigger points may also be beneficial."
She also advises against vibration, percussive or friction movements, which can be overly stimulating.
Massage for Aches and Pains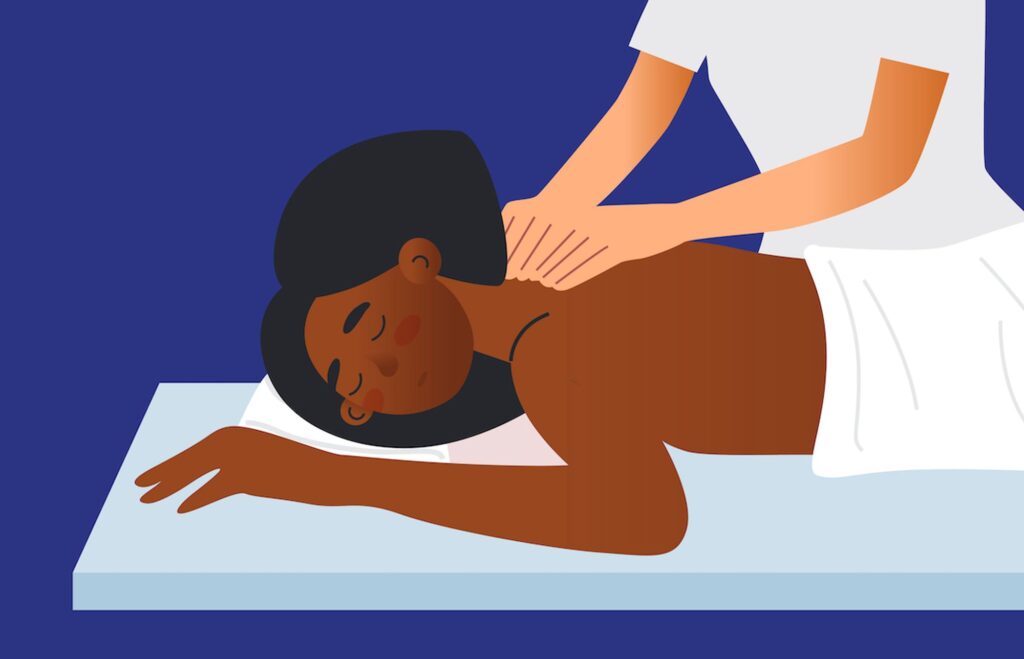 Massage therapy has been successfully used to relieve pain that stems from a variety of sources. "Massage can assist in decreasing blood pressure levels and easing aches and pains in the body, including chronic muscle tension, low back pain, and tension headaches," says Testa. Because of its relaxing effects, massage therapy essentially interrupts the brain's transmission of pain sensations in the body, Testa says. "It's able to stimulate other sensors in the central nervous system."
Techniques for pain relief can vary depending on the client, but Testa finds both Swedish and deep-tissue massage effective. She also recommends myofascial release, a gentle form of massage that releases tightness and eases pain in the connective tissue covering muscles.
Massage for Perimenopause
During perimenopause, fluctuating estrogen levels can affect sleep patterns and make it hard to get a good night's sleep. This life change is also a time when women are more likely to experience anxiety or depression. "Massage may be beneficial to someone experiencing symptoms of menopause because of the increased serotonin and dopamine levels after a massage," says Testa.
She recommends deep tissue and Swedish massage, with a focus on specific areas of pain or tension.
Massage for Sleep Disorders
Sleep disorders vary, but a commonality among them is the negative effect on the body's circadian rhythm. Since massage therapy increases serotonin levels, which influences melatonin production, it may help reset the body's natural sleep and wake cycle.
To promote sleep in those who are experiencing sleep disorders, Testa recommends Swedish massage techniques.
At-Home Massage Techniques for Sleep
To promote sleep, Testa recommends a bedtime relaxation routine that incorporates a few soothing elements. Here's what she suggests:
Begin by unplugging from technology and dimming the lights.
Close your eyes and take five slow, even breaths.
Move through a series of gentle stretches to begin working out any tension that's accumulated in the body throughout the day.
Then, try one of the following massage techniques.
Soak your feet in a warm Epsom salt bath. Use the thumbs to press into the arch of one foot, working in a circular motion. Focus on mindful breathing as you rub. Then, switch feet.
After cleansing your face, apply a facial oil. With clean hands, gently rub your palms in a circular motion from the cheeks to the temples. Repeat a few times.
"At-home massage products, such as electronic foot and back massagers, can also be a great tool," says Testa. They work well for relieving tension in areas like the upper and lower back, shoulders and neck.
FAQs
How long should a massage be to help with sleep?

One study found that just ten minutes of massage therapy was enough to relieve stress and promote relaxation. Interestingly, the type of massage itself didn't matter. That means a short massage from a partner could be enough to help you physically and mentally unwind in preparation for sleep.
Why do I sleep better after a massage?

Massage therapy offers a number of physical and mental benefits, including stress relief. "The calming of the nervous system is so important, even more so in this day and age," says Testa. "A good therapeutic massage promotes a feeling of calm, eases aches and pains, and relieves stress." No wonder you feel better!
The Last Word From Sleepopolis
Massage therapy may feel like an indulgence, but it's a wonderful form of self-care that has real benefits for your physical and mental health. By relieving stress and tension, it may also help you enjoy a better night's sleep. If you're struggling to sleep well, a little massage therapy as part of your relaxing bedtime routine may make a big difference.
Sources