As babies grow into toddlers, there are a handful of big changes and challenges, one of the biggest being how to transition from a crib to toddler bed. The exact time that this happens will vary between every child, but your little bundle of joy will likely know when his or her time in the crib is coming to a close.
This guide takes you through a few tips and tricks to help make the transition from crib to toddler bed a little easier.
Mattress and Bed Size Dimensions
When infants are first born, many may spend the first few weeks in a bassinet or co-sleeper, but it isn't long before they have outgrown their cramped quarters and are ready for something larger. Some babies may start out in a crib from night one.
Every baby is different and all parents are different regarding what they feel comfortable with. Whatever you decide to do, the smallest bed dimensions begin with a mini-crib and go up from there, as the child grows.
Mini-Crib Size Bed Dimensions
This is the smallest mattress you can get, at 24"W x 38"L. This mattress is typically used for newborns and children up to 2 years old and can be a great option for rooms that are tight on space. This size of mattress can fit into portable cribs that are narrow enough to fit through doorways or be stored in small areas.
They are also typically 5″ or less. Many mini-cribs are also collapsible so they can fold up when not in use.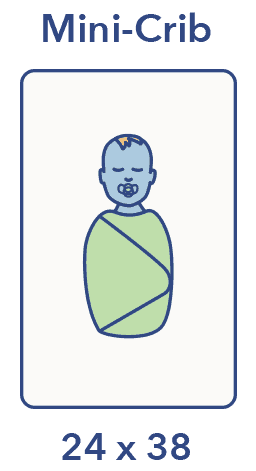 Crib Size Bed Dimensions
The minimum size for a standard crib size mattress is 27.25" W x 51.625" L and 6" thick (maximum). This size is mandated by the federal government through the Consumer Product Safety Commission (CPSC) guidelines to ensure a safe sleeping environment for your little one.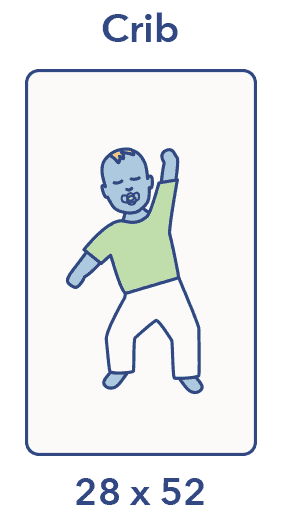 This generally puts crib dimensions around 28" W x 52" L. When selecting a mattress to fit into a crib, be sure that it is a snug fit. Avoid any air gaps on the interior of the crib, which a baby may get stuck in. When considering firmness, a crib mattress will generally need to be firmer than what an adult sleeper might prefer and contain no loose or soft bedding.
Firmer mattresses help prevent babies from suffocating on soft surfaces and are even said to lower the risk of SIDS (sudden infant death syndrome) according to the Mayo Clinic.
Toddler Size Bed Dimensions
A toddler size mattress is a little bit of an oddball as far as bed sizing is concerned. With dimensions a minimum of 27.25" W x 51.625" L, a "toddler mattress" is actually the same size as a crib mattress. The main differences between the two are firmness and frame type.
A toddler mattress may be softer than a crib mattress. Toddlers have full head control and may sleep in any number of sleeping positions. Since you don't have to worry so much about suffocation, softer mattresses may be used for toddlers, if they prefer the feel.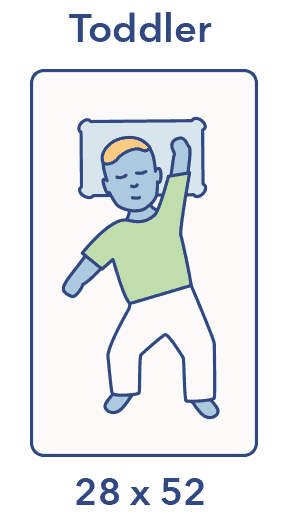 Some crib mattresses may even be flippable, with one firm side for infants and one softer side for toddlers. Young children quickly outgrow most things, so to have a mattress that can last a couple years longer can be a nice feature to any mattress.
The other main difference between crib mattresses and toddler mattresses is frame type. Crib mattresses sit within the rails of a crib, often on a raised platform to make it easier to access younger babies.
BEST: Best mattress for kids
Once a child is ready for the toddler bed, this mattress is simply put on a small bed frame without the rails and closer to the ground. These bed frames are even available in fun shapes and styles, like an plastic race car, a pirate ship, or princess bed.
Nowadays, many cribs are convertible cribs, meaning they can transform from a standard crib to a toddler bed to a Twin-sized bed. Some may even expand all the way up to a Queen-sized bed.
When to Transition from Crib to Bed?
The age at which a child may outgrow his or her crib and need to transition to a "big kid bed" varies from child to child. If your child is safely sleeping through the night in his crib, there is no need to move him to something larger.
Around the age of 2, some children seek to escape the crib, which can sometimes lead to dangerous situations as they try and maneuver their bodies over the safety rail. It is important to make that sensitive transition to a toddler bed before safety becomes a concern.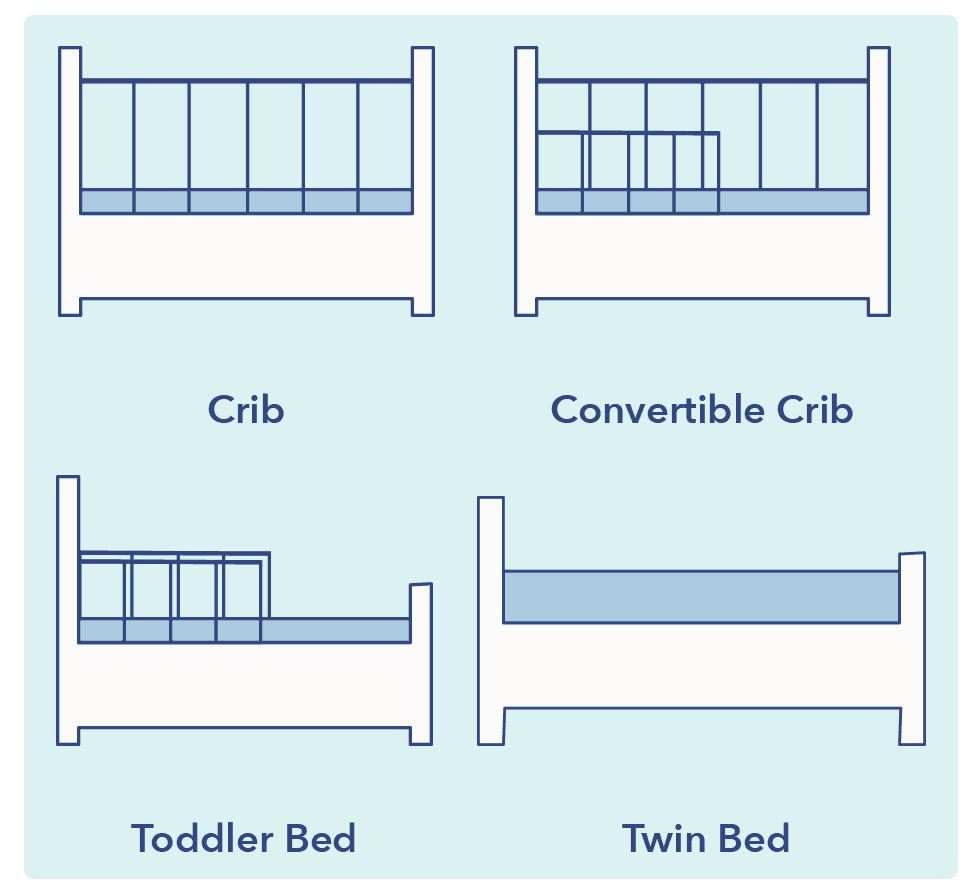 How to Ease the Transition to a Toddler Bed
There are a couple things you can do to ease the transition from crib to toddler bed." Following a couple easy tips will help to ensure that it is a smooth process for both you and your toddler.
Make sure it's their idea – Toddlers are a special kind of emotional human, who are just learning their place in the world. They can go from happy to sobs in an instant. With so many changes happening daily, some things of comfort may be hard to let go of. When toddlers are ready to give up the crib, they will begin to show some signs of readiness, so it's important to wait for those signs before attempting a big move. If your child is trying to climb out of the crib or asking for a "big kid bed," these are two great signs that your child may be ready to make the transition.
Avoid Eviction – Moving  from the crib so that a younger sibling can use it is often a troublesome process. In many cases, it would be better to buy or borrow an extra crib until the older child is ready to make the switch. The birth of a younger sibling may cause some new emotions from your older child, so be prepared. To make sure the loss of the crib is not associated with the new birth, try to make the transition at least 6-8 weeks prior to the due date. This will give everyone plenty of time to adjust.
Let them get involved – When you're setting up the new bed, let your child check out the process while it's being assembled and maybe even help on the kid-safe steps. You can also invite them to come along and help pick out their new bedding. Bedding that features a favorite color or character may help your child to accept the new bed more easily.
Throw a "big kid bed" party – Another way to help get your child excited for the first night in his or her new bed is to throw a "big kid bed" party. Talking up the event in the days before the party is a fun way to let your kiddo know a "big kid" change is coming. Having family or friends over to celebrate the occasion will help to reinforce to the child that the new bed is exciting and fun—not a punishment.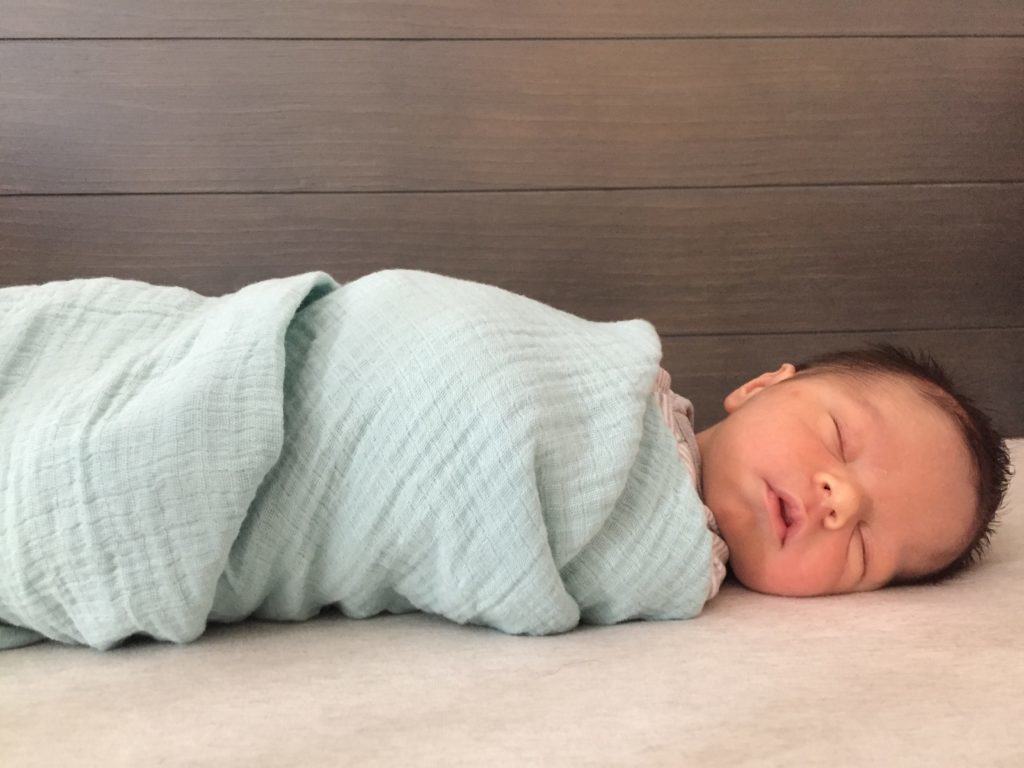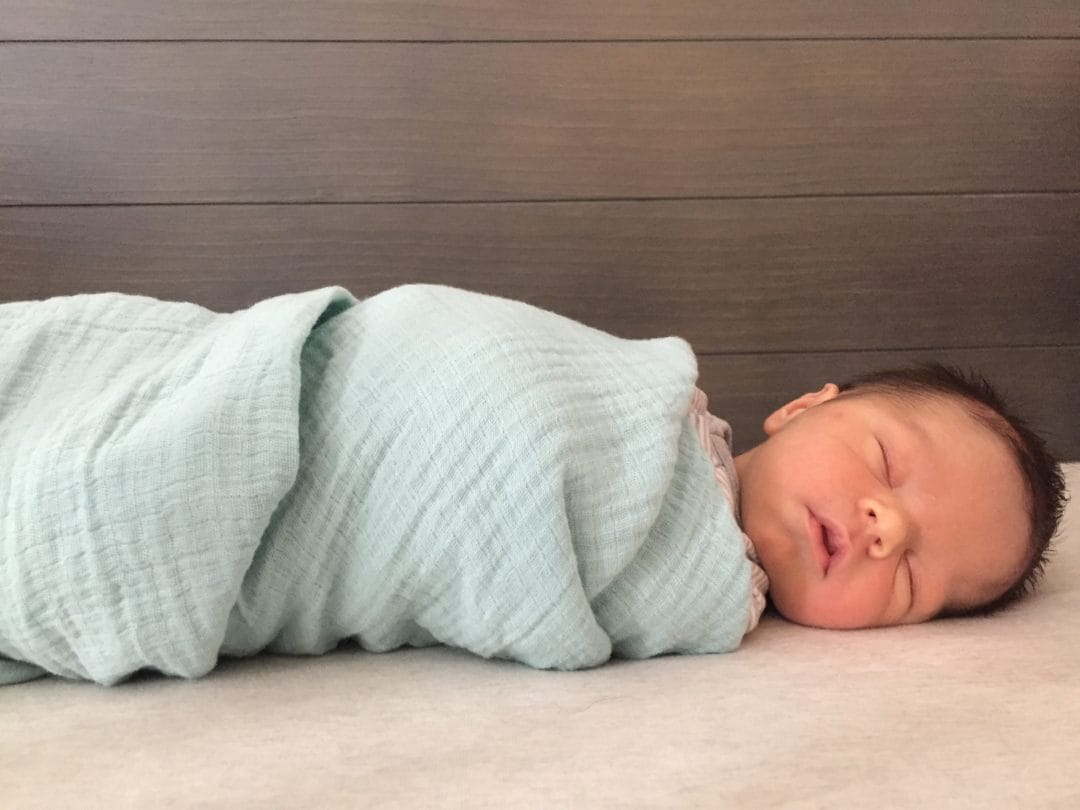 How to Choose a Toddler Bed
When selecting a toddler bed for your child, there are a few important characteristics of the new bed that you may want to consider. Following these tips will help to ensure that your child's new bed is a safe, fun, and comforting place to be.
Consider a low platform bed – Bed height may play an important role, now that your child is free to roam. While it is unsafe for children to scale the sides of a crib and jump out, it may also be unsafe for them to jump out of a bed that is too high. Low platform beds provide comfort and safety, allowing your child to easily get into and out of bed.
Consider adding toddler rails – A toddler rail, sometimes included with convertible crib sets, is a short rail that can go on one or both sides of the bed. This rail is usually 12" or less and extends about halfway down the length of the bed. For children who have just recently made the switch from crib to toddler bed, this rail helps to keep them from rolling out of bed and gives them a sense of familiar security.
Avoid frames with gaps or sharp corners – For a child with newfound freedom, sharp corners or gaps in the frame may be a hazard. Some kids will not have a problem with these types of frames, while others may be prone to bumping their head or getting a leg or arm pinched by the frame.
Toddler Bed vs. Twin Bed
Possibly the largest choice when making the switch from crib to toddler bed is choosing between a toddler mattress or a twin mattress. There is no right answer here. Choosing the best mattress size for your child is dependent on a variety of factors, including your child's behavior, temperament, and personal sleep habits.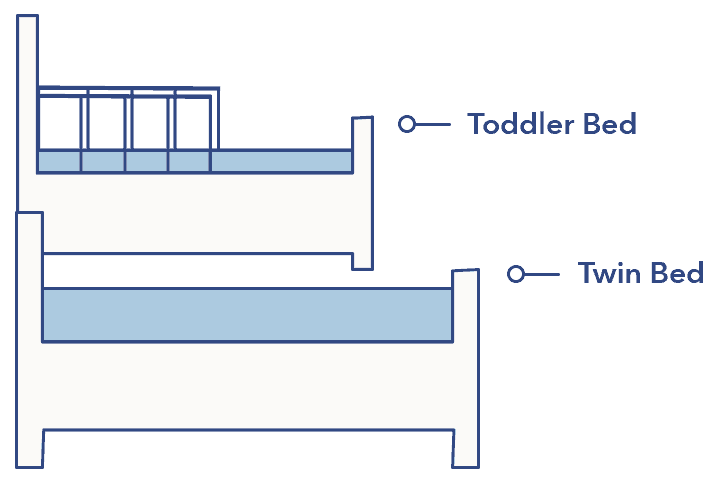 One of the benefits of the toddler bed is that it is the same size as your child's old crib. You can even use the same mattress.
GUIDE: Kid's Guide to Understanding Sleep
This helps the bed feel more familiar and leaves more space for play in his or her room. The downside of the toddler bed is that your kids will outgrow it quicker and then will have to transition from a toddler to twin bed, possibly reliving a grueling transition period.
The benefits of the twin bed are that it is larger and will last them longer. A twin mattress is 38"W x 75"L. That's almost a foot wider and two feet longer than the toddler bed.This provides nice room to grow and even provides some extra space for you to read or snuggle in bed with your little one.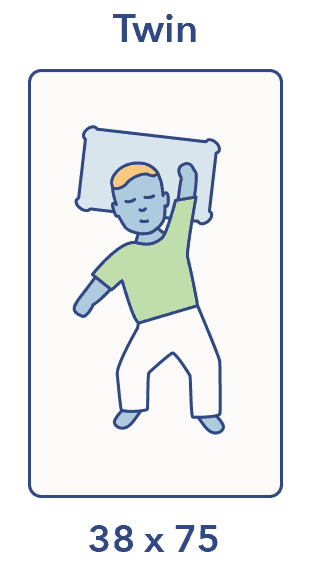 The downside of the twin bed is that it may provide too much space, making the transition from cozy crib to giant bed feel unfamiliar and uncomfortable. In addition, a twin bed also takes up a lot more area in the room. For small bedrooms or rooms being shared by siblings, a twin bed may not be a practical choice while children are still so little.
If you decide that a twin mattress is the best option, be sure to check out our guide for Best Mattresses for Kids. One of the best options is Nest Bedding's Big Kid Bed (BKB) which is designed specifically for children making the delicate transition from crib to twin bed.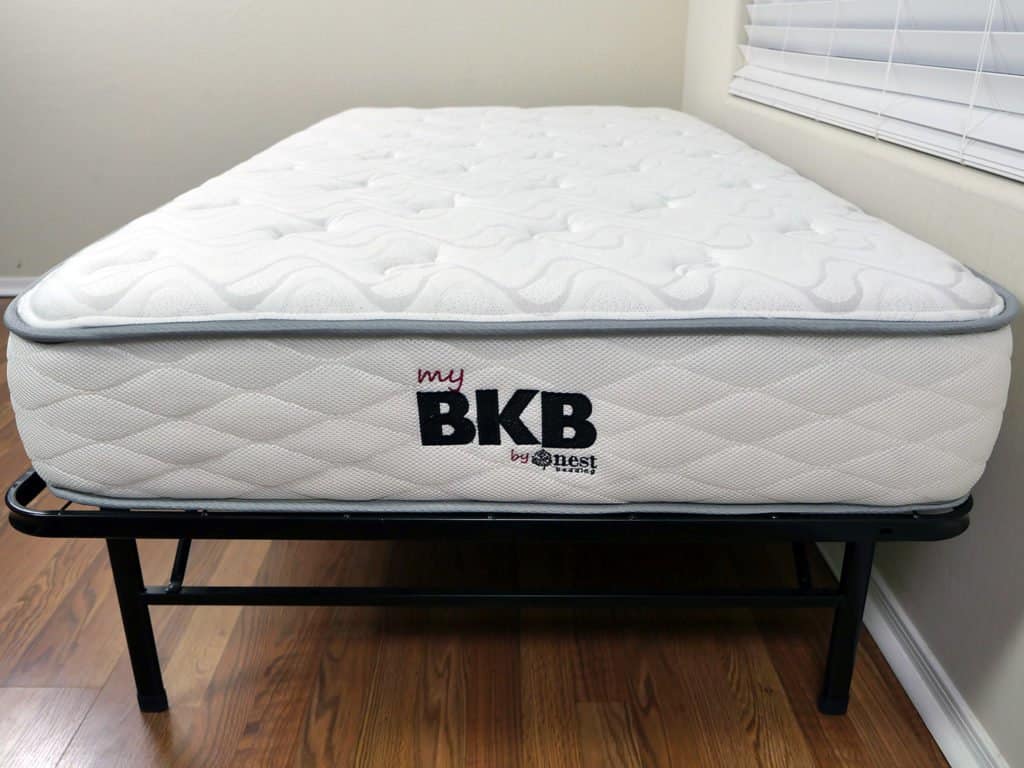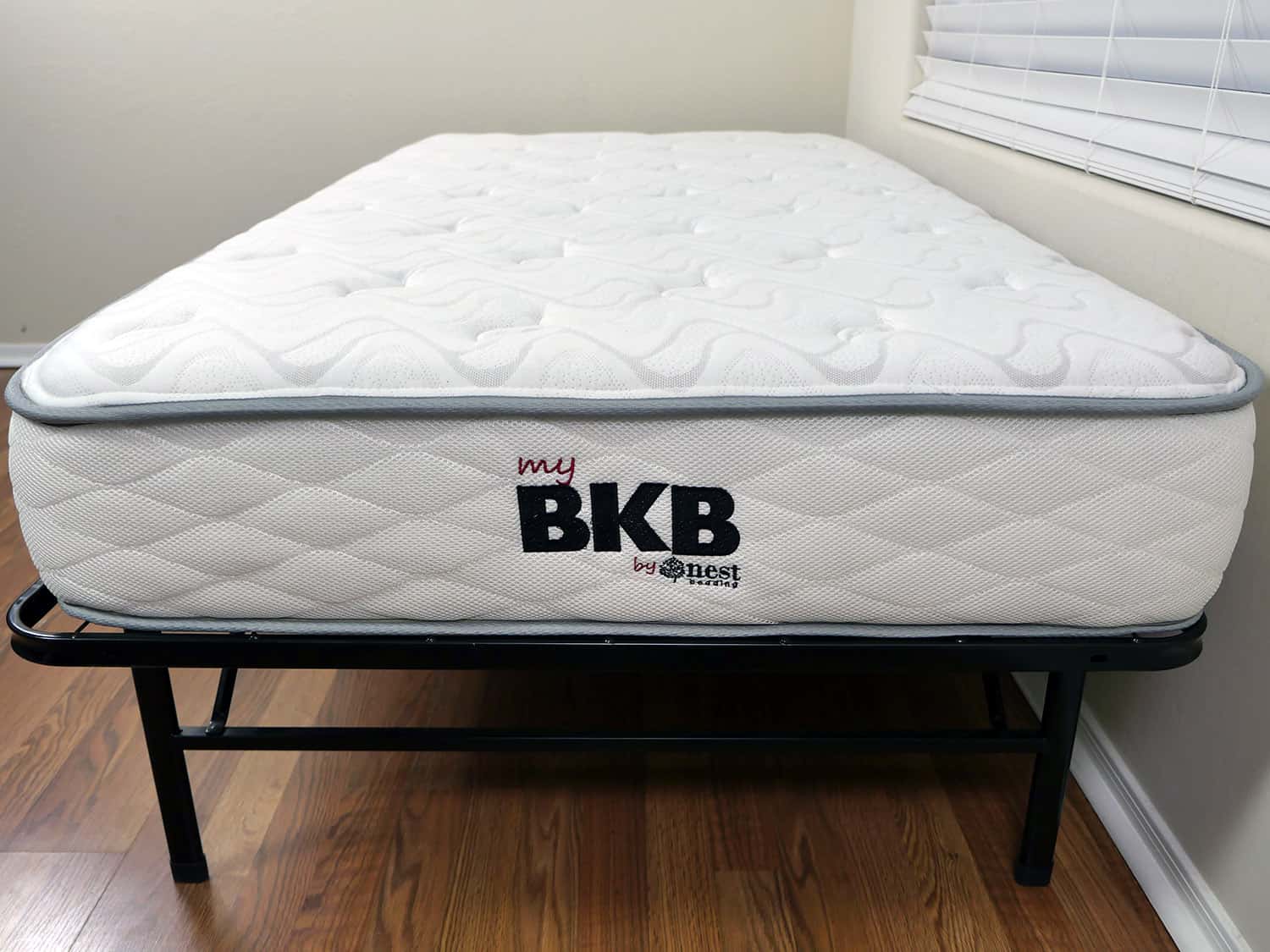 Summary
Regardless of what style of bed you choose, what size you pick, or when you decide to make the switch, shifting from crib to a toddler bed is a big change. Taking your time, waiting for signs of readiness from your child, and keeping it fun are just a few tips to help make this change go smoothly.