Shopping for a new mattress, but aren't sure whether you should do it online or in a store? Trust me, I've been there, and can say with 100% certainty that both options have their strengths… and weaknesses. But which one is better?
Well friends, that's what I'm here to answer. In this video, I'll tell you which option has the best return policies, the fastest delivery, the most affordable products, and the highest-quality beds. That way, you'll know which method is going to be 100% right for you. Let's dive into In-Store vs Online Mattress buying.
Special thanks to Layla for sponsoring this video! For more on the brand, check out my Layla mattress review as well as my Layla pillow review. You can also take a peek at my full interview with Layla founder Akrum Sheikh.
Methodology
To tease out the differences between purchasing in store and online, I'm going to break down this article into categories based off the most popular concerns folks have about buying mattresses in general: affordability, quality, trial periods, customer service, delivery, and returns. Within each section, I'll explain how the two shopping methods tackle these issues and whether or not one does it better than the other.
Though I'll admit a personal bias toward online shopping (What can I say? I love a good mattress website, wink wink), I'm not going to let that influence my thinking here. Indeed, the point of this article is to spotlight all the different characteristics of both experiences so you can make an informed decision all your own.
Now that we've dotted our i's and crossed our t's, let's see how different these methods might be!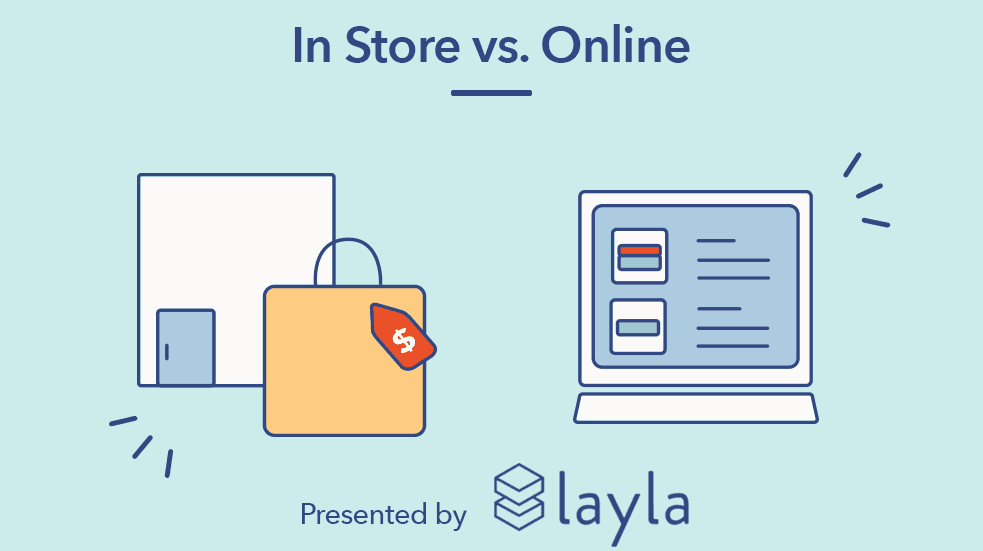 Affordability
Online
One of the biggest advantages of online mattress shopping is the affordability. There's an amazing price range available in the online market, so folks can find queen-sized beds for as inexpensive as $200 or as pricey as $5,000, depending on individual wants and needs. Mattress sites also frequently run promotions and discounts, especially around holidays such as President's Day, Memorial Day, Labor Day, and Cyber 5.
But, it can sometimes be difficult to know whether the money you're spending is worth it since you won't be able to try out the bed before you buy. While this might put off some folks, many online-only brands have managed to skirt around this issue with generous trial periods (which we'll cover a little later on in this write-up). Many mattress sites have also made the return process easier by not tacking on any return fees if you're not satisfied with your product. That being said, keep in mind that every brand is different, and you should always read their fine print regarding warranties and returns before you purchase.
Finally, many mattress sites offer accessories or bundles as part of their mattress deals. This adds extra value to your purchase
On a budget? Take a peek at my round-up of the Best Mattresses for the Money in 2021.
In Store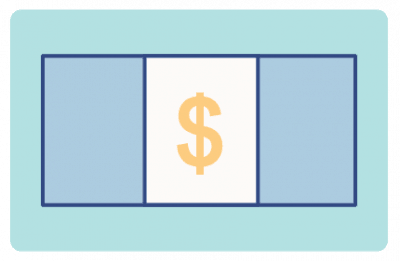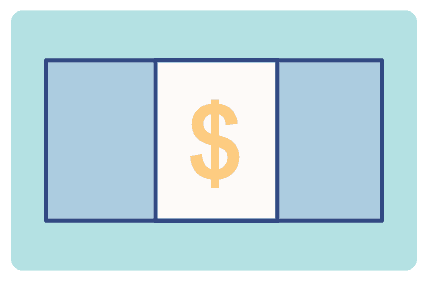 There's generally less price variability in brick-and-mortar mattress shops. While there will always be budget options available, they won't necessarily be as diverse as the ones you can find online. And the reason's simple: A store can only hold so many different types of mattresses, all of which have been chosen at the discretion of the owner. The Internet, as we know, is infinite.
But the other side of the coin is that you know what you're getting with the money you're spending. So, while you may pay more in store, you can at least figure out in the moment if the bed's right for you (though a quick five-minute test on-site doesn't really compare to what a full night's rest would be).
FAQ
Q: What is the best place to buy a mattress?
A: It really depends on personal preference! If you like the convenience of buying and receiving products from the comfort of your own home, online is for you. However, if you need to talk things out with a salesperson in real life, going to a physical store might be the better option.
Quality
Online
Yes, I know it can be kinda hard to imagine that online mattresses could be high quality, but I want you to take a moment and think about all the things you purchase off the Internet.
Pause.
Are they all cheap or low-quality?
Pause.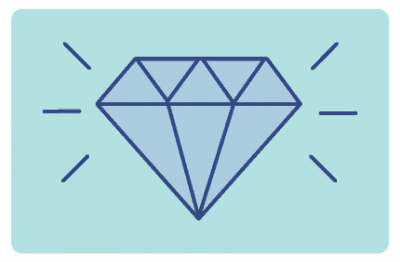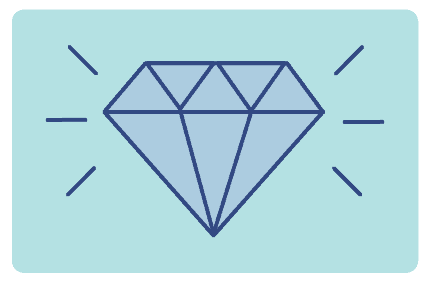 Yeah, I didn't think so, and the same goes for beds! Popular brands like Layla have made waves in the industry specifically because their mattresses are built with fantastic, high-quality materials, so you can rest easy knowing you can get a lot of bang for your buck.
My only tip is to do your research and comb over the construction specs listed on a brand's website. Pay attention to foam density (rule of thumb: the denser, the better) and special tech (phase change material, moisture-wicking properties, etc.) to really get your money's worth.
We'd also be remiss to not point out that mattress review sites such as Sleepopolis have troves of written reviews and video reviews that break down the construction and other details of each mattress. That way, you can pick the bed that's best for your preferences and sleeping position without having to leave your home.
In Store
The quality of in-store mattresses is actually quite high, most likely because mattress store owners tend to showcase the best of the best to their customers. However, one thing I really like about shopping online is that you get to see the full material breakdown of a mattress while you're checking out, which immediately clues you into its quality. Unfortunately, you can't do that in store and will have to rely on a sales person to fill you in. Also, the right mattress for you is ultimately going to come down to your individual taste and sleeping position, and you can usually find a bed that meets your needs in one of our many mattress guides. Check out my picks for the best mattresses of the year!
All that aside, getting to try out a mattress in person is ultimately going to be a better indicator of quality than knowing what's going on inside. Another tip is to figure out what kind of warranty the mattress has — the better the warranty, the higher the quality of the bed.
FAQ
Q: How do you buy a good bed?
A: First step is to figure out exactly what kind of sleeper you are (back, stomach, side, combo). Then, decide what kind of features you like (cooling, all-natural materials, pressure relief, etc.). After that, research beds that meet all your criteria using Sleepopolis' many "Best Of" lists.
Trial Periods
Online
Speaking of trying out a product before you buy it, that's an obvious flaw in the online mattress shopping experience. Put simply, you're not likely to try out your new bed before it arrives in your bedroom. However, most online brands do offer generous trial periods in which you can test out a mattress for upwards of 100 nights before deciding if it's the one for you.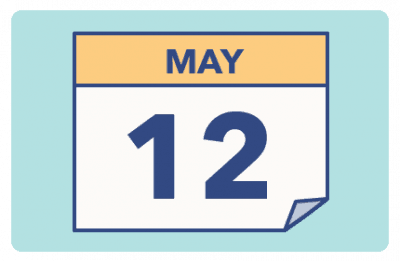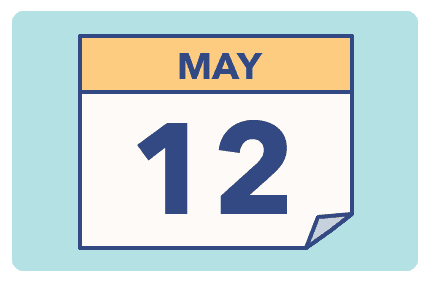 Should this buy-before-you-try model be a dealbreaker? It's up to you! Sites like ours (shameless plug alert) make it easy to get a sense of a bed's vibe before buying it. Some popular brands have even started to get their beds into physical store locations so folks can give them a spin before clicking buy.
In Store
Where some may consider the trying out experience to be a detractor for online shopping, others might find it to be the biggest plus for shopping in store. Getting to slowly meander through a mattress shop and try out as many beds as you like means you can really hone in on the feel that's going to be right for you.
However, as I mentioned above, stretching out on a bed for five minutes is way different than actually getting to sleep on it for several nights in a row. Sure, you can an idea of what it'll feel like, but until you're sleeping on it for real, for real, it's difficult to know. In this vein, the online-only trial periods may actually be a bigger positive in the long run. After all, it can often take a month or more just to get used to your new bed. Just because you liked a mattress in a store doesn't mean you'll like it after 30 days.
The last thing I'll say about in-store mattress-testing is that it's time-consuming. Also, it isn't exactly the funnest activity to sprawl out on a mattress in front of other customers.
FAQ: What's the best mattress for side sleepers?
Customer Service
Online
Between online and in store, I'd say online shops have better overall customer service than brick-and-mortar ones. Most companies have brand experts available via chat portal if you need them, but you can otherwise peruse without the hassle of a commission-driven salesperson breathing down your neck. We also think it's easier to stick to the budget you've set for yourself online, where you don't have anyone trying to upsell you.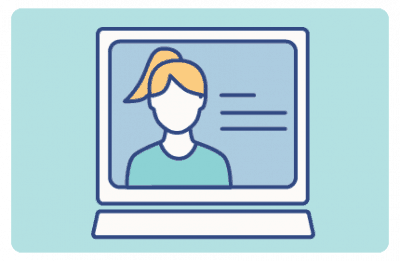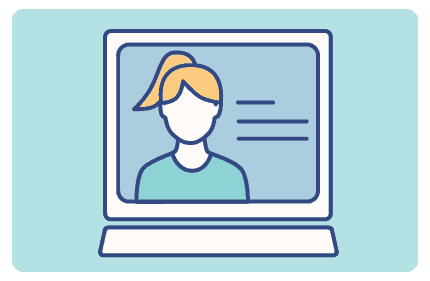 But hey, maybe you like the idea of talking through your decision-making process with a professional! If so, shopping online may not be the best choice for you.
In Store
Ah, the mattress salesperson, perhaps one of the biggest complaints of the in-store buying experience. While most mattress salesfolk are just trying to make an honest buck like the rest of us, there's no denying their presence can be a little… well… intimidating. If you want to make your selection sans another person's influence, online is definitely the way to go.
That being said, some people prefer to ask questions in real time and actually enjoy picking an expert's brain on a new product. If you're that kind of shopper — and feel ready to navigate the sale's game with a pro — in store may be right for you.
FAQ
Q: How do I pick the best mattress?
A: The best mattress is going to be different for each person — the best mattress for a back sleeper is not necessarily going to be the best mattress for a side sleeper. It's all about honing in on your specific needs and finding the bed that satisfies the majority of them!
Delivery
Online
One of the coolest things about buying online is that your mattress will ship right to your front door. Most of the time, your new bed will arrive compressed in a box, which means all you have to do is slip it out, place it on your frame, and wait for it to decompress! If you don't want to set it up yourself, white glove delivery is often available, so you can get someone from the company to do the heavy-lifting for you.
Bed-in-a-box mattresses can sometimes be cumbersome, though, so if you're not willing to shell out for white glove delivery (which is sometimes complementary, sometimes not), this could be a dealbreaker for you.
In Store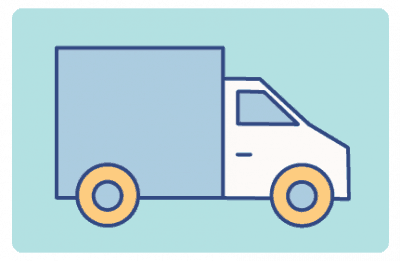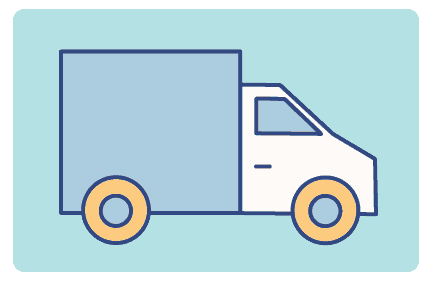 Easy (and fast!) delivery is one of the hallmarks of the in-store buying experience, as most retailers promise same day or next day delivery upon purchase. These stores usually have their own moving crews, who will deliver the bed to your house, set it up on the frame, and remove your old bed, all in one fell swoop. The convenience is a big plus for buying in store, especially for those physically unable to lift heavy objects.
Returns
Online
Returning a mattress in a box does come with its challenges. Some brands require you to ship the bed back yourself, which can admittedly be a hassle. But more and more companies are making the process seamless for customers. Layla is particularly good about this; they'll even partner with local charities to pick up your unwanted mattress free of charge to you. Whatever the case, my advice is to research the return policy before you buy the bed. That way you don't feel stuck with your purchase.
In Store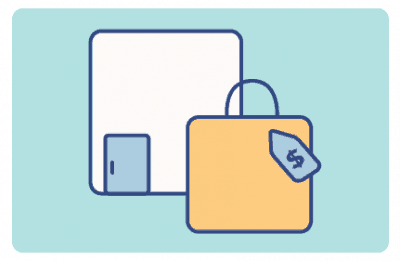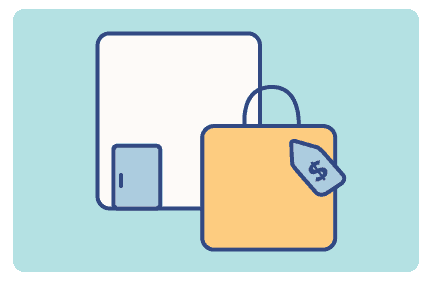 In store returns are typically easier than online ones as the retailer is likely to send a moving crew to unload your bed and whisk it away for you. The catch? The fees associated with the return can be pretty steep. At the end of the day, it's a question of convenience vs. cost, which you'll have to weigh on your own terms.
Final Thoughts
So what have we learned? There are pros and pitfalls to both options, which means there's no absolutely right choice. Yay! Though we all have our preferences (I know Layla and I both like a little online shopping), it's really about identifying your needs and going with the choice that feels right for you. To recap, here are some of the biggest pluses and negatives of both.
Online
Pros
Ease – You can order your bed in the comfort of your own home, which can be tantalizing enough to win over a lot of shoppers.
Price – Given the vast size of the Internet, you can truly find a high-quality mattress for every budget and lifestyle.
Customer Service – I'd also say getting to peruse different models without the pressure of a salesperson breathing down your neck is a pretty nice advantage to buying online.
Cons
Can't Try Out – Though buying a bed online is super simple, it does come with a fairly noticeable detractor in that you can't try out the mattress before you buy it.
Returns – Returning an unwanted bed can be a mess depending on the brand you go with, so make sure you research beforehand!
In Store
Pros
Can Try Out – You can stretch out on as many bed as you want before making up your mind, which is a huge plus for buying in store.
Delivery – Delivery's also a breeze, with most retailers providing movers to set up your new mattress and cart the old one away.
Cons
Salespeople – If sales people stress you out, shopping in store is definitely not the way to go.
Return Fees – Though many mattress stores will pick up unwanted mattresses, they sometimes charge steep return fees.
Our last piece of advice is that you could try a combination approach. Maybe you could shop in-person to select a few different possible options, then purchase them online during a sale to save money.
Well folks, that's about it! If you have anymore questions about the two different buying experiences, feel free to leave a comment on the video above or shoot me a DM on Twitter or Facebook. Happy sleeping!
FAQs
Is it more affordable to buy a mattress online?
While sales on in-store purchases can often help with the cost, typically it is cheaper to purchase a mattress online. This is because you will have more choices meaning more affordable options and there is no overhead being paid to have locations around the country.
Are the mattresses sold in stores better quality?
While it may seem like you can only get quality by purchasing in store, there are many quality mattresses available online too. Make sure to research the purchase, read reviews and check the return policy.
Doesn't be able to try out a mattress first make for a better purchase?
Being able to stroll through the many mattresses available in a store and lay on each one can definitely be a plus when shopping for a mattress.  However, keep in mind that laying on a mattress for a few minutes will be nothing compared to sleeping on one for a few nights to get a feel for it. Check on the sleep trial when purchasing a mattress to be sure you have time to change your mind if the bed does not work.
If I buy a mattress online and need to return it won't that be hard?
Always check the return policies when purchasing a mattress online. Many online retailers made returning a mattress incredibly easy while some may require that you box up and ship back the mattress on your own.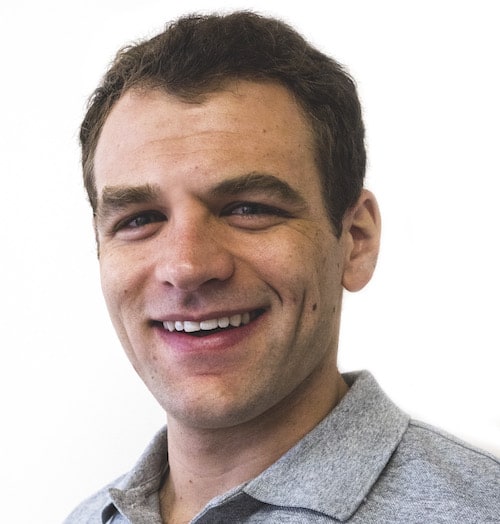 Logan Block
Logan is the former content director of Sleepopolis. As content director, he reviewed new mattresses every week and curated the comparisons, best of pages, and video guides on the site. Logan perfected his method by personally testing over 200 different mattresses, so he's not only able to discern the overall vibe of a specific bed, but to contextualize its feel within the bed-in-a-box market as a whole.