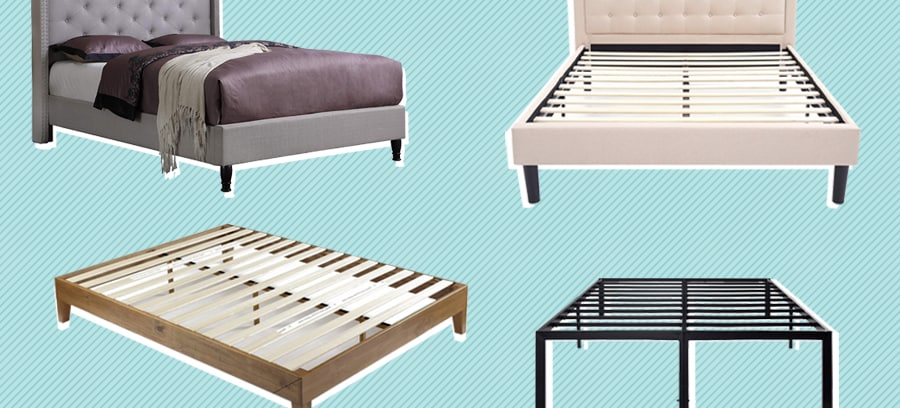 When you're shopping for a new mattress, you'll have innumerable features and options to choose from. One of the choices you'll have to make is whether you want a low profile or standard mattress. In this article, we'll dive into what these terms mean and will help you determine whether a low profile mattress is the right pick for you.
What is a Low Profile Mattress?
Choosing between a low profile and a standard mattress will help you to determine your mattress height. A low profile mattress is lower in height than a standard mattress and is placed on a low profile box spring. Some people prefer the sleeker look of the thinner low profile mattress. Low profile mattresses also keep you closer to the floor, which can help some people get in and out of bed more easily.
There are pros and cons to both types of mattresses and box springs. You can find top-reviewed beds of all heights on our best mattresses roundup.
Low Profile vs Standard Box Springs
A box spring serves as a foundation for your mattress and elevates it off the ground. Box springs are typically made of metal and wood and vary in height and weight. Standard box springs are usually nine inches in height and are built with rows of innerspring coils. These coils provide extra bounce and support to the mattress, but also make the box spring heavy.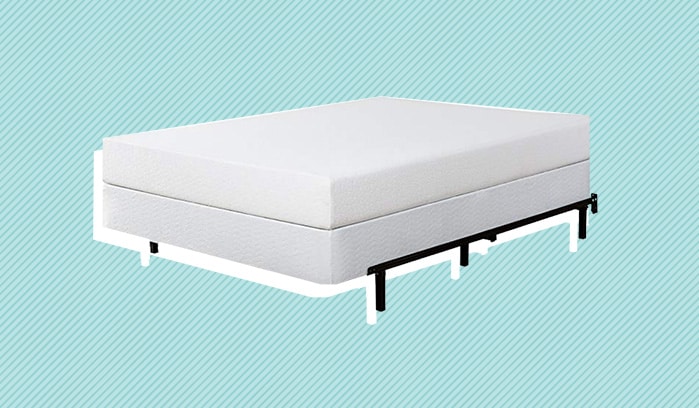 Low profile box springs are usually about five inches tall. They are thinner and shorter, which provides a slicker look. They are also built without springs, which makes them lighter and easier to maneuver than standard box springs. Box springs of all heights are featured in our best box spring roundup.
Benefits of a Low Profile Box Spring
There are many reasons why you might prefer a low profile box spring:
Height: A low profile box spring is closer to the ground. This makes it easier to get in and out of bed for some people, and reduces the risk of injury if you fall off your mattress in the middle of the night. Their lower height also makes low profile box springs safer for kids or if you have a pet that likes to climb into bed with you.
Low maintenance: Since low profile box springs have less parts and materials, they're easier to put together. They also don't require a bed skirt or other accessories.
Lightweight: Low profile box springs are built with thinner, lighter materials than standard models and typically aren't constructed with layers of coils. This means they are lighter weight and easier to move around than standard models.
Modern aesthetic: While high profile beds with bed skirts may remind you of your grandmother's house, a low profile box spring is thin, sleek, and modern. These beds also take up less space in your bedroom, which makes the room seem more spacious.
Benefits of a Standard Box Spring
For some sleepers, however, a more traditional standard box spring might be ideal. Here are reasons why you might prefer a standard box spring:
Height: If you are a tall person, you might want a taller standard box spring to make it more comfortable to put bed sheets on your mattress and get in and out of bed. Some sleepers might also prefer to have their bed further away from the floor.
Extra support: A taller standard box spring also provides added sturdiness to your mattress. A standard mattress is made from thicker and extra durable materials, which can help both the mattress and box spring last longer over time. This extra stability can also be beneficial for heavier sleepers or those who need a firmer level of support.
Airflow: Raising your mattress higher off the ground allows more air to flow underneath your bed, which will help move hot air away from the bed to help you sleep cool at night.
Storage space: A standard box spring adds extra space between your bed and the floor that you can use for extra storage. This is especially helpful in smaller rooms, or if you don't have much closet space.
How to Decide Between Low Profile and Regular
The following factors can help you decide which one's best for you:
Personal Preference
Consider which type of bed would best fit your preferences. Be proactive and think ahead so you don't end up with a bed that hinders your comfort level or aesthetic. Consider the following questions to help guide your decision: Is it more comfortable for you to get into a lower bed or a higher bed? Will it bother you to crouch down to put on sheets? Do you prefer the modern look of a low profile mattress or a traditional high profile bed aesthetic?
Budget
Low profile beds are made with less materials than standard mattresses, so they can be less expensive. If you have the extra budget and want the added support, you may want to consider a standard bed.
Available Space
Think about which type of mattress would fit better in your room and make the best use of the space. Smaller low profile mattresses will take up less space and can make your bedroom appear larger, but standard beds can help you optimize limited space by creating an area for storage under the bed.
Mattress Type
Your mattress type will also determine what type of box spring works best for you. If you have a heavier type of bed, such as a memory foam, hybrid, or latex mattress, you may want the extra support of the standard box spring. A more supportive box spring will hold up better under the weight of your heavy bed and could help preserve the life of your mattress. If you have a tall mattress, however, you may want to choose a low profile bed so your bed isn't uncomfortably high.
Materials
Box springs can be made of a variety of different materials. Low profile box springs are typically made of thin pieces of metal or wood, so they will be lighter and easier to maneuver. Standard box springs are usually made with a metal or wood frame filled with a row of innerspring coils. They are bulkier and heavier, so they will be more difficult to move. Make sure to ask a friend to help you move your standard box spring into your house if you opt for a heavier standard one.
Motion Absorption
Motion absorption is an important feature if you are a light sleeper or if you share your bed with a partner or pet that likes to toss and turn. Both a low profile and standard box spring will help absorb motions, but a standard box spring's added height and innerspring coils will do a better job at isolating motion.
Other Room Furniture
You won't want to have to redesign your entire bedroom based on your new box spring. Be proactive and pick a bed that will match the aesthetic of your existing furniture. Think about what style of bed will look best with your nightstands, headboard, shelves, and other furniture and decor in your bedroom.
FAQs
Are low profile mattresses comfortable?

Low profile mattresses can be very comfortable — but your comfort level on any mattress will depend on how well the bed supports your body type, sleep position, and personal preferences. See our mattress shopping guide for info on how to choose the best bed for you.
What is the difference between a high profile and low profile mattress?

A high profile mattress is on a box spring that is about nine inches tall, while low profile mattresses are placed on springs that are around five inches away from the ground. High profile mattresses are heavier and built with innerspring coils.
Are low profile beds better?

Low profile beds are lighter and closer to the ground than standard beds, and have a modern, minimalist look. Whether they are better for you depends on personal preference.
How thick is a low profile mattress?

Low profile mattresses are between two to five inches thick.
Do I need a box spring?

Many mattresses do not require a box spring, but box springs can provide extra stability and motion isolation. Check with your mattress company to see if your bed needs a box spring.
Conclusion
Low profile mattresses are closer to the ground and provide a chic and minimalist feel to your bedroom. There are pros and cons to both low profile and standard mattresses, so you should pick the one that fits the best for your sleep needs and desired aesthetic. If you're not sure what height of mattress is right for you, check out our mattress thickness guide for tips and guidance.