If you've been dealing with a bed bug infestation (or you think you may be at risk of one), a bed bug mattress cover can be a godsend. When they do their job well, these covers help block bed bugs from climbing up and into your mattress. They can also protect you against other creepy crawly critters like dust mites, bacteria, and allergens. Plus, many of them are now waterproof, so can keep your mattress nice and dry in the face of spills and other accidents. However, though there are many options available online, not all bed bug mattress covers are created equal. So, how do you land on the one that's right for you? Well, I'm so glad you asked!
In this guide, I'm going to introduce you to the best bed bug mattress covers on the market. Though they differ in terms of style, construction, and price, they're all designed to rid your bedroom of bed bugs to keep you sleeping peacefully all night long. To make this list even more useful, I've broken down my picks into different categories. That way, you can navigate to the ones most relevant to you. If you're in serious need of help with getting rid of bed bugs, be sure to check out our roundups of best bed bug sprays and traps.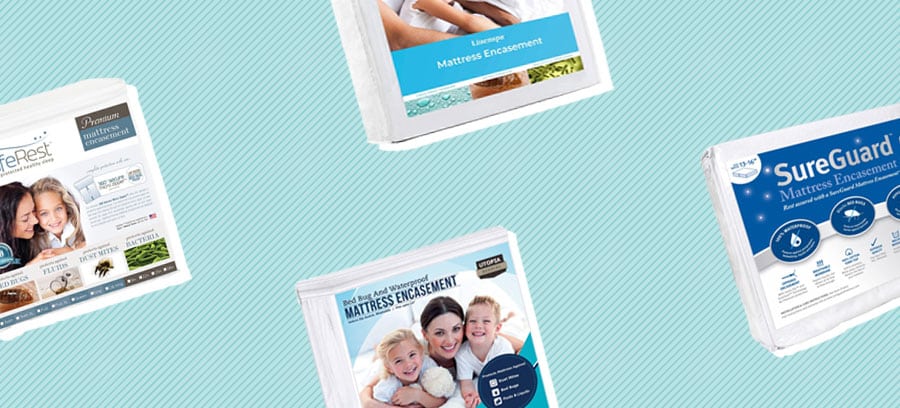 Editor's Choice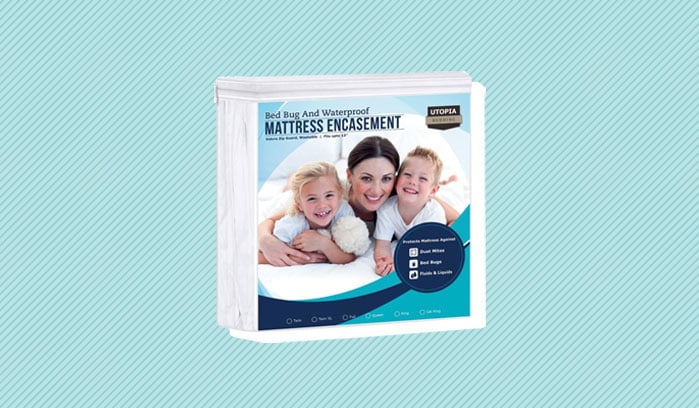 Utopia Bedding Zippered Mattress Encasement
If you're looking for an all-around fantastic mattress cover, look no further than this option from Utopia Bedding. Made from a knit polyester fabric, this cover is machine washable, zipper-enclosed, and designed to feel seamless under your sheets. Plus, it's been Oeko-Tex certified, ensuring that it meets environmental and safety standards.
Pros
This cover is highly durable, so could be great for folks who want something that will truly stand the test of time.
The zipper enclosure makes it easy to affix the cover to your bed and helps keep it securely fastened all night long.
All in all, this is a high-quality buy for those looking to protect their mattresses from bed bugs.
Cons
Some users complain that the cover isn't as waterproof as the brand claims it is.
Utopia Bedding Zippered Mattress Encasement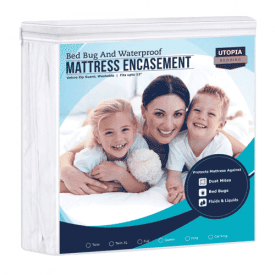 The Utopia Bedding Zippered Mattress Encasement is super durable and uses a zipper enclosure to protect your mattress.
Sleepopolis Score
4.60 / 5
Best Seal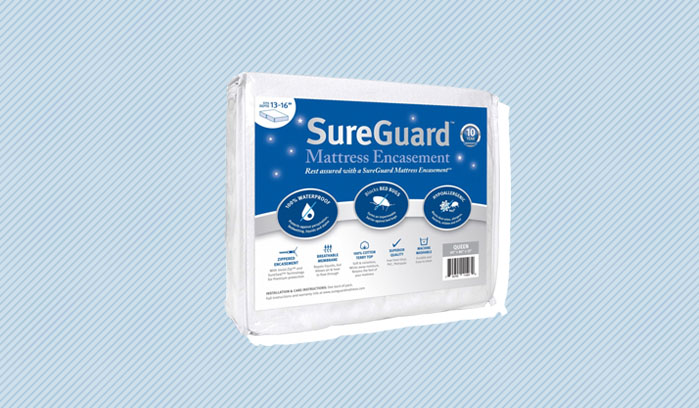 SureGuard
Built with the brand's special SureSeal technology, this cover is best for folks in need of an ultra-secure enclosure. In addition to the locked zipper encasement, the cover is also hypoallergenic, 100% waterproof, and designed to wick moisture. I should also mention that it's GREENGUARD Gold certified, which means it meets safety and environmental standards.
Pros
The mattress cover features a super-fine zipper and what the manufacturer calls "SureSeal" technology to ensure the cover is completely sealed off from bed bugs on all sides.
The top of the cover is made from 100% cotton terry, which is breathable and soft to the touch.
The cover is free of PVC, phthalates, vinyl, and fire retardants. It's also GREENGUARD Gold certified, meaning it meets certain safety and environmental regulations.
Cons
The cover is on the pricier side and might not jive with all budgets.
SureGuard Mattress Encasement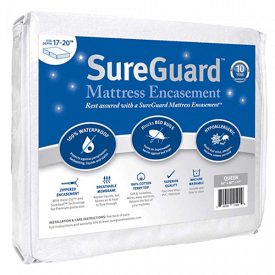 The SureGuard Mattress Encasement uses a 100% cotton cover and and has a "SureSeal" zipper to keep the mattress safe. 
Sleepopolis Score
4.60 / 5
Most Affordable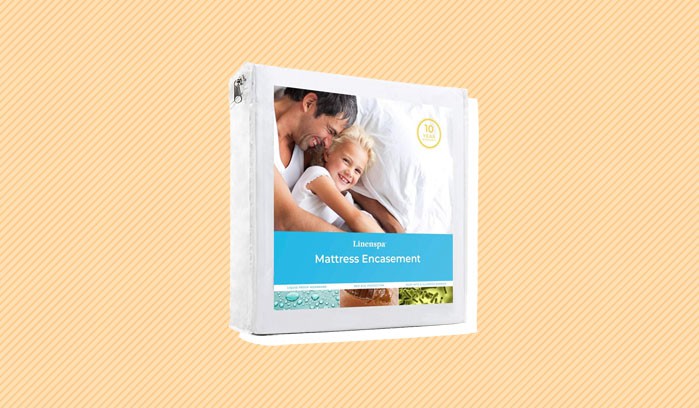 Linenspa
When you're dealing with bed bugs, the last thing you want to do is spend a fortune trying to get rid of them. Thankfully, this mattress cover from Linenspa helps you protect your home without breaking the bank. Here, you'll find a waterproof product that snaps into place with ease and doesn't move around too much while you sleep.
Pros
Budget shoppers should find a lot to love in this covers wallet-friendly price tag.
I also like that this cover is machine washable, which means you can throw it in the wash with all your other bedding.
In general, this is a fantastic value buy for folks looking to snag a protective cover that's not too expensive.
Cons
This isn't the most luxurious option on the market, so may not feel the most seamless under your sheets. 
LinenSpa Mattress Encasement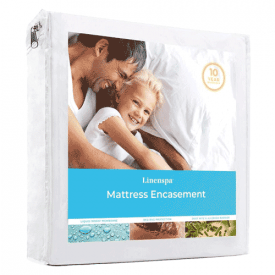 The Linenspa Zippered Bed Bug Proof Mattress Encasement is machine washable and sold for a good price.
Sleepopolis Score
4.60 / 5
Most Luxurious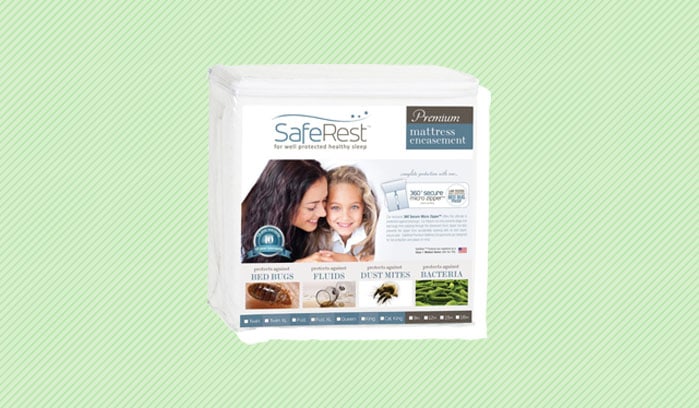 SafeRest Premium Zippered Mattress Encasement
If you're looking for a premium solution to your bed bug problem, you may want to consider this mattress protector from SafeRest. A premium cotton terry surface makes for a breathable cover that's water and stain-resistant. Plus, the brand's Micro-Zipper technology makes it nearly impossible for bed bugs or other critters to break through.
Pros
This is a premium cover that's resistant to moisture and designed to block out all sorts of pests from bothering you in the night.
It's got a soft top, which makes it feel like a natural part of your bedding. This is a big plus for those after a seamless feel.
All in all, this is a great option for folks looking for a cover that's as cozy as it is functional.
Cons
The luxury feel does come with a luxury price tag, so this may not be the best fit for those shopping on a budget. 
SafeRest Premium Zippered Mattress Encasement
The SafeRest Premium Zippered Mattress Encasement has a cozy feel and is resistant to moisture.
Sleepopolis Score
4.70 / 5
How We Picked
Obviously, any bed bug mattress protector worth its salt needs to offer legitimate protection from bed bugs. Beyond that, we considered the following factors to craft this roundup of bed bug mattress covers.
Care
Because bed bug mattress covers tend to fit tightly and aren't the easiest to put on and remove, you probably won't want to wash your cover all that frequently. But you will want to clean it occasionally, and when that happens, we think it should be easy to do. So whenever possible, we prioritized covers that are machine-washable and dryer-friendly.
Functionality
In addition to providing protection from bed bugs, all of the covers on this list offer other functions. For instance, they might help protect against dust mites, bacteria, and other allergens. They might also be waterproof to help protect your mattress from spills and other accidents. You should be able to address multiple needs with any of these covers.
Hand Feel
Since you won't be sleeping directly on top of the mattress cover, you might not care how it feels. Or you might care a lot! We included several options that are soft to the touch in case that's a priority for you.
Manufacturing
We considered the quality and safety of materials while putting together this list. That means we looked for mattress covers that are free of potentially harmful chemicals such as PVC or phthalates. Whenever possible, we also prioritized options that meet safety and/or environmental regulations.
FAQ: What's the best mattress protector?
Sleepopolis Buying Tips
Trying to settle on the best bed bug mattress cover for your needs? Consider the following:
Do you want extra functionality? Is your sole concern bed bug protection, or do you also need waterproofing to protect against accidents? Determining your functional needs will help you know what to prioritize when vetting different options.
What's your budget? Decent bed bug mattress covers can range in price from around $30 to over $50. That's not a huge range, but it's worth considering whether you need to stick to a certain price point.
What size is your mattress? Bed bug mattress covers can be sized in different ways, from a simple Twin/Queen/King breakdown to specific measurements and depths. Knowing your mattress's size will help you find an option that's sized appropriately.
A functional bed bug mattress cover helps you rest easy knowing that creepy-crawlies won't wind up in bed with you. To find the best cover for your needs, think about the functionality you require, your preferred hand feel or materials, your budget, and the size of your mattress. These factors will help you zero in on a cover that works.
Cody Gohl
Cody is a former staff editor at Sleepopolis. His work has appeared online for Esquire, Next, LOGO TV, Fandom, Citylife, The Manual, and more.