Aireloom mattresses are luxury beds that are handmade with state-of-the-art materials and design. It's no wonder they've been found in The White House and inside the bedroom of Hollywood's elite, including John Wayne, Frank Sinatra, and Ellen Degeneres.
Aireloom's labor-intensive handmade design, top-quality mattress materials, and Aireloom Lift™ technology all work together to create unique mattress collections that aim to impress even the pickiest of sleepers. These beds are some of the priciest on the market, yet reach a market that wants the highest quality bed they can find. If that's you, continue to learn more about the Aireloom Karpen Sidestich mattress collection, which includes four different mattresses, each with unique qualities and features.
Karpen Luxury Mattress
Firmness
Multiple firmness options
Warranty
10-year warranty
Karpen Luxury Mattress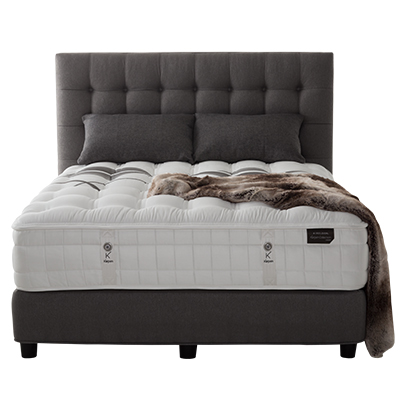 The Karpen Luxury collection features three mattress models: the Rexford Firm, Rexford Luxury Firm, and Burton Firm. These are the company's first handmade luxury beds, featuring their patented Aireloom Lift technology.
Warranty
10-year warranty
Firmness
Multiple firmness options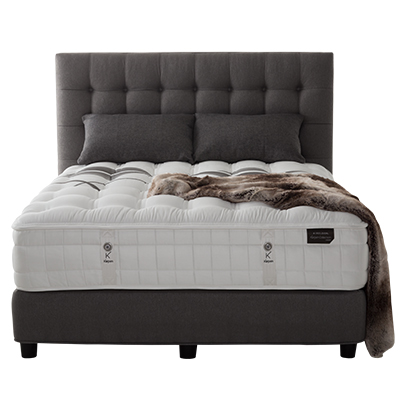 Karpen Luxury Mattress
The Karpen Luxury collection features three mattress models: the Rexford Firm, Rexford Luxury Firm, and Burton Firm. These are the company's first handmade luxury beds, featuring their patented Aireloom Lift technology.
Firmness
Multiple firmness options
Warranty
10-year warranty
Introducing The Karpen Sidestich Collection
All Aireloom beds advertise their ability to conform to your body, provide proper body balance and support, and optimize pressure relief and luxury. Each mattress is built with natural fibers, high-quality damask fabrics, and Viscoelastic foam aimed to maximize comfort, durability, and support.
This Karpen Sidestich Collection is one of five collections Aireloom offers. Inside this collection is four beds — three Rip Van Winkle mattresses and one super featherbed — with a design and construction that seems pretty labor intensive. The Karpen Sidestich mattresses are handmade with an impressive 42 pounds of cotton in its comfort layer and sealed with 560 heritage side-stitches (where the "sidestich" collection gets its name) and uses exclusive coil design to provide responsive support. The "Karpen" comes from King Karpen, who founded the company back in 1940.
Now let's look at the four different beds in the Sidestich collection. The first three are different firmness levels of the "Rip Van Winkle" series, which come in medium firm, luxury firm, and extra-firm comfort levels. We'll look into these three first. Afterward, we'll dive into the Karpen Sidestich Super Featherbed mattress, which provides a unique plushness aimed for people who love soft beds.
Aireloom Karpen Materials: A Breakdown
Before we explain what's inside each mattress, we thought it would be helpful to include a glossary of sorts that explains what all of these materials mean, especially since some have been trademarked by Aireloom. Here are some names that will pop up in this article that you need to know:
Tencel® Fabric: A sustainable fabric regenerated from wood cellulose. It is soft and flexible and provides cooling support.

Pillowflex™: A unique quilting foam that Aireloom claims is more resilient than other similar materials and is used as an alternative to traditional quilting foams.
Aireloom Lift™ An air chamber between the springs and mattress top that increases the areas of low pressure when you're laying on the mattress to give off the feeling of being cradled.

Silk/Wool Fibers: Naturally breathable fibers that help regulate body temperature while you sleep.
Talalay Latex: Made out of natural material, this latex foam helps the body maintain a consistent body temperature throughout the night.
Support-flex™ Coils System: Individually wrapped coils which allow each coil to react independently from each other, providing more specific support and improving motion control.
Rip Van Winkle Beds: Construction
Now, let's dive into what these mattresses are made from.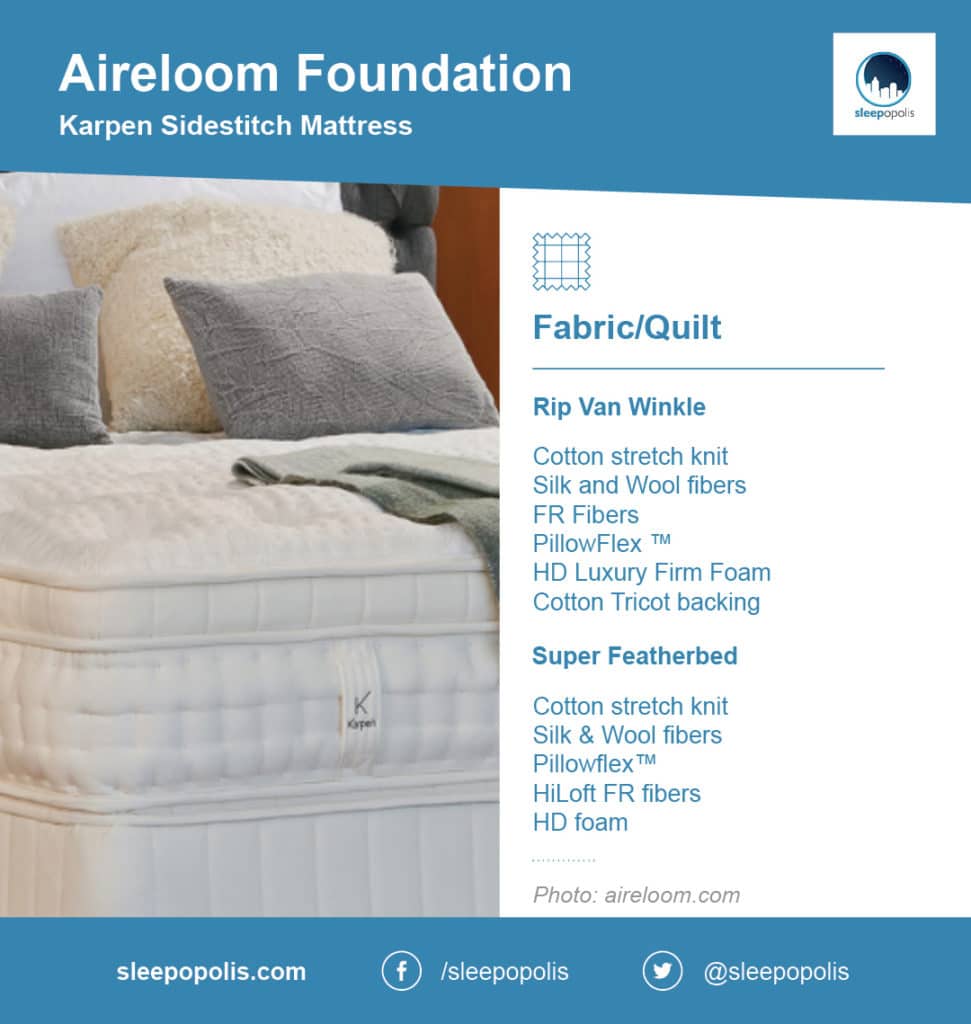 Quilt/Cover
The Rip Van Winkle Medium Firm, Luxury Firm, and Extra firm mattresses all have a stretch knit cover fabric made from a blend of Tencel (a cellulosic fiber obtained from wood pulp that promotes coolness) and Polyester (which creates durability and smoothness). The fabric for the mattress cover is made of silk and wool fibers with an added layer of firm, high-density foam — the thickness amount is what various among the three models. Moreover, for the Rip Van Winkle Medium Firm and Luxury firm models, there is a layer of Aireloom's PillowFlex foam to add a hint of softness to the cover.
Comfort Layer
As for the comfort layer, each bed uses a ventilated Talalay latex with various thickness depending on the model. As you can imagine, the medium-firm model will have the thickest layer of comfort foam, while the extra-firm model will have the thinnest. The comfort section of all mattresses has a base layer of an extra-firm high-density foam called Energex™.
All three Riv Van Winkle mattresses also have an inner-tufted comfort layer made of 54 hand-tied tufts, 42 pounds of cotton felt, and a meticulous hand-stitched border. There is added edge support made from high-density foam.
Foundation and Support
All three Rip Van Winkle beds are innerspring mattresses with the same foundation and support system. Their innerspring units use offset coils; the 13-gauge steel wire in these springs are double-tempered with six active turns. The box spring foundation for each mattress is hand-tied 8-ways with modular coils and come in 9-inch or 5-inch profiles.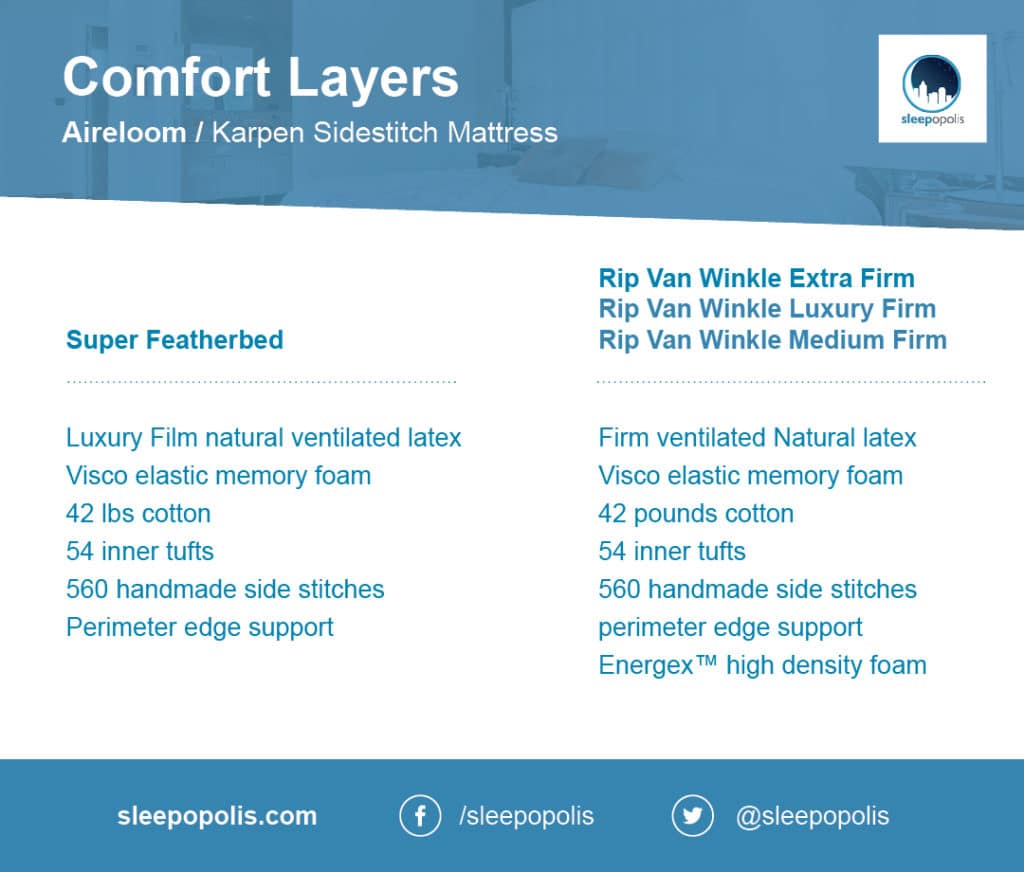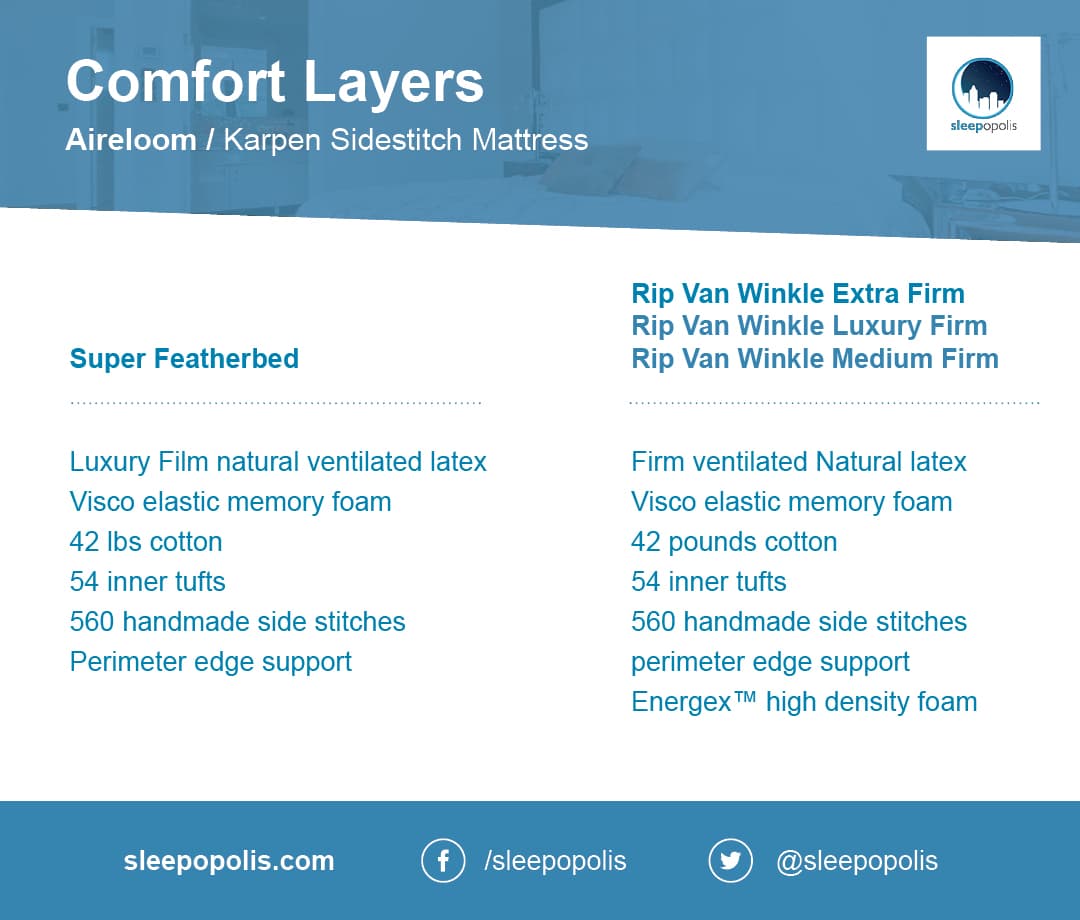 Karpen Sidestich Super Featherbed: Construction
The other mattress in this collection is the Karpen Sidestich Super Featherbed. This mattress includes another complex layer: a featherbed plush pillow top. These beds will come in at 15.25 inches thick. Let's break down what's inside:
Quilt/Cover
The quilt itself is made with an organic cotton stretch knit fabric and includes silk and wool fibers, high-density plush foam, and True-stretch™ cotton tricot.
Comfort Layer
The comfort layer on this bed also has ventilated Talalay latex with Visco elastic memory foam. There is an inner-tufted comfort layer made of 54 hand-tied tufts and 42 pounds of cotton felt, which is finished off with the hand-stitched border and a high density foamed edge.
Foundation and Support
The super featherbed mattress uses 13 gauge double knotted offset coil units surrounded by edge support in the form of a high-density foam.
Aireloom Karpen Sidestich Mattress Feel
All four beds are going to have different firmness levels due to the differences in comfort foam layers. Luckily their names help to easily identify comfort and feel. The Rip Van Winkle Extra Firm bed will obviously be the most firm, followed by the Rip Van Winkle Luxury Firm, Rip Van Winkle Medium Firm, and then the Super Featherbed.
This sidestich series differs from the Karpen Luxury Line due to its emphasis of natural cotton and the side-stitch design. It's worth mentioning (again!) that this collection is made with over 40 pounds of organic cotton, which is known to be far softer than conventional cotton and also stronger and more durable. The labor-intensive side stitches (560 per mattress!) provides an extra feeling of durability and support, especially on the edge of the bed.
Another thing to note: Motion control tends to be tamed with these mattresses. This is due to the use of double knotted offset coils. Rather than the ends of the coils remaining loose, the ends on these mattresses are looped around and double knotted, creating an hourglass shape. This feature, along with the heavy gauge wire used, makes this coil structure resilient and strong, preventing motion transfer and providing ample durability.
Lastly, the Patented Aireloom Lift™ we mentioned earlier in the "glossary" is important to mention again. The 'Aireloom lift' aims to provide a feeling of weightless and of being cradled.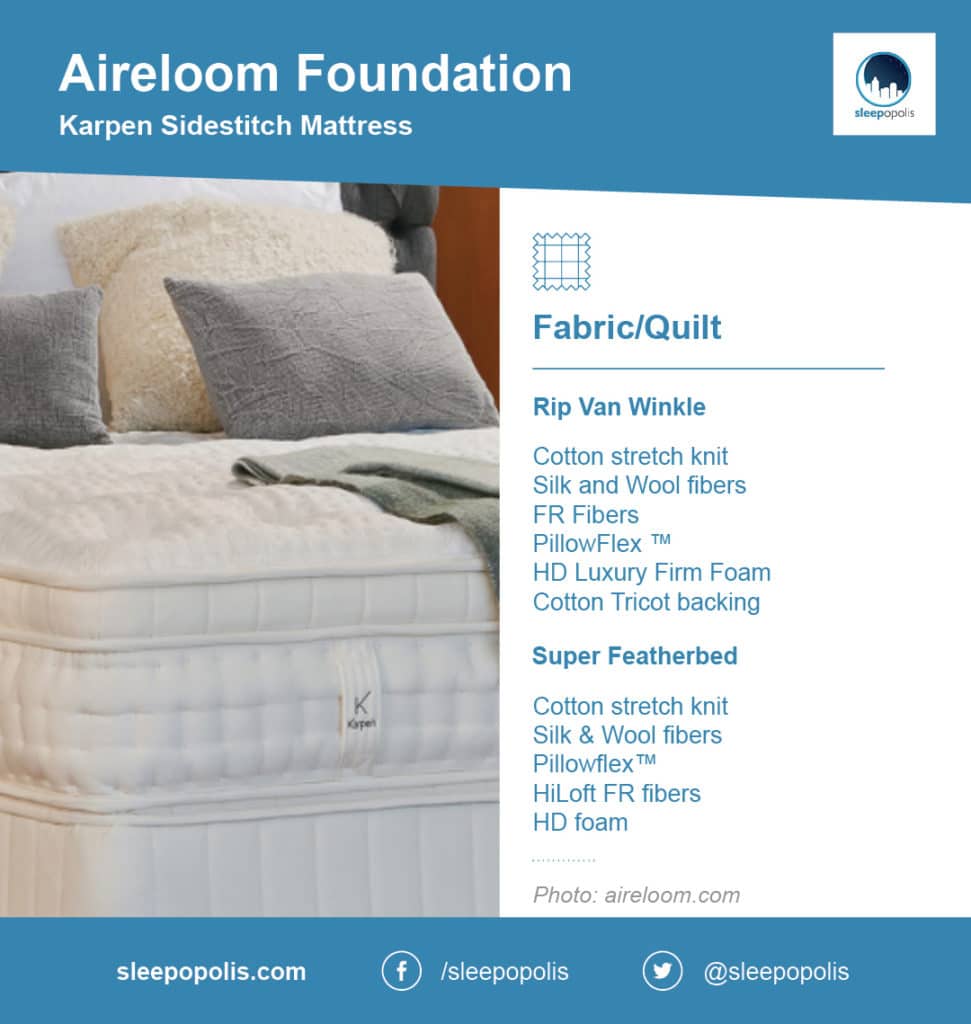 Aireloom Karpen Luxury Vs. Others
You might be wondering how the Aireloom Karpen Sidestich mattresses compare to other beds. If you're looking for another innerspring luxury bed, the closest in feel might be the Beautyrest black mattress, which contains both pocketed coil technology and luxury comfort foam, providing a medium-level firmness feel. You'll also find similar price tags between these two mattresses.
For something a little more affordable, consider The WinkBed, which has a double coil construction that helps create a solid support system that responds to your body as you adjust your sleeping position. The DreamCloud mattress might also feel similar, which has both foam and wrapped coil components to provide a firm innerspring lift and plenty of comfy pressure relief.
Lastly, if you're looking for the feel of an innerspring mattress but are interested in memory foam (for more body contouring) then you might be a good match for Tomorrow Sleep, which is a hybrid bed with a memory foam comfort layer. If you want an Aireloom memory foam option, then stick with the Bel Air Karpen Luxury mattress.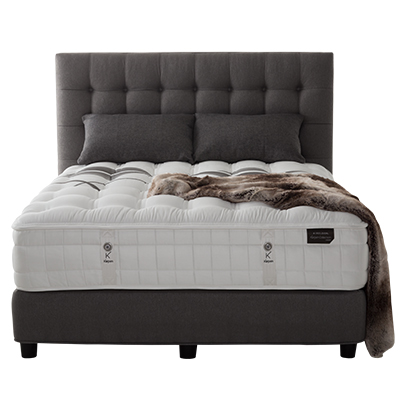 Karpen Luxury Mattress
Multiple firmness options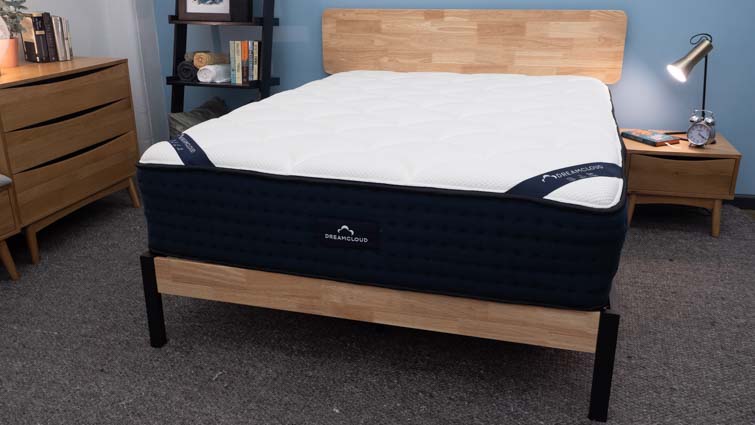 DreamCloud Original Mattress
Medium-firm: 7/10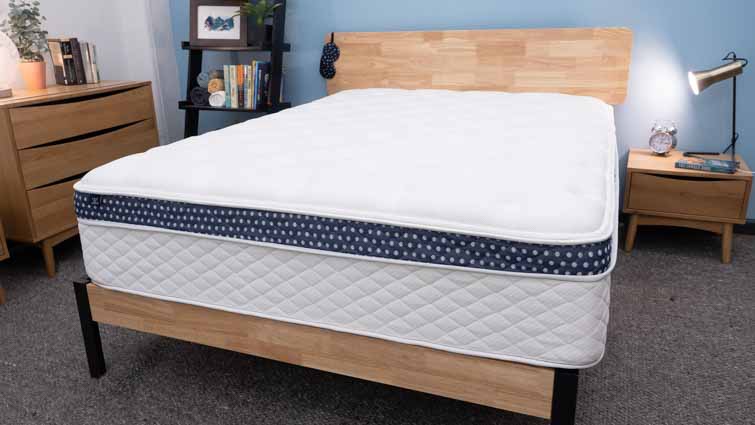 WinkBed Mattress
Multiple firmness options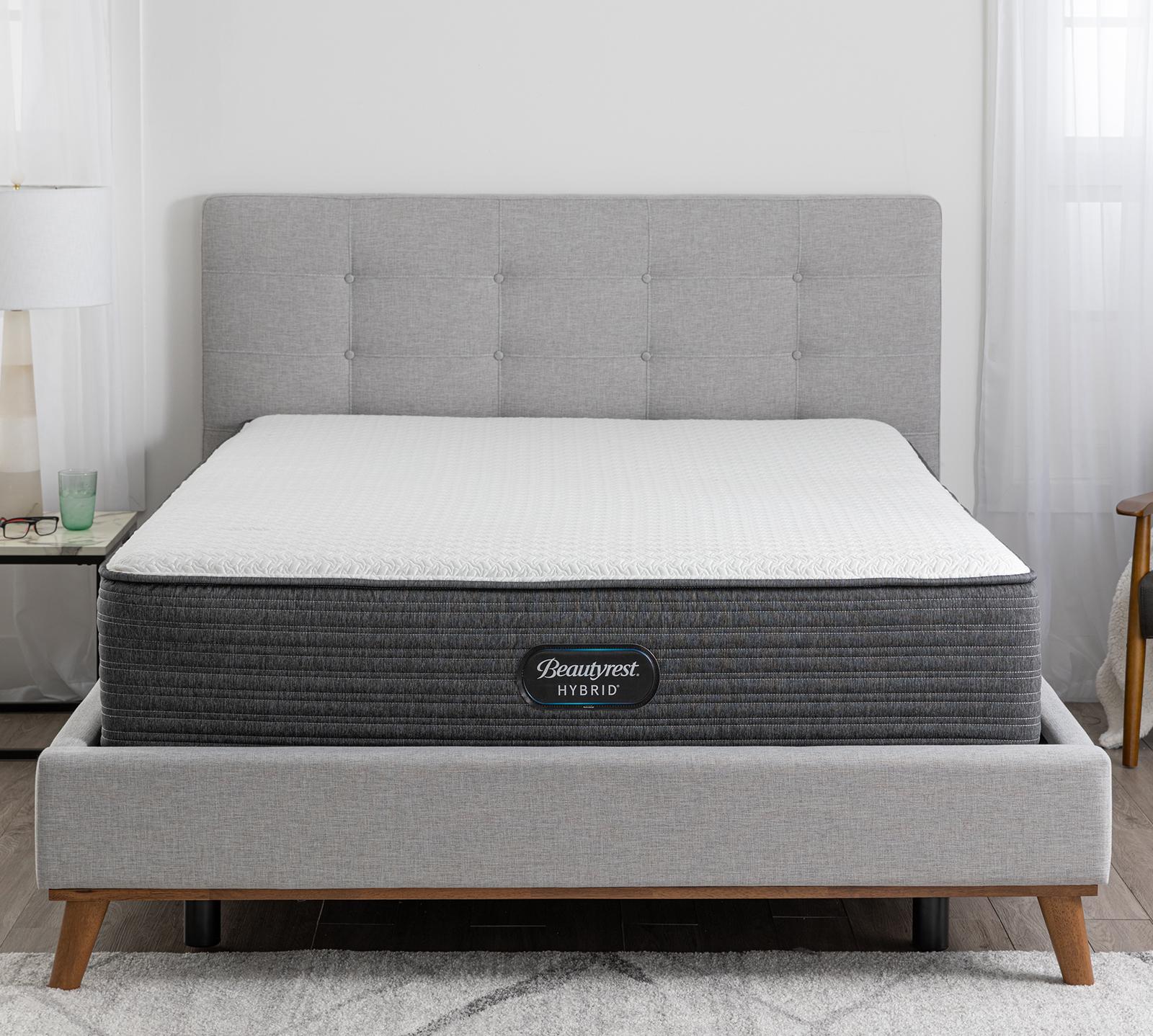 Beautyrest Black Hybrid Mattress
Soft: 5/10
Additional Need-to-Know's
Each mattress is covered by a 15-year warranty. While every defect is evaluated on a case-by-case basis, any issues with the workmanship (read: human error in the hand making) can lead to warranty fulfillment.

All mattresses are handmade in the US. They are manufactured in two factories — one in Pennsylvania, and the other in California.

Common Praise & Complaints
What's interesting (and tricky!) about Aireloom mattresses is information online — including reviews and prices — are scarce. We do know these mattresses are in the $4,000 – $6,000 range, but details around what sizes and what models are hard to find.
So, with that, know that these beds are famous for its luxury and design. However, the price point and relative scarcity when it comes to information online make these mattresses pretty big commitments. Make sure to test these out at a retail store and talk to the company before taking the plunge.
Is the Aireloom Karpen Sidestich Mattress Right for You?
Now that you've learned all there is to know about this mattress collection, here are the reasons one of these beds might be a good fit.
You want something strong and durable. The inner and outer tufts, use of silk and wool fibers, 40+ pounds of cotton, and the double-knotted offset coils are all components that lead to a super durable bed that is known for lasting.
You appreciate meticulous design. Each mattress is handmade. This collection includes comfort layers with 54 hand-tied tufts, 42 pounds of cotton, and a hand-stitched border. In Aireloom's words, these mattresses are "sealed by artisan hands."
You're looking for luxury. Aireloom mattresses are known for being some of the best in the world. The high-quality latex, innovative foams, soft cotton, and old-fashioned double-knotted offset coils create an esteemed sleeping experience.
Here's an individual recommendation for each Karpen Sidestitch model:
Rip Van Winkle Medium-Firm: This bed will provide (surprise!) medium firmness level, and is great for back or side sleepers.
Rip Van Winkle Luxury Firm: This bed will be more firm (think 7-8 out of 10 on the firmness scale) and will showcase its true strength and durability. Good for most sleeping positions, but especially great for back sleepers.
Rip Van Winkle Extra Firm: If you want something super firm but still luxurious, the Rip Van Winkle Extra Firm is calling your name. You'll still get the benefits of the soft feel of the materials but will feel strong and sturdy support all night long.
Karpen Sidestich Super Featherbed: If you know you love soft beds and want something super plush, look no further than the Super Featherbed. Great for stomach sleepers who need a more comfy cushion, this bed is super soft, yet still durable.
Aireloom Karpen Sidestich Mattress Summary
These beds are objectively impressive. The Aireloom Karpen Sidestich line promises luxury, meticulous design, and unique construction. If you want a durable, luxurious, and supportive mattress, this collection will check off all the boxes.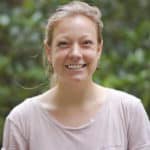 Laura Schwecherl
Laura is a journalist with nearly a decade of experience reporting and covering topics in the health, fitness, and wellness space. She is also a marketing consultant, where she works with impact-oriented startups to build marketing and editorial strategies. Outside of work, you can find her reading Murakami novels, writing amateur poetry, or trail running in her hometown, Boulder, Colorado.