You might be surprised to learn that La-Z-Boy doesn't just sell massive recliners. In 2019, the company also launched a mattress line, and the La-Z-Boy Lux was born (alongside two other mattress models). It's a hybrid mattress that layers several foams over pocketed coils to create a balance of comfort and support. Does it live up to the La-Z-Boy reputation?
The La-Z-Boy Lux is one of just a few mattresses from La-Z-Boy, so I was eager to take this bad boy for a spin. I put it through my full batch of tests, and I'm excited to share what I learned with you here!
Will you enjoy lazing on the La-Z-Boy Lux? Read on for my full review to find out! Or hop down to my review summary if you're strapped for time.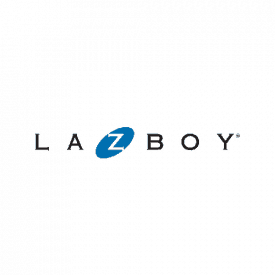 The La-Z-Boy Lux mattress is a great choice for back and side sleepers!
La-Z-Boy Mattress Review – Video Analysis
Brand Summary
The La-Z-Boy brand got its start when the company's founders pioneered the recliner chair, and it's been going strong for nearly a century. Alongside its iconic recliners, the brand also sells other chairs, sofas, kitchen and bedroom furniture, home accents, and several mattress models. Many of its products are American-made.
We won't review all the La-Z-Boy products here, but we will take a deep dive into the La-Z-Boy Lux. Let's get to it!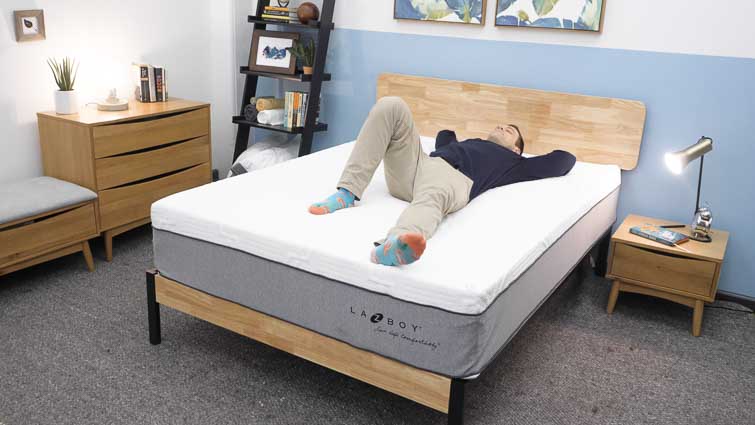 What Is the La-Z-Boy Lux Made Of?
The La-Z-Boy Lux is a hybrid mattress that layers Energex, memory, and poly foams over pocketed coils. This solid construction creates a balance of support, mobility, and pressure relief. The materials also do a great job of minimizing motion transfer.
Let's dig deep (literally!) into the La-Z-Boy Lux!
Cover – First up, there's a polyester-blend cover that's fairly breathable. It could help the mattress sleep a little cooler.
Comfort Layer – Next is a 1" layer of Energex foam, a latex alternative foam that's pretty soft yet has a quick response to pressure. The softness lets you sink in a bit to enjoy some pressure relief, while the fast response means you shouldn't feel stuck in this bed. This could be a good match for back or side sleepers (or combo sleepers who switch between their back and side), because the mattress offers a mixture of comfort and support in both positions.
Pressure Relief Layer – Beneath the Energex foam, there's a 1.5" layer of copper-infused memory foam with a slower response to pressure. It lets sleepers sink into the mattress a bit to enjoy more pressure relief, which might appeal to side sleepers, who need to stay comfortable around the shoulder and hip. Meanwhile, the copper infusion helps draw heat away from the sleeper.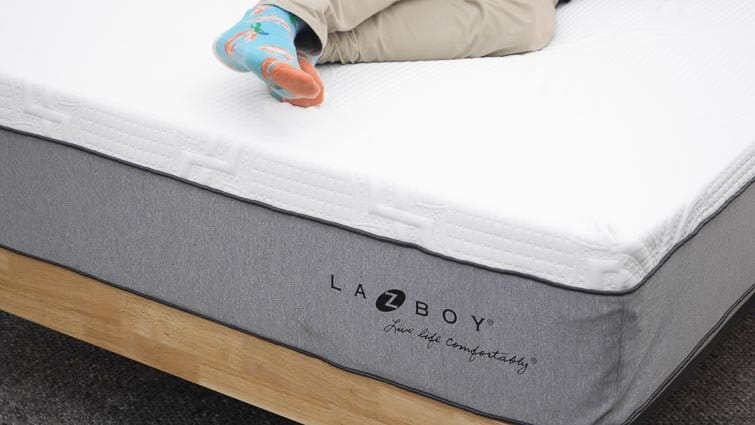 Transition Layer – Next up is a 1" layer of poly foam, which is a bit firmer than the Energex and memory foams above. It helps transition the sleeper from the softer foams above to the support layer below.
Support Layer – Beneath the three foam layers, there's an 8" support layer of pocketed coils. These coils give the bed plenty of bounce and mobility, and they help keep sleepers' hips elevated — good news for back sleepers looking to maintain spinal alignment. Couples will appreciate that the coils are individually wrapped, so they isolate motion better than traditional innersprings.
Base Layer – Finally, there's a 1" layer of poly foam at the base of the mattress. This layer provides some overall structure for the mattress and gives the coils something off of which to react.
While we're talking about the La-Z-Boy Lux's construction, it's also worth noting that this mattress has pretty solid edge support. Sleepers should be able to utilize the full surface of the mattress, which is especially useful for larger folks or couples.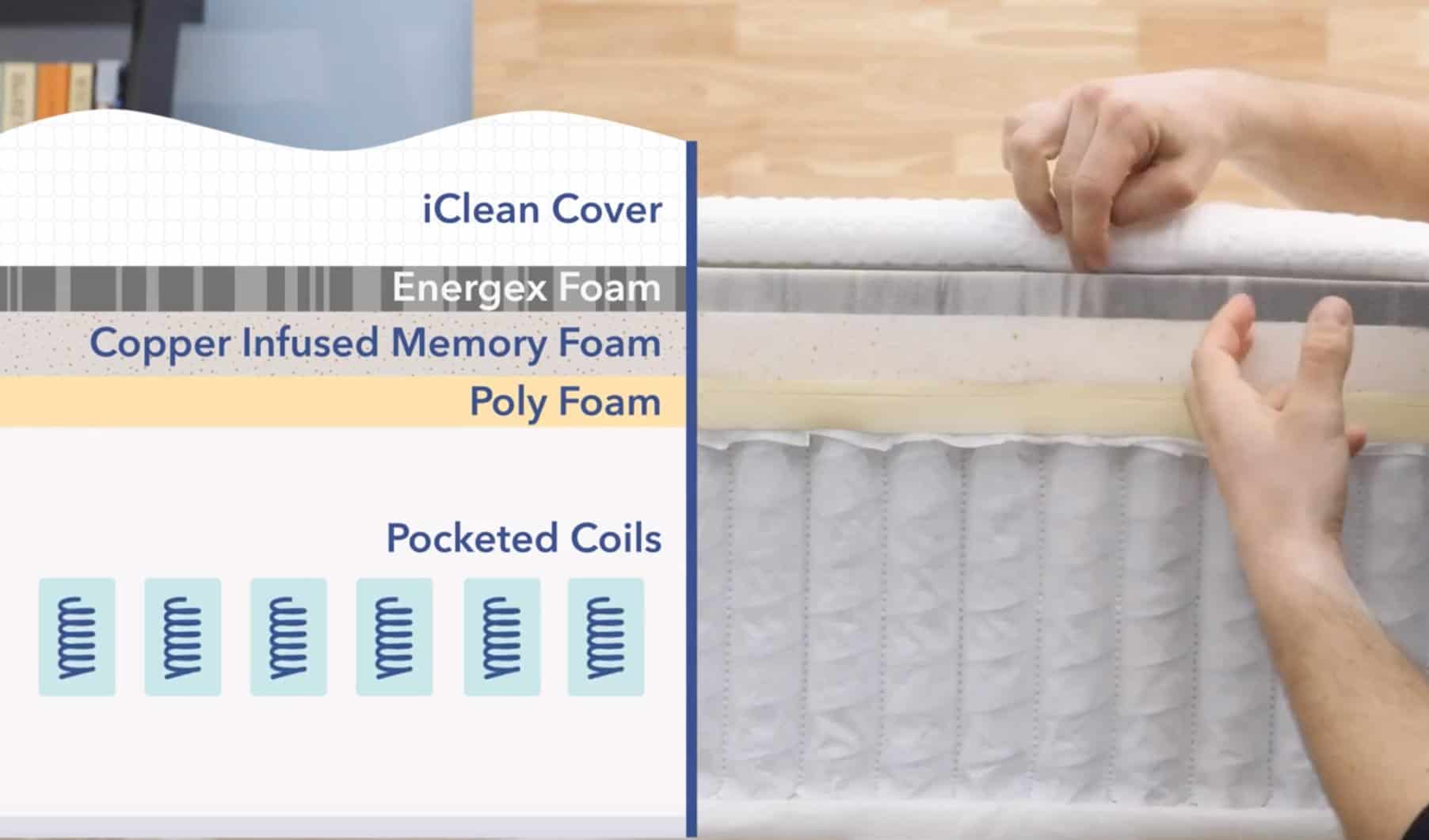 How Firm Is the La-Z-Boy Lux Mattress?
Now that we've peeked inside the La-Z-Boy Lux, we can begin to understand how it feels to sleep upon it! Let's kick things off by looking at this bed's firmness.
First, it's important to note that firmness is somewhat subjective. Your body weight, shape, size and personal preferences will all affect how firm a mattress feels to you – and the same goes for me! So keep in mind that my assessment is just one perspective.

After spending some time on the La-Z-Boy Lux, I ranked it around a 6.5 out of 10 on the firmness scale. The industry standard for medium firmness is 6.5, so the mattress is right around medium firm.
Why does the La-Z-Boy Lux hit the medium firm sweet spot? A lot of it comes down to the bed's hybrid construction. The mattress combines soft Energex and memory foams with more supportive coils to create a balanced feel that's right in the middle of the firmness scale. This could appeal to back and side sleepers, because both sleep styles require some pressure relief combined with enough support to maintain spinal alignment.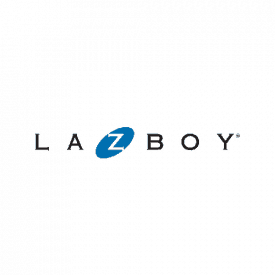 The La-Z-Boy Lux mattress is a great choice for back and side sleepers!
Testing the La-Z-Boy Lux Mattress
Firmness gives us crucial insights into a mattress, but it's not the whole story. To really determine whether a bed is a good match for you, it's also important to consider Pressure Relief and Motion Transfer. So let's do that!
Pressure Relief
In case you're not familiar with the term, here's what we're asking when we assess "pressure relief": Will a bed alleviate tension at sensitive areas such as the hips, lower back, and shoulders? This term tells you whether a mattress will ease pressure so you can enjoy comfortable sleep in your preferred position.
To test the Pressure Relief on the La-Z-Boy Lux, I used a helpful tool called a pressure map. I position this device on top of the mattress, hop on top, and let the map track my body's force as I try different positions. Low-pressure areas are highlighted in blue, and the highest pressure areas show up as red.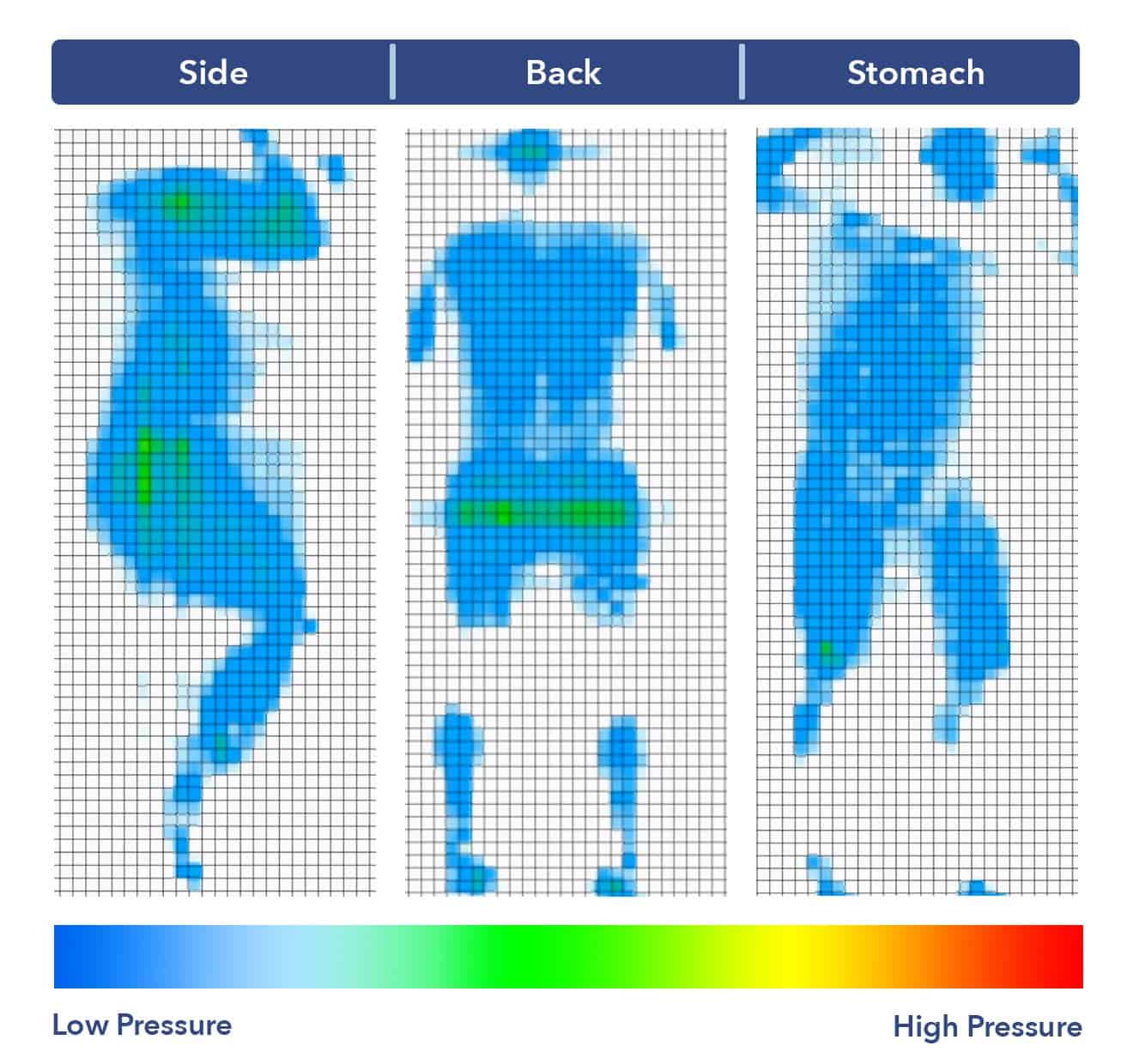 Back – When I'm lying on my back, my weight feels evenly distributed. I sink in just a bit and get some body-contouring from the memory foam layer, while the pocketed coils ensure that my hips stay elevated and aligned with my spine. This could be a great match for back sleepers.
Side – Thanks to the bounce from the coils, it's easy to move to my side. When I get there, I feel pretty comfortable and I don't feel jammed up at the shoulder (a common hot spot for side sleepers). Side sleepers or combo sleepers who spend part of the night on their side should feel pretty comfortable on this bed.
Stomach – I don't feel any significant pressure on my stomach, but I also don't feel enough support. My hips sink into the mattress a bit too far, and over time this could lead to lower back pain. If you spend just a small portion of the night on your stomach, you could be okay here. However, strict stomach sleepers will probably want to look for a firmer mattress.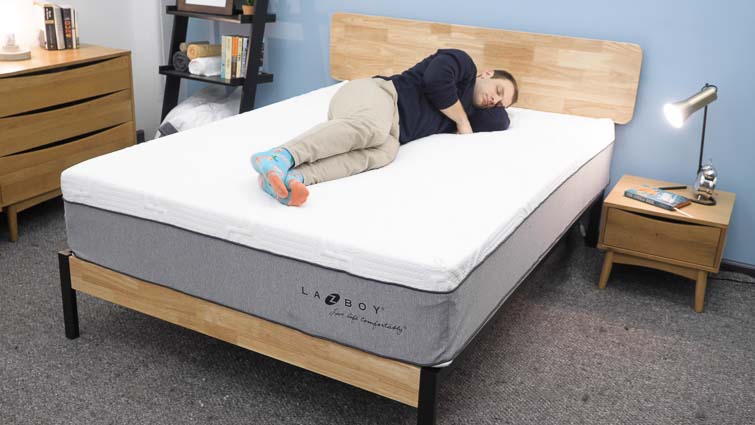 Motion Transfer
Like Pressure Relief, Motion Transfer can play a role in determining whether a mattress matches your sleep needs. This term refers to whether you'll feel a sleeping partner's movements if they shift around during the night. Knowing whether a mattress will help minimize motion transfer is especially important for folks who share a bed with a partner, child, or pet.
To test out motion transfer on the La-Z-Boy Lux, I dropped a 10 lb. steel ball from 4 inches, 8 inches, and 12 inches. These heights mimic various movements, from tossing and turning to getting out of bed or jumping on top of it. Next, I measured the disturbance caused by each of these drops. The bigger the lines, the bigger the disturbance!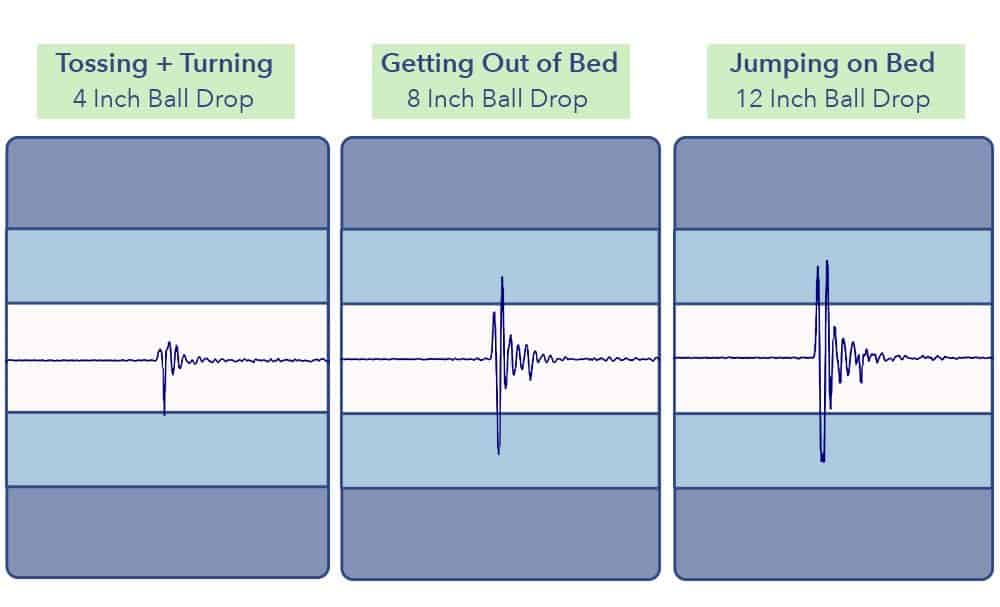 I was curious to see how this mattress would perform, because hybrid mattresses can be all over the map when it comes to their ability to isolate motion. Basically, it comes down to which has a bigger impact: the softer, motion-absorbing foams or the bouncy coils. I was really impressed with the La-Z-Boy Lux's performance during my motion transfer tests. It did a great job of isolating motion, which means this could be a nice option for folks who share their bed with a restless sleeper.
Is the La-Z-Boy Lux Mattress Right for You?
Wowza, you've nearly made it through this whole review! Now just one question remains: Is the La-Z-Boy Lux the right mattress for you? I can't answer that for you, but I can share a summary of my pros and cons for this mattress!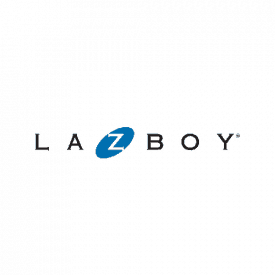 The La-Z-Boy Lux mattress is a great choice for back and side sleepers!
Pros
This could be a great match for back sleepers. The bed has a medium firm feel, which is often the sweet spot for back sleepers. It provides a touch of pressure relief while supporting the hips so they stay aligned with the spine.
Side sleepers might also feel at home on this mattress, because they should sink into the softer foam layers to enjoy pressure relief around the shoulder and hip. I was impressed with the pressure map tests results for this position.
This could also be a great fit for couples. The mattress does a good job of isolating motion transfer, and it offers strong edge support so couples can utilize the full surface of the mattress. The medium firmness is a good compromise for partners who sleep in different positions.
Cons
The mattress isn't especially firm. If you want to feel strictly on top of a mattress without sinking in at all, this probably won't be a great fit.
This probably isn't a good choice for stomach sleepers, for the reason listed above: This mattress isn't especially firm, so stomach sleepers' hips might sink in too far and throw the spine out of alignment, leading to back pain. Strict stomach sleepers will probably want a firmer bed.
La-Z-Boy Company Policies
Trial: 100 Nights
Shipping and Returns: Free
Warranty: 10 Years
How Much Does the La-Z-Boy Lux Cost?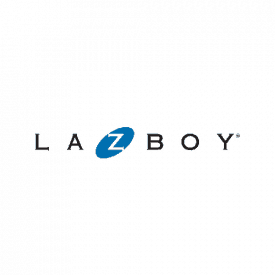 The La-Z-Boy Lux mattress is a great choice for back and side sleepers!
| Size | Dimensions | Price |
| --- | --- | --- |
| Twin | 38″ x 75″ x 12.5″ | $899 |
| Twin XL | 38″ x 80″ x 12.5″ | $899 |
| Full | 53″ x 75″ x 12.5″ | $999 |
| Queen | 60″ x 80″ x 12.5″ | $1,099 |
| King | 76″ x 80″ x 12.5″ | $1,199 |
| California King | 72″ x 84″ x 12.5″ | $1,199 |
La-Z-Boy Lux Mattress
Materials

Comfort

Support

Value

Cooling

Edge Support

Trial

Warranty