If you're looking for a great value in your next bedding purchase, MyPillow has a price point you may just agree with. But cost isn't everything. Bedding is a long term investment, so we're here to find out if the MyPillow mattress brings the right kind of value to its affordable price point.
Do we have the deal of the century here? Let's find out! If you have questions at any point, shoot them to us in the comment section below. Short on time? Use this link to skip to the summary at the bottom of the page.
This mattress is no longer available for purchase. To help you find your next mattress, check out our list of the best mattresses available on the market now.
MyPillow Mattress Video Review
Brand Snapshot
MyPillow began by selling (you guessed it!) pillows. The brand's claim to fame is its ability to adjust to you as you sleep. It's also known as a price-conscious economy brand.
MyPillow eventually began selling mattresses with the same value driven sales pitch. The company is now a one-stop shop that includes bed pillows, pillow cases, bed sheets, mattresses and toppers, travel pillows, art pillow cases, pet beds, and a suite of bedding accessories.
Now let's get into the construction of the MyPillow.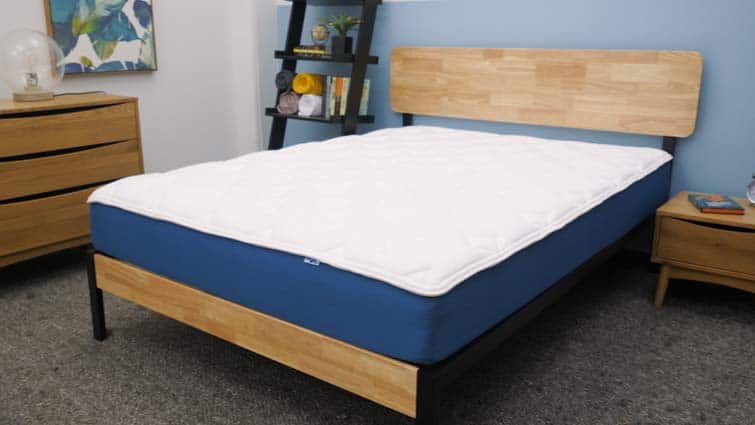 Materials
The 10" MyPillow Mattress has five layers, all with different textures of foam. Why so much foam? This mattress wants to be soft, soft, soft.
Cover (Quilted MyPillow QDS® Fabric) – The MyPillow cover is quilted with foam, so has a soft hand feel. You're likely to sink into this layer for some immediate comfort.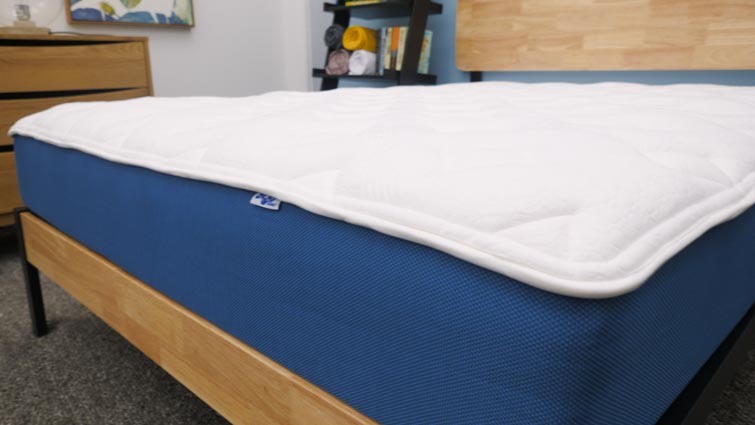 Comfort (High Airflow Comfort Foam) – The first layer of High Airflow Comfort Foam is breathable, which helps you sleep cooler. This layer does have a quick response to pressure, but is still quite soft. "High airflow" means less density, which works to prevent overheating. The material is also moisture-wicking, so gets an additional cooling boost. However, I would note that this layer doesn't feel very supportive.
Transition (Extra Soft Comfort Foam Transition Layer) – The next layer of foam begins to provide a touch more support. This particular material has a high density, but is still incredibly gentle (sensing a theme?). The layers do become progressively firmer from here, but you're likely to sink deeply into this structure, regardless of weight. A good thing for side sleepers, but could spell trouble for those who need a little more mobility.
Base (HD Poly Foam) – The thicker, less tensile high density poly foam provides almost all of the shape to the MyPillow. It's also the source of most of the weight support.
Thoughts: The theme here is definitely softness. However, softness does not necessarily equal comfort to all sleepers. I think MyPillow took a gamble here, and the result is a mattress that serves a niche of "soft sleepers" really well.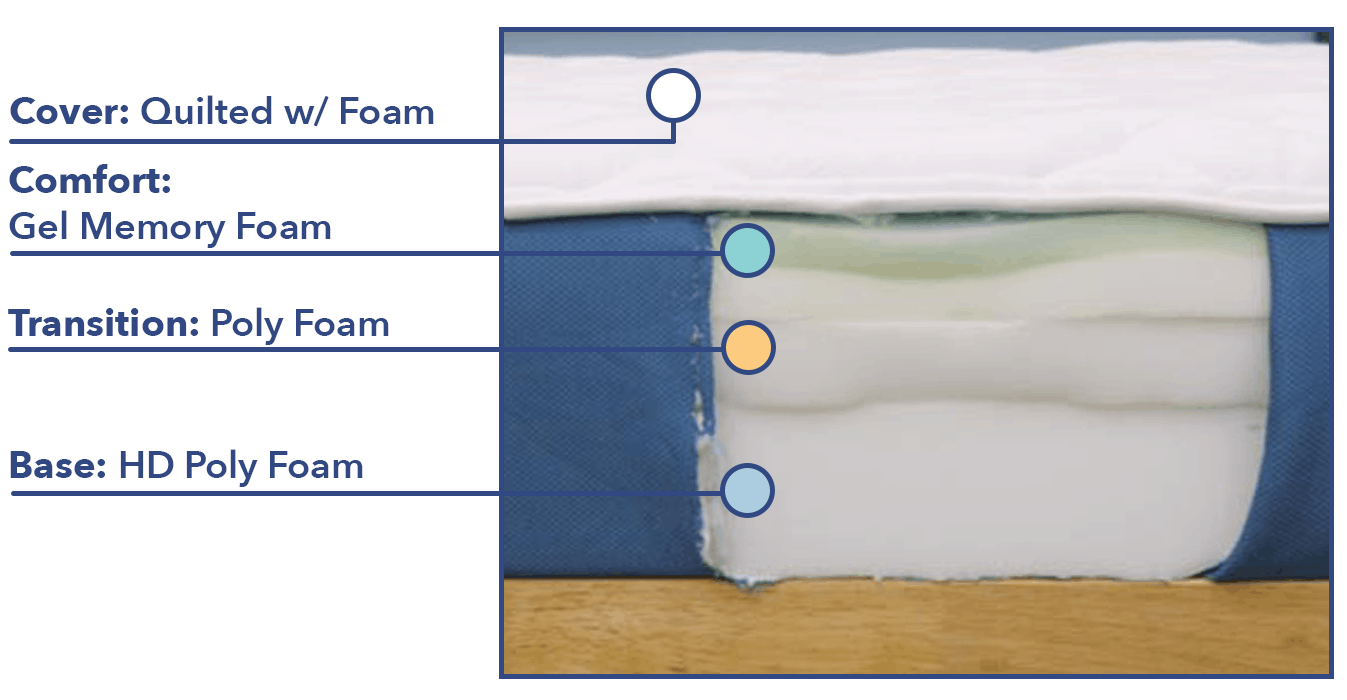 How Firm is the MyPillow Mattress?
Now that we've touched on the construction of the MyPillow Mattress, let's see how those materials actually feel, starting with firmness.
As I first lie down on the bed, I sink into the welcoming cover and comfort layers. The pressure relief is good, especially in my lower back. However, it's difficult to find spinal and shoulder support as I sink into the bed. This is actually good news for side sleepers. The shoulder tends to sink into the cover and comfort layers, and the joint feels less jammed up.
That's my first take, but firmness is subjective. It depends on body type, size, weight and personal preference! So I brought in three other testers. We all gave the MyPillow a personal rating after lying down on it. The score you see is the average of all four scores.
I personally gave the MyPillow a 5.5/10 for firmness. (6.5 is the industry standard.) My three colleagues had a slightly different experience, rating it a 6.5, a 7 and a 6.5. Why did I experience a softer mattress? It may be because of my weight (190 lbs.), preference for coils, or the fact that folks often react differently to memory foam.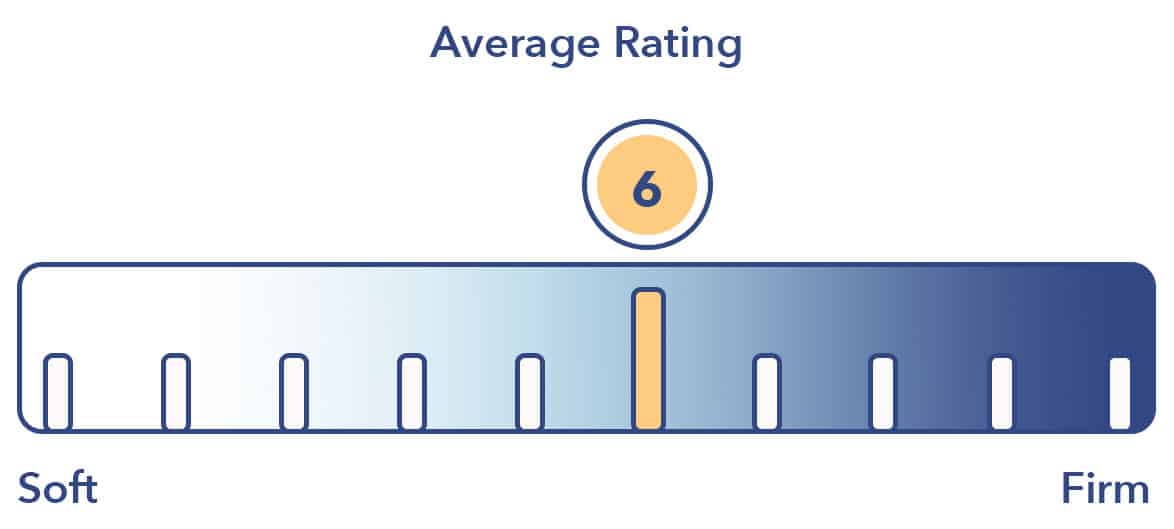 Compared to industry standard firmness, I felt that the combination of foam provided less support in high pressure areas. The mattress felt quite cool, but the lack of buoyancy in the top layers let me sink in too much for my taste. I felt a bit stifled in my movement, because there was nothing to push against when I moved!
Basically, you have a decision to make before even moving into a deep analysis of the MyPillow. You have to prefer a soft mattress, or you may as well move on.
The Pressure Map
I love our pressure map! It tells us what happens to your body as you sleep in certain positions over time. Why is this important? Well…
You might feel just fine when you first lay down on a mattress. But if pressure is building in your body, you will suffer the symptoms of pain. Our map tells us what the pressure levels are across your body as you lie down in different positions, with low pressure in blue and high pressure in red. You'll see medium pressure zones in green.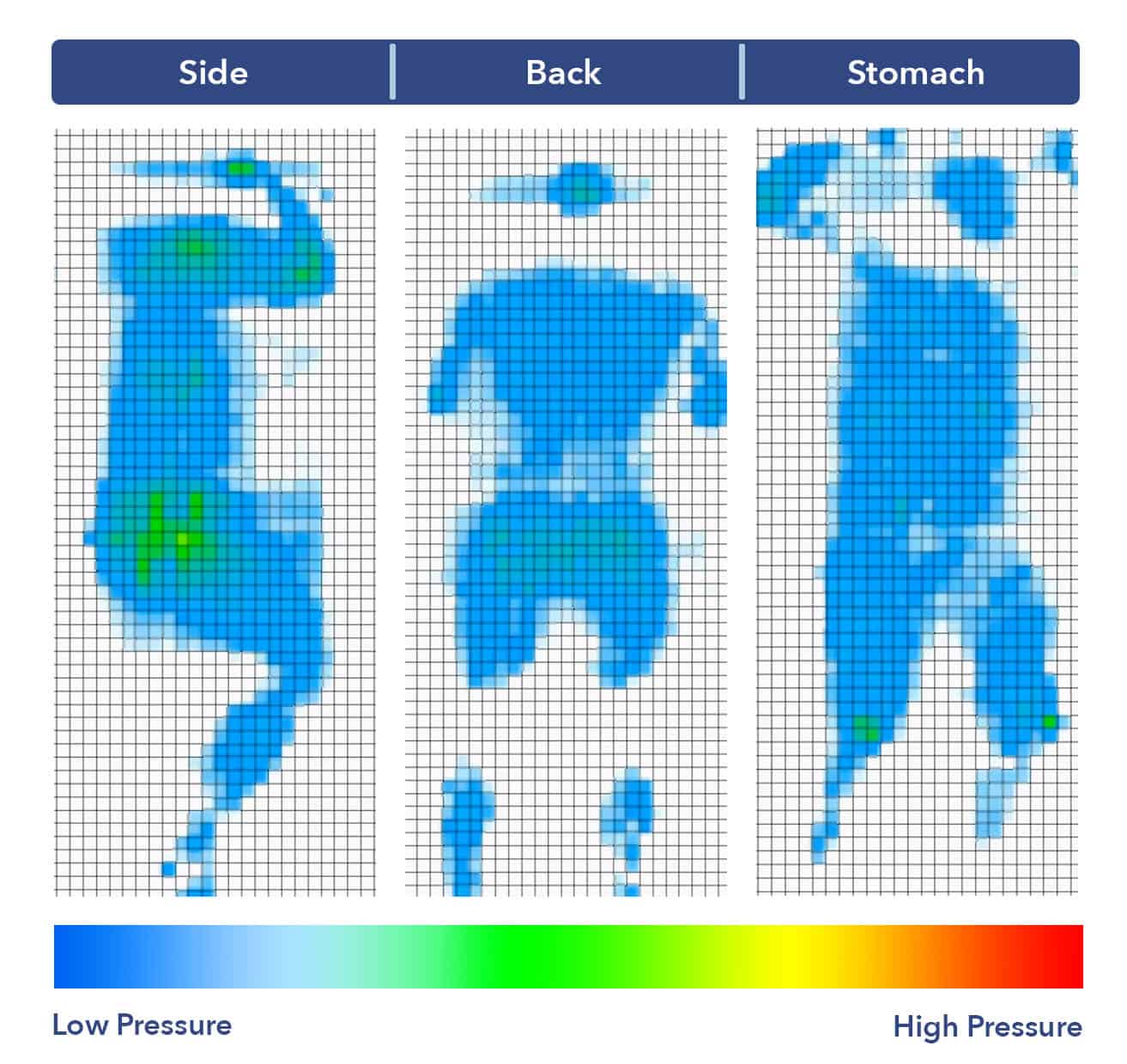 Back: I get blue across the board. This means an even distribution of weight and no uncomfortable pressure anywhere. This is a good start for MyPillow, but honestly, most mattresses give me "blueback." If you're a back sleeper and you like sinking into softness, the MyPillow Mattress may be just the thing for you. Combo sleepers read on.
Side: Here's where I begin to see a bit of pressure in my hips and shoulders (green). This is still nothing to worry about; it's natural for these high pressure areas to move the needle first. I usually find that softer mattresses are great for side sleepers because of the shoulder relief. There's no red, so strict side sleepers may have a winner here.
Stomach: On my stomach, I got all blue outside of a bit of green pressure on my knees. This is fairly common when my weight is evenly distributed, and it's good to know. However, this may not tell the whole story. I felt my stomach sinking into the mattress a bit too much. Strictly stomach sleepers may find this causes the back to bow.
Thoughts: Softer mattresses perform better "under pressure," because they bend with the wind, so to speak. We saw a lot of blue on the pressure map. This would be perfect for someone with an unbendable steel spine. It's not so good for someone who needs spinal support.
Most heavy people need spinal support, and some lighter people, too. If you are elderly or you have back problems, don't be fooled by the initial comfort. You may wake up with aches and pains if your back bows or neck bends because the mattress didn't support your spinal column.
This is what trial periods are really good for. If you can't fall asleep within 20 minutes or you wake up all the time with pain on a certain mattress, then it's probably not the mattress for you. Return to sender!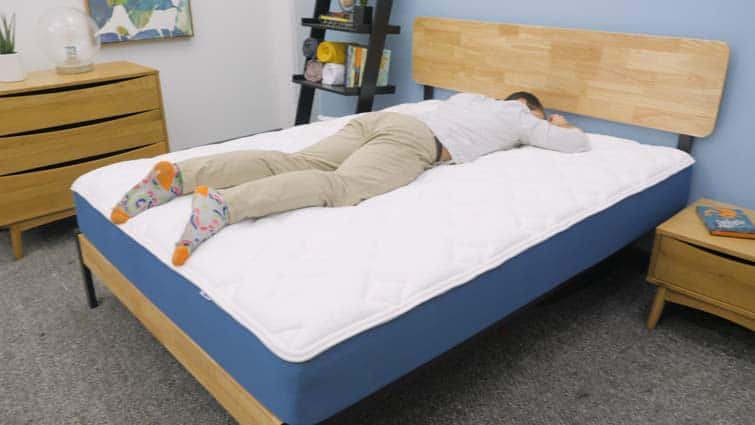 Motion Transfer
I ran a test for motion isolation right after the pressure map. If a mattress transfers motion, it can be very uncomfortable for people sleeping with a partner. If you wake up every time your partner goes to the bathroom at night, you know what I mean.
To test, I drop a 10 lb. steel ball from heights of 4", 8" and 12" on one side of the bed. On the other side, I measure the motion transfer with a seismometer.
Softer mattresses are generally better at isolating motion. MyPillow didn't really perform up to the standard I see for mattresses with a 5.5 firmness, though. It was ok, not great. You will probably feel a bit of movement from your partner at night.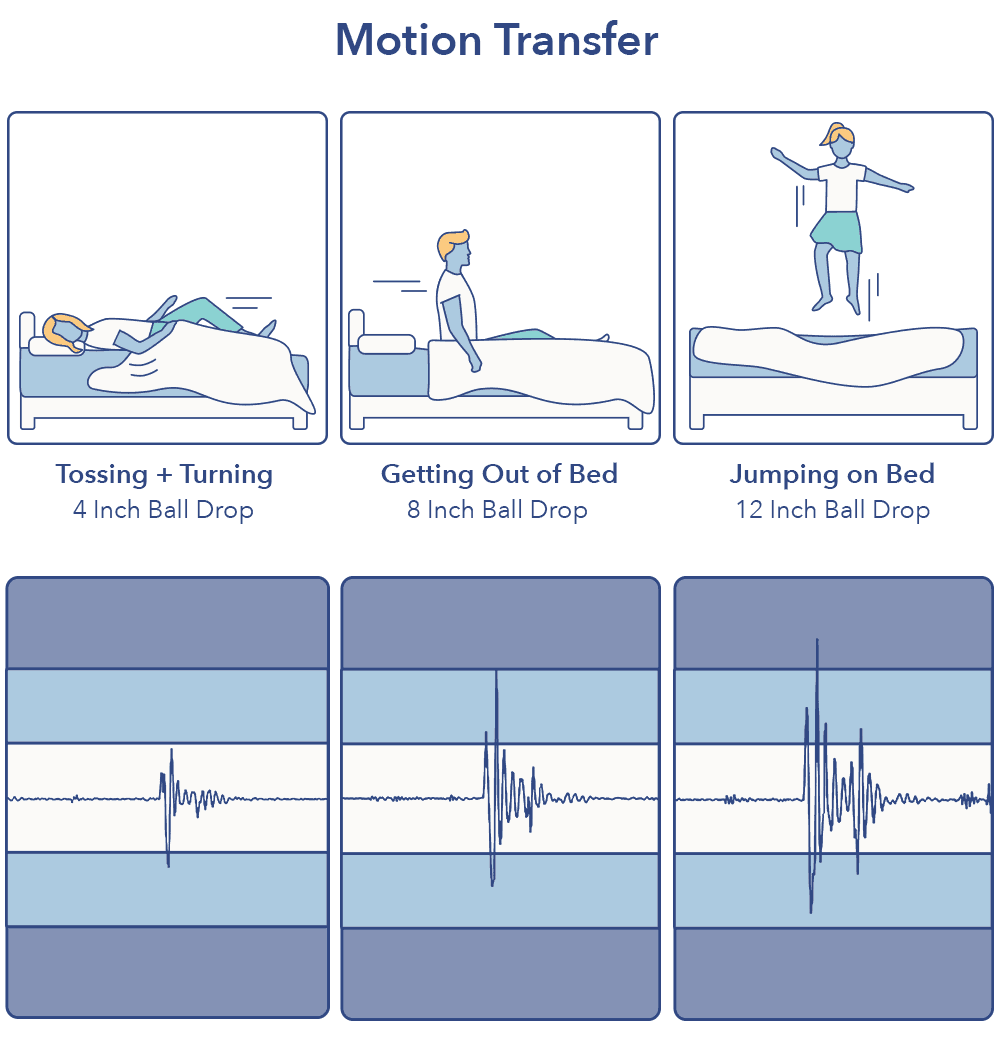 After the steel ball test, I did a second motion test I call the "shimmy." This test is simple: I just try to move from one position to another. Softer mattresses sometimes make this difficult, especially mattresses with no coils or springs like MyPillow.
Switching positions was fairly uncomfortable; I had to use a bit of strength to move from back to side and from side to stomach. The lack of support was evident here. If you like your mattress to bounce back a bit, a hybrid mattress or innerspring mattress performs better.
Is MyPillow for You?
Going in, we knew that MyPillow was going for the value market. But does it give enough value for the money? After careful review, I can say that it works for certain people.
This mattress is no longer available for purchase. To help you find your next mattress, check out our list of the best mattresses available on the market now.
MyPillow Mattress Mattress Pros
This mattress is soft. If you simply prefer the feel of a softer mattress, then you may have found the product for you.
Side sleepers could have an easy time getting comfortable using MyPillow. The results of the pressure map should excite you if you don't move away from the side position.
Value shoppers could find a lot to love here. The MyPillow Mattress is one of the least expensive choices in its class.
MyPillow Mattress Mattress Cons
Heavier people will push right through MyPillow. The lack of support may cause discomfort over time because the spine cannot stay straight. This is true even for side sleepers.
Stomach sleepers will get a sinking feeling from MyPillow, especially people 250 lbs. and above. The mattress allows the stomach to sink, which bows the back and causes aches and pains.
The mattress has no edge support. If you sleep with a partner, make sure you have enough room for both people. The edges on the MyPillow may give too much, causing you to roll off the bed during the night.
If you need a bit of bounce from your mattress, the MyPillow has very little.
The quality of materials leaves something to be desired. When the materials are less trustworthy, the overall durability of the mattress may suffer.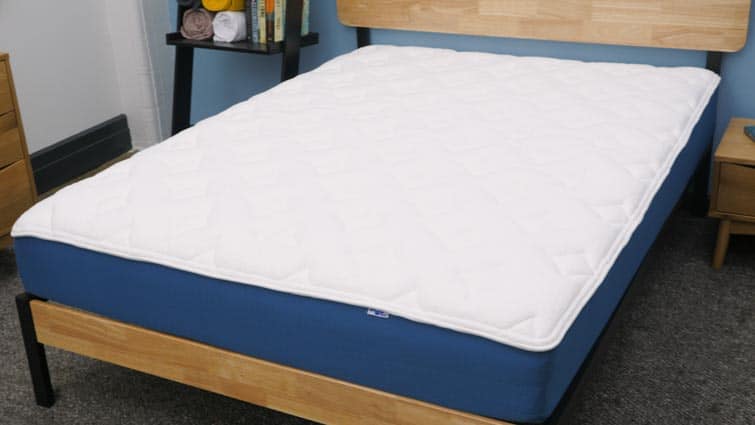 Purchasing the MyPillow Mattress
So you've decided MyPillow works for you on paper. The next step is to consider the odds and ends of the purchase. We will also take a look at what the company behind MyPillow, Brooklyn Bedding, does to earn your business.
Trial – The industry standard for a full money back guarantee is 100 days. MyPillow gives you 120. The website says 60, so you may want to call ahead of time to be sure.
Warranty – MyPillow matches the industry standard of 10 years for its warranty.
Shipping – MyPilllow offers free shipping to the continental United States. It does not ship to Alaska, Hawaii or Canada. It ships compressed, so it needs to expand overnight before you sleep in it.
Other MyPillow Reviews on Sleepopolis
How Much Does the MyPillow Mattress Cost?
The range you'll pay for MyPillow is between $499 (twin size) and $899 (king size). The company offers its own financing on all orders over $200 as well.
| Size | Dimensions | Price |
| --- | --- | --- |
| Twin | 38" x 75" x 10" | $419.99 |
| Twin XL | 38" x 80" x 10" | $489.99 |
| Full | 53" x 75" x 10" | $559.99 |
| Queen | 60" x 80" x 10″ | $629.99 |
| King | 76" x 80" x 10" | $699.99 |
| California King | 72" x 84" x 10" | $769.99 |
This mattress is no longer available for purchase. To help you find your next mattress, check out our list of the best mattresses available on the market now.
Make sure to follow your friendly neighborhood mattress reviewers on Facebook, Twitter, and YouTube.
Still deciding? Take a look at our mattress performance rating for the MyPillow mattress below.
MyPillow Mattress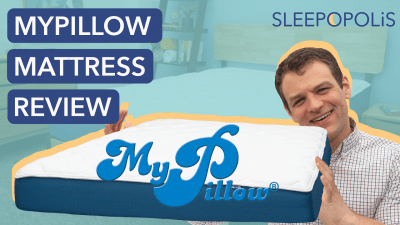 The MyPillow mattress is an all foam bed in a box that is a nice value option for side sleepers.
Product In-Stock: InStock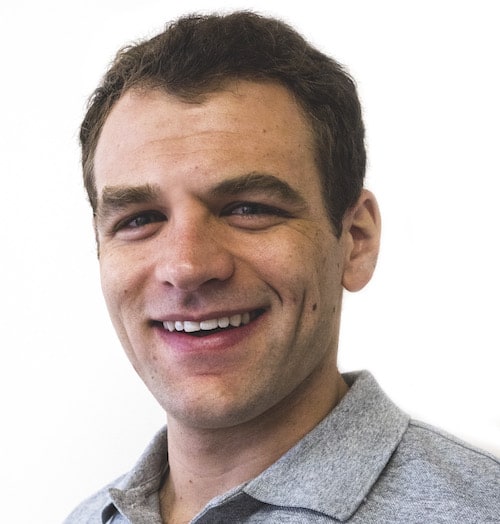 Logan Block
Logan is the former content director of Sleepopolis. As content director, he reviewed new mattresses every week and curated the comparisons, best of pages, and video guides on the site. Logan perfected his method by personally testing over 200 different mattresses, so he's not only able to discern the overall vibe of a specific bed, but to contextualize its feel within the bed-in-a-box market as a whole.