Boasting support and comfort that feels "just right," the NewDay Mattress is a new budget addition to Purple's lineup of all-foam mattresses. It features a breathable and stretchy SoftFlex cover and Purple's signature cooling (and nontraditional) GelFlex Grid.
But is it the dream mattress you've been searching for? In this review, I'll guide you through everything you need to know about the Purple NewDay mattress so you can decide for yourself. Let's get started!
Short on time? Click here to skip to my review summary.
Purple NewDay Mattress Overview
Purple is a U.S. mattress brand that offers a wide variety of mattresses that all share one unique component: Purple's proprietary GelFlex Grid. The Purple GelFlex Grid is specially designed to adapt to movements during sleep, all while promoting a cool and cushioning sleep surface.
The Purple NewDay mattress only comes in an 8-inch model in sizes full, queen, and king. It consists of four layers: the SoftFlex Cover, the GelFlex Grid, the sturdy edge support foam, and lastly, the base support foam as a foundation.
It arrives compressed in a box, so you'll need a few hours to let it decompress and off-gas. Should there be any odors, don't worry — they should dissipate within a day or less.
Purple NewDay Mattress Review Video
Want to see the Purple NewDay mattress in action before reading the full written review? Check out the review video below where we go in-depth with its mattress construction, materials, and performance in real-world tests. All in all, I rated the mattress a 3.9 out of 5. You can find the individual scores for the mattress at the end of the video.
Purple NewDay Sleepopolis Score
The Purple NewDay performed best in the categories of materials and cooling abilities. It wasn't as strong in some of the other categories that may be important to couples, like motion isolation and edge support. See our best mattresses for couples for better options.
What Is the Purple NewDay Mattress Made Of?
The Purple NewDay mattress is an 8-inch all-foam mattress that's constructed with four layers. Here's a layer-by-layer breakdown of the mattress.
Cover – The NewDay's top layer is a soft, stretchy, and breathable polyester cover.
Comfort Layer – Similar to other Purple mattresses, the NewDay features two inches of Purple's GelFlex Grid, which is made from a hyper-elastic polymer in a grid-like pattern. This layer provides adaptive support and cooling.
Support Layer – Encasing the GelFlex Grid layer is a frame of edge support foam that adds extra support and durability to the mattress. Supporting everything underneath is a 6-inch support foam layer.
Purple NewDay Mattress Firmness
The way a mattress feels can differ a lot, depending on your preferred sleeping position and body type. So to give you a comprehensive score, I polled my coworkers for their firmness rating of the Purple NewDay mattress. We all took turns lying down on the mattress, gave it a score, and came up with an average rating, which you'll find below.

After testing, we gave it a score of 7 out of 10. For comparison, the industry average for medium-firm is 6.5 on a scale from 1 to 10, so we can say the Purple NewDay is slightly firmer than average.
We all agreed that as soon as we lay down on it, the firmer feel was evident. Given its mattress profile, there wasn't much sinkage and it had a more "on the top of the bed" feel. Still, the GelFlex Grid comfort layer felt comfy and cool to move around on if you prefer a firmer feel.
Sleeping Position and Body Weight
Is the Purple NewDay a Good Mattress for Light Sleepers (Under 130 pounds)?
Light Back Sleepers – This mattress should provide enough comfort and support for those who sleep on their back, especially those who prefer an "on top" feel.
Light Side Sleepers – I think most side sleepers will probably find the Purple NewDay a bit too firm, which may cause some discomfort.
Light Stomach Sleepers – I think the NewDay mattress will be a good option for these stomach sleepers looking for solid hip and spine support.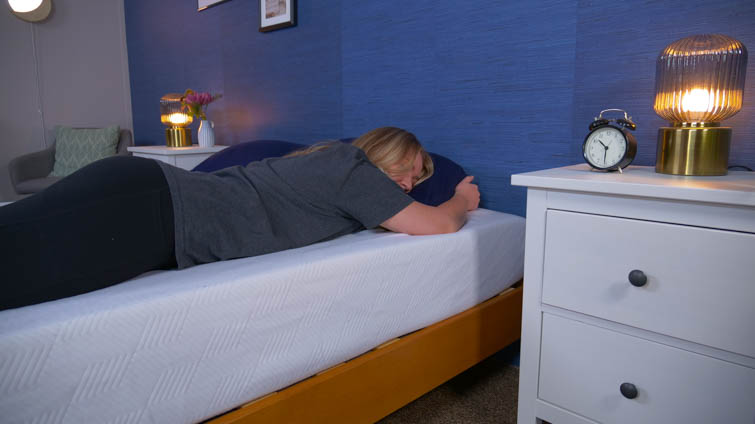 Is the Purple NewDay a Good Mattress for Average Weight Sleepers (130–250 pounds)?
Average Weight Back Sleepers – I think the NewDay mattress is firm enough to provide a healthy neutral spine alignment for back sleepers, making it a good choice.
Average Weight Side Sleepers – Side sleepers typically want a mattress that's soft and cushioning for their sides to avoid any hip or shoulder pain — and unfortunately, the NewDay will probably feel too firm.
Average Weight Stomach Sleepers – Some stomach sleepers may find their stomach and hips bottoming, so I wouldn't recommend this mattress.
Is the Purple NewDay a Good Mattress for Heavy Sleepers (over 250 pounds)?
Heavy Back Sleepers – I think some back sleepers would feel okay sleeping on the NewDay, but most others may feel like it lacks back support.
Heavy Side Sleepers – These sleepers may sink too far through the comfort layers to achieve the contouring they're looking for.
Heavy Stomach Sleepers – I don't recommend this to heavyweight stomach sleepers since it lacks the right hip support to keep their hips from bowing out of alignment.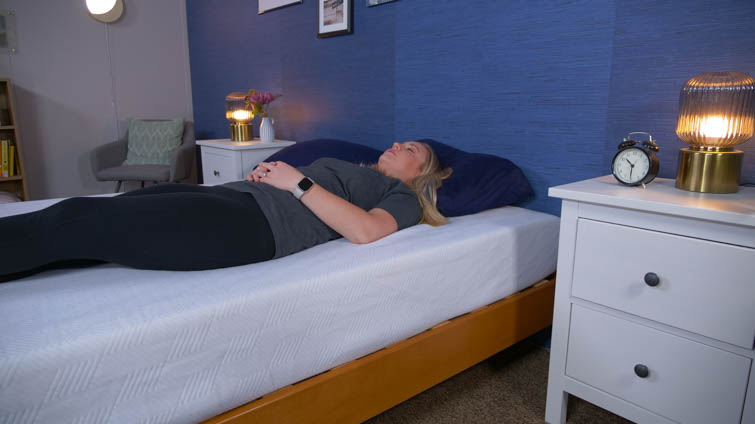 Purple NewDay Mattress Performance
Here at Sleepopolis, diving deep into mattress reviews is our bread and butter. As a Certified Sleep Science Coach, I've personally put the Purple NewDay Mattress through its paces with a series of rigorous tests to get a clear, objective look at the true mattress performance. Through testing, we can tailor our recommendations based on sleeping positions, body types, and more. Curious about how the Purple NewDay fares in areas like pain relief, motion transfer, and cooling? Let's dig in below.
Purple Mattress Pain Relief Performance
Pressure relief refers to a mattress's capacity to distribute weight and contour to the body, alleviating stress on your body's pressure points during sleep. It's an important factor in understanding how well a mattress can alleviate discomfort.
To get the lowdown on the Purple NewDay's pressure relief, I rolled out a pressure map atop the mattress and experimented with various sleeping positions. The pressure map detects and visually presents the pressure points via thermal imaging. Blues and greens indicate low pressure, while yellows and reds mean high pressure. We've focused on three key pain areas: back, shoulders, and hips.
Before looking at the results below, you'll definitely want to take your sleeping position into account.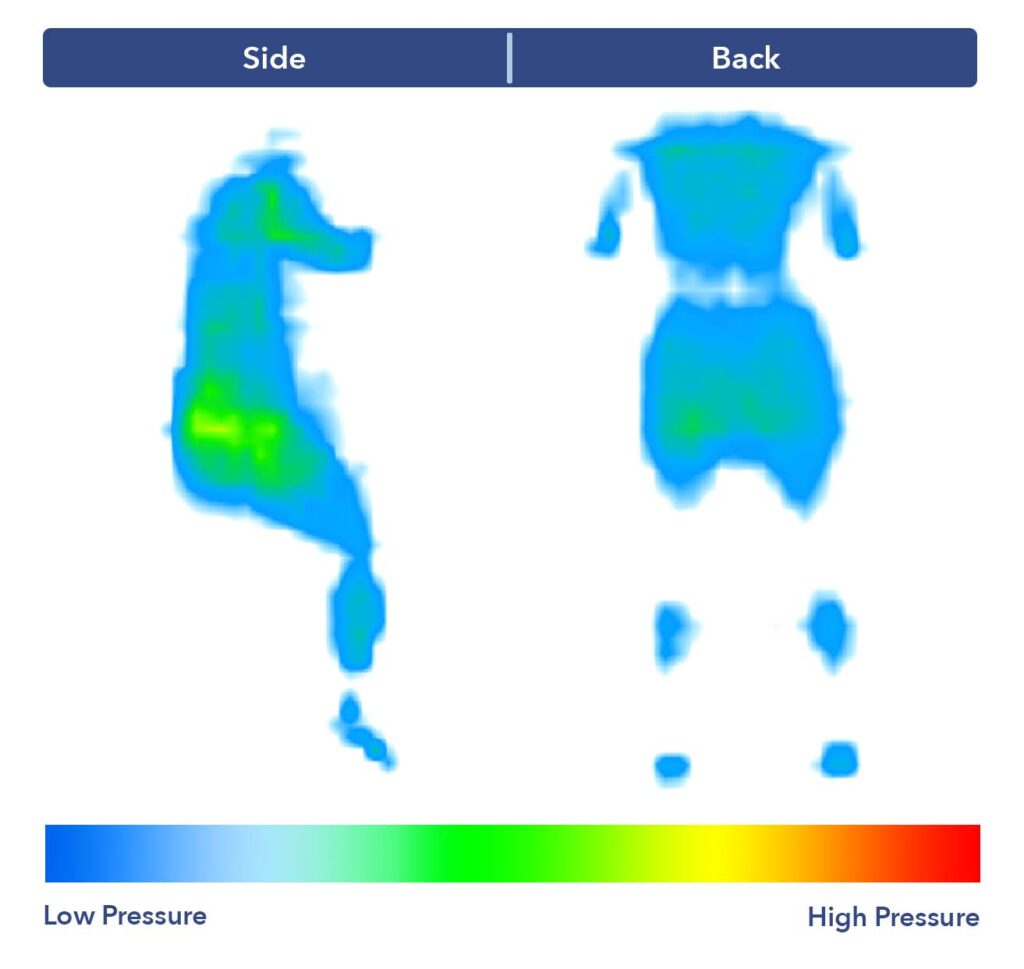 When I laid on my back, the whole experience was like a sea of calming blue with just a tiny hint of green around my hips. Basically, you can see there's little to no pressure and it was comfortable overall. But when I moved to my side, I did feel a bit more pressure on the hips (which you can see in the pressure map results), but the map didn't show buildup to the point that it'd disrupt my sleep. My shoulder also looked great, showing mostly blue with a touch of that faint green. Surprisingly, it did way better than I thought it would for side sleepers.
Motion Transfer
Motion transfer is an important thing to consider, especially when you're sharing a bed with a partner or a furry friend. It's the amount of shake, rattle, and roll you feel when the mattress gets a little nudge or jostle.
To measure motion transfer, we do a series of tests. First, I and a colleague of mine lie down on the bed and roll around to check how much motion we feel from each other's movements. Next, we place a wine glass on the mattress to see how much our movements affect the liquid inside. What we're looking for is zero to minimal movement inside the glass, which would indicate low motion transfer.
Lastly, we have our seismometer test. We drop a 10-pound steel ball from heights of four, eight, and 12 inches and record the seismic waves. Bigger zigzags on the graph indicate big disturbances, which would indicate high motion transfer.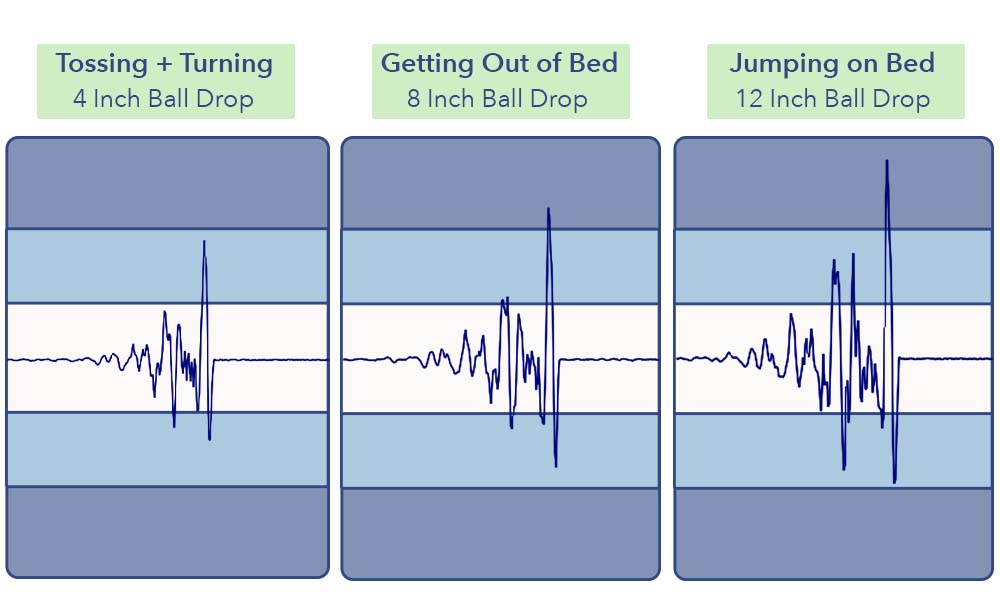 Overall, the NewDay mattress has average motion transfer. Switching sleep positions probably won't be enough to bother you and/or your partner, but you're likely to feel bigger movements like jumping or bouncing.
Responsiveness
We measure a mattress's responsiveness by moving around on the mattress and also giving it a good press, lifting our hand, and taking note of how fast it bounces back to its original form. Memory foam usually takes time to bounce back after being applied pressure, while hybrid mattresses snap right back. A responsive mattress can be good for sex since you don't feel stuck in the bed. Plus, if you're a restless sleeper who tosses and turns a lot, you'll have an easier time switching between positions.
Now, Purple NewDay is pretty uplifting so it's easy to move around on it. It's not super bouncy, but I think combination sleepers will appreciate the balanced feel that's neither sinking too deep nor perching too high.
Cooling
There are different factors that affect a mattress's cooling ability — and the first thing to consider is the mattress's materials and construction. Purple is known for its GelFlex Grid, which is a polymer gel with a grid-like construction that provides adaptive pressure relief and heat dissipation. It allows for plenty of air to flow through the mattress, keeping you cool.
Also take note that different factors can affect cooling, like your bedroom's temperature, how close your bed is to an air vent or window, and your body's temperature — which varies per person.
Edge Support
Edge support refers to how well your mattress can keep you lifted and supported when you lie or sit down near the edges. Having a mattress with good edge support is an advantage for couples who want to maximize their mattress's sleeping area, heavier people who don't want a prematurely sagging mattress, and people who have trouble getting in and out of bed.
Unfortunately, I think the Purple NewDay has poor edge support. When lying down on the side, the sagging was noticeable. It was even more evident when we sat and it squished down, nearly meeting the frame.
Purple NewDay Mattress Performance For Couples
Is the Purple NewDay good for couples? It depends on what you want to prioritize. It's a cooling and responsive mattress, so if that's at the top of your list, the NewDay is a good choice. However, it's a bit lacking in the edge support and motion isolation departments, so choose other options if those are important to you. Overall, though, I don't really recommend it for couples.
As we're nearing the end of my review of the Purple NewDay mattress, let me share my thoughts on who I would recommend this mattress to — and who I suggest should steer clear of it.
Who I Recommend the Purple NewDay Mattress For
Back sleepers should get the right amount of back support from this mattress to maintain a healthy neutral spine alignment.
Combination sleepers who are looking for a responsive mattress should definitely appreciate how easy it is to move around on the NewDay.
Hot sleepers should love the cooling and breathable feel of Purple's patented GelFlex Grid layer.
Fans of a nontraditional mattress feel may enjoy the unique gel-like comfort of the NewDay's GelFlex Grid. It provides a floating sensation for sleepers.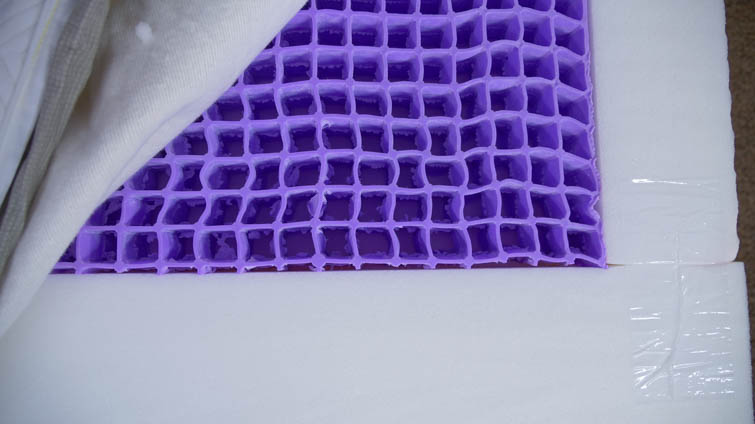 Who I Don't Recommend the Purple NewDay Mattress For
Side sleepers will probably find the NewDay mattress too firm and hard on their shoulders and hips.
Folks looking for more of a traditional mattress likely won't feel at home with the GelFlex Grid's unique feel.
Purple NewDay Pricing and Sizing
Does the Purple NewDay fall within your budget? Check out our size and pricing chart below. This table reflects standard pricing, but you can use our Purple mattress coupon to save on your purchase.
| Size | Dimensions | Price |
| --- | --- | --- |
| Full | 54" x 76" x 8" | $1,195 |
| Queen | 60" x 80" x 8" | $1,295 |
| King | 76" x 80" x 8" | $1,595 |
Purple Mattress Policies and FAQs
What are Purple's shipping, trial period, and warranty policies? 

Purple offers free shipping, a 100-night trial, and a 10-year warranty.
How long do you have to wait to sleep on a new Purple mattress?

Purple mattresses usually arrive compressed in a box, so you may need to give time for off-gassing to get rid of any odors. It usually takes one or two days for any odors to dissipate and after that, you can sleep on your new mattress.
What is a Purple NewDay mattress?

The Purple NewDay mattress is an 8-inch all-foam mattress that features Purple's patented GelFlex Grid. It has a firm, responsive feel that's suitable for back sleepers and combination sleepers.
How difficult is it to return a Purple mattress?

Not very difficult! You just have to make sure the Purple mattress is clean, undamaged, and has its mattress law tag intact. Get in contact with Purple or an authorized partner to arrange a time for your mattress to be picked up.
Purple NewDay Mattress Vs
Now that you have a good idea of the Purple NewDay's performance, it's time to see how well it stacks against different mattress brands. In this section, we'll be comparing the NewDay to its closest competitors: the Casper and Nectar mattresses.
Purple NewDay vs Casper
Both the Purple NewDay and Casper mattresses are all-foam bed-in-a-box mattresses. They also feel similar in terms of firmness, being slightly firmer than average. However, we think the Casper performs better for couples, boasting better edge support and motion isolation than the Purple NewDay.
Price: Both are similarly priced.
Sleeping position: Both mattresses are good choices for back sleepers, but the Casper mattress accommodates side sleepers better than the Purple NewDay.
Cooling: The Purple NewDay is more cooling, thanks to its specially designed GelFlex Grid layer.
Body weight: Both mattresses struggle when it comes to accommodating heavier sleepers, but I think the Casper mattress does a better job at it with more support.
Read more in our full Casper mattress review.
Purple NewDay vs Nectar
The Nectar mattress is an all-foam mattress that arrives compressed in a box. It has a softer feel (6 out of 10) and a thicker profile (12 inches vs. Purple NewDay's eight inches).
Price: At full retail, the Nectar is more affordable than the Purple NewDay by a few hundred dollars, making it a more budget-friendly choice.
Sleeping position: Both mattresses can accommodate back sleepers really well, but the Nectar mattress does a better job for side sleepers.
Cooling: The Purple NewDay and its cooling GelFlex Grid sleeps cooler than the all-foam Nectar mattress.
Body weight: I think the Purple NewDay's firmer feel is likely better suited to heavier sleepers.
Read more in our full Nectar mattress review.
Purple NewDay vs Saatva
The Saatva mattress has a coil-on-coil construction with a traditional innerspring feel. It comes in three firmness levels and ships free with Saatva's white glove delivery.
Price: Saatva is a luxury mattress brand, so it comes with a higher price tag compared to Purple's NewDay.
Sleeping position: Both mattresses are great options for back sleepers, but when it comes to stomach sleepers, the Saatva is the better choice.
Cooling: The Purple NewDay may have a slight edge with cooling capabilities over the Saatva, thanks to its cooling GelFlex Grid layer.
Body weight: With its thicker mattress profile and sturdy coils, the Saatva mattress can provide much better support and comfort for heavier sleepers.
Read more in our full Saatva mattress review.
Other Models from Purple
Purple offers several mattresses, each offering different features. Let's take a closer look at how the NewDay performs against some of its siblings.
Purple NewDay vs Purple Original
The biggest difference between the two is the mattress firmness: the Original has a slightly softer feel compared to the NewDay — but overall, is more of a medium-firm bed. The Original also has a slightly thicker mattress profile, standing at 9.25 inches.
Price: Both mattresses are in a similar price range.
Sleeping position: While the NewDay mattress is great for back sleepers, the Purple Original can accommodate almost all sleeping positions well, depending on body weight.
Cooling: Both mattresses have cooling GelFlex Grid layers, so they're great for hot sleepers.
Body weight: The NewDay mattress and its firmer feel may be a better match for some heavier sleepers, but neither bed is a slam dunk for heavier folks.
Read more in our full Purple Original mattress review.
Purple NewDay vs Purple Restore
The Purple Restore mattress is a 13-inch hybrid mattress that features foam and coil layers. It's also available in multiple firmness options.
Price: The Restore model is part of Purple's premium lineup of mattresses, while the NewDay line is meant as a budget-friendly alternative.
Sleeping position: The Restore model can better accommodate different sleeping positions since it's available in different firmness levels.
Cooling: Both have the GelFlex Grid, but the Restore's airflow-promoting coil layer delivers better airflow.
Body weight: The Restore can handle heavier sleepers much better than the NewDay thanks to its supportive coil layer.
Read more in our full Purple Restore mattress review.
Purple NewDay vs Purple Rejuvenate Plus
The Purple Rejuvenate Plus is part of Purple's premium lineup of hybrid mattresses, featuring a 16.5-inch mattress profile, reinforced steel coil edge support, and a quilted cooling cover.
Price: The NewDay is geared towards customers on a budget, while the Rejuvenate Plus is more on the high-end side.
Sleeping position: The Rejuvenate Plus is better at accommodating different sleeping positions because of its mattress construction and versatile, plush medium-firmness.
Cooling: The Rejuvenate Plus has multiple cooling features aside from the GelFlex Grid, such as the quilted cooling cover and breathable coil layer.
Body weight: The Rejuvenate Plus has reinforced steel coils that do a fantastic job of supporting heavier sleepers.
Read more in our full Purple Rejuvenate Plus mattress review.
Our Review Process
At Sleepopolis, our team of Certified Sleep Science Coaches personally test each mattress. We start by unboxing the mattress to figure out how difficult (or easy) it is to get the mattress from the box to the bed. Then, we spend time laying on the bed in different positions, taking time to assess it on our backs, stomachs, and sides. Next, we perform our Sleepopolis tests, using specialized tools to measure qualities like motion transfer, bounce, and pressure relief. Our last step is to open up the mattress and take a look at each layer. These steps allow us to give our final verdict on the mattress.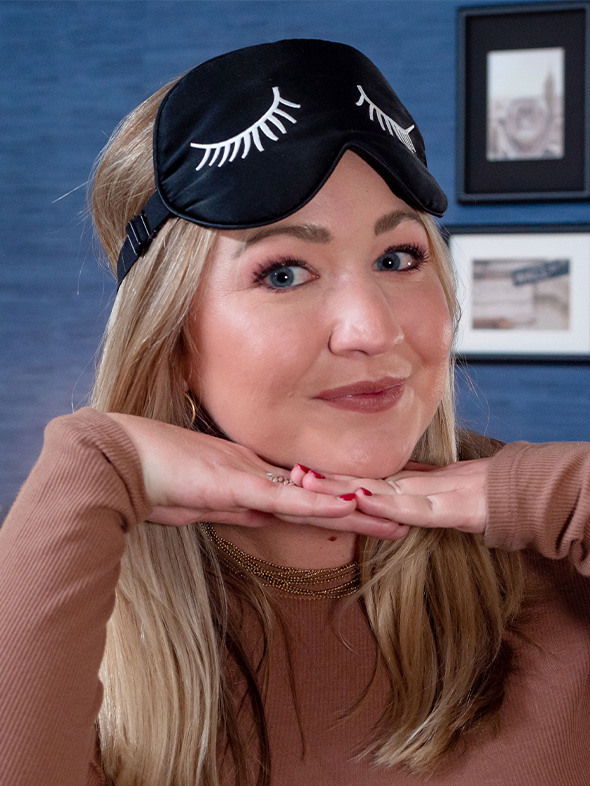 Bridget Chapman
Former Senior Product Editor
About Author
Bridget is a Certified Sleep Science Coach and senior editor here at Sleepopolis. From testing mattresses to writing about various sleep health topics, her goal is to help you get a good night's sleep. You can also find her in videos on our YouTube channel. Bridget graduated magna cum laude from San Diego State University with a degree in journalism and a minor in English. Before joining the Sleepopolis team, she was a TV news reporter and worked in cities across the country. She loves spending time outdoors, checking out new restaurants, snuggling with her pets, and of course — getting some quality Zzz's.