Wouldn't it be great if you could control the temperature of your bed with the click of a button? Well, that's exactly what the Chilipad was designed to do! This unique sleep accessory can warm you up, cool you down, or do both at the same time to accommodate couples. But how does it work, and does it actually get the job done?
Well, keep reading this Chilipad review because I'm about to answer all your questions. After personally testing it for over a week, I'm ready to tell you how well it works, and help you decide if it's the right fit for you. Let's get started!
Chilipad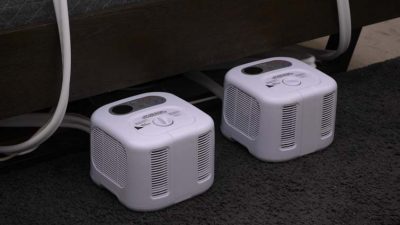 Featuring two distinct temperature sections, the Chilipad could be a good fit for couples who have differing sleep preferences
Sleepopolis Score
4.20 / 5
Read Full Review
Brand Snapshot
The Chilipad was invented in 2007 by Todd and Tara Youngblood, a husband and wife duo with totally different sleep preferences. According to them, he likes to sleep cool, she likes to sleep hot, so they came up with a solution that would keep them both comfortable. That's why the Chilipad comes in a "WE" option for couples, and a "ME" model for solo sleepers.
In this review, I'm focusing specifically on the WE Chilipad (also known as a Dual-Zone). So follow along as I show you everything there is to know about this unique sleep accessory, and whether or not it actually worked for me.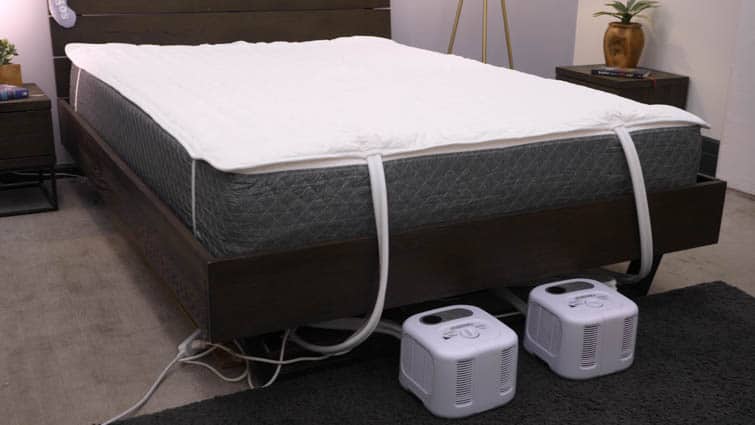 How Does The ChiliPad Work?
The Chilipad is similar to a regular mattress pad in that it covers your bed with a thin layer of cushioning. But what makes it totally unique is its ability to regulate the temperature of your bedding while you sleep. After personally testing the Chilipad, I'm ready to tell you everything there is to know about it. But if you're short on time or just want the need-to-know basics, take a moment to peruse the Chilipad's key features below:
Temperature Regulation – The primary purpose of the Chilipad is to regulate the surface temperature of your mattress by circulating water through a network of microtubing. Sleepers can set the water to be as cool as 55 degrees, as hot as 115 degrees, or anything in between.
ME vs. WE – If you're sleeping solo or only want to regulate one side of your bed, the "ME" is a single-zone option that's probably the right fit for you. Conversely, couples who want to simultaneously regulate each side of the bed might want to opt for the "WE" dual-zone model.
Control Units – Temperature can be controlled manually by adjusting the control units after you fill them with water. The control units are relatively small, cube-shaped devices that can be placed at the foot of your bed. Again, WE models come with two control units, and ME Chilipads come with one.
Radio Frequency Remote – The temperature of the Chilipad can be adjusted by using radio frequency remotes that are synced to the control units. This allows you to make it warmer or cooler from the comfort of your bed!
Machine Washable – Believe it or not, the Chilipad is machine washable and dryable. However, it's best to use large or industrial sized machines, and dry on a low-heat setting.
Alright, with these key features in mind, allow me to detail my personal experience snoozing with the Chilipad.
Chilipad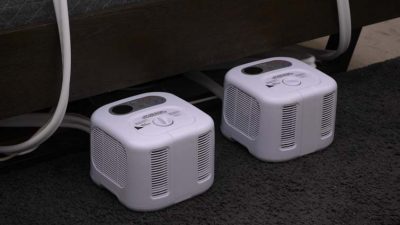 Featuring two distinct temperature sections, the Chilipad could be a good fit for couples who have differing sleep preferences
Sleepopolis Score
4.20 / 5
Read Full Review
My Experience With The Chilipad
In this section, I'll tell you what I liked about the Chilipad, what I didn't like, and give you an overview of how to set it up. I'll also dive into the details of what it's made of, how it feels, and how it sounds when it's up and running.
ChiliPad Setup
Before I discuss the ins and outs of the Chilipad's performance, let's talk set-up. To get started, make sure you have AAA batteries (two for the ME, four for the WE) and some distilled water. The batteries are for the remote controls, and the water is for the control units. And though it's not technically mandatory, using distilled water can guard against sediment build-up within the Chilipad's tubes.
Once you have all the supplies you need, place your Chilipad on top of your mattress and continue to make the bed as you usually would. Then, connect the pad's tubes to the control units, plug the control units into an outlet, and fill them with water. I suggest pouring the water in each unit slowly, but each unit is going to take about 24 ounces.
Next, sync each remote to their respective units (again, you'll have two with a WE, one with a ME), and that's it! You're officially ready to set the temperature of your Chilipad and climb into bed. The folks at Chilipad say it'll take about 20 minutes for it to warm or cool, and I'll discuss more about that later. Ultimately, I found set-up to be pretty simple, but take comfort in the fact that every Chilipad comes with a User's Manual.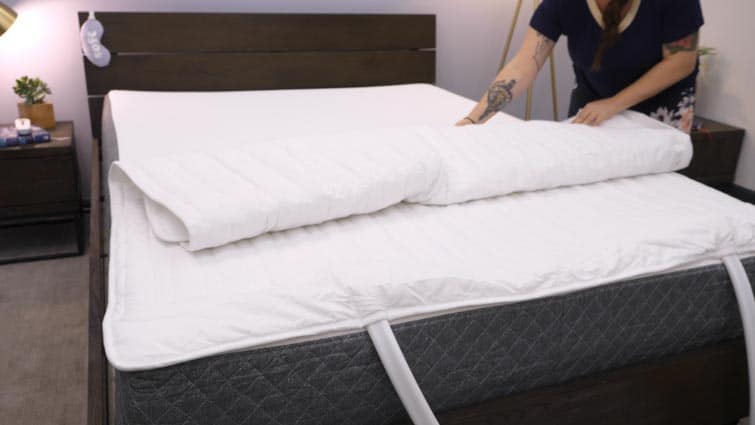 Warming & Cooling Ability
As I said, I tested the WE Chilipad, which features a dual-zone design that can heat or cool each side of the pad separately. So, naturally, the first thing I did was crank one side all the way up to 115, and set the other side at 55 degrees. Personally, I think that's the best part about this sleep accessory — it lets you control the temp on your side of the bed, and your partner can control theirs.
However, I was a little frustrated by how long it took for each side to actually reach those temperatures. Granted, I set both sides as high and low as they'll go, but it's important to note that it took about 40 minutes to get there (but they did get there!). If I were you, I'd set the temperature of your Chilipad about a half hour before you get into bed so that it's ready by the time you settle in.
More: See how the Chilipad compares to the BedJet!
That said, I was super impressed by how warm and cool each side felt once they reached their temperatures. The cool side felt like it had been refrigerated, while the warm side felt like a toasty electric blanket. And what really wowed me was how one side seemed to have no effect on the other! As a hot sleeper, I'm not sure how much use I'd get out of the warming function, but I can see how it'd come in handy for folks who run cold.
But the real gem, in my opinion, is the cooling function. After I played around with different temperatures, I set the whole Chilipad to be a cozy 60 degrees. And as I rolled around the mattress, I genuinely felt calmed by the cooling caress of the bedding against my skin. Some of you may already know this, but keeping your body at a cool temperature can actually help you fall asleep faster — and the Chilipad definitely did that for me.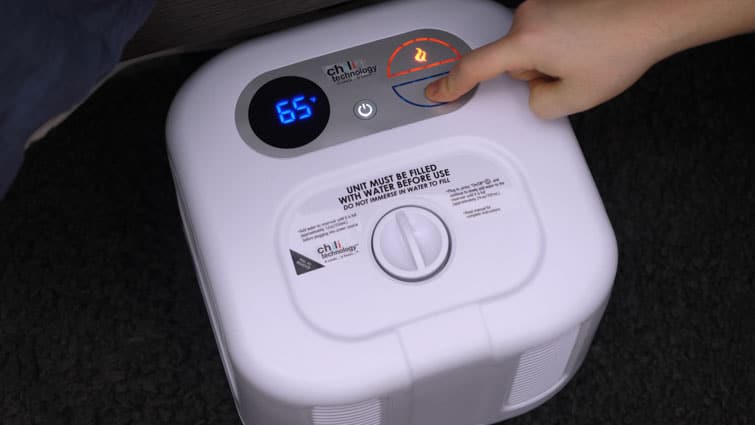 Materials & Noise
Aside from how warm or cool the Chilipad can get, the pad itself feels quite soft. Your skin isn't meant to come in direct contact with the Chilipad, but it's made from a blend of cotton and polyester that seemed to add a little extra cushion to my mattress.
Another thing I appreciate about the Chilipad's construction is that you can't feel the microtubing through the fabric… But you can hear the water flowing a little bit. For me, this was no big deal, and actually sort of soothed me. However, if you're a light sleeper or might be disturbed by the faint sound of running water, this is something to consider.
Additionally, the control units make a whirring noise that, again, I found to be relaxing. It's not very loud, and kind of sounds like the white noise of a box fan; but sleepers who need total silence at night might be bothered by it.
The Verdict
Ultimately, I really enjoyed my experience testing the Chilipad. On a personal note, I sleep very hot and my partner is always cold, so I have a feeling that it might be most beneficial to couples. The main caveat to consider, though, is that it does make a whirring noise that might disturb light sleepers. Aside from that, I think the Chilipad is a luxurious sleep accessory, ideal for curating the climate of your sleep space.
Should I Buy The Chilipad?
Now that we've taken a close look at the Chilipad, let's recap the highlights so you can decide if it's really the right fit you:
Couples – As I said, I think the WE Chilipad is ideal for couples who run at different temperatures. I can see how the ME version would be great for solo sleepers too but, in my opinion, the ability to regulate each side of the bed separately is really special.
Easy Set-Up – The Chilipad is easy to set up, and doesn't require the Internet at all. If you shy away from Bluetooth-enabled devices or equipment that needs to be frequently charged, take comfort in the fact that this one runs on old fashioned battery power.
Machine Washable – The Chilipad can be thrown in the washing machine just like a regular mattress pad, which makes maintenance nice and easy. However, you might want to use a larger machine, and secure the extension tubes with a rubber band to prevent them from flailing around mid-cycle.
90-Day Trial – You've got 90 full nights to test all Chilipad products, which might ease the purchasing pressure a little bit. If you decide that it's not the right fit for you, just send it back for a refund.
Chilipad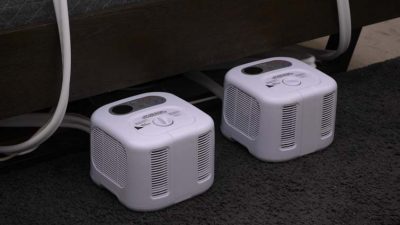 Featuring two distinct temperature sections, the Chilipad could be a good fit for couples who have differing sleep preferences
Sleepopolis Score
4.20 / 5
Read Full Review
Chilipad Complaints
Of course, there are a few things to consider before you make your purchase:
Noise – Between the water flowing through the Chilipad and the whirring of the control units, this device might be a bit too noisy for some. If you're a light sleeper or are easily disturbed by nighttime sounds, this might not be the best fit for you.
Batteries Not Included – Keep in mind that you will need to purchase distilled water and AAA batteries separately, as these things are not included with your order. It's not a huge deal, in my opinion, but I'll admit that I was very eager to set everything up as soon as my Chilipad arrived. So, I suggest gathering all required supplies before unboxing your Chilipad.
Time & Patience – It's important to note that the temperature of the Chilipad will not change as soon as you click your remote. In general, it'll take about 30 minutes for your Chilipad to heat up or cool down, so it's best to plan around that.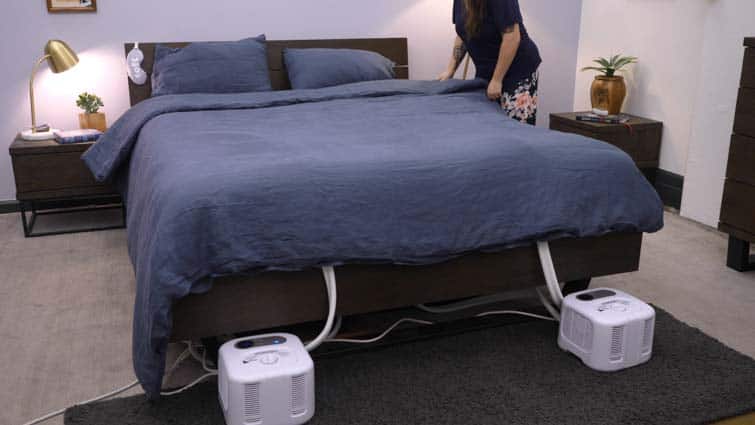 Anything Else I Should Know?
Sizing – Full-California King; WE Chilipads only offered for Queen, King, California King
Pricing – $499-$1,119, depending on size and model
Wash Care – Wash the Chilipad in an industrial sized washing machine with mild detergent. Keep extension tails secured with rubber bands. Dry on low-heat cycle.
Maintenance – To prevent sediment build-up, fill control units with distilled water. Refill about once a week.
90-Day Trial
Free Shipping within the U.S.
FAQs
Is the Chilipad loud?
While the Chilipad is not necessarily loud, it does make a faint whirring noise when it's running. Personally, I found it to be rather soothing, but light sleepers might be disturbed by it.
How long does it take Chilipad to cool?
The Chilipad can take anywhere from 15-50 minutes to get warm or cool, depending on the temperature you're trying to reach. The closer you get to its temperature limits, the longer it will take to get there.
What temperature should I set my Chilipad?
The Chilipad can be set as low as 55 degrees, or as high as 115 degrees. Choosing the right temperature is largely a matter of personal preference, so I suggest gradually experimenting with different temperature settings until you find the right fit.
Sarah Riccio
Sarah is the former senior writer and bedding expert at Sleepopolis. She received her degree in Creative Writing from Brooklyn College and spends her free time doing stand-up, making pasta, and hanging with her cats.