If you never seem to quite be at the right temperature when falling asleep — maybe you're always a little too hot or can never seem to get warm — you might be interested in the BedJet. This unique product is a "climate system" that does more than just change your bedroom temperature — it actually changes the temperature of your bed. It's a temperature-control system that you attach to your bed that allows you to warm or cool your bed. It uses an air nozzle to blow warm or cool air into your bedding, thus changing the temperature.
Intrigued? Keep on reading to find out how the BedJet works, learn about my experience using it, and everything else you need to know about it to decide if it is the right fit for you. Short on time? Skip ahead for a review summary.
BedJet Video Review
Is the BedJet Right For You?
Before we fully dive in, I want to offer a quick overview of who I think would and would not like the BedJet.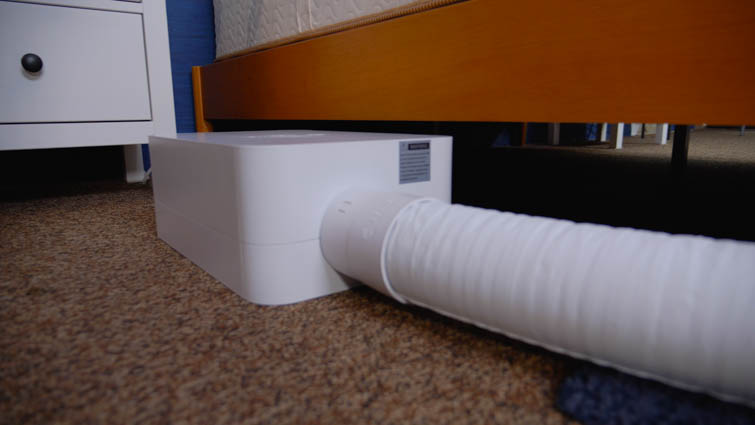 Who Should Try the BedJet
If you struggle with the night sweats or, on the contrary, never seem to be warm enough, the BedJet could be the ideal product for you. This climate control system allows you to alter the temperature of your bed to be warmer or cooler, so you have direct control over your sleep temperature.
If you're looking for a product that's easy to use, you should appreciate the BedJet. In testing, I was impressed with how easy this system was to set up and how intuitive it was to use.
If you and your partner sleep at different temperatures, you might be interested in the Dual Zone Climate Comfort System for couples, which allows each partner to independently control their side of the bed's temperature.
Who Should Not Try the BedJet
If you are a budget shopper, this product might not be worth it for you. The BedJet isn't cheap and there are definitely some other less expensive heating or cooling products out there to try (such as electric blankets, cooling mattress toppers, or even just adding a fan/space heater to change the room temperature).
If you are easily disturbed by noise, you might not love the BedJet. I found it made a noticeable amount of noise while running, which could be bothersome. I will say it is akin to a white noise sound or the sound of a fan, which could be a pro rather than a con to some people who like to fall asleep to soft white noise. You can set how long the BedJet runs for, but the noise will be consistent for the duration of time it is running.
If you don't like the look of clunky machinery in your bedroom, the BedJet may not work for you. While I think the company has done their best to make it slim and easy to hide, you'll definitely see some parts of this product in your bedroom and it's not the most aesthetically-pleasing object.
How to Use the BedJet
Now let's talk about how to set up and use the BedJet. For this review, I tested the BedJet V3, which is currently available on the BedJet website. Originally a Kickstarter-launched product, the BedJet has gone through a few upgrades in its history. The BedJet consists of a base unit with an air nozzle, which connect together via an air hose. You'll use a mount to attach the nozzle to your bed and the nozzle is what blows warm or cool air into your bedding.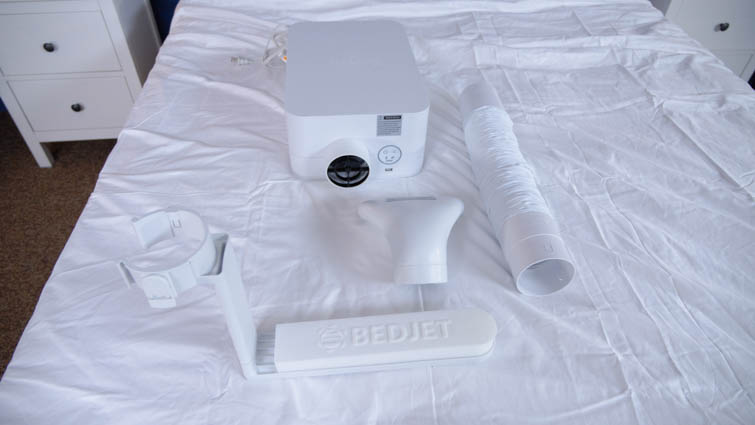 Additionally, I tested the BedJet with the BedJet Cloud Sheet, which is designed to be compatible with the BedJet. You can use the BedJet with any sheets, but the Cloud Sheet is a top sheet that has a double layer that creates an "air pocket" so you won't feel the air blowing onto you. The Cloud Sheets come in "Single Zone" or "Dual Zone" versions — the "Single Zone" is for use with a single BedJet to have one temperature, while the "Dual Zone" works with two BedJets to create two different temperatures. I'll discuss this more below.
How to Set Up the BedJet
When you receive the BedJet, it will be disassembled in several pieces you'll have to put together. Fortunately, I found it really easy to assemble. BedJet provides an extremely detailed manual, which I used as I was setting my BedJet up. However, I found the process mostly pretty intuitive, so with the directions, it was a piece of cake to set up. (You can also watch me show how to set up the BedJet in our BedJet video review!)
First, you'll need to take the pieces out of the packaging and assemble them. Find a place to plug your BedJet in — the brand recommends plugging it straight into the wall and not into an extension cord. Ideally, you'll want to find a place you can tuck the BedJet underneath your bed so it isn't a tripping hazard.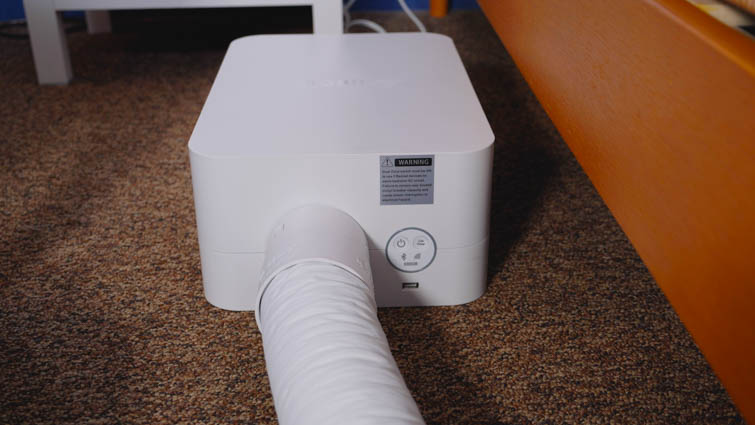 Next, you'll put together three pieces to form the mattress mount. All you have to do is snap the pieces together. The height extension links allow you to adjust the height, so keep that in mind if you end up needing to adjust later.
Then, slide the mattress mount underneath your mattress where you want the air nozzle to rest. If you're using the BedJet Cloud Sheet, which I did, you'll want to line the nozzle up with the openings in the sheet. There's also a diagram in the manual that shows different places to put the nozzle depending on your desired effect.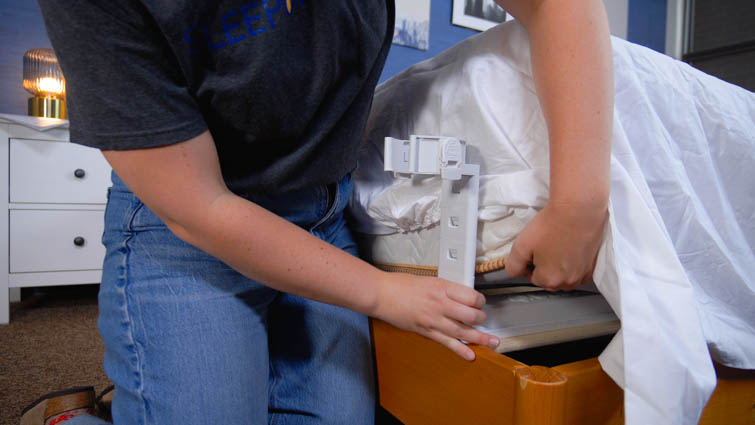 Then slide the air hose into place with the mattress mount and attach it to the BedJet. This hose extends, so you can stretch it out if needed.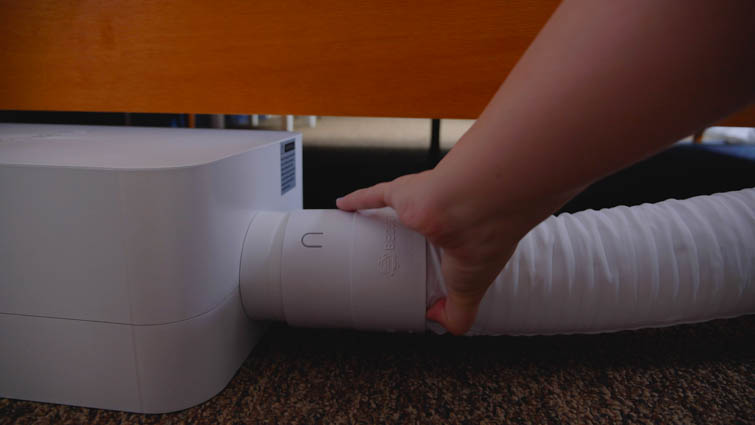 Attach the air nozzle and place it so it rests on the surface of the mattress. If you're using the Cloud sheets, pull the opening around the nozzle.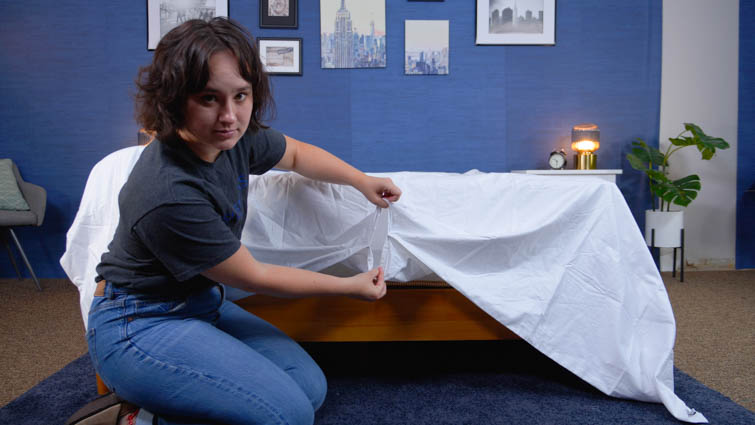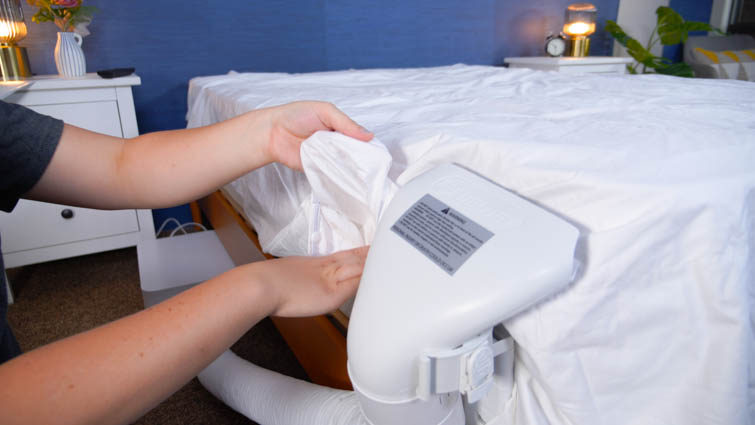 Then either download the app or put the provided batteries in the remote and pair with your BedJet.
How to Use the BedJet
Now that we've covered how to set up the BedJet, let's talk about how to use it. The BedJet uses hot or cool air pumped through the hose and air nozzle to alter the temperature in your bedding. You should see your sheets inflate somewhat to know that air is flowing. For this review, I'll be covering how to use the BedJet with the remote, although there is also a smartphone app you can use instead.
The BedJet has different modes like cool mode, heat mode, turbo heat mode, extended heat, and dry mode, as well as a "biorhythm" setting. The biorhythm setting allows you to create different combinations of heating and cooling for different periods of time, according to your personal preference. You can program this in as a set of steps.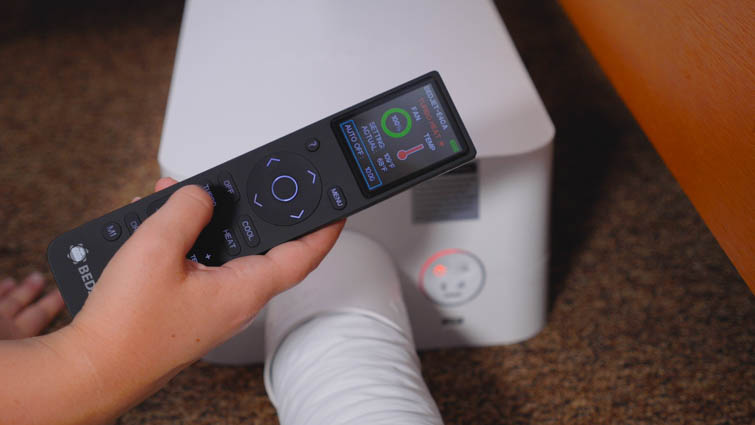 You can adjust the temperature, time, or fan intensity with three buttons on the remote control, which allow you to press plus or minus to increase or decrease, respectively. There are also three memory preset buttons, which you can program to remember a specific combo of temperature, time, and fan that you want to easily return to.
Using Two BedJets
With just one BedJet, you only have the option to change the temperature of the entire bed. However, if you use two BedJets with the Dual Zone Cloud Sheets, you can have two different temperatures on each side of the bed, so couples who prefer different temperatures can each be happy. If one partner is a hot sleeper, they can cool down their side, while the other partner can choose a warmer or neutral sleep temperature if they run cold, for example.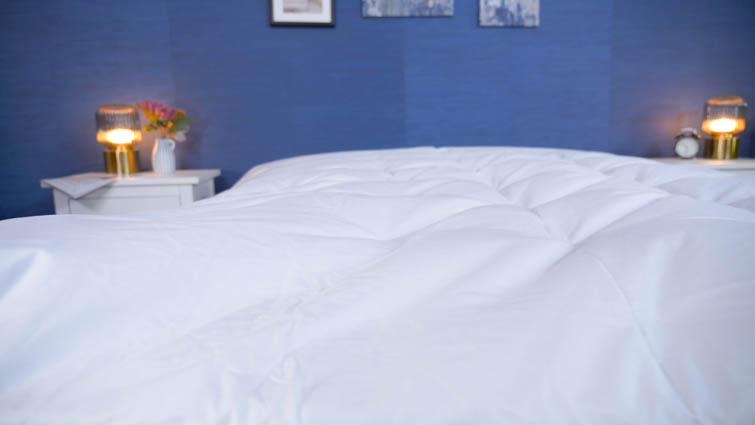 The Dual Zone Cloud Sheets are separated on the interior of the air chamber, so that each side can be set at a different temperature, but both partners can still sleep under the same sheet. One BedJet will have to be set up on each side, with a nozzle on each side of the Cloud Sheet. That way, airflow from each BedJet can be a different temperature, allowing each partner complete temperature control over their side.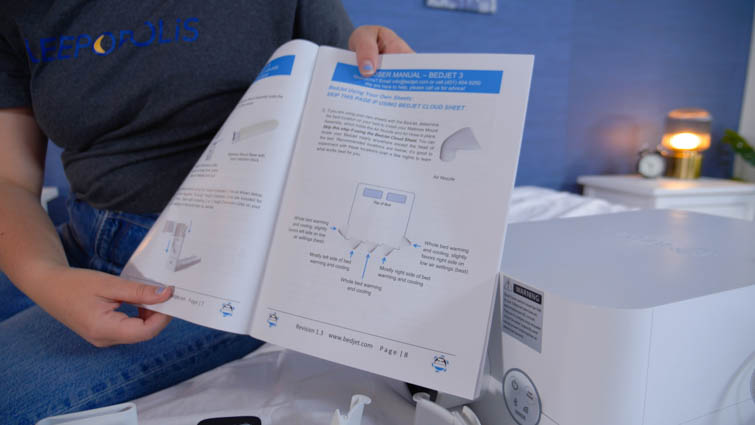 Price
Wondering how much the BedJet costs? The price depends on which model you buy, as well as if you opt to buy Cloud Sheets or use your own sheets.
The BedJet 3 Climate Comfort Sleep System with app control only is currently $569, while the BedJet 3 Climate Comfort Sleep System with the remote is currently $599, at full retail price.
The Cloud Sheets currently range in price from $99 to $159, depending on what size you purchase and whether you choose Single or Dual Zone.
| | |
| --- | --- |
| Size | Price |
| Single Zone Twin XL | $99 |
| Single Zone Queen/Full | $139 |
| Single Zone King | $159 |
| Dual Zone Queen/Full | $139 |
| Dual Zone King | $159 |
If you sleep with a partner and want to utilize the Dual Zone controls, BedJet offers a couples' bundle, the BedJet 3 Dual Zone Climate Comfort Sleep System for Couples, ranging in price from $1,329 to $1,389. This bundle includes two BedJet 3 base units with two remotes and the Dual Zone Cloud Sheets.
| | |
| --- | --- |
| Size | Price |
| Queen Size Bed, Dual Zone | $1,329 |
| King Size Bed, Dual Zone | $1,349 |
| Adjustable Split King Bed, Dual Zone | $1,389 |
You're probably wondering: does this thing really work? Well, let's go over my experience testing it out.
When I first started trying out the BedJet, I wasn't sure how I would like it or if it would really work. I wasn't sure how much hot and cold air in my sheets would make a difference for my overall body temperature or if I might even be able to feel the air blowing around. However, I was pretty impressed with how well the BedJet worked.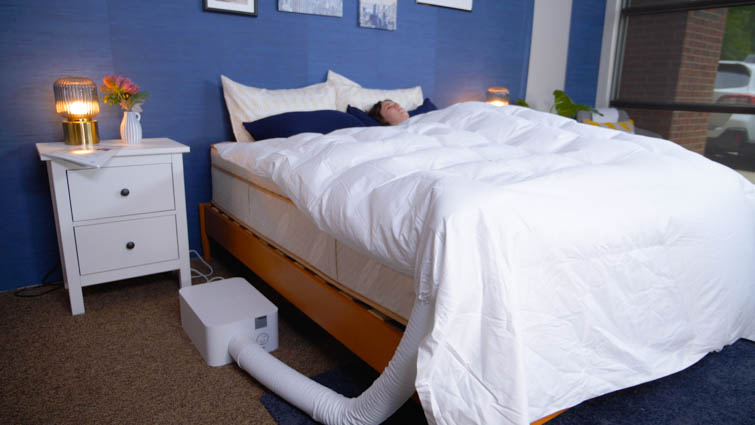 I didn't notice much temperature difference at first, but then I realized I had my nozzle placed against the side of the mattress, not over the surface — so be sure you have it properly set up! Once I fixed that issue, I tried out both heating and cooling the bed to see how much of a difference I felt.
As I was lying in the bed, I could definitely feel a distinct warming or cooling effect, depending on which setting I chose. I will say I did feel the temperature much more distinctly around my feet, which is near where I placed the nozzle at the foot of the bed. However, I think the longer the BedJet is running, the more you'll feel the temperature throughout the bed. I definitely think using the Cloud Sheets enhanced the experience, as I didn't feel the air blowing onto my feet, but rather just felt the temperature change within the bed sheet.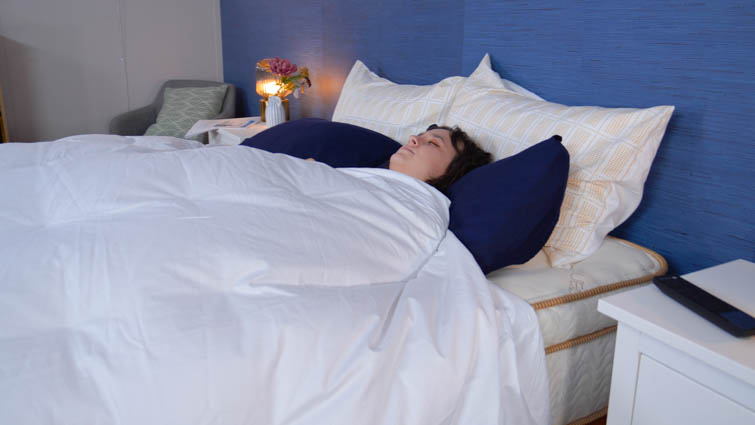 I also really liked how much you can customize the settings on the BedJet to get the temperature just the way you like it, between the fan speed, air temperature, and length of time the system runs.
All in all, I think the BedJet could be a great product for those who really want to sleep at a specific temperature. It allows you to have a lot of control over the temperature of your bed. I would definitely recommend using the Cloud Sheets with the BedJet, as I think it's beneficial to not feel warm or cool air blowing onto your feet. However, this product is pretty spendy and for many people, a simpler solution might be easier and cheaper to fix their temperature issues.
Policies and FAQs
Does the BedJet come with a warranty?

Yes, the BedJet comes with a 2-year warranty.
How does the BedJet ship?

BedJet offers free shipping within the United States and Canada.
Can I return the BedJet?

Yes, you can. BedJet offers 60-day free returns for a full refund. Visit their website for the full return policy.
Was the BedJet on Shark Tank?

Yes, BedJet inventor Mark Aramli did pitch the BedJet on reality TV show Shark Tank.
Other Products To Try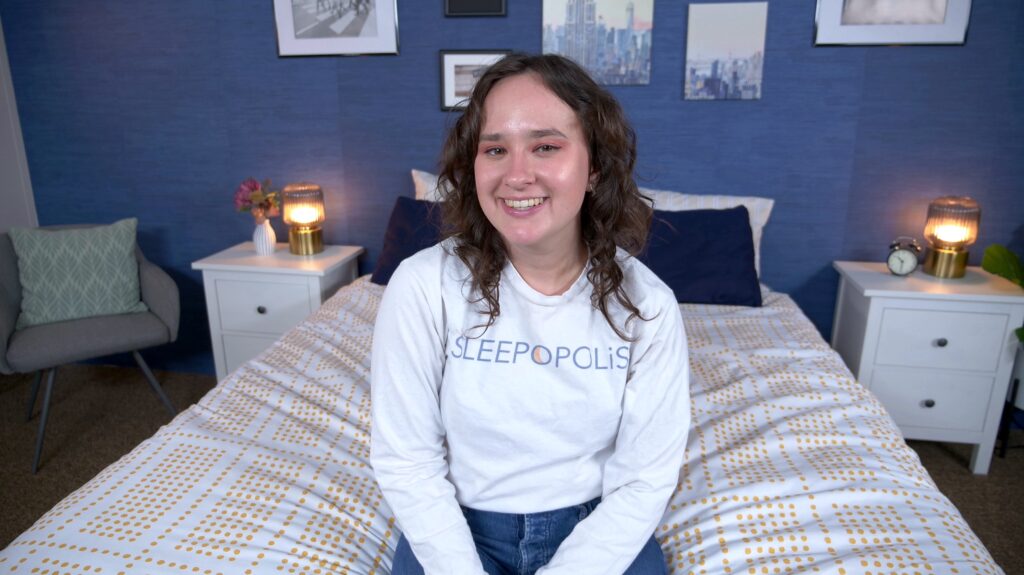 Amelia Jerden
Senior Staff Writer
About Author
Amelia is a Senior Staff Writer for Sleepopolis. She primarily covers bedding and sleep accessory products in reviews, how-to guides, and more. You can also find her over on the Sleepopolis YouTube channel. Amelia is a graduate of the University of North Carolina at Chapel Hill, with double majors in media and journalism and in dramatic art. Outside of work, Amelia can usually be found on a hike, traveling to a new city, or at her local thrift store.