If temperature control is one of your biggest bedtime woes, the Eight Sleep Pod Pro mattress might be the bed for you. Built with Active Grid technology that thermoregulates on both sides of the mattress, this bed is literally designed to help sleepers hone in on the perfect temperature for their specific needs.
While that sounds pretty impressive, the question remains: Does the tech actually work? To find out, I tested it myself, and was pretty darn surprised by what I discovered.
Curious about my thoughts? Then you better keep on reading for my full Eight Sleep Pod review! Or, if you're short on time, you can skip right to my review summary.

Up to $100 Off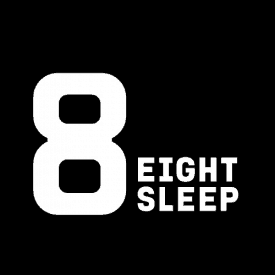 The Eight Sleep Pod is a great system for those interested in sleep tracking and heating or cooling their bed at night! 
Is the Eight Sleep Pod a Good Mattress for You?
Eight Sleep launched in 2014 on a mission to optimize the way folks sleep. While this aim isn't so different from other brands on the market, what sets Eight apart is its focus on using smart technology to improve slumber. I'll describe how that tech actually works below, but first let's talk about who this mattress might work for.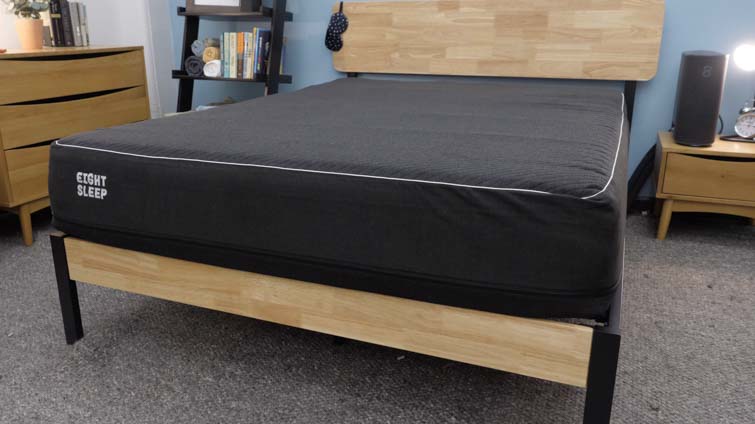 Who I recommend the Pod mattress for
First and foremost, hot sleepers should really like this mattress. The Pod's Active Grid is incredibly effective at regulating temperatures.
If you're into the idea of sleep tracking, this mattress could be a great fit for you! The Active Grid measures sleep and provides you with new data every morning.
I also found it super easy to move around and change positions on this bed, marking this bed as a good option for combination sleepers.
Who I don't recommend the Pod mattress for
If you're looking for a mattress you can set up and forget about, this is not the bed for you. It does require minimal maintenance every two to three months to ensure it keeps running smoothly.
I'd also say that the cover has a very unique feel; in my opinion, it felt a bit like a water bed or an air mattress, which didn't jive with my specific sleep preferences. But, plenty of people find the Pod quite comfortable!
This mattress might not be the best fit for folks looking for an extremely durable bed. It is an all-foam mattress, so it may need to be replaced sooner than a hybrid or latex mattress.
Up to $100 Off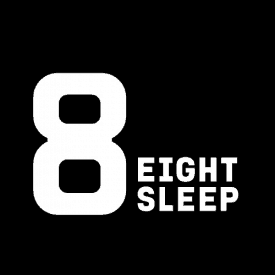 The Eight Sleep Pod is a great system for those interested in sleep tracking and heating or cooling their bed at night! 
How Do I Set Up the Eight Sleep Pod Mattress?
When I first heard about this mattress, I was definitely wondering how the heck it worked! So let's take a second here to talk about how to set up this smart mattress.
The Pod will arrive in two boxes. One will include the mattress, which you'll unbox and set up like any bed-in-a-box. The Pod Pro's Active Grid cover and Hub will arrive in a separate box.
The first thing you do when setting up your new Pod is download the Eight Sleep App. This handy App, which I'll describe below, will give you easy step-by-step instructions on how to set up your new bed.
As a brief overview, you'll unpack the cover and zip it onto your bed. Then you'll plug the cover into the Hub (which looks a bit like a computer modem) and plug the Hub into the wall. Next, the App will guide you through connecting the Hub to your phone and WiFi. Once you're connected, you'll fill your hub with filtered water and a few tablespoons of hydrogen peroxide, choose your preferred temperature via the Eight Sleep App, and leave the bed alone for about 90 minutes.
After that, the Hub takes over! It will pump your Active Grid full of water and get connected with all the sensors in that cover. Once it's finished priming, you'll be able to set each side of your bed to whichever temperature you'd like using the App. According to Eight Sleep, available temperature options range from 55 to 115 degrees fahrenheit.
Eight Sleep App
Let's talk a little about that App now! In my opinion, it's a well-designed application with a user-friendly interface and easy-to-follow instructions. Everything felt pretty intuitive, so I was never lost as I navigated its many features, which include: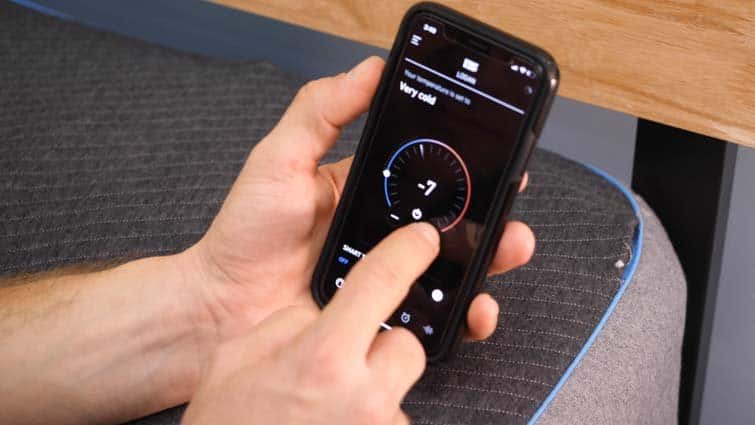 Easy written and video instructions on mattress set up and care.
A temperature control panel, for setting up temps on either side of the bed.
A heating/cooling temperature alarm feature, called Wake Up, in which sleepers can set a specific temperature to accompany their morning alarm. Plus a smart alarm option that will gently vibrate the mattress to wake you up.
Several guided meditation and white noise tracks.
Guided morning and night stretching and exercise routines.
A sleep tracker portal, which provides tips and tricks for improving bedtime habits.
The Pod now allows for constant monitoring of heart rate variability and other biometrics like resting heart rate, respiratory rate, sleep stages, and sleep time.
A sleep score window in which sleepers can access their nightly sleep score (as derived from the sleep data picked up from the Active Grid). The app will offer tips on how to improve your sleep score once it gets to know you better.
What Does the Eight Sleep Pod Mattress Feel Like?
Now that you know how exactly this mattress works, let's talk about how it feels. Keep in mind that feel is subjective, and you'll experience a bed differently depending on your body shape and preferred sleeping position. For reference, I'm 5'9", 125 lbs. and sleep primarily on my side. Someone heavier than me will likely find this bed softer than I did, and someone lighter may find it firmer.

After rolling around on the Eight Sleep Pod, I decided to give it a firmness rating of 7 out 10. The industry standard for medium firmness is 6.5 out of 10, which means that this bed is just on the firmer side of medium-firm.
When I was first testing out the bed sans cover, I found it to be quite soft, so it's interesting to see that the Active Grid is really what gives this bed its firmness (I should note that the mattress is not meant to be used without the cover, I was just doing so for curiosity's sake). I definitely felt more "on top of" than "stuck-in" this bed, so I'd recommend it primarily for combination sleepers who move between positions in the night.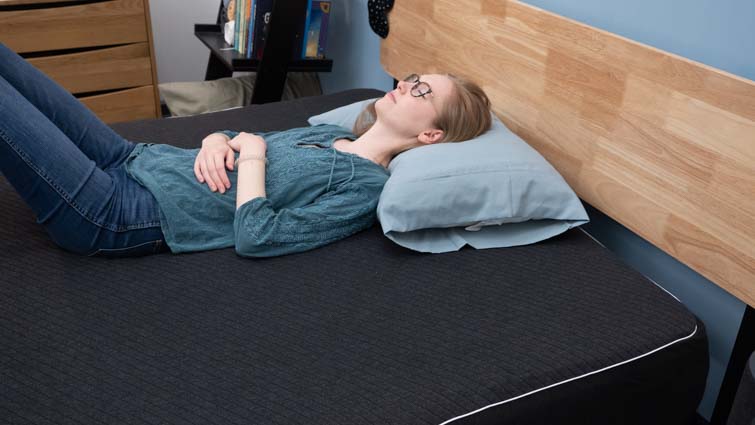 Back sleepers might also like the firmer feel of this mattress. It should offer these folks a nice balance of pressure relief and support. On the other hand, it's a bit too soft for stomach sleepers and too firm for side sleepers (but I'll explore that in more detail below).
I will say that I was genuinely surprised by just how effective the Active Grid was at establishing different temperatures across the mattress. While I can't speak to the exact temperatures reached by the grid, I was impressed by the range and quickness with which they changed. So, if you do want a mattress for its temperature-controlling capabilities, I think you could be well-satisfied with the Pod.

Up to $100 Off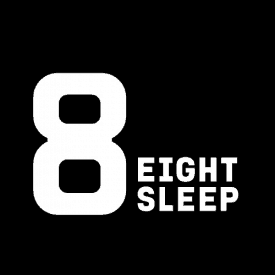 The Eight Sleep Pod is a great system for those interested in sleep tracking and heating or cooling their bed at night! 
Testing the Eight Sleep Pod Mattress
Though important, firmness isn't the only factor to consider when buying a new mattress! So, I thought it might be useful to run tests for some of my other favorite variables: pressure relief, motion transfer, and edge support.
Pressure Relief
If firmness is one side of the comfort coin, pressure relief is the other. In case you haven't heard the term before, it basically refers to how well a bed is able to alleviate tension at sensitive spots along the body, such as the shoulders, hips, and lower back. To assess this feel factor, I like to use a handy dandy pressure map!
Though it sounds complicated, it's actually quite simple: I roll this gizmo out, hop aboard, and let the map do the rest! As I move around the structure, the gadget records the force my body is exerting on the structure, and makes a colored "map" of the pressure. Blue indicates areas of low pressure and red indicates areas of high pressure.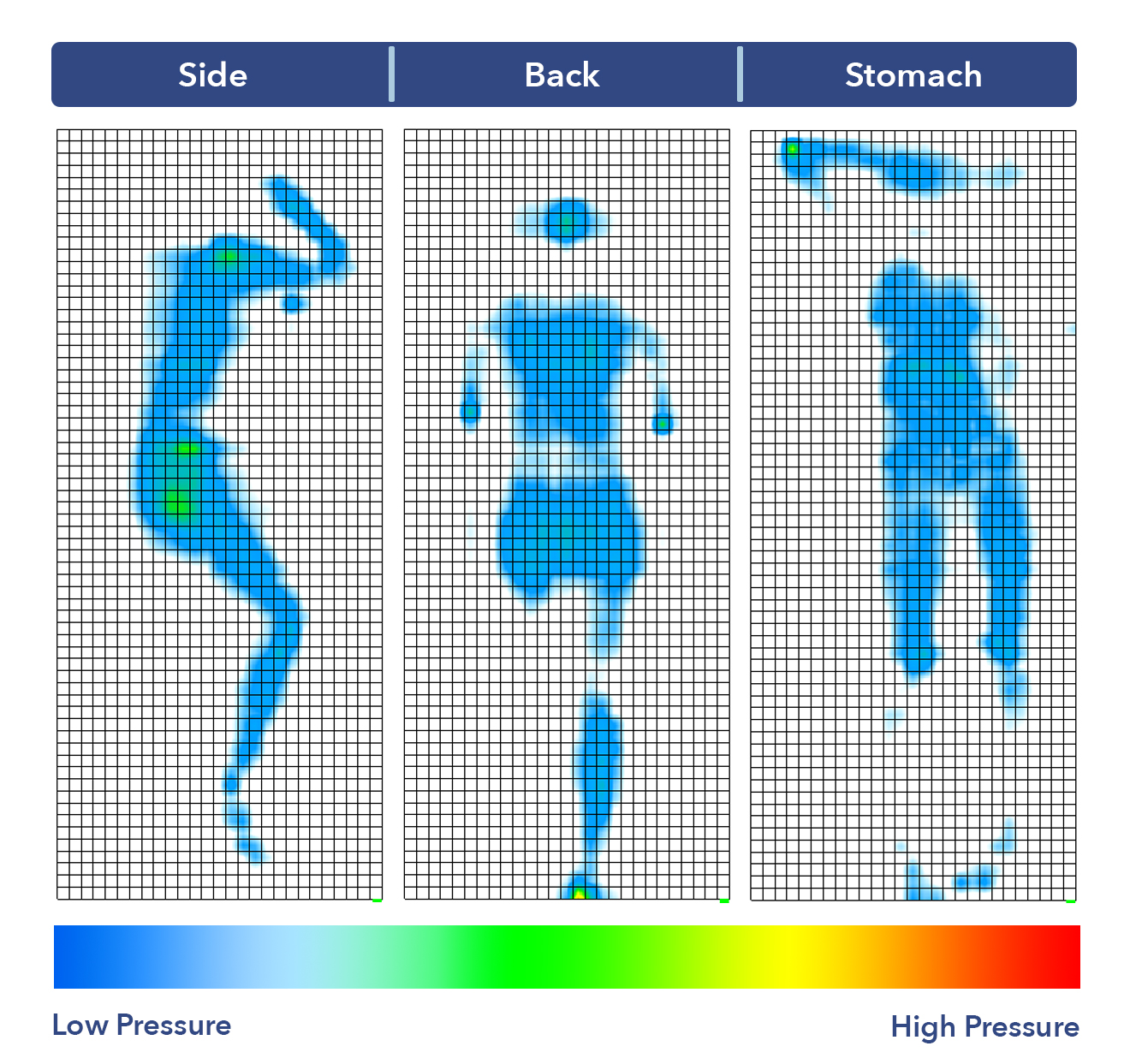 Back — Lying on my back, I felt as though my weight was pretty evenly distributed across the structure. Though I could feel the top foam layers filling in the space at my lumbar region for some pressure relief, the crinkly cover did make me feel a little uncomfortable. However, I would say that the firmness of the bed made it very easy to move around and change positions.
Side — As I mentioned above, this is quite a firm bed, so I definitely felt some jamming at my shoulders as I turned onto my side. Strict side sleepers will likely need a bed that offers more cushion around their pressure points. One of our best mattresses for side sleepers might do the trick.
Stomach — Turning onto my stomach, I felt okay. Though the firmness of the bed did support a fairly neutral spinal alignment, I could still feel my hips sinking slightly out of line with my shoulders. This is not an ideal feel for strict stomach sleepers, who need a taut structure for even alignment across the back. One of our best mattresses for stomach sleepers might be a better fit.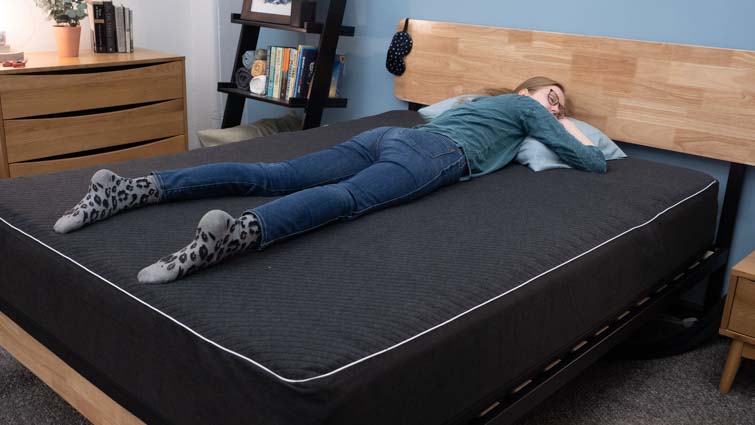 Note for Heavy Sleepers (over 250 lbs) — Unfortunately, I don't think the Pod will work for sleepers over about 250 lbs. Because it's an all-foam mattress, it won't be supportive enough for these folks, and may start to sag prematurely. I'd recommend one of our best mattresses for heavy people instead.
Motion Transfer
And now let's get into motion transfer! This factor refers to the amount of movement that's detectable from one side of the mattress to the other, and could be a crucial variable for sleepers to consider if they share a bed with a child, partner, or rowdy pet.
To illustrate motion transfer, I dropped a 10 lb. steel ball from heights of 4 inches, 8 inches and 12 inches and measured the disturbance it caused: the bigger the lines, the bigger the disturbance.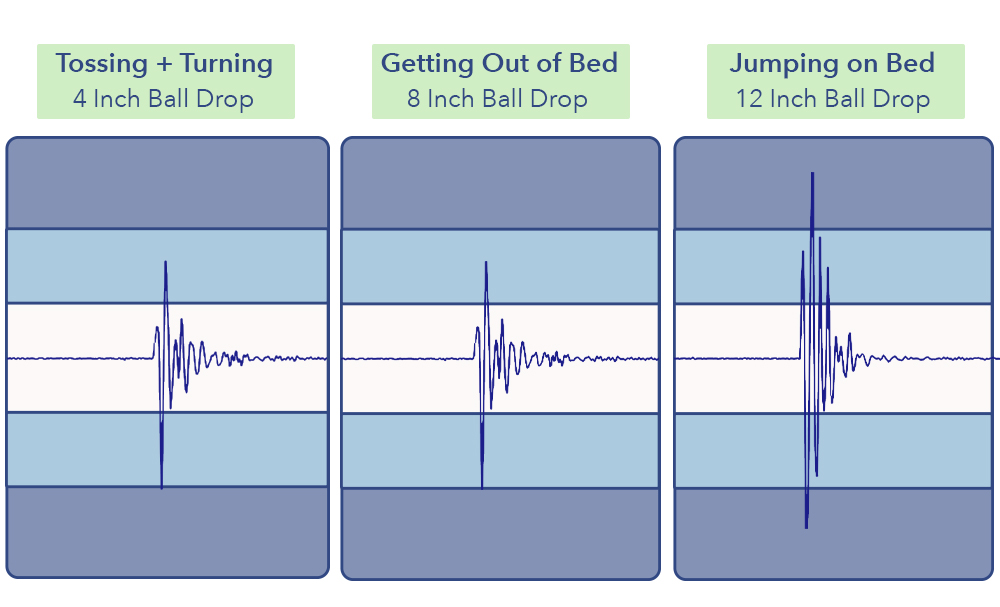 These are not the best motion transfer results. Because the water in the tubes moves around when you do, you're likely to feel your partner moving around at night. If you sleep with a restless bed mate, this might pose a problem for you! You might want to take a look at one of our best mattresses for couples to find a better fit.
Note on Motion Transfer and Sex — Normally, the best mattress for couples combines responsiveness and bounce (which is good for sex) with low motion transfer. The Pod mattress is pretty responsive, so if you share a bed and aren't easily disturbed by movement, it could work for you and your partner.
Edge Support
Edge support is a measure of whether or not you'll be able to sleep all the way on the side of your bed and still feel supported. A bed with great edge support is often more durable because you'll be able to distribute your weight across its entire surface area, which prevents premature sagging.
The Pod had good edge support for an all-foam mattress. It might not be quite supportive enough for heavy folks, but average-weight sleepers should be able to spread out all the way to the edges of this mattress.

Up to $100 Off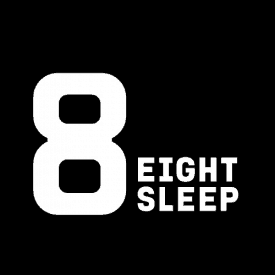 The Eight Sleep Pod is a great system for those interested in sleep tracking and heating or cooling their bed at night! 
What is the Eight Sleep Pod Mattress Made Of?
The Pod is an 11-inch all-foam mattress that zips into Eight Sleep's special Active Grid cover. You can actually buy the cover separately from the mattress if you want to add it to a mattress you already own and reap the benefits of the Pod's cooling technology without replacing your entire bed. Below, I'll take you through each layer of the Pod Pro mattress and active grid so you have a better idea of how this high-tech bed works!
Cover — The mattress cover functions mostly as a sleeve for the Active Grid we've been discussing so far. It's made from a knit polyester blend, which, while soft on its own, loses some of its coziness when combined with the grid.
Active Grid — The grid is a special mattress topper made up of special sensors and water tubes. This grid pumps warm or cool water through its tubes to offer temperature regulation to both sides of the mattress. Sensors in this technology layer track your sleep metrics and give you personalized tips about your sleep patterns and sleep fitness.
Comfort Layer — Underneath the cover, you'll land on a layer of soft poly foam. This layer allows for a bit of sinkage and give. I wouldn't necessarily equate it to a contouring feel, but you should experience some nice cushioning on this layer.
Transition Layer — Beneath the top layer, you'll find yet another layer of poly foam. This one has a much quicker response to pressure than the one above it, which helps bring some lift to the structure.
Base Layer — The Pod's base is made of standard high-density polyfoam, but it's loaded with the Pod's SmartTemp AI to collect temperature data throughout the night. This base hooks up to the Pod's Hub.
Hub — The Pod's Hub is a special water pump placed next to the mattress. You'll fill it with water and 3% hydrogen peroxide every two to three months. The Pod uses the water to regulate the temperature of your mattress. The Pod makes some soft noise while priming, but overall is pretty quiet throughout the night. I didn't feel disturbed by it at all.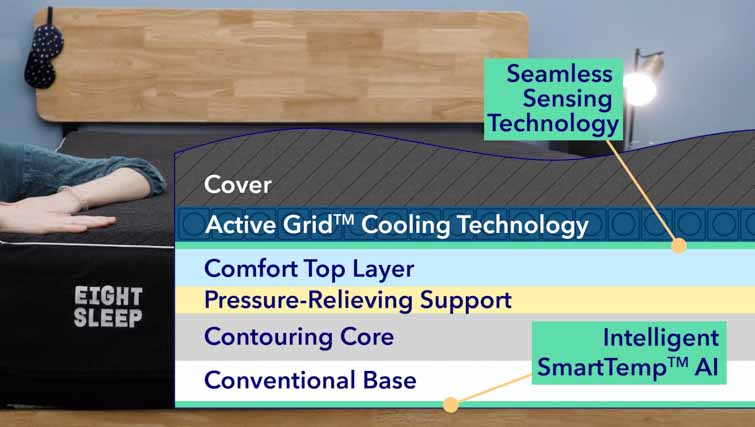 My Final Thoughts about the Eight Sleep Pod Mattress
All reviews must come to an end, and here we are at ours. After examining every inch of the Eight Sleep Pod's construction and feel, it's time to answer the question you came here asking: Should you buy this mattress? I can't make that decision for you, but I can leave you with a few final thoughts to help you get there on your own.
My favorite things about the Pod mattress
I really liked Eight Sleep's app. It's compatible with IOS and Android operating systems, and it was really easy to use, even for someone like me, who is not tech savvy at all. I really enjoyed learning more about my sleep quality and finding out how much REM sleep (aka deep sleep) I got each night. If you're someone interested in improving your sleep, or just a sleep health nerd like me, I think you'll really like this app too!
I was also pleasantly surprised that the Pod Pro really delivered on Eight Sleep's temperature regulation promises. I did not expect this foam bed-in-a-box to be as cooling (or warming) as Eight Sleep promised. But it was absolutely one of the most cooling mattresses I've ever tested! If you're a hot sleeper you might want to check this smart bed out.
My Pod mattress complaints
Personally, I thought the Active Grid layer of the Pod had a bit of an air mattress like feel when all the tubes were filled with water. That's not necessarily a bad thing, but if you're someone who prefers a more traditional memory foam or innerspring mattress feel, you might not like the Pod.
If you're not someone who can commit to refilling the Pod's Hub with filtered water and hydrogen peroxide every few months this mattress is probably not the best option for you. You need to keep up with maintenance to ensure the Hub continues to work properly (and to ensure you don't start growing any bacteria in the Pod's water tubes). I also wished Eight Sleep had included hydrogen peroxide in the box, or made it clear that you need to purchase it before set up. On the other hand, if you're building your dream smart home, this bed should fit right in!
How Much Does the Eight Sleep Pod Cost?
Pricing is an important consideration when you're choosing a new mattress. Take a look at the chart below to learn more about what the Eight Sleep Pod Pro mattress costs. And make sure to click our Eight Sleep coupon below for the best deal.
Prices listed are before offer or discount on each size.

Up to $100 Off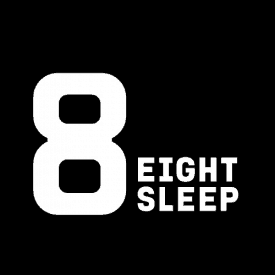 The Eight Sleep Pod is a great system for those interested in sleep tracking and heating or cooling their bed at night! 
| Size | Dimensions | Price |
| --- | --- | --- |
| Full | 52.5" x 74.5" x 11" | $2,795 |
| Queen | 58.5" x 79.5" x 11" | $3,095 |
| King | 74.5" x 79.5" x 11" | $3,495 |
| Cali King | 70.5" x 83.5" x 11" | $3,495 |
Eight Sleep Policies and FAQs
Does the Eight Sleep Pod come with a mattress warranty?
Yes, the Pod comes with a 10-year warranty. However, the Active Grid layer is only covered by a 2-year limited warranty, so keep that in mind when purchasing.
Does the Eight Sleep Pod come with a sleep trial?
Yes, the Pod comes with a 100 night sleep trial period.
How does the Eight Sleep Pod ship?
The Eight Sleep Pod is a bed-in-a-box mattress and will ship compressed in a box. It will arrive in two boxes. One will include the compressed mattress, and the other will include the Active Grid layer and Hub. The Pod ships for free.
How does the Eight Sleep Pod work?
The Eight Sleep Pod uses its hub and active grid to track sleep and control the temperature of the mattress. You can track your sleep score from the Eight Sleep app on your phone.
Is the Eight Sleep Pod loud?
No, there is a soft sound as the hub pumps water through the active grid, but the mattress is pretty quiet.
Does the Eight Sleep Pod sleep cool?
I was pleasantly surprised with the Eight Sleep Pod's ability to cool down my bed.
Up to $100 Off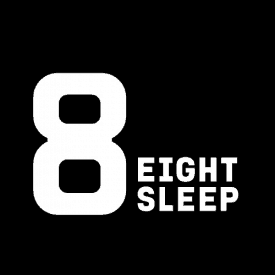 The Eight Sleep Pod is a great system for those interested in sleep tracking and heating or cooling their bed at night! 
Eight Sleep Pod Mattress Vs
It's always a good idea to compare your mattress to a few other beds on the market before purchasing. Below, I'll compare the Eight Sleep to the Saatva Solaire and the GhostBed 3D Matrix mattresses.
Eight Sleep vs Saatva Solaire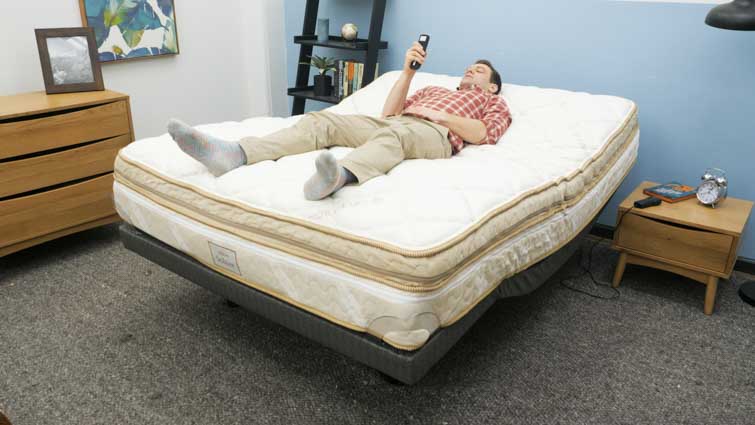 The Solaire is a smart adjustable bed that allows you to change the firmness level of each side of the mattress.
Like the Pod, the Solaire sleeps cool. Though the Pod offers more personalized cooling options than the Solaire.
Couples with different firmness preferences are great candidates for the Solaire.
Learn more in the full Saatva Solaire mattress review.
Eight Sleep vs GhostBed 3D Matrix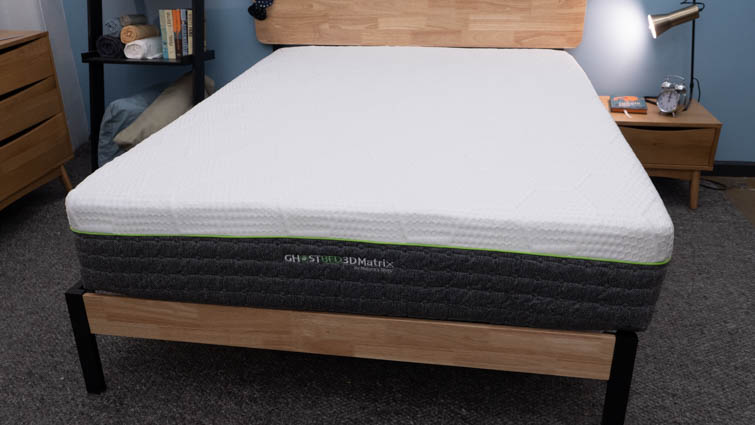 Like the Pod, the GhostBed is an exceptionally cooling mattress. But the Pod probably sleeps a bit cooler than the Matrix.
The GhostBed feels softer than the Pod mattress.
The GhostBed is a great option for sleepers who like a memory foam feel.
Find out more in the full GhostBed 3D Matrix mattress review.
Voila! That's it for my Eight Sleep Pod review. Check out the Pod's performance ratings below for a few final thoughts about this bed.

Up to $100 Off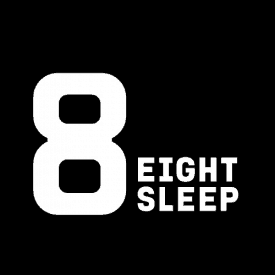 The Eight Sleep Pod is a great system for those interested in sleep tracking and heating or cooling their bed at night! 
Eight Sleep Pod
Materials

Comfort

Support

Value

Cooling

Edge Support

Trial

Warranty
Madison Schaper
Madison is the Staff Writer at Sleepopolis. She reviews new mattresses every week to help readers decide which mattress is best for their needs. When she's not testing out a bed or trying to fit in at least nine hours of sleep you can find her exploring a new park, reading short stories, or checking out a local brewery.