Sleep Number has made a name for itself in the mattress world as the go-to brand for high-quality adjustable mattresses. Sleep Number mattresses range from manually to automatically adjustable, with some newer models boasting sleep tracking technology. But the smart bed brand has branched out to offer new products, like the Sleep Number True Temp Pillow.
The Sleep Number True Temp Pillow is made with temperature balancing technology that adjusts itself throughout the night to help keep you cool. It is available in standard and king size and comes in three shapes: classic, contour, and ultimate. I tested the classic shape in standard size.
In this review, I'll share my experience testing this pillow. I'll give a rundown on firmness, loft, materials, and policies. I'll also give my opinion on which sleepers I think it's best for. If you're in a hurry, skip down to my review summary.
Is Sleep Number True Temp a Good Pillow for You?
Depending on your preferred sleeping position, the True Temp may or may not be a good fit for you. Take a look at some of my recommendations below.
Who should try the True Temp pillow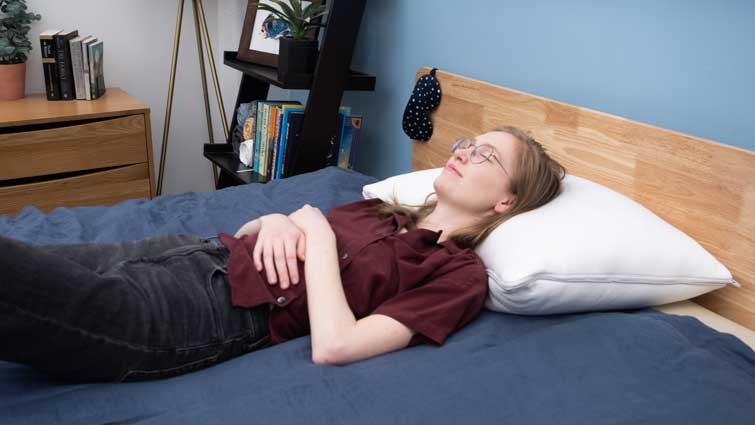 Who should not try the True Temp pillow
What Does the True Temp Pillow Feel Like?
Now that you have an idea of whether or not the True Temp pillow could suit your sleep needs, I'll share my experience testing it. I'd like to highlight that feel is subjective, and how this pillow felt to me might be a bit different to how it feels to you.
Right off the bat, this pillow had a very cool feel, which isn't surprising since the cover fabric was designed that way. I definitely felt that this pillow was made to keep me cool. As I pressed down on the pillow, I found that there was a bit of sink, but certainly nothing like a down pillow — it had a decidedly solid feel, without much compression. Overall this pillow is going to feel quite supportive.
True Temp Pillow Firmness
Depending on your preferred sleep position, you'll need a certain firmness level to adequately support your head and neck. Side sleepers need firm pillows to keep their head in line with their spine, back sleepers need a medium feel, and stomach sleepers need a soft feel so that their heads aren't resting above their backs.
Again, I tested the standard version of this pillow, which I'd say has a medium-firm to firm feel. It's made from solid foam, which tends to have a firmer feel than down or down alternative. I think back sleepers would be happiest with this firmness level, which should offer them some nice support and cushioning. I also think most side sleepers would like this pillow, since it does offer some nice, firm support.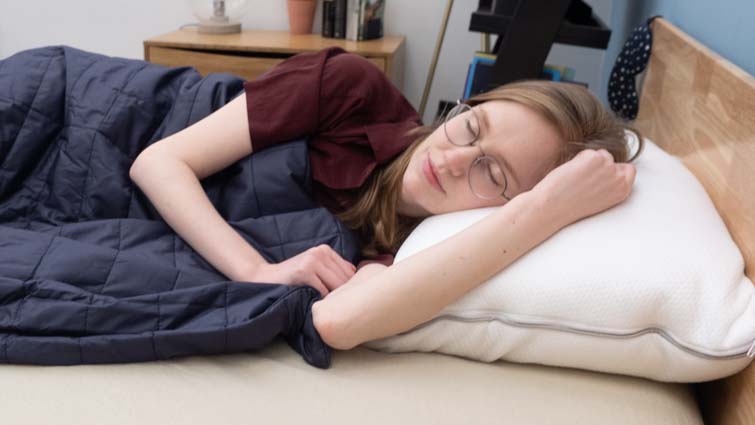 This pillow also comes in a contour version, which has a more ergonomic design that might appeal to side sleepers. It also comes in an ultimate version, which has layers of removable foam that make it an adjustable pillow. I'd recommend the ultimate version to those suffering from neck pain, who might want to test a few firmness levels to decide which one helps them get a good night's sleep.
True Temp Pillow Loft
Pillow loft refers to the pillow's height. Pillows typically come in three lofts: low, medium, and high. Low loft pillows are best for stomach sleepers, medium loft are the best pillows for back sleepers, and high loft are ideal for side sleepers.
Side — I felt pretty comfortable on my side on this pillow. I got the support I needed to keep my head and shoulders aligned. However, if you're a side sleeper with neck pain, I'd go for the contour or ultimate version of this pillow, which is going to offer just a bit more support.
Back — I felt really comfortable sleeping on my back on this pillow. I got just enough support to feel my neck aligning perfectly with the rest of my spine.
Stomach — This position wasn't very comfortable. I found that my head was propped up too high, which over time would result in neck pain.
Under the Arm — I thought this pillow had a nice under-the-arm feel. However, if you like to really squeeze your under arm pillow, I'd recommend going for something softer.
Between the Legs — I liked this pillow between my legs. Personally, as a side sleeper, I always sleep with a pillow between my legs to prevent my knees from rubbing together. This pillow kept my knees separated and upper leg supported.
What is the True Temp Pillow Made Of?
Luckily, Sleep Number provided some very detailed information about what this pillow's cover is made from, so I'll share that with you here:
Cover: 46% polyethylene, 31% 37.5 polyester, 23% polyester. Then there is a layer of foam within the cover that is filled with 80% polyester, 20% 37.5 polyester.
Fill: 100% solid foam.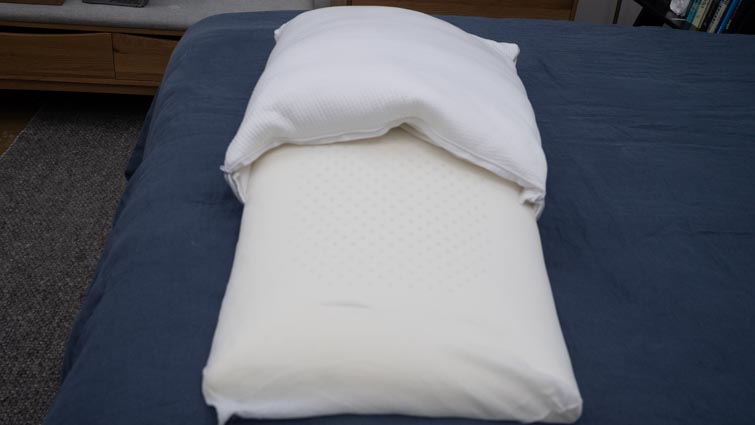 Though I wouldn't say these are natural materials by any means, the foams used are CertiPUR-US® Certified, which means they're free from harmful chemicals and pollutants. Also, this pillow is hypoallergenic, which is a nice perk.
Is the True Temp Pillow Good for Hot Sleepers?
As you might have gleaned from the previous sections of this review, my answer is a resounding yes. This pillow sleeps super cool. It's cover immediately feels cool to the touch. The pillow itself offers lots of airflow, and it's made with proprietary cooling technology that works to absorb body heat and wick away moisture.
Sleep Number offers True Temp sheets, pillowcases, and pillow protectors made with the same True Temp fabric. If you're a fan of body pillows, the Sleep Number True Temp body pillow also sleeps super cool.
Want to see more cooling pillows? Check out our best cooling pillows roundup.
Sleep Number True Temp Pillow Sizes and Prices
Below you'll find a pricing chart showing the different sizes and styles Sleep Number offers this pillow in. Be sure to click on one of the coupons in this article to get the best deal.
Price listed will be before discount or offer for each size.
| Shape | Size | Price |
| --- | --- | --- |
| Classic | Standard | $99.99 |
| Classic | King | $129.99 |
| Contour | Standard | $119.99 |
| Contour | King | $149.99 |
| Ultimate | Standard | $139.99 |
| Ultimate | King | $159.99 |
My Final Thoughts About the True Temp Pillow
Still wondering whether or not the True Temp is the right pillow for your needs? All in all, I'd say this is a great pillow for hot sleepers who like a firm feel. I'd particularly recommend this pillow to back sleepers, who are going to experience some nice support. However, if you're looking for a classic, down feel, I'd recommend checking out an alternative pillow. This pillow is pretty much the opposite of that!
True Pillow Policies and FAQs
How does the True Temp pillow ship?
Sleep Number offers free shipping.
Does the True Temp pillow come with a sleep trial?
No, but you do have one opportunity to exchange it within 30 days of purchase.
Does the True Temp pillow come with a warranty?
Yes, the True Temp pillow is covered by a 1-year limited warranty.
Is the True Temp pillow machine washable?
The cover of this pillow is machine washable. Sleep Number recommends washing it in cold water with light detergent. The foam fill is spot clean only.
True Temp Pillow Vs
It can be helpful to see how Sleep Number pillows stack up to similar models from other popular brands. Take a look at some of my comparisons below.
True Temp Pillow vs Purple Harmony Pillow
True Temp Pillow vs Casper Pillow
Other Products from Sleep Number
Wondering what else Sleep Number has to offer? Here's a few of the products that we've tested: