**Sleep Number is doing a final closeout sale for the c4 model. It is now $500 off. Get it while you can!** 
Sleep Number offers a handful of bed options to their potential customers, depending on specific wants, needs, and preferences. However, what connects every Sleep Number mattress is their one-and-only air bed that's completely adjustable with the click of a button. Yes, that's right — Sleep Number beds aren't filled with foam, latex, or springs. They're filled with air.
We should say it's an air bed with flair. This is no bed you would take glamping! Instead, Sleep Number promises they put quality, innovation, and comfort into each product they make, having designed a personalized and permanent-use air bed that lets you to inflate or deflate it to your exact liking.
Sleep Number beds aren't cheap. In fact, their smart bed line can be multiple thousands of dollars. However, today we're going to focus on their more basic c4 model, which still comes with the classic core features that make Sleep Number unique — without the hefty price tag. Let's jump right into the Sleep Number 360® C4 Smart Bed review.
Save up to $1,000
Sleep Number 360 p6 Smart Bed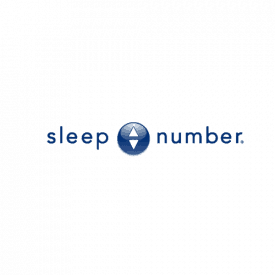 Sleep Number 360 p6 Smart Bed
Sleep Number is a bedding company that sells bed, mattresses, and various bedding products. However, the company is best known for its signature product, the Sleep Number bed, which comes with an adjustable air mattress and various add-ons like a smart system, adjustable bases, and different types of comfort foam mattress pads.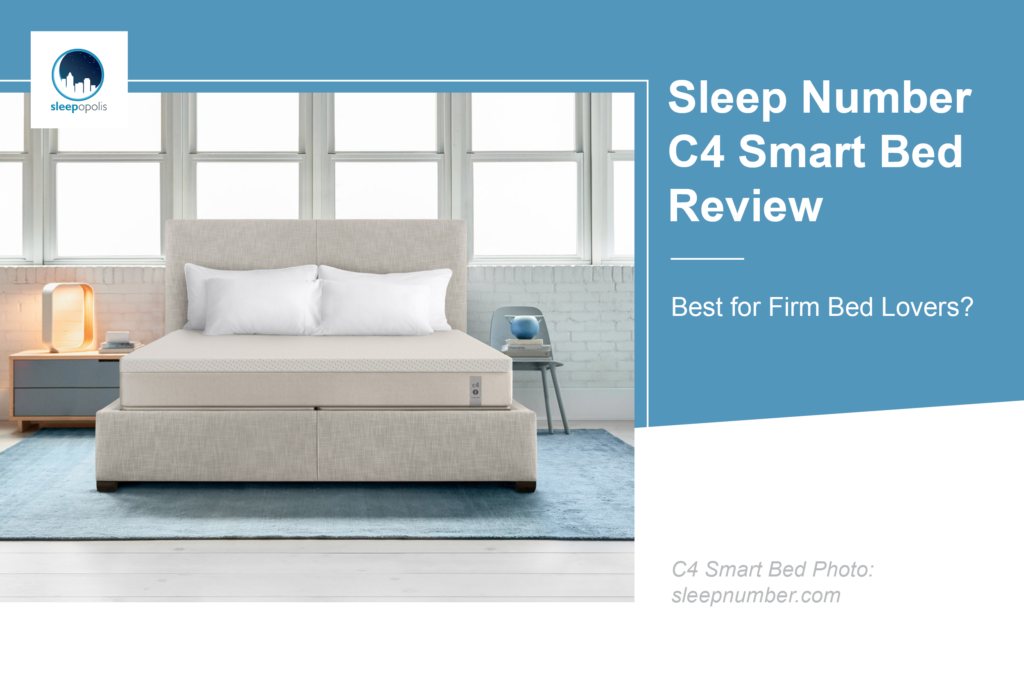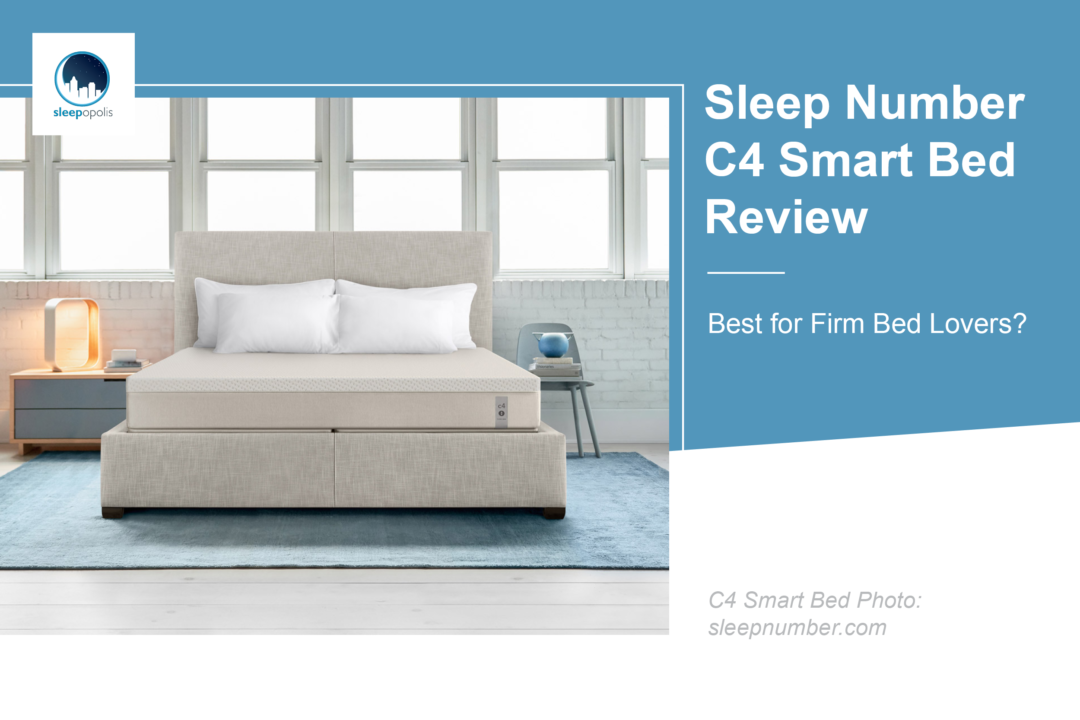 Sleep Number: Need to Knows
Before we dive deep into the c4, here's some quick background on Sleep Number itself. The company Sleep Number is owned by a large, public corporation Select Comfort Corporation. Even though that's a large corporation, if you dig around Sleep Number's website, you might find it gives off the feeling of being a smaller, more personal brand, not uncommon among smaller bed brands like Purple and Casper. In a way, it reminds me of Allswell, the relatively new online-only mattress brand that emerged from Walmart.
Today, Sleep Number is headquartered in Minneapolis, Minnesota, where all their bedding products are designed, manufactured, and distributed. There are additional manufacturing and distribution facilities in South Carolina and Utah. And they don't only sell mattresses—they also have bed bases, sheets, mattress pads, pillowcases, pillows, and more.
In addition to Sleep Number the company is Sleep Number the setting. This refers to the level of firmness your bed will be and will be a number between 0-100. The higher the number, the firmer your bed will be. Most people have a Sleep Number in the 30-60 range; a number close to zero will be incredibly, pretty non-sleepable soft, and 100 will feel super stiff (you might as well just sleep on the floor…).  What's cool about your sleep number is you can adjust it yourself at any time, so the number is never fixed. You can head to a Sleep Number store to test out the mattress yourself with the help of Sleep Number staff, or you can simply find your number at home. To DIY, lie on your bed in your preferred sleeping position. This is typically the position you wake up in, so take note when you wake up! Then, simply press the up or down arrow and you'll start to feel the bed either compress or expand. It might take a few night trials to find your preferred Sleep Number — that's totally okay, and by the reviews I've read, pretty common.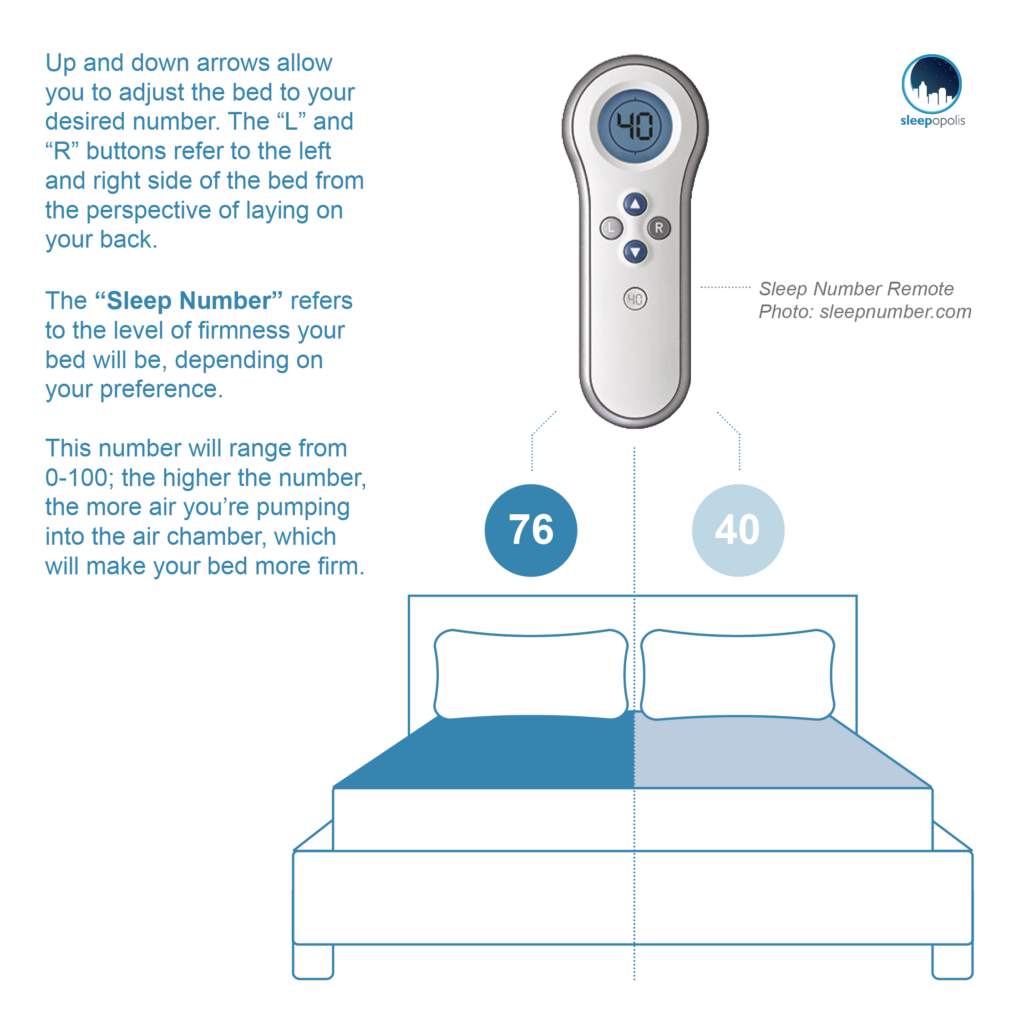 Now, onto the c4 itself!
Sleep Number c4 Mattress Construction
The c4 model is pretty close to its sister model, c2. However, the Sleep Number C4 Classic Series mattress includes an added comfort layer that provides body contouring. It's also a little bit thicker than the c2 (10" vs 8") and has specific technological integrations so it's compatible with SleepIQ® technology (this feature is sold separately, however!).
Here's a breakdown of the bed and what you can expect to find and feel:
The material: The mattress itself is made from a breathable polyester/polypropelene knit blend, and comes in at ten inches of thickness, which is measured from the base to the top of the mattress.
The cover: Unlike the c2, the c4 has a foam comfort layer that lies above the air chamber. It's 1.5 inches of polyurethane foam that features three "zones of comfort," designed to provide pressure relief and specifically target your head and neck, back, and hips. Additionally, the mattress top features a soft fiberfill material sewn into it, and can be zipped on and off.  
Air chambers: Every Sleep Number mattress features DualAir™ adjustability, which allows you to adjust firmness, comfort, and support on each side of the bed to your Sleep Number setting. Said another way, you can inflate or deflate your mattress to find a feel that works for you and your body. The c4 mattress will come with one or two air chambers depending on what size you have. The hose to pump air into the chamber is four feet in length and is unseen inside the bed; unzip the removable mattress cover if you need to access it. The air chambers themselves are made of 24 gauge vulcanized rubber with a cotton fabric adhered to the exterior.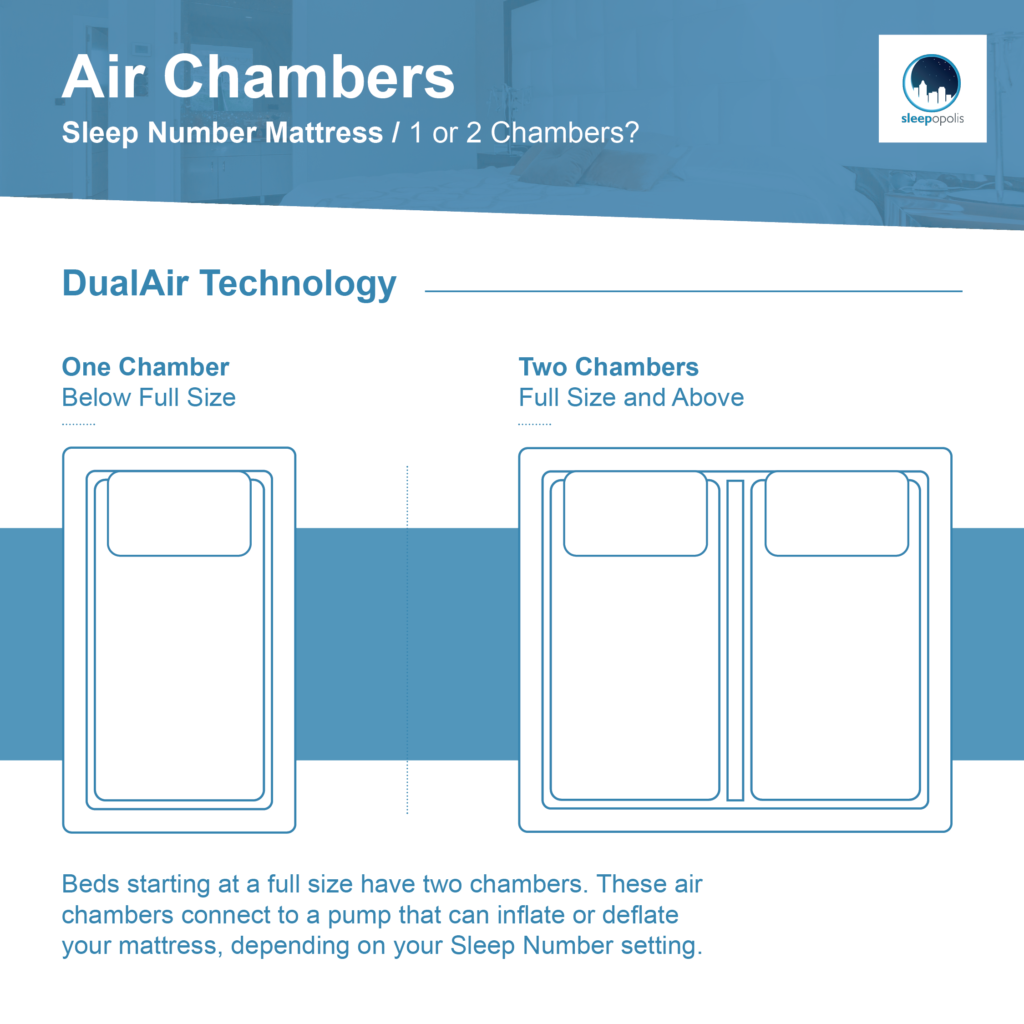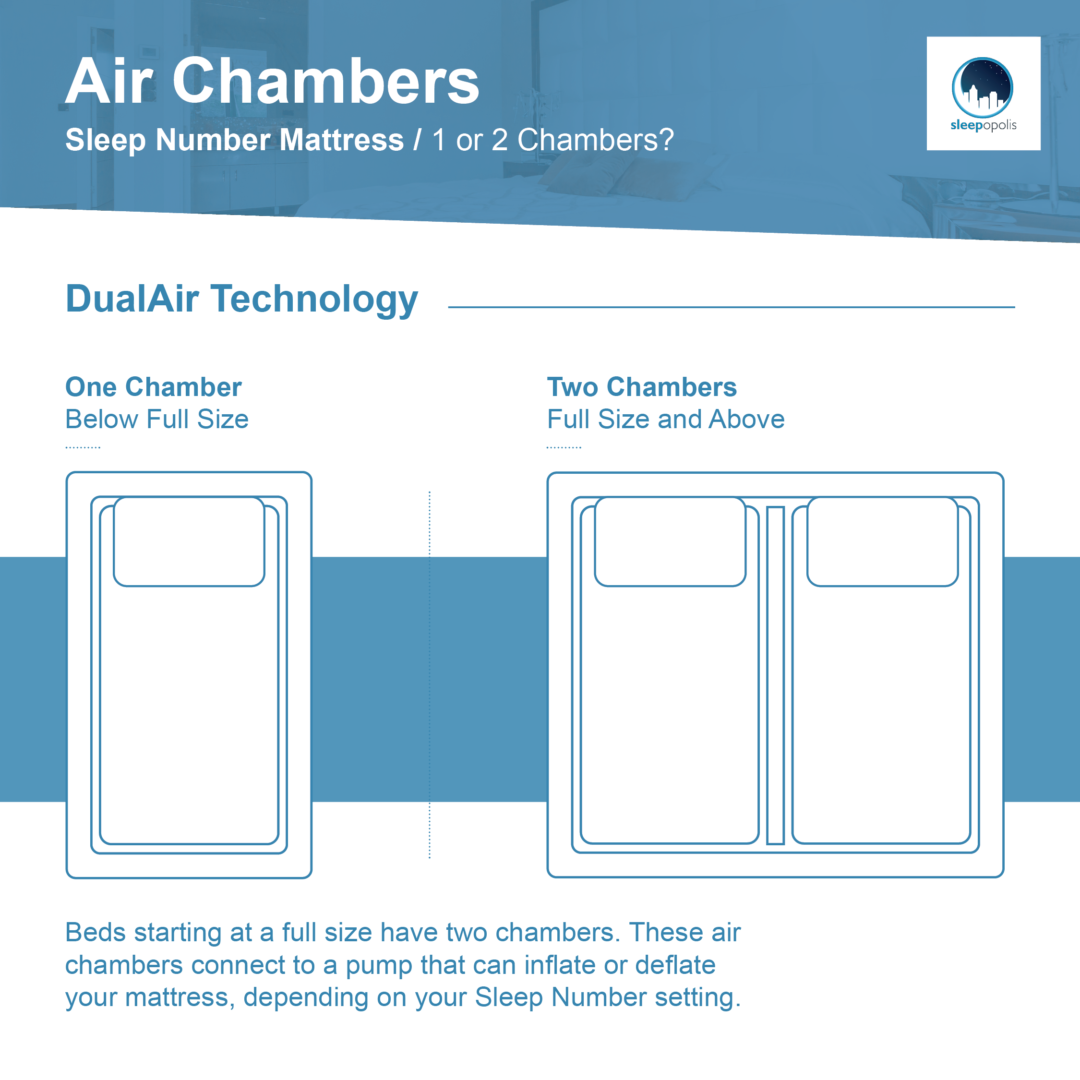 The technology: Sleep Number's DualAir adjustability won't be able to work without the Firmness Control™ System, which basically is how you can inflate or deflate the air bed. This system is comprised of the remote, air pump, and hose(s). The remote comes with a 9-volt battery and has a simple up and down arrow so you can increase or decrease Sleep Number setting, making the bed more firm or more soft. If you have a dual chamber bed, there will be two separate hoses that pass through the opening of the mattress cover. Make sure when you're moving your mattress in that you're near an electric power source so you can operate the Firmness Control™ system!
Sizes: The c4 mattress comes in 10 sizes, ranging from Twin to Flextop California King. We'll dive into all the specs, prices, and more further down in the article.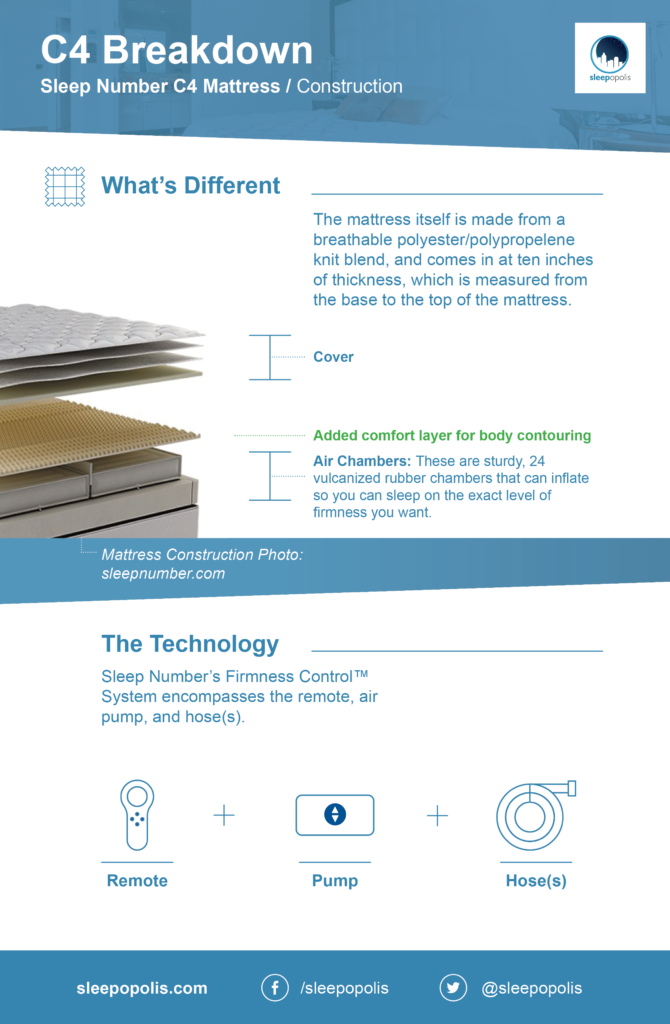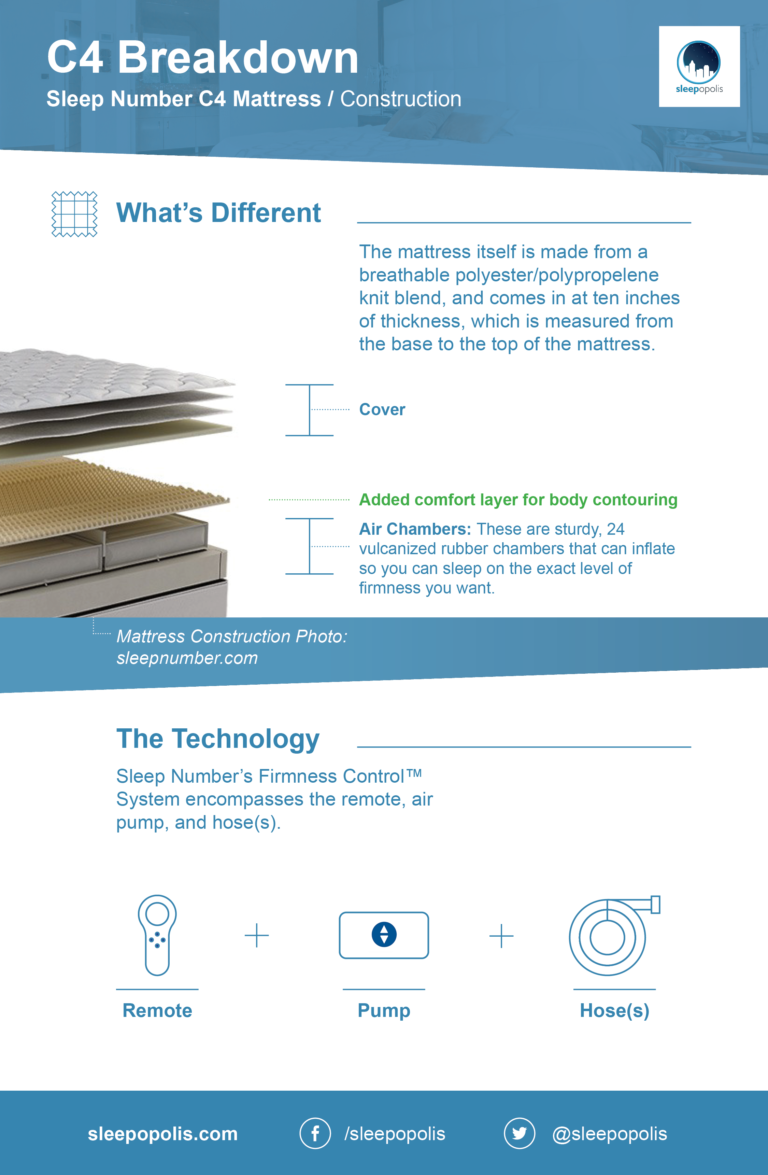 Save up to $1,000
Sleep Number 360 p6 Smart Bed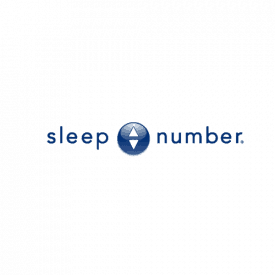 Sleep Number 360 p6 Smart Bed
Sleep Number is a bedding company that sells bed, mattresses, and various bedding products. However, the company is best known for its signature product, the Sleep Number bed, which comes with an adjustable air mattress and various add-ons like a smart system, adjustable bases, and different types of comfort foam mattress pads.
Sleep Number c4 Mattress Feel
Before we break down the feel of the c4, let's decode what Sleep Number's model naming is all about. The "C" is c4 stands for "Classic," given it's a basic and standard model. The number indicates firmness level; model numbers range from 2-10, and the higher the number, the softer your number will be. This is because the higher-number models will come with thicker comfort layers that compliment the air chamber itself.
The c4 mattress is definitely a firm mattress. It's not as firm as the c2., given the 1.5 inches of comfort layer, along with the small layer of filling sewn into the mattress top,  gives it a little oomf. Overall, the c4 seems to be a good option for side sleepers who enjoy a dash of cushion and plush.
A handful of customers spoke about the c4 providing good hip and back support, but they wished the comfort layer was a little thicker. So while this bed isn't the firmest Sleep Number option, it definitely is still really hard and should be for people who know they enjoy extra-firm mattresses. Of course, you can always adjust your sleep number to soften the bed, but you won't be feeling a lot of plump cushion from the relatively thin comfort layer. (To provide context, the i10 model comes with 4 inches of comfort foam, so nearly 4x more than the c4!)
Another note from c4 reviewers is in relation to the DualAir chamber system. If you're in a bed with two air chambers, there's a good chance you might experience the "trench effect," a common complaint among all Sleep Number beds. This is when a dip occurs in the middle of the bed due to the unbalanced sides. However, one reviewer said she still dealt with the gap, even though she and her partner had the same sleep number.
Even though you might experience the trench effect, the c4 supposedly has solid edge support, thanks to the four foam walls that border the wall (If you assemble the bed yourself, you'll see 'em in action!) Edge support helps keep you from feeling like you're going to roll off the bed, and in a way "cradles you" and helps keep you in the same sleep position throughout the night. No more hanging off the bed in the morning!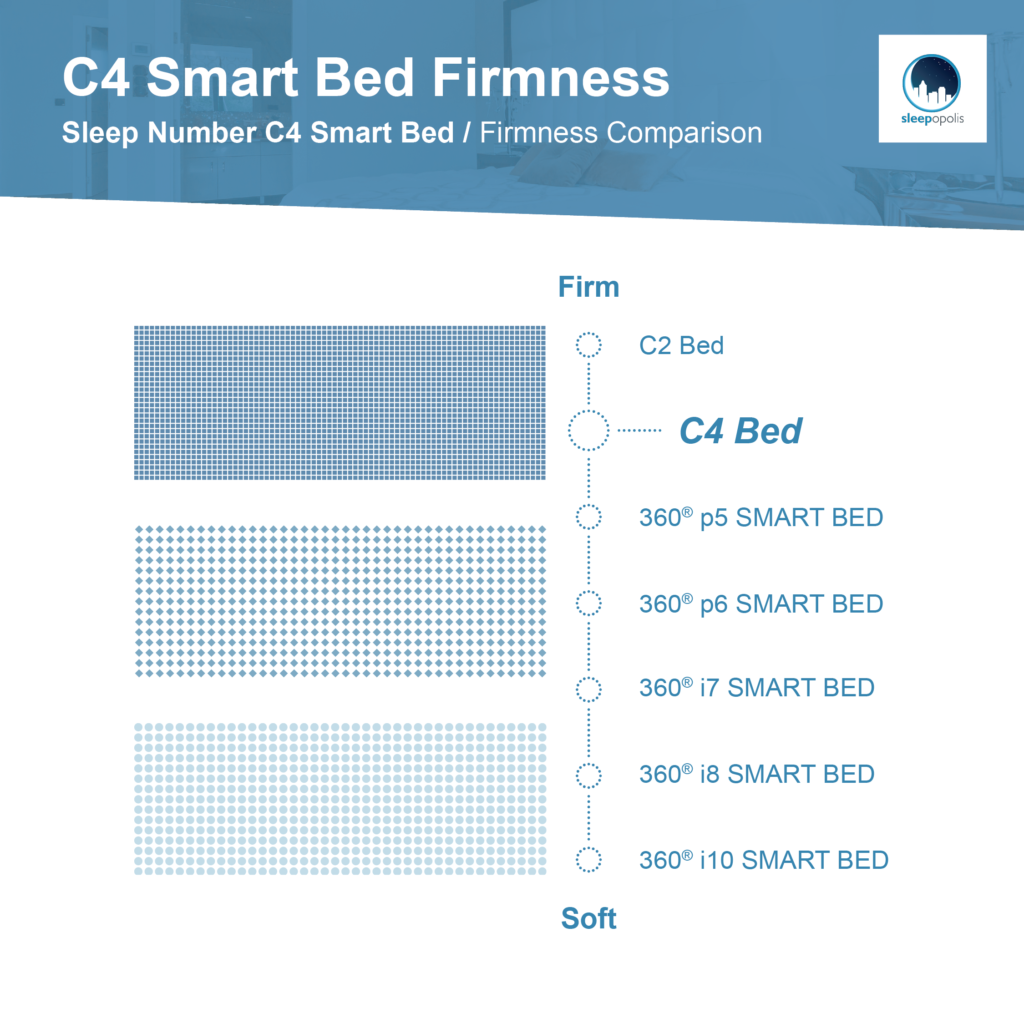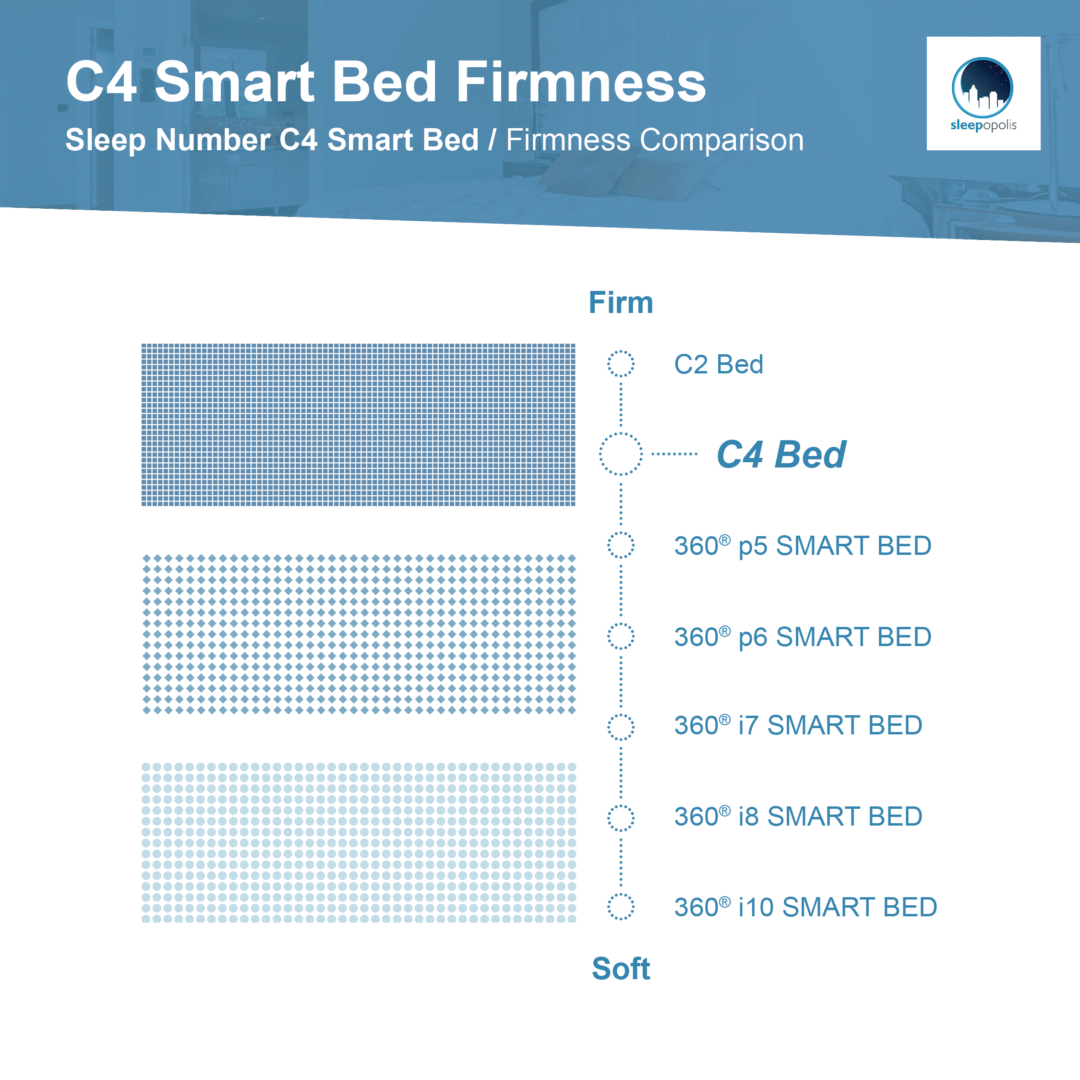 Sleep Number c4 Mattresses Vs. Others
If you've never tested out a Sleep Number c4, we'll do our best to explain how it compares to other types of beds. What is it really like to sleep on air rather than metal coils, foam, or springs?
Simply put, this bed will feel really firm with a small layer of cushion for pressure relief. Mattresses who have (or at least advertise) similar qualities include the Loom & Leaf memory foam mattress, which is a less-firm mattress, but also has the thin layer of foam specifically designed for pressure relief. Then there's the hybrid mattress WinkBed, which is way more firm and has a pillow top layer for pressure relief. Lastly, there's the Amerisleep ASI, which has a firmness level near exact to the c4, along with a thin layer of memory foam for contouring.
There are also other permanent-use air beds on the market, but none seem to have the sophistication of Sleep Number, things like comfort layers and sleep tracker integrations. However, if you've slept on an everyday use air bed like an Aerobed, you at least have a general idea of the what the firm-quality of the air chambers themselves feel like.
Keep in mind that an air bed comes issues like deflation and other tech issues, a thing you can normally avoid when buying a foam or spring mattress. If you ask Sleep Number, they'll say the chances your air bed deflating is pretty rare, and there are a lot of ways to troubleshoot the issue before needing to bring a technician in. Their FAQ help page also includes two helpful videos if anything were to go wrong. However, other things like sudden changes in external air pressure, like temperature or high altitudes, can soften the bed, so take note if you're taking your bed to the high country.
The issues that came up more often than deflation were more so around the remote not working or, if you choose to include it, the Sleep IQ tech breaking down. If you're not a techie, you might want to think twice before buying the c4. (I will say, however, this model is more basic than the Smart 360 series, and way more affordable!)
Save 30% + Free Gifts with Code AS30

Amerisleep Mattress

Great value
Memory foam that sleeps cool
Save with code AS30

$300 Off & Free Sleep Bundle: Just enter your email to save

WinkBeds Mattress

Solid innerspring build with great bounce
Sleeps cool

$200 off $1000 Purchase!

Loom & Leaf Mattress

Classic memory foam feel
Luxury feel at value price
Additional Need-to-Know's

The base is not included!

I repeat: the base is not included. You'll need to purchase one separately, or simply use one you already have. Sleep Number has a handful of options, from their more basic modular bed base to three different FlexFit options that are adjustable. Sleep Number recommends a basic platform bed or bunkie board if you're going your own route; make sure if you

do

use your own bed, you follow Sleep Number's requirements so any potential damage is included under their warranty.

Which leads us to their "Core Line 25 Year Limited Warranty!"

25 years may sound like a lot, but it's the first two years that matter most. From years 0-2, any damage will be covered if it's a manufacturing or material issue caused by Sleep Number. After that, a percentage of the cost will be replaced or refunded up to 25 years based on the type of damage reported. Make sure you save your receipt, and

do not

remove the Law tag on the mattress!

Sleep Number comes with financing options.

For purchases that range from $3,000-$5,999.99, there is a 24-month finance plan you can opt into. If you only buy the c4 mattress, you will reach this minimum price if you purchase a base and/or other bedding.

Bed assembly could be required!

If you decide to buy a Sleep Number bed, you can pay $199.99 for delivery and setup or you can pay $89.99 for UPS delivery. So if you consider yourself a handy woman or man, you could save some money by opting for the UPS delivery.

The c4 can integrate SleepIQ technology, but it will cost extra — $150 in fact.

If you're curious about your sleep habits, and like using apps to track them, it could be worth it. The Sleep IQ records and monitors your sleep activity so you have access to a comprehensive review of your sleeping habits every morning. How does it work? There are sensors inside your mattress to track movement, heart rate, and more. When you wake up, you find out "Sleep Score," which gives you a holistic look into how you slept. This SleepIQ® technology also connects to other Smart devices, so you can track you sleep alongside other health data. Currently, SleepIQ® can connect to  Apple® Health, Fitbit®, Microsoft® Health, Nest Learning Thermostat™, MapMyRun™, Withings Health Mate™.
Here's is a step-by-step guide so you can connect your SleepIQ to other apps:
Open & log into the SleepIQ app

Tap Settings in the bottom right-hand corner

Select "Sleeper" under Sleeper Profiles

Select "Connected Apps"

Select the app/device you would like to connect and log in using those credentials when prompted

Authorize SleepIQ technology to access their data through the third party app/device
Common Praise & Complaints
After reading reviews from many Sleep Number users, here were the most common themes when it came to things they loved and things they loathed:
Those who loved it said:
It's great for couples. Many reviewers said this bed worked great for couples, because one person often liked the bed really firm, and the other needed a little more softness. Luckily, the Sleep Number adjustability allows some to get a little extra "give" by moving their number down a new notches, helping both people sleep well while still allowing those firm-bed lovers to sleep on the bed they desire.


It's easy to figure out. A hose..a pump..a remote. It might seem like the c4 is more complicated than it needs to be. Instead, many people noted that it was a lot more intuitive than they anticipated, and the design of how the control system tucks inside the bed made it a lot easier to use than they thought.


The comfort layer was comfy.

Customers spoke about the comfort layer often, saying it's plush, contouring qualities complimented the firm bed really well. They did say the wanted more though, so if you know you like extra cushion, I would recommend some Sleep Number beds with more cushion material, like the p6 or i8.

Those with common complaints said:
It's over-priced. Sleep Number's start at $1,5999, which is a little or a lot depending on who you are. Yet people said for what they got (a bed with tech issues, only a small layer of foam), the price-tag seemed too high. There are also a lot of small added costs, like having someone set it up for you, buying a bed base, or adding on the SleepIQ technology.


It broke down. A lot.

While the bed is relatively easy to use, many people said they ran into issues with the remote, the pumps, and the mattress topper itself. People also said that going through Sleep Number's customer service was a headache, and the wait time for a technician to come was inconvenient.
It's too firm.

We did warn you that this bed is firm, but maybe others didn't get the message. The comfort layer does help, but it's only 1.5 inches thick. That wasn't enough cushion for a lot of people, who said they felt like they were sleeping "on a brick" and woke up with sore hips.
Sizing and Pricing Information
Save up to $1,000
Sleep Number 360 p6 Smart Bed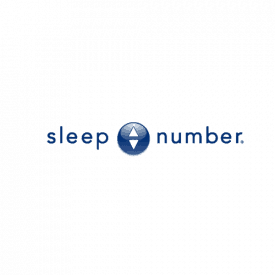 Sleep Number 360 p6 Smart Bed
Sleep Number is a bedding company that sells bed, mattresses, and various bedding products. However, the company is best known for its signature product, the Sleep Number bed, which comes with an adjustable air mattress and various add-ons like a smart system, adjustable bases, and different types of comfort foam mattress pads.
| Mattress Size | Size Dimensions | Number of Air Chambers | Price |
| --- | --- | --- | --- |
| Twin | 38" x 75" | 1 | $1,299.99 |
| Twin Long | 38" x 85" | 1 | $1,399.99 |
| Full | 54" x 75" | 1 | $1,499.99 |
| Double | 54" x 75" | 2 | $1,499.99 |
| Queen | 60" x 80" | 2 | $1,599.99 |
| King | 76" x 80" | 2 | $2099.99 |
| California King | 72" x 84" | 2 | $2099.99 |
| Split King | 76" x 80" | 2 | $2299.99 |
| Flex Top King | 76" x 80" | 2 | $2299.99 |
| Flex Top California King | 72" x 84" | 2 | $2299.99 |
(Note: Sleep Number's final closeout sale for the c4 means every bed is $500 off.)
Is the Sleep Number c4 Right for You?
Now that we've spelled out all you need to know about the c4, here are the main reasons this mattress might work for you:
You know you like firm beds.

You have to really love firm beds to get down with the c4. The comfort layer helps provide some cushion, but you're mostly going to feel like you're sleeping on something really firm. (Many gave it an 8-10 for firmness level.) This would potentially work great for a side sleeper. If you're a stomach sleeper, you should probably avoid the c4.



You sleep with a partner.

This bed adjusts on either end, which can be a lifesaver if you know you love something super firm, but your partner needs just a little bit more cushion. Your Sleep Number setting will help alleviate some of the firmness if you or your partner are craving a little more give.



You want pressure relief in your head and neck.

Not a ton of people spoke to the contouring qualities of the comfort layer piece, but those who did specifically said it did a fine job molding to the curves in their head and neck, providing pressure relief and alleviating unwanted aches and pains.
Sleep Number c4 Summary
Overall, c4 is a good bed choice if you know you're a firm bed lover, which typically means you're a side sleeper. Generally, Sleep Number is a great choice if you want adjustability and personalization, and could definitely be a fit if you're interested in tracking your sleep habits. Plus, the small layer of comfort foam helps with some pressure relief, a nice addition if you know you want a little neck support as you sleep.
FAQs
What is the Sleep Number setting?
The Sleep Number setting refers to the level of firmness the bed will be and will be a number between 0-100. The higher the number, the firmer the bed will be. The sleep number can b adjusted at any time, so the number is never fixed.
Does a base come with the Sleep Number C4 model?
The base is not included. Consumers can choose to purchase one separately, or simply use one they already have. Sleep Number recommends a basic platform bed or bunkie board if not using one of their bases.
What sizes does the Sleep Number C4 model come in?
The Sleep Number C4 model comes in ten different sizes ranging from twin to flex top California king. They also offer a split king for those couples who have different preferences.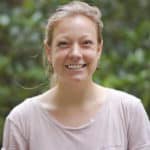 Laura Schwecherl
Laura is a journalist with nearly a decade of experience reporting and covering topics in the health, fitness, and wellness space. She is also a marketing consultant, where she works with impact-oriented startups to build marketing and editorial strategies. Since joining the team at Sleepopolis, she quickly learned how critical sleep is, and enjoys researching how certain sleep products and techniques can improve our lives. Outside of work, you can find her reading Murakami novels, writing amateur poetry, or trail running in her hometown, Boulder Colorado.