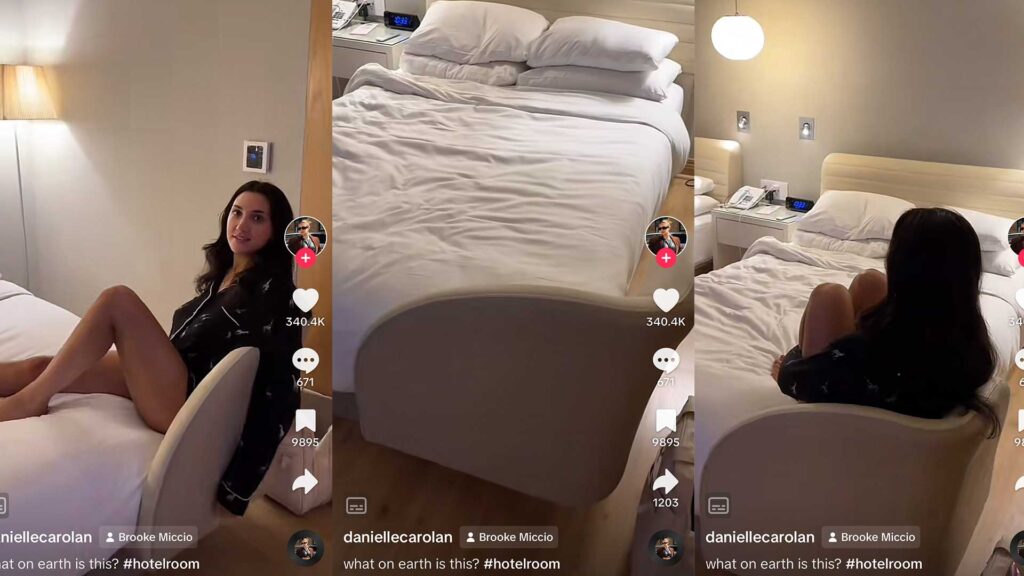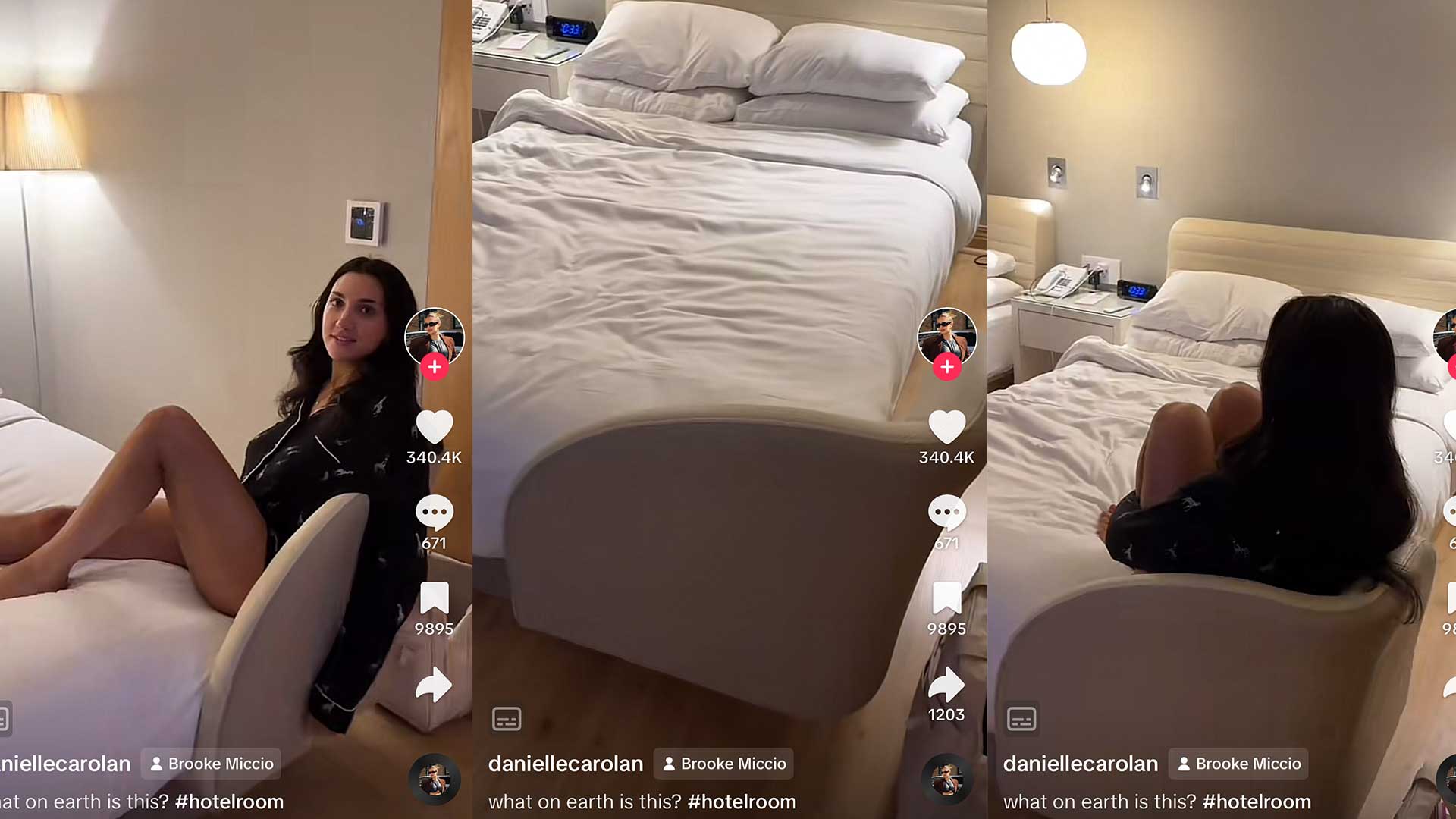 Virgin mogul Richard Branson's foray into the New York hotel business officially began earlier this year with a 39-story hotel located in Manhattan near landmarks such as the Empire State Building, Times Square, and Madison Square Garden and situated near an array of upscale shopping and dining experiences. 
The hotel is loaded with its own entertainment, including a 4,000-square-foot restaurant with a view of the city and a rooftop pool and bar. Not to mention, you'll be shacking up in a "chamber," suite, or penthouse, which features floor-to-ceiling windows with views of the Empire State Building and other prominent skylines. 
A TikTok video that has drawn nearly 3 million views from creator Danielle Carolan shows bewildered guests trying to figure out the purpose of a unique bed feature in their room (1). "We're very confused by this thing on the edge of my bed," Carolan says in the video, which resembles a corner wall or backrest that's upholstered and cushioned but doesn't swivel out to create seating.
The women guess the corner wall may be a safety element to prevent bruised shins or a spot to lean back for social conversation. Comments on the video provide several other assumptions, from the practical — a breakfast-in-bed nook — to the more racy idea that it's designed to facilitate "endless possibilities for extracurriculars" with your partner. Others think it's a space for debriefing after a night out or facilitating video conferences for those working away from home. 
However, a Business Matters UK article from back in 2015 notes that these beds, created by Branson, are the "beds of the future," intended to serve as comfy spots to socialize, work, relax, or multitask for the "harried business traveler." The article says instead of needing to pile up pillows to create a comfortable space to sit upright, the lounge bed has a cushioned ergonomic headboard with a 120-degree slope that lets you recline with a laptop (2).
Virgin Hotels CEO Raul Leal told Business Matters that the design keeps guests' heads from bumping into the wall. "If you can sit in an office with an ergonomic chair and your back feels great, why can't you do that with a bed?" said Leal in the interview, calling the corners "cubby holes" which allow up to three people to have comfortable places to chill out. The beds are complete with firm, supportive mattresses to prevent sinking and shifting when people move around.

The Virgin Hotels' website shows Virgin's patented ergonomic lounge beds are available in different sizes and shapes, including a king-size lounge bed that not only has a cushioned corner but also an extended headboard with a padded bench and space to place a small table. With multiple electrical sockets near the bed for keeping devices fully juiced and a mobile app to control the room temperature or order room service, you really have little reason to leave your bed as a Virgin guest.
Sources

1. @Danielle_Carolan; TikTok:  https://www.tiktok.com/@danielle_carolan/video/7296702849298337066.

2. Business Matters; "Richard Branson's vision for the hotel bed of the future," Business Matters; https://bmmagazine.co.uk/newswire/richard-bransons-vision-for-the-hotel-bed-of-the-future/; November 23, 2015.
Rachel MacPherson
Rachel MacPherson, BA, is a CPT, Certified Strength and Conditioning Specialist, Certified Exercise Nutrition Specialist, Certified Pre/Post-Partum Fitness Trainer, and Pain-Free Performance Specialist. She's passionate about providing readers with straightforward, actionable tips to make living an active, vibrant, fulfilling life easier. When she's not writing, you can find her lifting heavy things, reading, exploring outdoors, or watching the newest iteration of the Star Wars Universe. She lives with her family and pets in beautiful Nova Scotia, Canada.