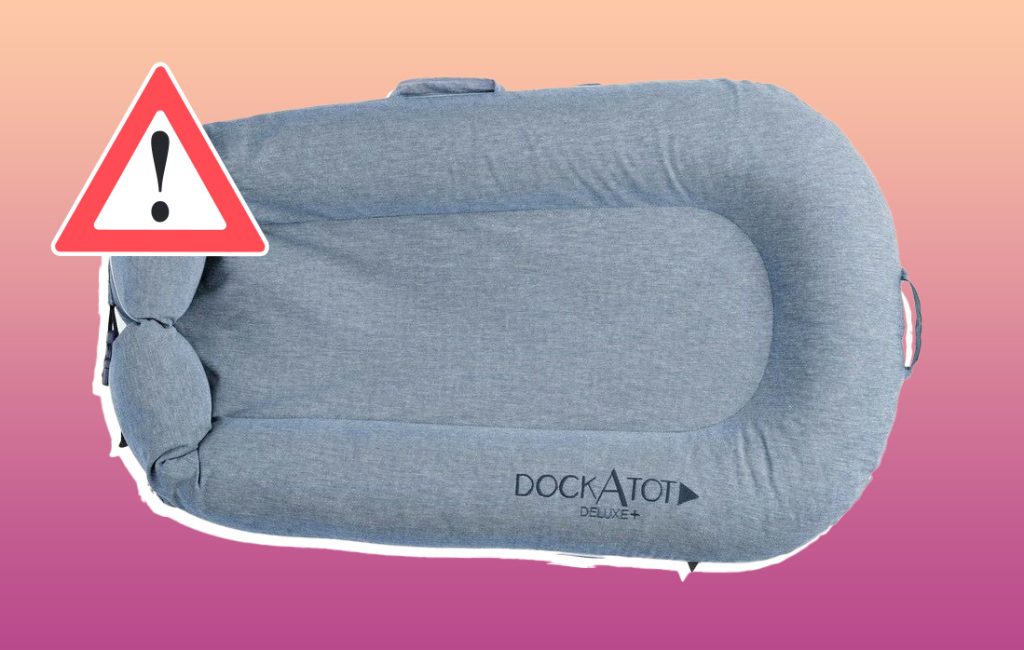 DockATot's website says the product is turning heads. But as of Wednesday, it's not in the way the brand had hoped. On November 9, the Consumer Product Safety Commission (CPSC) issued a violation notice to DockATot for failing to comply with the new Infant Sleep Product rule that went into effect on June 23, 2022.
What Does the Warning Say?
The rule states that in addition to not having an inclined surface greater than 10 degrees, flat products such as the DockATot Deluxe+ Dock, must have a stand, meet stability requirements, and have a side height of 7.5 inches. The warning applies to products manufactured after June 23, 2022.
The company was warned in June to stop importing the product, but continued to manufacture them after the deadline. As of November 11, the company still has multiple colorways posted for sale, but notes in the descriptions that the products were manufactured prior to June 22, 2022. They have not yet replied to Sleepopolis' request for a statement.
The violation notice reads: "It is unsafe for your baby to sleep in a DockATot Deluxe+; immediately discontinue use. There are publicly available reports of infant deaths associated with the product."
One such report details a 6-month-old baby girl who died while using the product. The parents reporting the incident added that they notified the company of their loss, and the company did not respond. Another 2-month-old died and the incident report notes that the baby could have become entrapped or that the "puffy sides" may have caused suffocation. Their babies are a part of around 3400 that die each year from Sudden Unexpected Infant Death (SUID) which includes SIDS, accidental suffocation and other unknown causes.
The product, which is a flat, soft sleep cushion surrounded by raised pillow-like edges around the perimeter, is for babies age 8 months and younger. The product website's Q&A says that babies might fall asleep during use, and that you should supervise sleeping babies in a DockATot. The product violates multiple aspects of safe sleep rules, including having sides less than 7.5 inches, no stand, and it fails to meet stability requirements, What to Expect reports.
"I want to ensure that products sold for babies will not kill babies, and CPSC is making progress toward that goal every day," the CSPC also writes.
What to Know About Baby Sleep Safety
The DockATot is just one of many products in recent years to receive warnings and recalls for unsafe sleep conditions.
Dr. Harvey Karp, pediatrician and author of Happiest Baby on the Block, well-known for creating the SNOO Smart Bassinet, tells Sleepopolis, "Over the past few years, many infant sleep and soothing products have been recalled because of scores of injuries and deaths. Of course, accidents can happen, but it is important for infant care companies to take every reasonable step to reduce risks. I fully agree with the American Academy of Pediatrics' advice to pediatricians to warn all parents not to let babies sleep in upright swings, rockers, car seats (outside of the car)."
In addition to sleep products, infant mattress guidelines were also updated in August 2022 to ensure they are firm, durable, and the proper size for baby cribs.
How to Keep Baby Safe While Sleeping
For parents looking for DockATot alternatives, the American Academy of Pediatrics (AAP) recommends adhering to safe sleep conditions, including:
• Placing babies alone, on their backs, in a crib with no other people or objects
• Using a firm, flat mattress and fitted sheet, inside a crib, bassinet, or portable play yard
• Avoiding swings, car seats, and holding the baby while on a couch or armchair for sleeping
• Breastfeed if possible, and avoid smoking, to reduce the chance of SUIDs
• Room share but don't bed share
Since the product hasn't been recalled, you can't pursue a refund at this point, but should stop use immediately in favor of safer options.