Pajamas that can help you enjoy a longer, deeper sleep? Despite sounding like a futuristic idea, Swiss sleepwear brand Dagsmejan has made it a reality.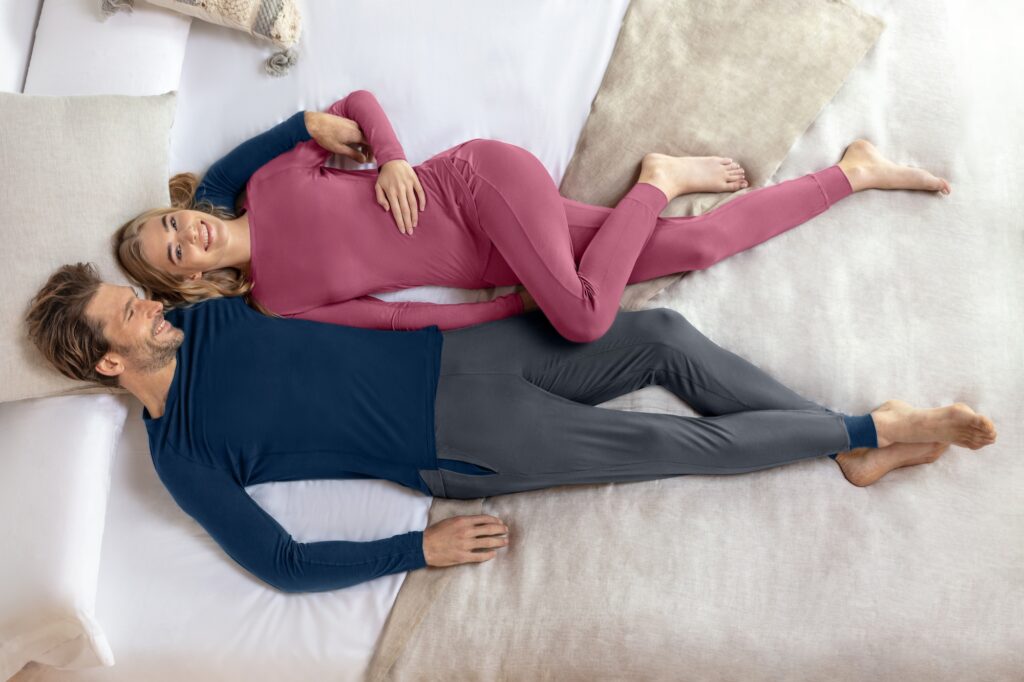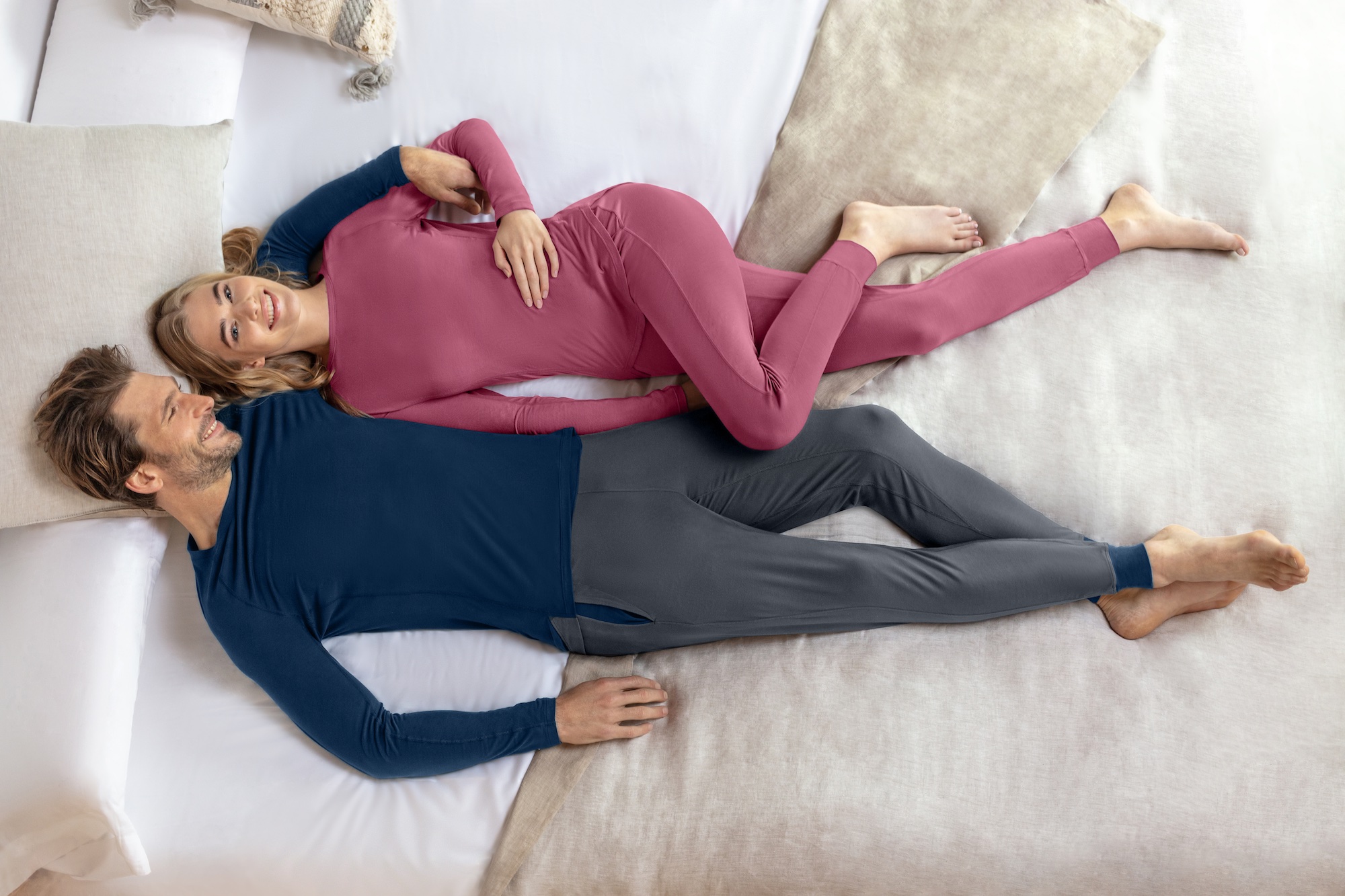 Devices like apps, sound machines, and smart watches are often used to create a better sleep environment. Dagsmejan uses technology to optimize the material closest to your skin during sleep: your pajamas. This brand uses innovative technology, textiles, and research with the goal of creating sustainable apparel that will support a better night's sleep.
Dagsmejan's Products Are Based in Scientific Research
Dagsmejan co-founder and CEO Andreas Lenzhofer spoke about Dagsmejan's goals in a video interview. Lenzhofer commented, "Our ambition, our intent is to create sleepwear that is scientifically proven to support our sleep quality, and comfort, but also do this [in an] international and sustainable way."
The brand's research focuses on helping their customers maintain longer, deeper sleep through patented fabrics that regulate temperature and move comfortably with the sleeper's body. Lenzhofer said he and his co-founder, Catarina Dahlin, wanted to differentiate their sleepwear from fast fashion brands by creating evidence-based, scientifically proven products. This modern melding of technology, science, and fashion has attracted customers worldwide since 2016.
The co-founders start their research by asking questions and look for evidence-based solutions. Lenzhofer said Dagsmejan's research seeks to explore questions like, "Why do we sleep? What does the sleeping body really need? What is possible with innovative materials science to address and support those physical, physiological sleep needs? And thirdly, how does a pajama for optimal fit and comfort need to be cut?"
Dahlin and Lenzhofer favor a collaborative approach to their fashion-inspired technology. They created the brand with input from sleep experts and university researchers (experts at the University of Stockholm and Lucerne University of Applied Sciences and Arts contributed to research and testing, for example), and research is an ongoing process, as Dagsmejan continues to innovate its product line (all its products go through laboratory tests and independent trials.)
Patented Technologies Designed to Address Sleep Needs
Dagsmejan has patented several technologies, including NATTWELL™, NATTCOOL™, NATTWARM™, and NATTRECOVER™. These fabrics are designed to optimize ideal sleep temperatures and encourage muscle recovery. Customers can choose the fabrics that best match their physiological sleep needs and preferences. Since temperature fluctuations are part of a natural sleep cycle, having sleepwear that mitigates its effects can contribute to a restful night's sleep.
Dr. Andrea DeSimone, D.O., a board-certified psychiatrist from Bayhealth Medical Center, explained how body temperature can fluctuate throughout the night, and how it can disturb sleep:
As you fall asleep, your core body temperature lowers. The heat dissipates through your skin, especially through your hands and feet where skin is thinner. Your core temperature stays lower throughout the night. When you start to wake up, your core temperature rises, which corresponds with waking up. If there's a higher temperature in your room, it's harder to dissipate the heat from your body, which can lead to discomfort and poor sleep.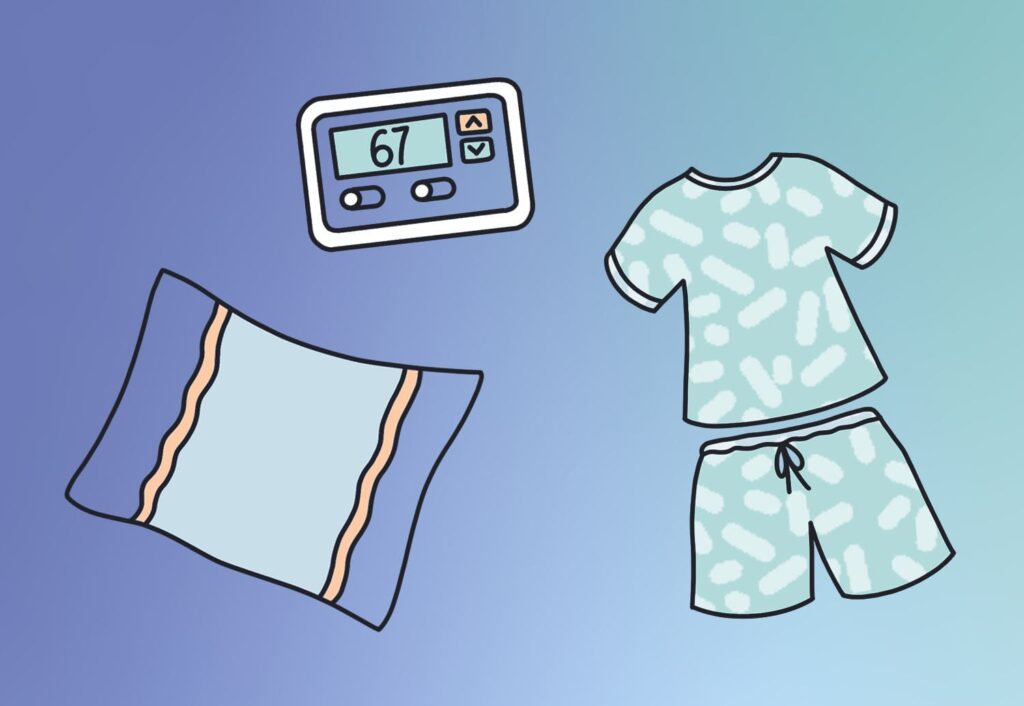 Nattwell technology is present in the Balance collection. This fabric releases heat and absorbs sweat, to help sleepers maintain optimal body temperatures. The Nattwell products are more breathable and have better moisture-wicking properties than traditional pajama textiles, like cotton.
Lenzhofer commented on the Balance collection's versatility. "This is a fabric or sleepwear technology that is helpful for any kind of sleep. It warms you up when you're heating up, it's cooling you down when you sweat. The fabric's moisture is wicked away. So this is all year round the perfect solution."
The Stay Cool fabrics help overheated sleepers stay cool throughout the night, while Stay Warm thermal pajamas help sleepers stay warm without overheating. These technologies can support customers in different climates, and individuals who are prone to overheating or feeling too cold at night, respectively.
Dagsmejan also sells a Recovery collection, with technology designed to support muscle recovery. Nattrecover technology combines eucalyptus natural fiber with heat-activated minerals that turn extra body heat into far infrared energy. Dagsmejan's website notes the potential health benefits of far infrared energy, stating "Infrared can promote an increase of blood flow, in turn improving circulation and enhancing the amount of oxygen reaching the muscles."
Current scientific studies support the conclusion that biomaterials in apparel can interact with the body's thermoregulatory systems. A 2021 study examined the effects of far infrared-emitting apparel, and concluded there is some science-backed evidence to back up Dagsmejan's claims:
"By embedding biomaterials within the fabric, these innovative garments have the capacity to interact with the body's physiological functions at rest and during exercise. Garments can absorb body-emitted heat energy, and then re-emit it through radiation (within the FIR wavelength range) back to the body."
Dagsmejan's pajamas may also offer a healthy solution for people who share sleeping space, but have different temperature preferences. Lenzhofer said, "You really have the opportunity to regulate the temperature individually, let's say in the same room."
Dagsmejan Creates Textiles Using Natural Fibers
Natural fibers, like eucalyptus fibers and beechwood fibers, are present in Dagsmejan's textiles. On its website, Dagsmejan explains it uses beechwood fibers in its pajamas because natural fibers encourage less friction, increasing the user's comfort.
Dr. Danielle Kelvas, MD, the Chief Medical Advisor at Sleepline, noted the potential efficacy of cellulose in Dagsmejan's beechwood fiber materials, telling Sleepopolis, "Cellulose technology in sheets is far superior to cotton/polyester and other fabrics for its moisture-wicking ability, temperature control, and softness." And there are some added benefits that aren't yet widely covered. Dr. Kelvas regularly recommends cellulose sheets to her patients struggling with hot flashes as a result of menopause.
Besides body temperature, Dagsmejan also takes friction into account when designing their products. Many people move around in their sleep, which can cause discomfort and have negative effects on sleep quality. Natural fibers allow for more flexibility and freedom of movement. Dagsmejan's pajamas are designed to shift comfortably with the sleeper.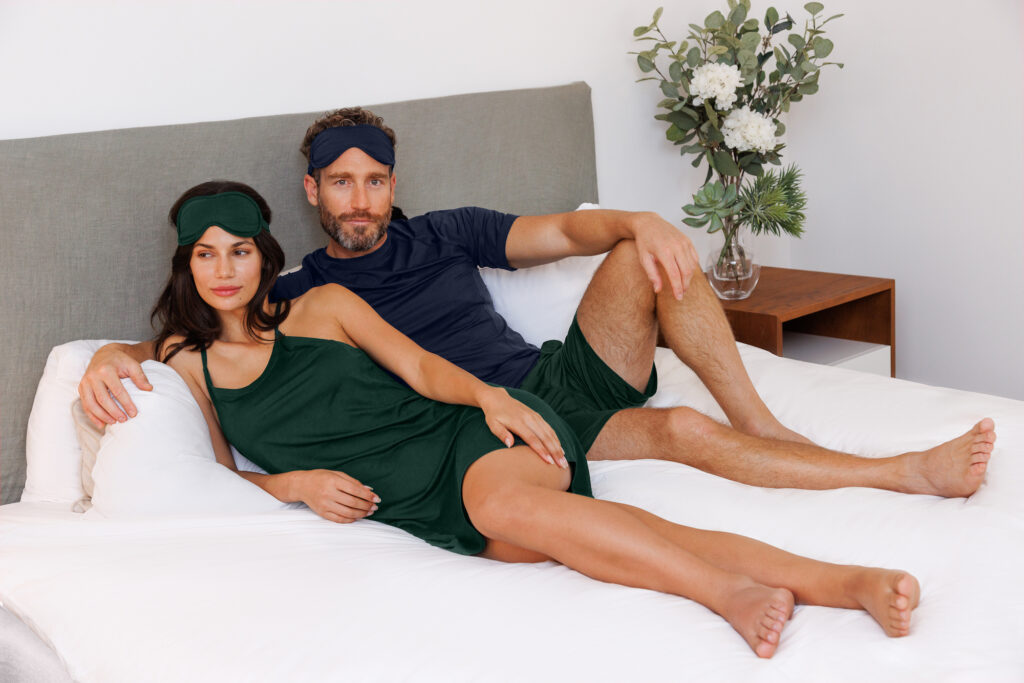 Lenzhofer adds, "And so, while comfort is sometimes compromised during the day, during the night it's not really [compromised] because we feel it much more. [We are] much more exposed to friction. And again, this in itself can have a negative impact on sleep quality."
Dagsmejan's Sustainability Philosophy
Much like Dagsmejan's research process, its approach to sustainability has a problem/solution structure. On Dagsmejan's website, the company acknowledges hazards produced by fast fashion companies, and is transparent about what it does differently to create sustainable products.
Lenzhofer confirms Dagsmejan follows a "slow fashion" ideology. The company seeks to reduce waste and harmful effects on the environment through its production and manufacturing processes. The website outlines the sustainability initiatives Dagsmejan has taken to reduce its carbon footprint.
Some of Dagsmejan's sustainability practices include:
Using natural fibers that use less water and biodegrade in six months
Sanitizing and reselling garments, so they do not end up in landfills
Finding uses for leftover fabric
Creating packaging is 100 percent recyclable
Shipping items in biodegradable bags
Implementing a closed loop system to reuse and recycle water
Reducing chemicals by using eco yarns.
Keeping production in Europe to save energy
Dagsmejan partners with other sustainable organizations like Lenzing, the Forest Stewardship Council, Programme for the Endorsement of Forest Certification, and bluesign to use ethically sourced materials in its products.
The company's manufacturing process received International Organization of Standardization (ISO) certifications from an independent third party. These certifications show Dagsmejan complies with criteria for best manufacturing processes for quality, environmental, and energy management.
The Future of Dagsmejan's Sleepwear Innovations
Dagsmejan's customers are part of the collaboration in improving products. Lenzhofer and Dahlin look carefully at customer reviews, so they can continue to innovate their products based on their customers' experiences.
Lenzhofer explained the value of his customers' feedback: "We are a new brand, so we need to be very close to the customer[s], [to] understand what they really need, [and] how we can support all those needs."
Future technologies and innovations are already in progress at Dagsmejan. While Lenzhofer can't reveal details about upcoming projects yet, he promises that customers have much to look forward to.
Dagsmejan's attention to detail and ongoing research shows its commitment to supporting every kind of sleeper on the market. The brand's popularity continues to rise because its sleepwear delivers what it promises… a good night's sleep!
Sources

Lenzhofer, Andreas, author interview, April 2023

Kelvas, Dr. Danielle, author interview: April 2023

Bontemps, Bastien; Gruet, Fabrice; Vecruvssen, Fabrice; Julien, Louis: "Utilisation of far infrared-emitting garments for optimising performance and recovery in sport: Real potential or new fad? A systematic review," May 6, 2021: https://www.ncbi.nlm.nih.gov/pmc/articles/PMC8101933/

DeSimone, Dr. Andrea, author interview, April 2023