Finding the perfect set of pajamas is about more than picking the cutest design. Of course, sleeping in style is never a bad thing! But there's a method to choosing the fabrics, sizes, and special features that are best for your unique body. In fact, landing the ideal set of PJs can even help you get a better night's sleep (and who can say no to that?).
To name a few, breathability, color coordination, pocket placement, wash care, and moisture-wicking properties are all factors to consider when selecting your dream PJs. Listed below are my favorite pajama sets, all of which I've personally tested. So keep reading to learn which pajamas will look and feel the best on you!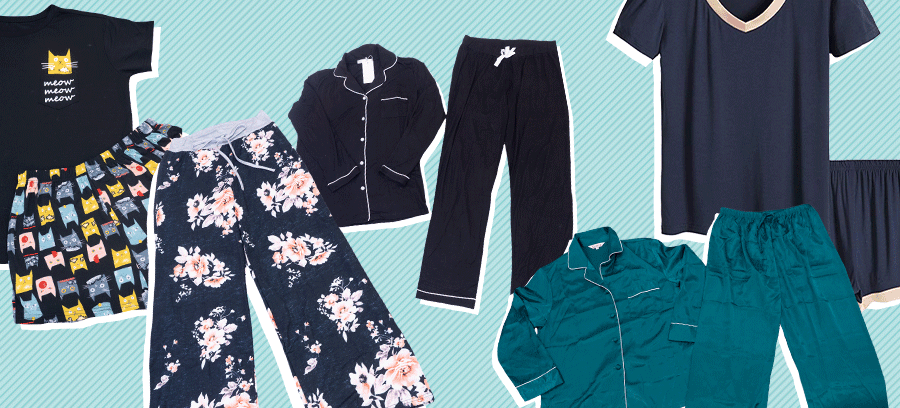 Editor's Pick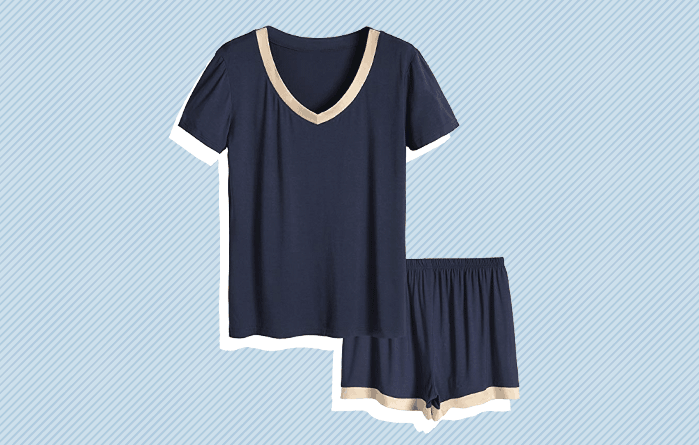 Latuza Pajama Set
If you're a hot sleeper wanting to cool down in an eco-friendly set of PJs, this might be the pick for you. This stylish V-neck tee-and-shorts combo is made primarily from viscose from bamboo, a material known for its plant-based perks. 
Pros 
Ah, bamboo-based PJs — where do I even begin? Viscose from bamboo is naturally moisture-wicking, antimicrobial, hypoallergenic, and sustainably sourced. For these reasons, I keep my bedroom stocked with bamboo-based bedding

and

sleepwear. 

Did I mention that these pajamas are also

incredibly

smooth and soothing on the skin? I was ready for a nap as soon as I tried them on. 

Although these PJs are mainly

made from bamboo viscose, 5% spandex provides a nice stretch that enhances breathability, and makes for an elegant, form-fitting look. Also, the satin-trimmed collar adds a pretty aesthetic flare. 
Cons 
This is nit-picky, but I do wish that the satin trim went

all

the way around the collar rather than just the V-neck part of it. 

Remember folks: this set comes with shorts, not pants.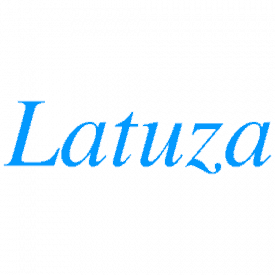 The Latuza pajama set is a stylish V-neck tee-and-shorts combo is made primarily from viscose from bamboo, a material known for its plant-based perks
Best Loungewear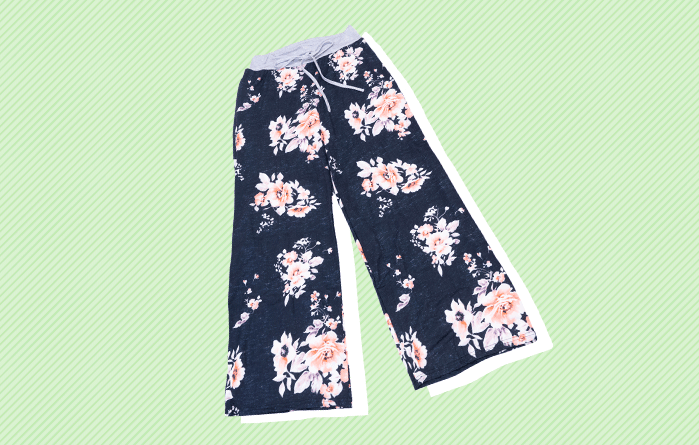 AMiERY Pajama Pants
Made from a comfy blend of cotton and polyester, the AMiERY pajama pants are lightweight, breezy, and perfect for lounging around your home. With a cute drawstring and eye-catching floral pattern, these are lounge-pants that you could wear to bed or the beach.
Pros 
There are some pajamas you wouldn't feel comfortable leaving the house in… and then there's these AMiERY PJ pants. Wear these pants with cute sandals and a T-shirt, and see how many compliments you get on your way to the grocery store. 

The light, breezy nature of the fabric makes these pajama pants ideal for warm nights. Not to mention, polyester is naturally moisture-wicking!  

If you find that these pants are a little loose in the waist, simply tighten the drawstring until they fit perfectly. 
Cons 
For those looking for a full pajama set, just remember that these pants come

without

a matching top.

I'm five feet tall, so I wasn't surprised to find that these pants are a little long in the leg. But if you're also on the short side, this is something to consider!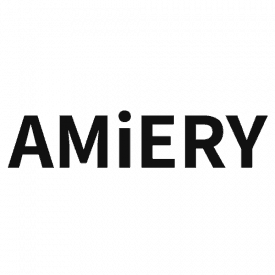 Made from a comfy blend of cotton and polyester, the AMiERY pajama pants are lightweight, breezy, and perfect for lounging around your home.
Best Value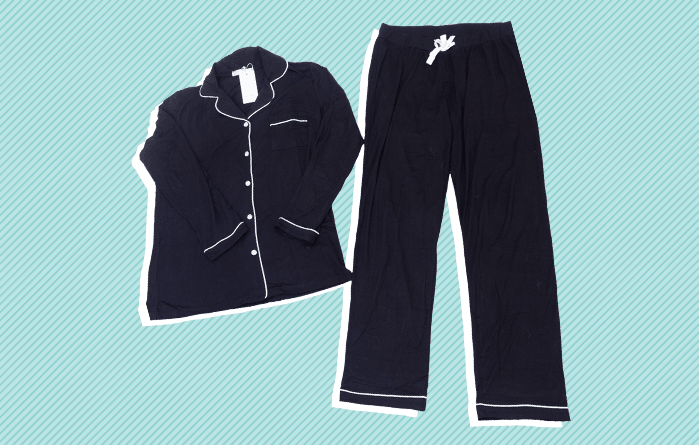 Ekouaer Pajama Set
The Ekouaer pajama set is made from a silky-smooth blend of viscose, polyester, cotton, and spandex (so basically all the absorbent fabrics). A button-down top and drawstring pants gives this set a classic PJ look, perfect for a pajama party or some solo sleeping! 
Pros 
I tried the Ekouaer pajama set in a classic black and white style, but this set comes in almost

thirty

different colors. Even the most indecisive shopper should be able to find a look they like!   

These pajamas feel

very

soft and soothing on the skin. The fabric is also quite breathable and naturally moisture-wicking, which is always a perk for us hot sleepers. 

Although the fabric is nice and breathable, this pajama set includes a long-sleeved top and long pants, making it ideal for year-round use.  
Cons 
Just remember: this set

does

have buttons down the front of the pajama top. If you prefer a T-shirt that you can easily take on and off without having to fasten any buttons, you might be better off with a different set. 
Personally, I found the light, airy fabric to keep me feeling cool and dry. However, for those who get very warm at night, you might want to explore a short-sleeve/short-pants option.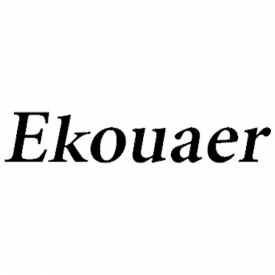 The Ekouaer pajama set is made from a silky-smooth blend of viscose, polyester, cotton, and spandex. It's a breathable blend that's great for year round use!
Best for Gifting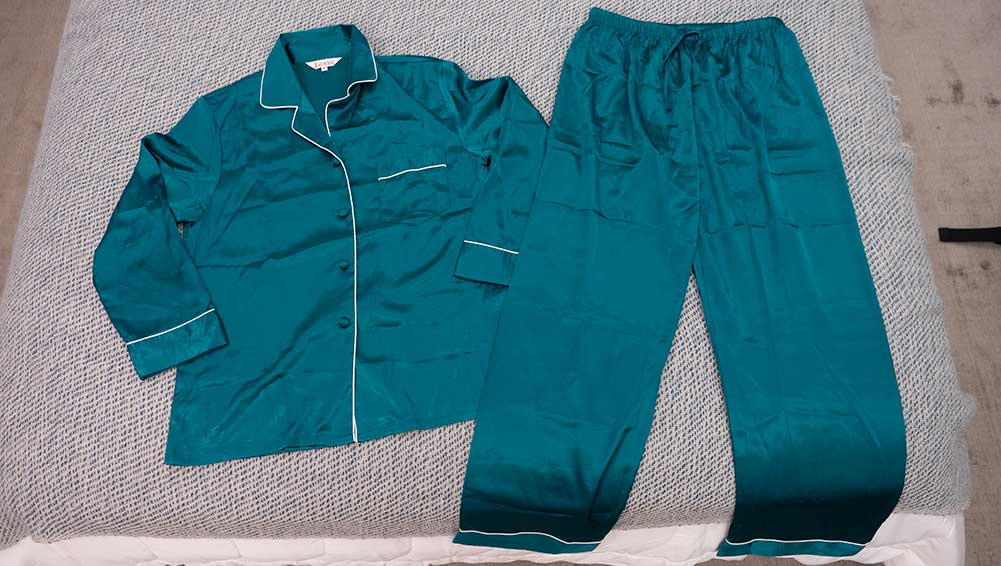 Lonxu Pajama Set
Looking for the perfect gift for the sleep-lover on your list? A set of silk pajamas is a sure-fire hit. The Lonxu pajama set feels as luxuriously silky as it looks, and comes without the luxury price-tag. 
Pros
These are the kind of pajamas you really never want to take off. They're super soft, stylish, and offer a luxuriously shiny look that's unique to silk. 

With many brands only offering sizes up to XL, I was pleased to see that this set comes in sizes XS-3XL. 

The white satin piping that borders the collar, sleeves, and pant-legs adds an aesthetic accent that I found to be quite charming! 
Cons
Though I really appreciate the wide range of sizes, these PJs do run just a

little

bit small. If you are typically a size small, for example, I'd opt for the medium to be on the safe side. 

Silk is not the most breathable material on the market, so if you're looking for a set of cooling pajamas, I can't guarantee this set will hit the mark!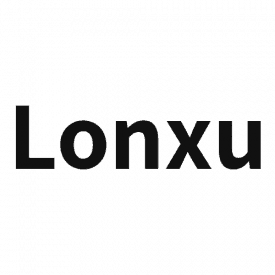 The Lonxu pajama set feels as luxuriously silky as it looks, and comes without the luxury price-tag!
Most Fun Design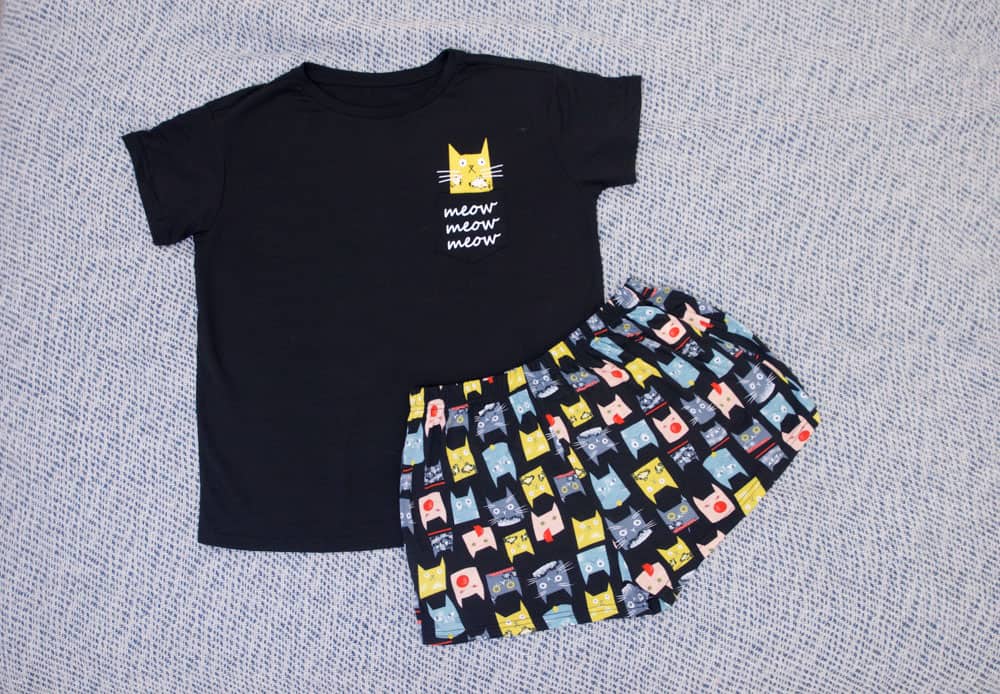 DIDK
The DIDK pajama set includes a casual T-shirt-and-shorts combo made from polyester and spandex. They're stretchy, breathable, and oh-so-soft…. But the thing that really gets my attention is the fun design. If you're a cat-person, you're likely to love the cartoon kitties that adorn this sleepwear! 
Pros 
I'll admit it: My favorite thing about this set of PJs is the cute style. The cartoon cats on both the shorts and the Tee definitely appeal to my love for feline friends.

The cozy shirt-and-shorts combo is great for folks who typically sleep in a big T-shirt at night, but want to make their bedtime look a little more fashionable. 

The blend of polyester and spandex makes this a good pick for sleepers who run hot. Polyester is naturally moisture-wicking, and the stretchy spandex enhances breathability. 
Cons 
I tested this set in a medium size, but the shorts are still quite short! If you opt for this set, be prepared to show a little leg. 

This is more about personal taste, but if you're looking for a simple style, you might want to choose a set without cartoon cats printed on it.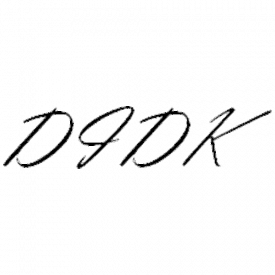 These stretchy, breathable and soft pajamas have the added benefit of a great design to make bedtime fun!
How We Picked
Now that you've seen my personal pajama picks, let's talk about the methodology behind my choices. Of course, a lot does come down to subjective taste, but there are a few key things to look out for when you're on the hunt for PJs.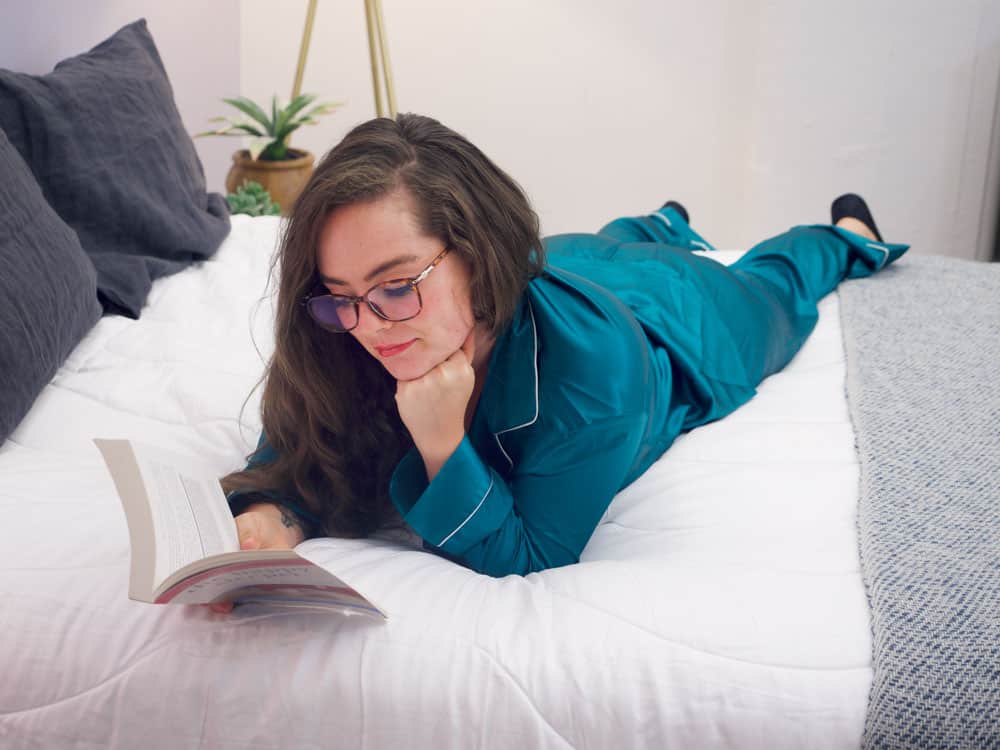 Size – Always pay attention to a brand's "size chart." If a pajama set doesn't run true to size, the company will usually include that in the product description. If not, I suggest sizing up when you're purchasing less stretchy fabrics like silk or linen. I'm pleased to report that the pajamas I picked here all run true to size, though the silk Lonxu pajama set offers less give than cotton, for example.
Design – Even if no one is going to see you in your pajamas, it's worth it to take the time to pick the style that appeals to you the most. After all, the better you feel about the way your PJs look, the more comfortable you'll be. And the more comfortable you are, the better you'll sleep.
Fabrics – Just like with bedding, you should shop for pajamas according to the season! The PJs you're going to enjoy in the summertime are likely to be made from a different material than your wintertime pajamas. When you're trying to keep cool and stave off night sweats, go with fabrics like viscose from bamboo, cotton, and polyester. Conversely, silk, satin, flannel, and fleece are much better insulators when it's time to bundle up.
Style – Not to be confused with design, style refers to the cut of your PJs. Do you prefer long pants or shorts? Short sleeves or long? Buttons, drawstrings, or both? Take some time to consider all the small details as they really do make a difference. Personally, I'm quite petite, so I look for capri-length pajama pants with a drawstring so that they're not too long, and I can adjust the waistband for the perfect fit.
Price – At the end of the day, the most important thing is that you're completely comfortable in your pajamas. That said, should generally be able to find your perfect set of PJs without breaking the bank. The $20-$50 range is where I like to stay when it comes to sleepwear, as anything too inexpensive can often be indicative of low-quality materials. And anything over $50, well, those PJs better come with some bells and whistles!
Sleepopolis Tips
Yes, your bedtime outfit is a very personal choice, but allow me to offer a few tips that might help you on your hunt for your dream pajamas.
Be sure to check out the "materials" description before you make your purchase. Oftentimes, what looks like cotton is actually polyester microfiber, and what looks like silk is actually satin. This might not make a difference to many of you, but those with allergies, sensitive skin, or specific fabric preferences should make sure they're getting exactly what they're looking for!
Hot sleepers: the term "moisture-wicking" is your friend. If you're prone to night sweats, or you heat up during the night, stick with breathable, absorbent materials like viscose, cotton, polyester, and anything bamboo-based.
Final Thoughts
I have a drawer full of pajamas that I've color coordinated and arranged according to the weather. Why? Because getting a good night's rest is about more than having the right mattress and pillows. So treat yourself to the sleepwear that's going to keep you cozy, stylish, and totally relaxed.