Finding the perfect set of pajamas is about more than picking the cutest design. Of course, sleeping in style is never a bad thing! But there's a method to choosing the fabrics, sizes, and special features that are best for your unique body. In fact, landing the ideal set of PJs can even help you get a better night's sleep (and who can say no to that?).
To name a few, breathability, color coordination, pocket placement, wash care, and moisture-wicking properties are all factors to consider when selecting your dream PJs. Listed below are our favorite pajama sets, all of which I've personally tested. So keep reading to learn which pajamas will look and feel the best on you.
Best Women's Pajamas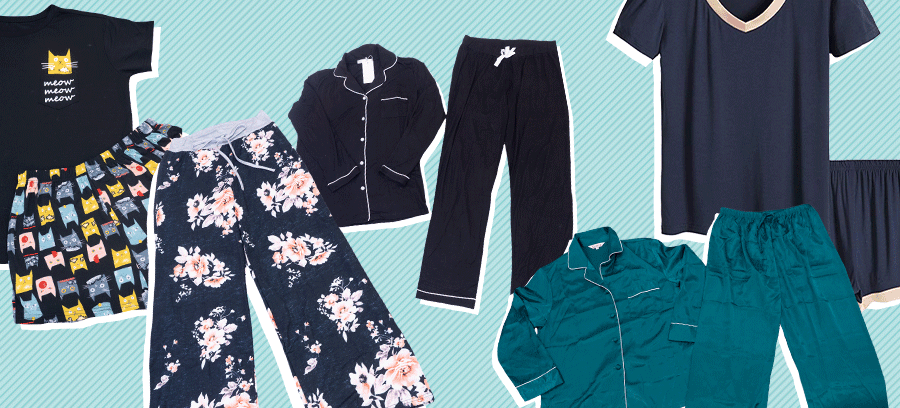 The Cozy Earth Short Sleeve Pajama Set might just be the most adorable pajama set we've seen at Sleepopolis. With it, you can expect a button-down and collared short-sleeve shirt, and a pair of shorts. There are 12 different colors to choose from, and three of them are new to Cozy Earth: walnut, black with a botanical pattern, and beige with a botanical pattern.
Better yet, Cozy Earth is a company that creates responsibly produced sleepwear. The site claims this set is resistant to pilling. And because it's made from bamboo viscose, it only makes sense that this set is incredibly soft and oh so cooling. So, whether you're looking for a summer set or you're just a hot sleeper to begin with, these pajamas are for you.
You can choose between XS–XXL sizes. To care for this set, wash in cold water and dry normally.
Our full review for the Cozy Earth Short Sleeve Pajama Set is coming soon. To get a taste of the company and their products, see our full review for Cozy Earth's Long Sleeve Pajama Set.
We're pretty sure we're not the only ones to wake up in the middle of a hot summer night drenched in sweat. Overheating in bed can make it harder to fall asleep and harder to stay asleep. If you're like us, victim to summer's high nighttime temperatures, try the Dagsmejan Gift Set Short Pajamas.
This set includes a short sleeve shirt, short shorts, and an eye mask. It creates a sleek and sexy look that's not only stylish, but cooling. Dagsmejan uses special technology in this pajama set to help wick away moisture and actively cool down sleepers.
Plus, there are a number of cute color options: ice blue, lavender melange, deep grey, sunrise rose, midnight blue, and deep ruby. We appreciated the wide variety of sizes available, from extra small to double XL. In terms of care, this set can be washed in the cold setting, but it should be air dried and not tumble dried.
Our full Dagsmejan Gift Set Short Pajamas review is coming soon. In the meantime, head on over to our Dagsmejan Pajama review for more information about Dagsmejan.
We spend hours and hours in our pajamas at night, so it makes sense to find the ones you like. If you ask our team at Sleepopolis, we think that a bit of extra money goes a long way in terms of pajama comfort. Cue the Brooklinen Marina Pajama Set. It's a unisex set equipped with a long-sleeved shirt and pants.
These luxury pajamas are made out of cotton, and they also come with pockets and a drawstring for adjustability. Many cheaper pajamas don't include these features, so the Marina Pajama Set is a nice option if the extras are important to you.
There are two sophisticated color options (a sky blue with red trimming and a navy blue plaid), as well as many size options (XS–XXL). To properly care for these PJs, wash with cold water and tumble dry on the low setting.
Our full Brooklinen Marina Pajama Set review is coming soon.
The long sleeve version of the Cozy Earth Short Sleeve Pajama Set comes in the same gorgeous set of colors and is available in Regular or Tall versions. With this set, you'll receive an elegant button-up long sleeve shirt, as well as a matching set of pants.
Perhaps one of the best parts about this set is that it's made out of bamboo. In clothing, manufacturers use viscose, which is derived from bamboo. It creates not only a soft feel but an incredibly cooling material. Best of all, this pajama set was one of Oprah's favorite things of 2019.
These luxurious pajamas come in a range of sizes (XS–XXXL) and can be washed in cold water, then dried normally.
For more, check out our full Cozy Earth Long Sleeve Pajama Set review.
One of the best things you could possibly wear to bed is an oversized t-shirt. It's cooling and it's cozy. But to make things even better, Dagsmejan created a specially styled sleepshirt with even more benefits. The shirt uses a stylish spade neckline, and the sleeves are diagonally cut for added flair.
To top it off, Dagsmejan uses NATTCOOL technology to make the material even more breathable and cooling. The company markets this material as one that dries three times faster than cotton, and one that is twice as soft. Shoppers can choose between six gorgeous color options: rainforest, coastal blue, cool grey, lavender, sage, and navy blue.
Shoppers can also choose between a number size options, ranging from XS to 2XL. To properly take care of this sleepshirt, Dagsmejan suggests machine washing in cold water only. The company does not recommend tumble drying.
Our full Dagsmejan NATTCOOL Sleep Tech Sleepshirt review is coming soon. In the meantime, head on over to our Dagsmejan Pajama review for more information about Dagsmejan.
How We Picked
Now that you've seen our personal pajama picks, let's talk about the methodology behind our choices. Of course, a lot does come down to subjective taste, but there are a few key things to look out for when you're on the hunt for PJs.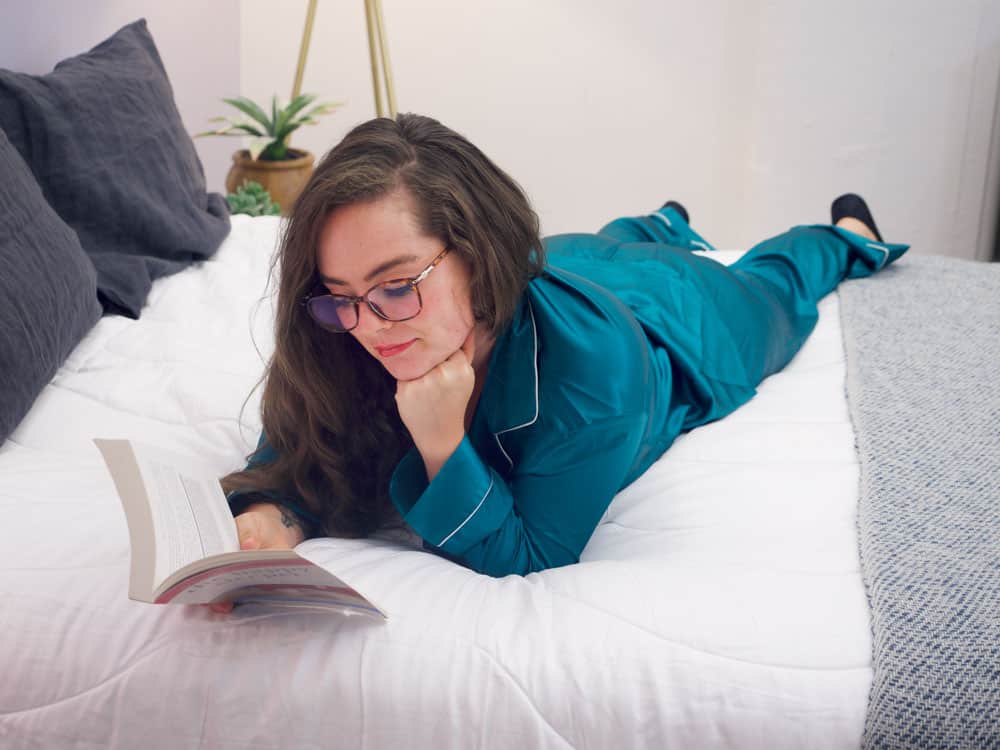 Size – Always pay attention to a brand's "size chart." If a pajama set doesn't run true to size, the company will usually include that in the product description. If not, we suggest sizing up when you're purchasing less stretchy fabrics like silk or linen. I'm pleased to report that the pajamas we picked here all run true to size.
Design – Even if no one is going to see you in your pajamas, it's worth it to take the time to pick the style that appeals to you the most. After all, the better you feel about the way your PJs look, the more comfortable you'll be. And the more comfortable you are, the better you'll sleep.
Fabrics – Just like with bedding, you should shop for pajamas according to the season. The PJs you're going to enjoy in the summertime are likely to be made from a different material than your wintertime pajamas. When you're trying to keep cool and stave off night sweats, go with fabrics like viscose from bamboo, cotton, and polyester. Conversely, silk, satin, flannel, and fleece are much better insulators when it's time to bundle up.
Style – Not to be confused with design, style refers to the cut of your PJs. Do you prefer long pants or shorts? Short sleeves or long? Buttons, drawstrings, or both? Take some time to consider all the small details as they really do make a difference. Personally, I'm quite petite, so we look for capri-length pajama pants with a drawstring so that they're not too long, and we can adjust the waistband for the perfect fit.
Price – At the end of the day, the most important thing is that you're completely comfortable in your pajamas. That said, should generally be able to find your perfect set of PJs without breaking the bank. The $20–$50 range is where we like to stay when it comes to sleepwear, as anything too inexpensive can often be indicative of low-quality materials. And anything over $50, well, those PJs better come with some bells and whistles!
Sleepopolis Tips
Yes, your bedtime outfit is a very personal choice, but allow me to offer a few tips that might help you on your hunt for your dream pajamas.
Be sure to check out the "materials" description before you make your purchase. Oftentimes, what looks like cotton is actually polyester microfiber, and what looks like silk is actually satin. This might not make a difference to many of you, but those with allergies, sensitive skin, or specific fabric preferences should make sure they're getting exactly what they're looking for.
Hot sleepers: the term "moisture-wicking" is your friend. If you're prone to night sweats, or you heat up during the night, stick with breathable, absorbent materials like viscose, polyester, and anything bamboo-based.
Final Thoughts
We have a drawer full of pajamas that I've color coordinated and arranged according to the weather. Why? Because getting a good night's rest is about more than having the right mattress and pillows. So treat yourself to the sleepwear that's going to keep you cozy, stylish, and totally relaxed.
Sarah Riccio
Sarah is the former senior writer and bedding expert at Sleepopolis. She received her degree in Creative Writing from Brooklyn College and spends her free time doing stand-up, making pasta, and hanging with her cats.