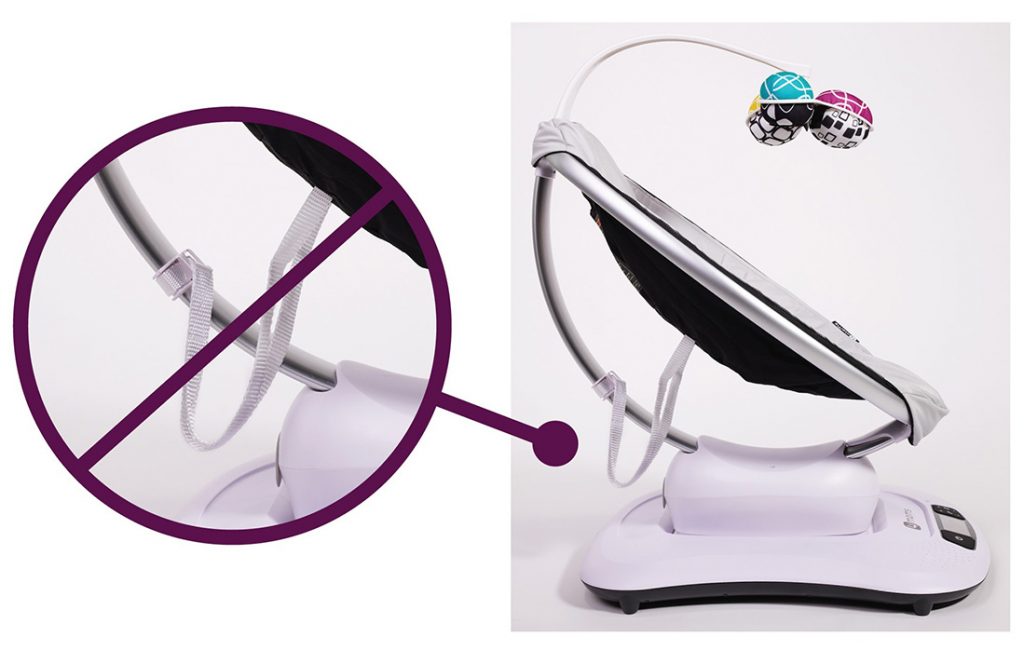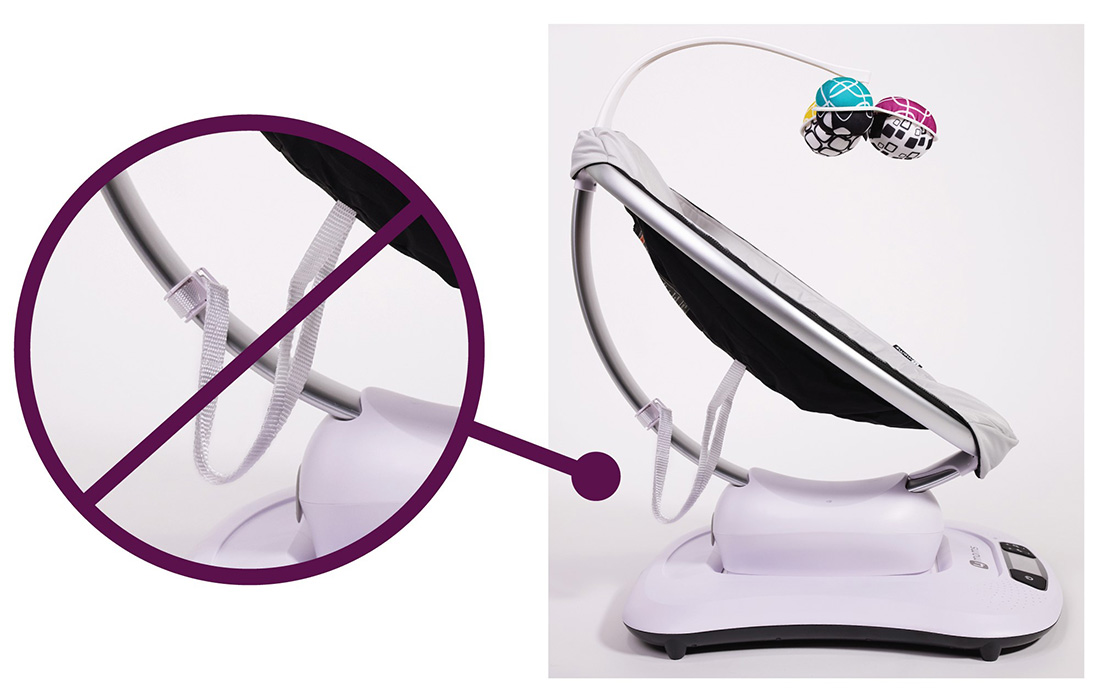 When mom of four Meg St-Esprit's kids were young, her community of foster/adoptive parents she was in passed around a beloved baby swing — the MamaRoo. They called it "the sisterhood of the traveling MamaRoo." As a Pittsburgh parent, she had supported the local company 4moms when they created the swing, but stopped using it when they could crawl. Though she never personally found it to be unsafe or risky, the product is now facing a major recall after a baby has died. It's one of a recent string of recalls and warnings through the last few years, starting with the popular Fisher Price Rock 'n Play in 2019, which has parents much more hesitant to use these products.
The Fan-Favorite of Baby Products, Recalled
Two of the remaining go-to rockers, the 4moms MamaRoo and RockaRoo, which moves the baby in a variety of patterns such as gliding or figure eights to soothe them, were recalled Monday, Aug. 15 after a 10-month-old died from asphyxiation in the MamaRoo straps. The culprit isn't the angle of the baby in the rocker itself, like in some previous cases, but because straps behind the seat that dangle down pose a hazard to babies who can become tangled and strangled or injured. The Consumer Product Safety Commission (CPSC) also reports another baby suffered neck bruising before a caregiver untangled them. The RockaRoo doesn't have any reported incidents.
The products were sold from January 2010 to August 2022 for between $160 and $250 at Buy Buy Baby, Target, 4moms.com, and Amazon, and include multiple model numbers, but only the type that uses a 3-point harness not a 5-point harness. Parents who have purchased this product are eligible for a repair, which is a free strap fastener that will prevent the straps from dangling down and posing a risk when the product isn't being used.
A Warning for Parents
Parents are being encouraged to keep a close eye on babies while they use rockers and swings, and not allow them to fall asleep in them or to use them unsupervised. 4moms states on their website that the recall is especially for crawling babies who can get tangled in the cords. Other baby "sleep" products have been cited in 13 deaths recently for other causes too, prompting a ban on marketing these products as sleepers that took effect in June.
Suffocation has been a cause of infant death that has risen in the past few decades, often happening in bed, with the Centers for Disease Control and Prevention reporting around 905 deaths due to accidental suffocation and strangulation in bed in 2020. Though cords and tethers such as those on the Mamaroo can obviously pose a risk, other items that might seem appropriate for sleep actually aren't for babies, including pillows, blankets, bumper pads, and soft toys. The crib should be empty except for a well-fitted sheet, the CDC recommends.
"My take on it, it's a user error. People need to be more mindful of where their baby is crawling. People need to create yes spaces for their children if they choose to not stay with them at all times and see where their children are crawling and getting into," says Erin Carroll-Manning, a Newborn Care and Infant Sleep Specialist, and Founder of Gentle Giraffes Newborn Care and Family Services.
"'Yes spaces' where all the children do are things you/parent/caregiver would say yes they can do that even if they aren't there to watch." In the case of the MamaRoo, a 'yes space' wouldn't have this item included because of the tether, unless it was secured with the additional repair fastener.
Dr. Harvey Karp, author of Happiest Baby on the Block and inventor of the SNOO smart bassinet, adds "Over the past few years, many infant sleep and soothing products have been recalled because of scores of injuries and deaths. Of course, accidents can happen, but it is important for infant care companies to take every reasonable step to reduce risks. I fully agree with the American Academy of Pediatrics' advice to pediatricians to warn all parents not to let babies sleep in upright swings, rockers, car seats (outside of the car), etc."
What To Do if You Have a MamaRoo or RockaRoo
In a statement from 4moms CEO Gary Waters commented to Sleepopolis via email:
"…We are deeply saddened by the two incidents that occurred when babies crawled under the seat of unoccupied MamaRoo swings. After investigating the circumstances behind these two incidents, 4moms decided to conduct a voluntary recall in partnership with the CPSC. The free strap fastener kit we have designed is an easy-to-install solution that we believe will prevent any other incidents from happening when a MamaRoo or RockaRoo is not in use and an infant crawls under the seat. We strongly urge our consumers, retailers, and re-seller partners to implement the strap fastener solution to ensure the complete safety of our products." He adds that it's important to note the more recent product (Model #1046) launched in July, is not included in this recall as it features a re-designed harness and strap configuration.
The CPSC says "Contact 4moms toll-free at 877-870-7390 from 8 a.m. to 5 p.m. ET Monday through Friday, by email at safetyandrecall@4moms.com or online at https://www.4momsrecall.expertinquiry.com/ or https://www.4moms.com and click on SAFETY & RECALL at the top of the page for more information."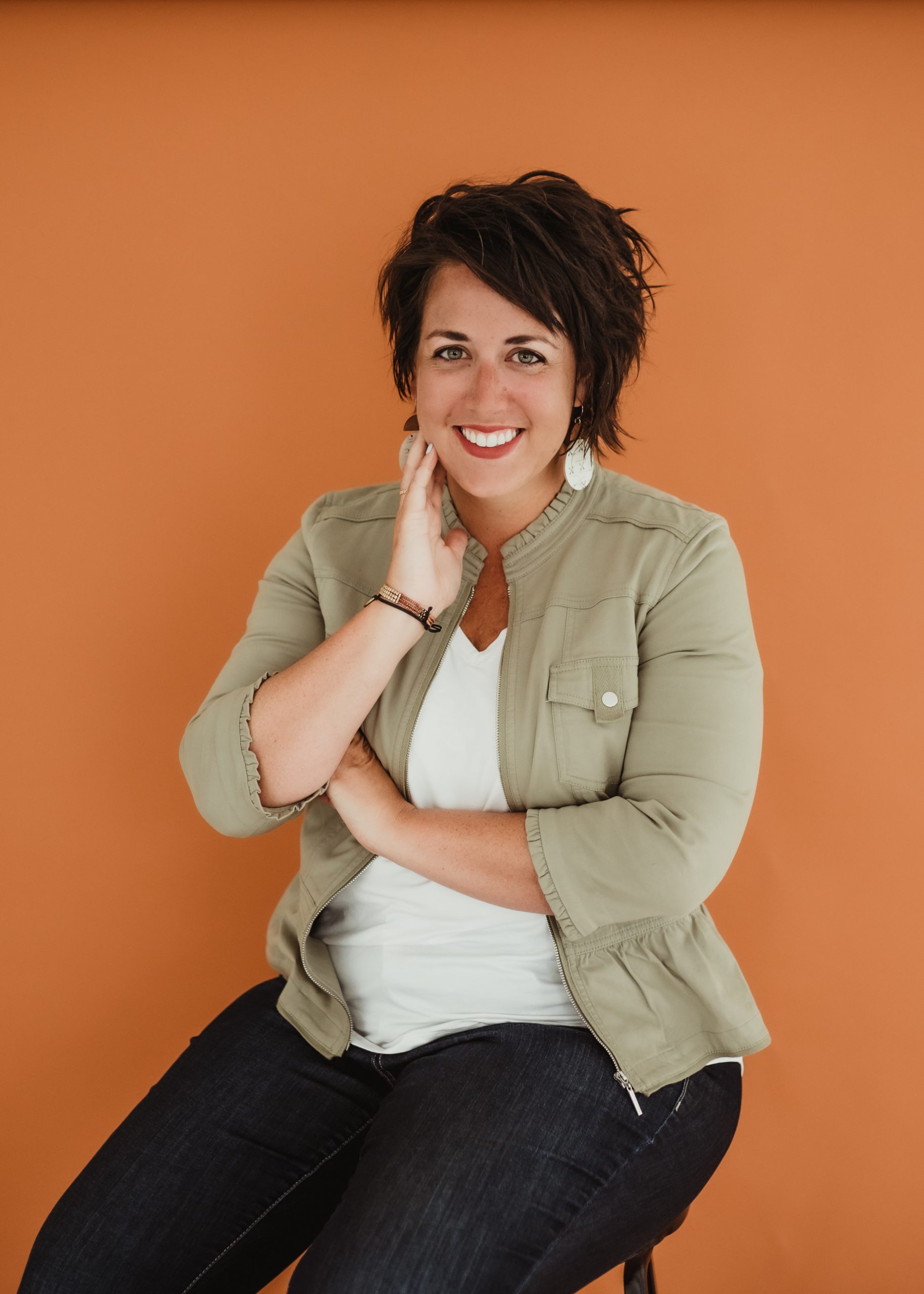 Alexandra Frost
Alexandra Frost is a Cincinnati-based freelance journalist, content marketing writer, copywriter, and editor focusing on health and wellness, parenting, real estate, business, education, and lifestyle. Away from the keyboard, Alex is also mom to her four sons under age 7, who keep things chaotic, fun, and interesting. For over a decade she has been helping publications and companies connect with readers and bring high-quality information and research to them in a relatable voice.  She has been published in the Washington Post, Huffington Post, Glamour, Shape, Today's Parent, Reader's Digest, Parents, Women's Health, and Insider.